What is 230 pill?
A pill with imprint 230 is identified as Bisacodyl 5 mg tablet which is yellow in color and round in shape. Supplier of this tablet is Major Pharmaceuticals Inc.
Bisacodyl is mainly indicated in the treatment of constipation. It comes under the drug class laxatives and is also used for bowel preparation.
This drug usually safe in pregnancy because there is no proven risk shown in human during pregnancy. Under the Controlled Substances Act (CSA), Bisacodyl is not labeled as a controlled substance.
Imprint: 230
Strength: 5 mg
Color: Yellow
Size: 6 mm
Shape: Round
Availability: Prescription or Over the counter
Drug Class: Benzene and substituted derivatives
Pregnancy Category: B, It showed no proven risk in humans.
CSA Schedule: Not a controlled drug
Labeler / Supplier: Major Pharmaceuticals Inc.
Inactive Ingredients: Acacia, Ammonium hydroxide, Calcium carbonate, Carnauba wax, corn starch, D&C yellow #10 Aluminium lake, FD&C yellow #6 aluminum lake, Hypromellose, Iron oxide black, Lactose, Magnesium Stearate, Methylparaben, Polydextrose, Polyethylene glycol, Polyvinyl acetate phthalate, Povidone, Propylene glycol, Propylparaben, Shellac, Silica, Simethicone, Sodium alginate, Sodium benzoate, Sodium bicarbonate, Stearic acid, Sucrose, Talc, Titanium dioxide, Triacetin, Triethyl Citrate.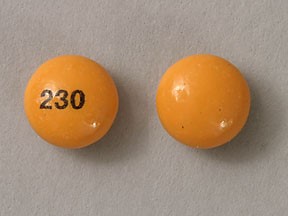 Active ingredient of 230 pills and identification
A 230 pill contains bisacodyl 5 mg as an active ingredient and is white to off-white crystalline powder. This is usually tasteless.
230 pill chemistry
Molecular formula: C22H19NO4
Molecular weight: 361.397 g/mol
IUPAC Name: – [4-[(4-acetyloxyphenyl)-pyridin-2-ylmethyl]phenyl] acetate
Molecular structure: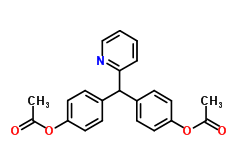 Drug class: Bisacodyl belongs to the class of organic compounds known as diphenylmethanes which contain a diphenylmethane strucuture made of a methane wherein two hydrogen atoms are replaced by two phenyl groups.
230 pill uses
A 230 pill contains Bisacodyl which is a laxative and is mainly used to treat constipation. It is also used in:
Providing temporary relief from irregularity and occasional constipation.
It also beneficial in producing bowel movement in 6 to 12 hours.
The dosage of 230 pill
A 230 pill contains bisacodyl 5 mg as an active ingredient. The dosage is as follows:
Oral dosage for bowel preparation: one to three tablets (5 mg to 15 mg) once a day as needed.
Oral dosage for constipation: one to three tablets (5 mg to 15 mg) once a day as needed.
230 pill legal status
A 230 pill, in general, is OTC or over the counter medicine. These are the medicines which can be sold without medical prescription of a doctor. Which is completely opposite in case of the prescription drugs.
In comparison to OTC drugs, prescription drugs are sold to consumers with a valid prescription. After checking the safety and efficacy of the ingredients of the OTC medications, regulatory agencies of many countries select the OTC drugs.
What are different brand names for bisacodyl?
Bisacodyl also marketed under the brand name of Dulcolax, Durolax, Muxol, Fleet, Nourilax, Alophen, correctol, and carter's little pills.
230 pill price and prescription
A 230 pill which is bisacodyl and a laxative preparation, used to treat the `constipation. It is an over the counter medication, which is used to empty and prepare the bowel for surgery or examination. The lowest price by Major Pharmaceuticals Inc for a box of 1000 tablets of bisacodyl is around $12.75.
230 pill mechanism of action
A 230 pill contains bisacodyl which irritates the smooth muscles of the intestine which in turn increases the peristaltic movements of the intestine.
It also acts by increasing the colonic intramural plexus. It also alters the water and electrolyte content thereby increases the intestinal fluid accumulation and laxation.
230 pill side effects
Common side effects of bisacodyl include:
Nausea, vomiting, and diarrhea
Stomach cramps
Burning feeling in the rectal area
Feeling light headed
Rectal bleeding
Serious side effects of bisacodyl include:
Upsetting your body's normal sodium and potassium levels
Loss of colon function after taking bisacodyl for a long period of time
Can 230 pill cause dependence?
When a person lacks sufficient fiber and liquid in his/her diet, they may start facing unhealthy bowel movements. Then they seek the stimulant laxatives in order to get relief.
Whereas some people are obsessed with weight loss and body shape and they usually have the wrong perception of having a regular bowel movement every day and they start taking laxatives.
Excessive use of laxatives such as bisacodyl and senna, in order to treat constipation and obesity, cause dependency on such medications.
In order to maintain a regularity people often take these medications, even after achieving complete bowel discharge, this may lead to unwanted dependence of these medications.
230 pill pharmacokinetics
After oral or rectal administration of bisacodyl, its absorption is minimal. The onset of action of this medication starts after 6 to 8 hours of taking this medication.
It causes evacuation after 6 to 8 hours approximately. It has half-life of 16 hours and therefore it is completely eliminated from our body in 3 days approximately.  It is distributed into the milk also; it has more than 99% of plasma protein binding.
How long 230 stays in the system?
The elimination half-life of bisacodyl is 16 hours which means it should be out from your system after 40 hours approximately. However, the action of bisacodyl stops after 8 to 16 hours.
Bisacodyl which is a bowel stimulant medication is metabolized in the body and roughly half is gone after 16 hours of administration, whereas half of this medication is remaining medicine gone after another 16 hours.
Usually, a drug takes 5 times of the elimination half-life to get eliminated from your body, therefore to be very exact, after taking a dose of bisacodyl; it will take around 3 days to get out from your body.
As the medication level drops the stimulant effect will diminish. Some bulking food items like bananas, apples or pasta may help slow diarrhea naturally.
Use of 230 pill during pregnancy and breastfeeding:
Bisacodyl comes under the pregnancy category B by the USFDA. From controlled human pregnancy studies, no data is available; therefore it should be used when needed during pregnancy.
The risk to the foetus is minimal due to minimal absorption of bisacodyl. Also there is no sufficient data is given on excretion of bisacodyl into the human milk.
"WATSON 349 pill: drug class, uses, shape, size and warnings"