What is Amlodipine
Amlodipine is an antihypertensive drug that is used in treatment of high blood pressure and chest pain.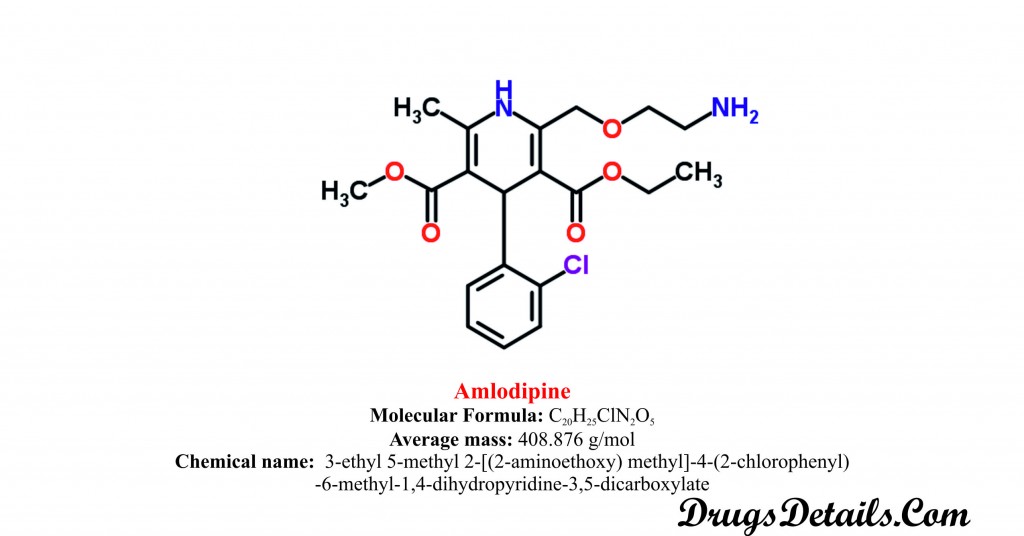 Amlodipine generic and brand name
The drug is available under generic name Amlodipine and brand name
Initially, Pfizer Pharmaceuticals was responsible for its manufacture and distribution.
Many other pharmaceutical companies such as Teva pharmaceuticals, Synthon pharmaceuticals, Upsher smith laboratories and Matrix Laboratories also started manufacturing of Amlodipine under various brand names after the expiration of Pfizer's patent in 2007.
What is the source of the drug (natural or synthetic)?
Amlodipine is a synthetic (man-made) pharmaceutical calcium channel blocker
Why is Amlodipine prescribed?
Amlodipine plays a key role in the treatment of high blood pressure (hypertension).
It is used for the treatment of chronic stable angina and vasospastic angina (prinzmetal's or variant angina).
However, it does not provide immediate relief of pain resulting from angina.
Amlodipine is also used in the treatment of coronary artery disease.
Amlodipine in combination with Angiotensin Converting Enzyme (ACE) inhibitors such as Benazepril is used to treat the hypertension.
Combination of Amlodipine with Angiotensin II type 1 receptor blockers (ARBs) such as Valsartan (Exforge) and Telmisartan (Twynsta) also significantly decreases the possibility of cardiovascular-related death and morbidity in hypertensive patients.
Amlodipine lowers the blood pressure and hence it helps to prevent heart attacks, strokes and kidney problems.
Furthermore, it also boosts the capability to exercise and reduce the incidence of angina attacks.
Pharmacophore structure: Information about the chemical structure of the drug
Amlodipine chemically belongs to the class of organic compounds which are known as Dihydropyridinecarboxylic acids and derivatives characterized by dihydropyridine moiety bearing a carboxylic acid group. The detailed chemical classification of Amlodipine is described below:
| | |
| --- | --- |
| Kingdom | Organic compounds |
| Super Class | Organoheterocyclic compounds |
| Class | Pyridines and derivatives |
| Sub Class | Hydropyridines |
| Direct Parent | Dihydropyridinecarboxylic acids and derivatives |
Chemical information of the drug
Amlodipine is 1, 4-dihydropyridine and mainly available as besylate salt. It is also available as maleate salt.
It is a synthetic pharmaceutical aromatic heteromonocyclic compound with a molecular formula C20H25ClN2O5.
The molecular weight of the Amlodipine is 876 g/mol.
Chemically, Amlodipine is 3-ethyl 5-methyl 2-[(2-aminoethoxy) methyl]-4-(2-chlorophenyl)-6-methyl-1,4-dihydropyridine-3,5-dicarboxylate.
Amlodipine is white and crystalline powder and has water solubility of 0074 mg/mL.
Amlodipine is sparingly soluble in ethanol while slightly soluble in water.
The melting point of Amlodipine is 178-179°
What is the available strength of Amlodipine?
Amlodipine is available in tablet form for oral administration with or without food.
Amlodipine tablets are available in different strength of 2.5 mg, 5mg and 10 mg/tablet.
5 mg tablets are white in color, diamond shaped, flat-faced and bevelled edge engraved with "NORVASC" on one side and "2.5" on another side.
5 mg tablets are white in color, elongated octagonal in shape, scored, flat-faced and bevelled edged engraved with "NORVASC" and "5" on one side while plain on another side.
10 mg tablets are white in color, round in shape, flat-faced and bevelled edged engraved with "NORVASC" and "10" on one side while plain on another side.
Amlodipine tablets contain Amlodipine besylate as active ingredient and magnesium stearate, microcrystalline cellulose, calcium hydrogen phosphate anhydrous and sodium starch glycolate type-A as inactive ingredients.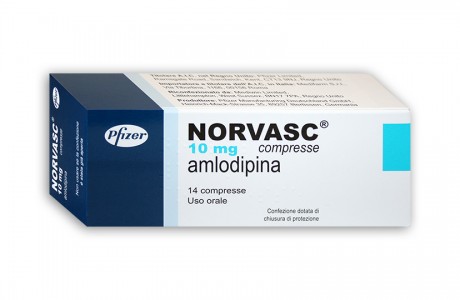 How Amlodipine works (mode of action)?
Amlodipine is a slow but long-acting calcium channel blocker or calcium antagonist.
It acts by inhibiting the calcium ion influx through L-type calcium channel across the cell membrane.
After entering in the cell, calcium ions binds to calmodulin and form calcium bound calmodulin complex.
This calcium-calmodulin complex activates the myosin light chain kinase (MLCK) which catalyses a key step in muscle contraction that is the phosphorylation of regulatory light chain subunit of myosin.
Inhibition of calcium ion influx results in the decreased contractile activity of arterial smooth muscle cells.
This reduction in contractile activity of arteries can cause the vasodilation.
Effect of vasodilation finally results in lowering the blood pressure.
It is also supposed that Amlodipine inhibits the activity of carbonic anhydrase I in vascular smooth muscle.
Therefore, it causes the increase in pH which may be involved in the regulation of intracellular influx of calcium.
What are the recommended doses of Amlodipine?
The prescribed dose of Amlodipine is 5 mg once a day initially and then 10 mg once a day. However, the doses of Amlodipine may vary depending upon the age and diseased state of the patient.

Paediatric dose:

Hypertension

< 6 years: not recommended.
6 years to 17 years: 2.5 mg to 5 mg once in a day orally.

Adult dose:

Angina pectoris

Initial dose: 5 to 10 mg once everyday orally.
Maintenance dose: 10 mg once everyday orally.

Coronary artery disease. For the treatment of coronary artery disease (CAD) without heart failure or ejection fraction <40%

Initial dose: 5 to 10 mg once everyday orally.
Maintenance dose: 10 mg once everyday orally.

Hypertension

Initial dose: 5 mg once everyday orally.
Maintenance dose: 5 to 10 mg once everyday orally.

Geriatric dose:

Angina pectoris. For the treatment of chronic stable angina and vasospastic angina

Initial dose: 2.5 mg to 10 mg once everyday orally.
Maintenance dose: 10 mg once everyday orally.

Hypertension

Initial dose: 2.5 mg once everyday orally for 7-14 days.
Maintenance dose: 2.5 to 10 mg once everyday orally.

In case of hepatic and renal impairment, the dosing recommendations are as follows:

Dose in hepatic impairment.

In case of hypertension

Initial dose is 2.5 mg and then gradually increase the dosedepending upon the efficacy and side effects.

In case of chronic stable angina or vasospastic angina

5 mg to 10 mg once a day orally.

Dose in renal impairment: no dose adjustment is required.

When should I discontinue, withhold or modify the dose of Amlodipine?

The usual dosing of the drug may vary depending upon the efficiency and side effects of the drug in a particular individual.
Do not use the medicine if you are hypersensitive or allergic to any of the ingredients of Amlodipine.
Amlodipine is not used in patients of hypotension (low blood pressure).
The drug is also withheld in case of aortic stenosis (narrowing of the left ventricle exit of the heart) and liver disease.
Use of Amlodipine is contraindicated with other calcium channel blockers and vasodilator agents.
Amlodipine together with CYP3A4 inhibitors such as ketoconazole and clarithromycin is contraindicated because these compounds may increase the plasma concentration of Amlodipine.
Use of antihypertensive drugs with Amlodipine is also contraindicated because it may decrease the serum concentration of Amlodipine.
Amlodipine is also contraindicated with the antifungal agents such as itraconazole and voriconazole because they may enhance the toxic effects of the drug.
Amlodipine together with macrolide antibiotics such as sulfisoxazole is also contraindicated because these compounds may decrease the metabolism of the calcium channel blocking agents.
Amlodipine is not recommended for the children under the age of 6 years.
Amlodipine is used with caution in elderly people due to the reduced clearance of Amlodipine from plasma.

What are the pharmacokinetic properties of the drug?

Pharmacokinetic studies suggested that after oral administration, it is almost completely but slowly absorbed in gastrointestinal tract and has a bio-availability of approximately 64-90%.
Following absorption, the majority (97.5%) of the drug is bound to plasma proteins.
It has been observed that following a single dose of maximum (or peak) plasma concentration is achieved in 6-12 hours in the fasted state.
The drug is largely (90%) metabolized in liver by cytochrome P450 3A4 (CYP3A4) to inactive pyridine metabolites.
The average median half-life of Amlodipine is 30-50
Amlodipine is mainly excreted in urine in which 10% of the parent compound and 60% of the inactive metabolites are present.
The average steady state volume of distribution of the Amlodipine is approximately 21 L/kg.

Which pregnancy category (A; B; C; D; X) has been assigned to Amlodipine?

The Amlodipine is classified by US FDA pregnancy category: C
Due to lack of adequate and well-controlled studies, the use of Amlodipine in pregnant women is contraindicated and recommended only when benefit justifies the risk.
Laboratory studies in animals have shown no adverse effect on fetus.
No data is available that supports the excretion of Amlodipine into human breast milk.
Despite these facts caution should be exercised when taking Amlodipine during breast feeding.

How to use the drug?

Amlodipine is available in tablet form for oral administration.
Amlodipine tablet is taken by mouth before or after food and drinks.
Amlodipine tablets should not be chewed or crushed. Whole tablet should be swallowed.
It is also recommended to take drug at almost the same time every day with a glass of water.
It is advisable not to take more than one tablet daily.
The time duration between the drug use should be at least 24 hours.
Follow the instructions carefully as directed on prescription leaflet and take Amlodipine exactly as directed.
Do not change the dose of the drug as prescribed by your doctor as the dosage is based on patient medical condition, treatment responses and usage with other drugs.

How to store the drug?

Amlodipine is stored at 25°C (77°F) and excursion permitted to 15-30°C (59-86°F).
Store the medicine away from light and moisture.
Medicine should not be stored in the bathroom.
The drug should be kept away from children and pets.

How to dispose the medicine?

Throw away unused and opened, outdated or no longer used container.
Also dispose the old medicine after the expiration date.
Amlodipine should not be disposed in the household garbage, sink or in wastewater.
Consult your pharmacist or local waste disposal company for proper disposal.

Amlodipine in the form of besylate salt was first approved in July, 1992 by U.S. Food and Drug Administration for the treatment of hypertension and coronary artery diseases.
New formulation of Amlodipine i.e. Amlodipine maleate salt was approved in October, 2003 by U.S. FDA.

Other uses of the drug                                                           

Amlodipine may be used in combination with beta-blocker to treat the chronic stable angina.
Amlodipine may also be used for other uses not listed here. It is advisable to ask your doctor or pharmacist for more information.

What special dietary precautions should I follow?

Take low-salt diet or as prescribed by your doctor otherwise follow usual diet.
Consult your doctor regarding the use of grapefruit products.

What special precautions should I follow/ what should I avoid while using Amlodipine?

Before taking Amlodipine, tell your doctor about your medical history preferentially if you have any kind of liver disease.
Take advice to your medical health provider if you have any other kind of heart problem or ever had heart failure.
Grapefruit or grapefruit juice should be avoided because it may increase the level of active Amlodipine in the blood which may cause toxicity.
Avoid the use of alcohol because it may further decrease the blood pressure.
Consult with your doctor and pharmacist if you are taking any prescription and non-prescription medications or herbal products.
Amlodipine should not be used in conjunction with multivitamins and minerals because it may decrease the effect.
Amlodipine medication should not be stopped suddenly and avoid to skip the dose.
Avoid using machinery requiring alertness or clear vision as well as driving because the use of Amlodipine may make you tired or dizzy.
Consult your doctor in case of any query.

Amlodipine side effects

In addition to the associated benefits, Amlodipine also is accompanied with the side effects some of which are more common, others less common whereas some are more serious. It is always recommended to consult a doctor if you encounter any of the side effects.

Most common side effects caused by Amlodipine requiring medical attention are as follows:

Palpitations
Swelling of the ankles or feet

Some less common side effects caused by Amlodipine requiring medical attention are as follows:

Difficult breathing
Dizziness
Fast, pounding, or racing heartbeat or pulse
Feeling of warmth
Redness of the face, neck, arms
Shortness of breath
Tightness in the chest
Wheezing

Some side effects are rarely caused by Amlodipine which may include:

Abdominal bloating
Abnormal functioning of liver
Confusion
Cough
Excess sugar in blood
Increased muscle tension
Inflammation in liver
Inflammation of blood vessels
Movement disorders
Photosensitivity
Swelling of gums
Yellowing of skin

There are some adverse effects that fade away while consuming the drug with time. These symptoms do not require any medical attention, but if these symptoms persist immediately contact to your doctor.

Abdominal pain
Acid or sour stomach
Belching
Discomfort in stomach
Heartburn
Indigestion
Lack or loss of strength
Muscle cramps
Nausea
Sleepiness or unusual drowsiness
Swelling in ankle
Tiredness

Amlodipine may cause some serious side effect which requires immediate medical attention. These are:

Abnormal heartbeat
Fainting
Heart attack
Inflammation in mucous membrane
Intense skin rashes
More frequent or severe chest pain
Reddening of the skin
Severe back or abdominal pain due to inflamed pancreas
Shortness of breath
Swelling of face, lips or eyelids

Besides these, Amlodipine may also be associated with some other side effects. These include:

Cardiovascular effects: palpitation, bradycardia, tachycardia, chest pain, hypotension and vasculitis.
Dermatologic effects: angioedema, increased sweating, erythema multiforme, erythematic rashes, pruritus, maculopapular rash, dermatitis, skin decolouration and dryness, urticaria and alopecia.
Gastrointestinal effects: nausea, dysphagia, abdominal pain, anorexia, diarrhoea, dry mouth, constipation, vomiting and gingival hyperplasia.
Haematological effects: leukopenia, thrombocytopenia and purpura.
Hepatic effect: jaundice and elevated hepatic enzyme.
Musculoskeletal effects: myalgia, arthralgia, muscle cramps, arthrosis, hypertonia, twitching and weakness.
Nervous system effects: headache, dizziness, somnolence, hypoesthesia, paresthesia, syncope, postural dizziness, tremor, vertigo and tinnitus.
Ocular effects: conjunctivitis, abnormal vision, eye pain, diplopia.
Psychiatric effects: anxiety, depression, abnormal dreams, depersonalization, nervousness, insomnia, amnesia and agitation.
Respiratory effects: epistaxis, dyspnea, rhinitis and coughoing.
Urinogenital effects: menstrual disorders, nocturia, polyuria and dysuria.

 What should I do in case of overdose?

If you overdose the drug contact with your doctor or pharmacist for symptomatic and supportive measures.
Symptoms of Amlodipine overdose may include increased heartbeats, fainting and dizziness.

What should I do in case of missed a dose?

Take a missed dose as soon as possible.
To make up the missed dose, do not take extra medicine.
Avoid taking the missed dose if it is about time for your next dose.

Amlodipine drug interaction

Amlodipine may interact with one of the following drugs. Care should be taken when you are taking these medications together.

Antacids which contains aluminium or magnesium such as Maalox.
Antibacterial agents such as rifampin (Rifamate, Rifadin and Rimactane), rifabuttin (Mycobutin), nelfinavir (Viracept), nevirapine(Viramune), clarithromycin (Biaxin) and fluconazole (Monicure, Canesten, Alfumet or Dofil).
Antidepressant drugs such as nefazodone (Nefadar, Serzone and Dutonin).
Antiepileptic medication such as phenytoin (Dilantin,Dilantin) and carbamazepine (Carbatrol, Equetro, Epitol, Tegretol, Teril).
Antifungal agents such as fluconazole (Diflucan) and voriconazole (Vfend).
Antihistamines such as cimetidine (Tagamet) and terfenadine (Seldane).
Antihypertensive agents such as alfuzosin (Uroxatral), amifostin (Ethyol) and bosentan (Tracleer).
Drugs for the treatment of HIV/AIDS such as indinavir (Crixivan) and efavirenz (Sustiva, Efavir, Stocrin).
Drugs for treating pulmonary hypertension such as sildenafil (Viagra) and Tadalafil (Cialis).
Immunosuppressant drugs such as cyclosporins (Neoral and Sandimmune), tacrolimus (Prograf and Astragraf) and phenobarbitol.
Inhibitors of CYP3A4 such as ketoconazole (Nizoral, Kuric, Extina and Xolegel), itraconazole (Sporanox, Onmel) and ritonavir (Norvir).
Inhibitors of CYP450 such as diltiazem (Tiazac, Cardizem), quinidine, digoxin (Lanoxin) and warfarin (Coumadin and Jantoven).
Inhibitors of HMG-CoA reductase enzyme such as atorvastatin, lovastatin and simvastatin (Zocor).

This list of drugs interacting with Amlodipine is not complete and other drugs may also interact with it. Always consult your doctor about the medications you use.

Does Amlodipine have any interaction with diseases?

It has been observed that following medical conditions (disease) may interact with Amlodipine:

Cardiogenic shock/Hypotension: Use of calcium channel blockers (CCBs) including Amlodipine is usually not recommended in patients with hypotension or cardiogenic shock. This is due to associated negative inotropic and peripheral vasodilating effects resulting in further reduction in cardiac output and blood pressure that may be life threatening in these patients.
Coronary artery disease: Administration of Amlodipine should be done very cautiously in patients with significant coronary artery disease and those treated with immediate-release formulations. Use of the drug may be associated with increase in frequency, duration, and/or severity of angina, as well as acute myocardial infarction.
Liver disease: Amlodipine, a calcium channel blocker is mainly metabolized by the liver. Patients with severe hepatic impairment tend to accumulate substantial amount of drug due to prolonged half-life of the drug. Besides, use of the drug may also be associated with increase in serum transaminases which may or may not cause concomitant rise in alkaline phosphatase and bilirubin thereby leading to cholestasis or hepatocellular injury in some cases. It is therefore recommended to adjust the dosage of the drug and use it with caution in patients with impaired hepatic function. Also, a periodic monitoring of liver function is required.
Congestive heart failure, Myocardial infarction: Administration of calcium channel blockers (CCBs) including Amlodipine may result in congestive heart failure (CHF), worsening of CHF, pulmonary edema, and peripheral edema. CCBs therapy should be initiated very cautiously in patients with severe left ventricular dysfunction, cardiac failure, acute myocardial infarction and pulmonary congestion.


Amlodipine disease interaction.

Geriatric state: Dosage adjustment is usually needed in case of elderly patient due to decreased renal, hepatic, or cardiac function and keeping in mind about the concomitant diseased state or other drug treatment. The drug should be started at a lower dose as the elderly people have decreased clearance of Amlodipine which tends to accumulate.
Hypersensitivity: Amlodipine administration is usually not recommended in people who are hypersensitive or show allergic reaction to the drug or any of its ingredients.

Where can I get more information?

Your pharmacist or health care provider can provide more information about Amlodipine.

Clinical research and current scenario of the drug

Double-blind, placebo-controlled and randomized studies demonstrate the antihypertensive efficiency of Amlodipine on diastolic pressure to be similar in young and geriatric patients whereas effect on systolic pressure was greater in older patients.
The efficiency of Amlodipine at a dosage of 5–10 mg/day in angina patients has been demonstrated over long-term dosing of upto 6 weeks with no clinically significant reductions in blood pressures or heart rate.
Double-blind, placebo-controlled clinical trial indicates the effectiveness of Amlodipine therapy in decreasing attacks by approximately 4 per week in contrast to approximately 1per week in placebo.
Studies indicate the efficacy of Amlodipine as once daily antihypertensive agent within safety limits and requirement of higher doses of Amlodipine in younger patients.
Clinical studies suggest that Amlodipine does not play a role in prevention of the cold-induced physiological responses of blood pressure or heart rate.
Study demonstrates the antihypertensive properties of Amlodipine once-daily in the treatment of hypertension in young population. Amlodipine is also involved in the management of diseased state in patients who are coadministered with cyclosporine.
Randomized Amlodipine survival evaluation study in patients with severe heart failure indicates a decreased mortality in the group of patients receiving Amlodipine.

References from chemical, biological and toxicological databases

MedlinePlus. https://www.nlm.nih.gov/medlineplus/druginfo/meds/a692044.html
, Wikipedia. https://en.wikipedia.org/wiki/Amlodipine
DrugBank: Amlodipine. http://www.drugbank.ca/drugs/DB00381
Amlodipine | C20H25ClN2O5 | ChemSpider. http://www.chemspider.com/Chemical-Structure.2077.html
Effects of amlodipine, a long-acting dihydropyridine calcium antagonist in aging hypertension: pharmacodynamics in relation to disposition. http://www.ncbi.nlm.nih.gov/pubmed/2142447
Amlodipine | C20H25ClN2O5 – PubChem. https://pubchem.ncbi.nlm.nih.gov/compound/amlodipine
Amlodipine/Atorvastatin: a review of its use in the treatment of hypertension and dyslipidaemia and the prevention of cardiovascular disease. http://www.ncbi.nlm.nih.gov/pubmed/20108992
The safety of amlodipine. http://www.ncbi.nlm.nih.gov/pubmed/2573265
Effects of combining azilsartan medoxomil with amlodipine in patients with stage 2 hypertension. http://www.ncbi.nlm.nih.gov/pubmed/24445723
Antihypertensive effects of amlodipine and hydrochlorothiazide in elderly patients with ambulatory hypertension.http://www.ncbi.nlm.nih.gov/pubmed/8998248
Evaluation of amlodipine, lisinopril, and a combination in the treatment of essential hypertension. http://www.ncbi.nlm.nih.gov/pmc/articles/PMC1741615/
Amlodipine . PubMed Health. http://www.ncbi.nlm.nih.gov/pubmedhealth/PMHT0008948/