What is Avamys nasal spray?
Avamys is an intranasal spray in the strength of 27.5 mcg that contains fluticasone furoate as an active ingredient. Avamys is mainly used for the treatment of seasonal and perennial allergic rhinitis in patients.
Avamys is an effective treatment for rhinitis that ensures delivery of a consistent dose, comfort, and relief. It is so effective due to its award-winning spray device. Avamys is also beneficial in providing symptomatic relief for 24 hours.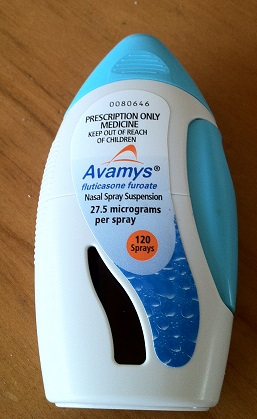 How Avamys nasal spray works?
Avamys nasal spray contains fluticasone furoate that is a synthetic corticosteroid with potent anti-inflammatory activity. Fluticasone furoate binds to human glucocorticoid receptor which is highly superior (29.9 times) to dexamethasone. Fluticasone has known to binds more avidly to respiratory tissue than other corticosteroids.
The mechanism of fluticasone furoate for allergic rhinitis is not known. There are multiple cell types (eg. Mast cells, eosinophils, neutrophils, macrophages, and lymphocytes) and mediators (eg. Histamine, eicosanoids, leukotrienes, and cytokines) responsible for inflammation. These cells are affected by corticosteroids, therefore, reduce the inflammation associated with rhinitis.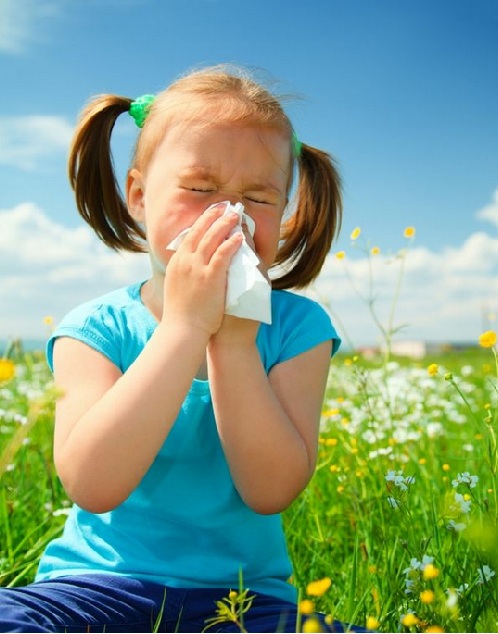 Avamys nasal spray proper use
Avamys should be administered as per doctor's recommendations. The recommended dose of this medication is two sprays in each nostril once a day in patients aged 12 years and above. The dosage can be reduced to half and should be administered as one spray each nostril once symptoms are controlled. One should use the minimal effective dose of Avamys in order to avoid drug dependence.
The recommended dose for the children aged between 6 to 12 years is one spray in each nostril. The dose can be increased to two sprays if conditions worsen.
Avamys should be used regularly at the same time to get the most benefit of this medicine. The effect of Avamys nasal spray can be seen after 8 hours of the first spray directly into the nostrils. One should take the medicine for a long time to get its maximum benefit. Exposure to pollens, dust, and motes can worsen the rhinitis, so regular use of Avamys is necessary to control the symptoms.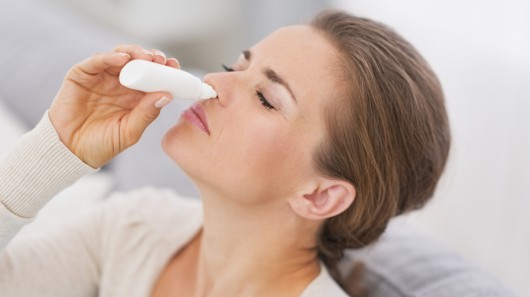 Who should not take this medication?
One who is having the allergy to fluticasone furoate or to any ingredient of Avamys nasal spray should not take this medication. Avoid use of this medication if:
You are taking any medication that can interact with fluticasone furoate (eg. Ritonavir)
You have a sore nose or previously had nasal surgery or in case of unhealed nasal injury
You are allergic to any ingredient in Avamys nasal spray.
Contact your doctor or health care provider right away if any of these apply to you.
Avamys nasal spray dosage form and strength
Avamys is a nasal spray suspension. Each 100 mg spray delivers about 50 mcg of an active ingredient.
What is the proper use of Avamys nasal spray?
Amawys nasal spray is a potential nasal spray used for the treatment of nasal symptoms of perennial non-allergic rhinitis. Allergic rhinitis is an allergic condition characterized by a runny nose, watery eyes, chocked nose, sneezing, and allergy. Allergic rhinitis is classified into two types:
Seasonal Allergic Rhinitis (SAR): caused by pollens (cause hay fever)
Perennial Allergic Rhinitis (PAR): caused by dust mite and mould.
Can Avamys nasal spray proper be used in pregnancy?
It is not safe to use Avamys nasal spray during pregnancy, as the safety of this medication in pregnancy is not yet established. Once administered, very small amount of medicine passes into the blood stream but it should be used only benefits outweigh the risk. It should be used in case of need only in order to avoid any risk to the developing fetus.  A pregnant woman should consult her doctor before taking this medication.
Can Avamys nasal spray be used during breastfeeding?
Due to its intranasal mode of administration, it is unlikely to pass into the breast milk. Still, precautions are needed and nursing mother should use it with caution to avoid any risk of side effect to the neonate. Ask your doctor before taking this medication.
Avamys nasal spray side effects
Some common side effects associated with Avamys nasal spray are:
Nosebleed
Back pain
Cough
Headache
Sore throat
Nausea and vomiting
One should consider medical advice in case of serious side effects:
Severe allergic reactions (rash; hives; itching; difficulty breathing; tightness in the chest; swelling of the mouth, face, lips, or tongue; unusual hoarseness)
Crusting in the nose
Dizziness
Redness or white patches in the mouth or throat
Severe or persistent nosebleed
Severe or persistent pain in the nose or throat
Shortness of breath
Slow wound healing
Symptoms of infection (eg, fever, chills, persistent cough or sore throat)
Unexplained runny nose
Avamys nasal spray contraindications
Avamys is contraindicated in patients with a hypersensitivity to any of its ingredients. Dosage forms, composition, and packaging should be checked for more information regarding contraindication of this medication. One can also talk to their pharmacist in case of any query regarding contraindications of Avamys.
Avamys nasal spray interactions:
If you are taking other medications already, you should consult your physician before taking this medication because Avamys nasal spray can interact with other medications and can cause serious side effects. If you are taking any medications for allergies, nervousness, depression or a migraine etc, Let your doctor knows about it. Do not forget to discuss with your doctor if you are taking:
Steroid tablets or injected steroids
Steroid creams
Medicines for asthma
Ritonavir, used to treat HIV
Ketoconazole, used to treat fungal infections
Fluticasone furoate different Brand names
Fluticasone furoate is a medication that is come under the brand name of Avamys and there are many other brands of this medication which are also available in the market.
Dymista Nasal Spray (this also contains the antihistamine azelastine).
Flixonase nasule drops
Flixonase aqueous nasal spray
Nasofan nasal spray
Pirinase hayfever nasal spray
What happens if I miss a dose?
Use the missed dose as soon as you remember. Skip the missed dose if it is almost time for your next scheduled dose. Do not use extra medicine to make up the missed dose.
If you use Arnuity Ellipta, do not use more than 1 inhalation per day.
What happens if I overdose?
Seek emergency medical attention or call the Poison Help line at 1-800-222-1222.
An overdose of fluticasone is not expected to produce life threatening symptoms. However, long term use of high steroid doses can lead to symptoms such as thinning skin, easy bruising, changes in the shape or location of body fat (especially in your face, neck, back, and waist), increased acne or facial hair, menstrual problems, impotence, or loss of interest in sex.
"What is Narcan nasal spray? Usage, Dosage, Side effects, Contraindications"