What is Calcitonin nasal spray?
Calcitonin nasal spray is a medicine that is used to treat osteoporosis in women more than 5 years after menopause. It is used together with calcium and vitamin D to treat bone loss in women with postmenopausal osteoporosis.
This medicine is available in nasal spray form and is available only with doctor's prescription.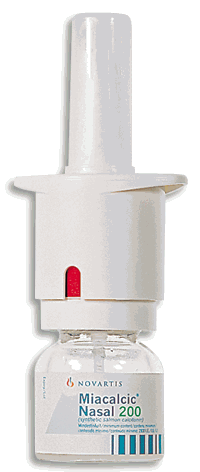 Calcitonin nasal spray Brand names
Calcitonin nasal spray is available in market under various brand names, such as:
Fortical, Miacalcin, and Miacalcin Ns.
How Calcitonin nasal spray works?
Calcitonin – salmon is a calcitonin receptor agonist. It binds to the calcitonin receptor (found primarily in osteoclasts) which then enhances the production of vitamin D producing enzymes (25-hydroxyvitamine D-24-hydroxylase), leading to greater calcium retention and enhanced bone density.
Calcitonin-salmon acts primarily on bone, but it also affects the renal system and gastrointestinal tract. Calcitonin receptors have been discovered in osteoclasts and osteoblasts, but the actions of calcitonin on bone and its role in normal human physiology are still not elucidated.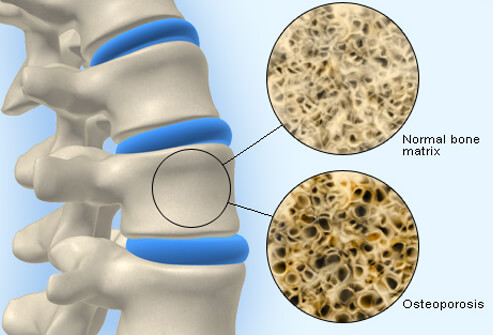 Calcitonin nasal spray indications
Calcitonin Nasal Spray is indicated for the treatment of postmenopausal osteoporosis in women greater than 5 years post menopause. Calcitonin Nasal Spray is given to the patients for whom other therapies are contraindicated or for patients who are intolerant or unwilling to use other therapies.
Calcitonin nasal spray is indicated for:
·         Post menopausal Osteoporosis
·         Hypercalcemia
·         Paget Disease
Calcitonin nasal spray use for post menopausal osteoporosis
Postmenopausal osteoporosis may result into increasing rate of hip fractures. Many aged patients fail to achieve full functional recovery after the fractures, and being unable to resume their previous living habits. The patients with all forms of hip fractures undergo Total Hip Arthroplasty (THA), which is followed by dislocation and aseptic loosening that may need revisions.
Patients with THA may suffer from heterotopic soft tissue calcification post –THA, which cause severely impaired function, pain, and a reduced hip motion. A study has been done with calcitonin nasal spray in patients with THA.
In study, patients with cementless THA were treated twice daily with 200 IU calcitonin nasal spray for 12 months.
Once daily dosing of 200 IU Calcitonin nasal spray showed improved:

General independence from general assistance.
Mobility
Fear of future falls in postmenopausal women following THA.

It also shown to reduce bone turnover serum markers, loss of further bone density, and pain.
Additionally, calcitonin promoted the repair of hip fractures and, was associated with a significantly reduced rate of refractures as well as periprosthetic ossifications.

Calcitonin nasal spray for Paget's disease of bone
Paget's disease is a disease in which new bone tissue gradually replaces the old bone tissue. This is a disease which interferes with your normal recycling process. With the passage of time, the bones become fragile and tend to break. Paget's disease of bone mostly occurs in pelvis, skull, spine, and legs.
Calcitonin nasal spray is used in the geriatric patients (in which administration via subcutaneous route is difficult) with Paget's disease of bone. The calcitonin nasal spray was administered for 3 months and it showed a mean fall in the serum alkaline phosphate up to 33%. Calcitonin nasal spray in such patients proved effective in lowering the serum alkaline phosphate in Paget's disease.  It was also acceptable due to ease of administration in geriatric patients as compared to subcutaneous route of administration.
How long does it take for Calcitonin to work?
Calcitonin nasal spray when administered for hyperglycemia, it takes 2 hours for initial effect and it reaches to its maximum effect after 30 weeks; and when administered for Paget disease, it takes few months to a year for beneficial effects and for showing neurologic symptoms to improve.
Pharmacokinetics and metabolism of Calcitonin nasal spray
Calcitonin nasal spray has a bioavailability of 3% via intranasal route. It reaches to its peak plasma concentration within 31 to 39 minutes. It stays for up to 6 to 8 hours in our system. It is metabolized by kidney with an elimination half life of 43 minutes; and is excreted by urine.
Calcitonin nasal spray dosage
Calcitonin Nasal Spray consists of one glass bottle and one screw-on pump. The bottle contains 3.7 ml of calcitonin-salmon clear solution at a concentration of 2200 International Units per ml. A primed pump delivers 0.09 ml (200 International Units) calcitonin-salmon per actuation.
Calcitonin nasal spray proper use
Calcitonin nasal spray is available as a nasal spray, which is meant to be used by the intranasal route only. This medication should be used once in a day in alternating nostrils. This medication comes with a leaflet you should follow all the instructions carefully before administration.
In the case of any confusion, you should talk to your doctor to avoid any mishap. You should take this medicine as directed by the physician. Do not use more or less of it or use it more often than prescribed by your doctor.
Calcitonin nasal spray is only a treatment of osteoporosis and is not a cure. Do not stop using this medication, even after disappearance of symptoms of the disease, without your doctor's advice.
Before using calcitonin salmon nasal spray the first time, read the written instructions that come with it. Ask your doctor or pharmacist to show you how to use it.
Try to see the demo of its usage. To put the pump and bottle together, remove the rubber stopper from the bottle, and then remove the plastic protective cap from the bottom of the spray unit. Put the spray pump into the bottle and turn to tighten. Then take the plastic cover off of the top of the spray unit.
You should prime the pump, before using a new bottle. Follow these steps in order to prime the pump:
Allow the bottle to reach room temperature.
Hold the bottle upright, and pressing the pump for at least 5 times, until a full spray is produced. The pump is now ready to use.
To use the nasal spray, follow these steps:
Keep your head up and place the nozzle in one nostril.
Press down on the pump to release the calcitonin.
Use the opposite nostril each day.
Each bottle has enough medication for 30 doses.
Throw away the bottle after 30 uses or after complete use of the medicine.
Can Calcitonin nasal spray be used during pregnancy?
Pregnancy category: C
Calcitonin nasal spray should be used in pregnancy only if benefits justify the use when compared with its risks to the mother and the fetus.
Can Calcitonin nasal spray be used during breastfeeding?
In animal studies, calcitonin has been shown to inhibit lactation in rats; but excretion of calcitonin in human milk is not known. Caution should be exercised when this medication is given to a nursing mother because most drugs are excreted in human milk and show effects on the infant. Therefore, a nursing mother should take calcitonin nasal spray only when it is very necessary.
Calcitonin nasal spray side effects
Calcitonin nasal spray can also cause some side effects along with its beneficial effects. It is not necessary that it may cause all of these side effects but if you see any of these side effects, you should call your doctor immediately:
There are some side effects which may need immediate medical attention.
More common
Crusting, patches, or sores inside the nose
dryness, itching, redness, swelling, tenderness, or other signs of nasal irritation which was not present before use of this medicine
headaches (severe or continuing)
nosebleeds
runny nose
sneezing
stuffy nose
Less common
Bloody or cloudy urine
chills
cough
difficult, burning, or painful urination
difficulty with breathing or wheezing (severe)
dizziness
fever
frequent urge to urinate
head congestion
loss of sense of smell
sore throat
swollen glands
Rare
Hair loss
hives, itching, or skin rash
increased thirst
shakiness in the legs, arms, hands, or feet
taste disturbances
trembling or shaking of the hands or feet
Incidence not known
Abdominal or stomach cramps
bloating or swelling of the face, arms, hands, lower legs, or feet
blurred vision
confusion
diarrhea
difficulty with swallowing
fainting
increased sweating
irregular heartbeats
muscle cramps in the hands, arms, feet, legs, or face
numbness and tingling around the mouth, fingertips, or feet
pain or tightness in the chest
puffiness or swelling of the eyelids or around the eyes, face, lips, or tongue
rapid weight gain
seizures
unusual tiredness or weakness
unusual weight gain or loss
When a medicine is prescribed, your pharmacist or healthcare practitioner may tell you about some minor effects of these medicines. He also tells you that such effects will disappear as soon as your body starts adjusting itself to the medicine. Similarly, calcitonin nasal spray may also cause some side effects that may not require medical attention. If you find any side effect troublesome or if it lasts longer than expected, you should talk to your doctor.
What should you do in case of missing dose?
If you miss a dose of this medicine, take it as soon as possible. However, if it is almost time for your next dose, skip the missed dose and go back to your regular dosing schedule. Do not double doses.
Calcitonin nasal spray overdose
The following doses of calcitonin nasal spray are considered as safe and are studied without any serious adverse effects.
1.      Single doses calcitonin nasal spray up to 1600 IU
2.      Doses up to 800 IU per day for 3 days.
3.      Chronic administration of doses up to 600 IU per day
Calcitonin nasal spray contraindications
Calcitonin nasal spray is strictly contraindicated in the patients who have hypersensitivity to calcitonin or any of its ingredients.  Administration of calcitonin in a hypersensitive patient can cause anaphylactic shock, anaphylaxis, bronchospasm, and swelling of the tongue or throat.
Calcitonin nasal spray interactions
Calcitonin nasal spray is a medicine that you should take under doctor's guidance because it may interact with other medications that you already took. Such interactions can change the work and effectiveness of your medicines. It is advisable that do not take this medication without the approval of healthcare practitioner.
Calcitonin nasal spray can interact with Lithium; therefore they should not be used concomitantly. When administered together, Calcitonin can increase the excretion of lithium; thereby reduce the plasma lithium concentration by enhancing its urinary clearance.  Therefore, the dose of lithium may need adjustment. No other formal drug interaction studies have been performed with calcitonin Nasal Spray.
How do I store Calcitonin nasal spray?
Calcitonin nasal spray can be stored for up to 30 – 35 days. After properly using this spray, throw the empty bottle and ask your pharmacist or healthcare professional about proper disposal of any leftover medicine or empty bottle. For storage:
You should store the closed container of this medicine in the refrigerator but do not freeze.
Store the opened container at room temperature in upright position, away from heat and sunlight.
Once opened, use the medicine within 35 days and throw away the unused medicine after 35 days.
Do not keep the expired medicine or if it is no longer needed.
Keep this medicine out of reach of children.
What are few points that I need to know about calcitonin nasal spray?
Calcitonin nasal spray is the medication which is use to treat osteoporosis in women more 5 years after menopause. There are some important points that you should know before using this medicine:
Calcitonin nasal spray is given only to women who cannot use other treatment for osteoporosis.
Calcitonin is lesser known to reduce the chance of bone fractures.
It is not effective in women less than 5 years after menopause.
Calcitonin is not known whether it is safe in children (<18 years of age).
Due to safety problems, calcitonin nasal spray has been withdrawn from Canadian market.
"Afrin nasal spray – Ingredients, dosage, side effects, addiction"