What is Flonase
Flonase is an brand name for fluticasone nasal spray from global manufacture GSK. Flonase was approved as a prescription medicine in the year of 1994.
Active pharmaceutical ingredient of flonase is fluticasone propionate which belongs to a class of drugs known as corticosteroids, specially glucocorticoids which is responsible for the metabolism of carbohydrates and to a lesser extent, fats and proteins.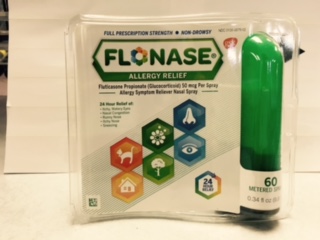 What are constituents of Flonase and its route of administration
Flonase contains 50 mcg of fluticasone propionate which is formulated in the form of nasal spray.
What are the uses of Flonase
Flonase gives temporarily relieves from of symptoms of hay fever or other respiratory allergies. These symtpoms are:
Nasal congestion
Sneezing'
Itchy nose and eyes
Watery eyes and nose
Some enchenced benefits of flonase are
24 hour relief from hay fever symptoms
Non drowsy formula and prescription strength
Contains the worlds effective API for allergy
Potential direct mechanism of action
What kind of effect Flonase has on immune system
As flonase is an allergy medication though you should not use it if you are allergic to fluticasone. If you are allergic to fluticasone it may weaken your immune system, making it easier for getting an infection and even worsening the symptoms.
Cautions with the use of flonase
Tuberculosis or any other kind of infection
Glaucoma or cataract
Liver diseases
Herpes simplex virus for eyes
Sore or ulcer in nose
How to use Flonase
It should be strictly used as prescribed by the doctor or if you are using over the counter it should be used as indicated in the label. The usual use of flonase spray is one to two spray in each nostril and change of dose with the recovery of symptoms. It should not be used by children below the age of 4 years. It used by children below certain if should be used under the supervision of an adult.
Use flonase as directed continuously  for about an week and notice the recovery in symptoms and if recovery is still not their ask your doctor
For how long Flonase can be used ideally and how it can be stored
Flonase is stored In an upright direction at an room temperature . It is best till its expires but usually it is advised that after its use of 120 sprays it should be thrown away whether it has medication still left in that or not. This kind of practice is for personal safety.
What is Allegra
Allegra is brand name for generic drug fexofenadine. It belongs to antihistamines class of drugs. Histamines are the chemical mediators that causes symptoms like sneezing, itching, watery eyes and running nose.
It may be used for seasonal allergies like hay fever in adults and children.
It may also be used to treat skin itching and hives.
What duration it takes to provide relief from the symptoms
Allegra (fexofenadine) it is mostly available in two variants in symptoms relieving strength. They are 12 hours and 24 hours.  The use of Allegra  depends on the severity of symptoms and patient profile. It  is available in various forms tablet, gel caps ,etc.
What happens when I take Allegra and antacid together
it is advised to avoid use of antacid together or within 15 mins of use of Allegra or any medicine containing the constituent of Allegra. studies has result of reduced absorption of Allegra in the system and reduced effect of its biological constituents.
fruit juices , milk or any other antacid may show the same affect reducing the absorption of Allegra in the body.
secondly, any other similar medication having similar effect or used for allergies should not be used together as it may reduced the efficacy of one or the other drug.
What are the side effects of Allegra
side effects that may appear while using Allegra are
nausea, diarrhea, upset stomach
drowsiness, tiredness
headache,
muscle pain,
menstrual cramps,
get an medical help if you have chills, fever, body ache, cough or other flu symptoms.
Allegra and Flonase Drug Interactions
Yes, you can  take Allegra and Flonase together because both are used for the treatment of different kind of allergies. This kind of combination was prescribed by the doctors for the best allergic treatment without the side effect of drowsiness . This was possible with the use of Allegra "non-drowsy" tablets using together with highly effective nasal spray flonase. Those who does not care about the drowsiness can use it at bed time.
Flonase belong to class of nasal steroid. It is used for the treatment of following conditions like allergic rhinitis, rhinitis
Allegra belongs to class of antihistamines. It is used for the treatment of following conditions like allergic rhinitis,urticaria.
Compare Flonase

Compare Allegra

First choice of drug, relieves runny or stuffy nose.
Relieves symptoms without the feeling of drowsiness.
Nasal steroids
Antihistaminic
Works directly on nose. Reduces swelling and inflammation caused due to allergies.
Blocks histamine, a chemical that is responsible for itching and other allergic reactions
Class of drug: Anti-inflammatory corticosteroid
Class of drug: 2nd generation antihistamine
Dosage form: Nasal Spray
Dosage form: Pill, Dissolving tablet, liquid
Uses: Seasonal allergies

All year round allergies

Non allergic nasal congestion

Uses: Seasonal Allergies

Chronic hives
"Flonase Vs Nasacort"
"Is Flonase vs Nasonex more effective?"