Gabapentin and Tylenol drug interactions
What is Gabapentin
Gabapentin is a Generic name for an antiepileptic drug and anticonvulsant that is used to control certain types of seizures in patients with epilepsy.
It works by affecting chemicals and nerves in the body that are the main cause of seizures and by decreasing abnormal neural excitation in the brain.
This drug can be also used for the treatment of certain types of pain, such as nerve pain caused by herpes zoster virus also known as shingles (prolonged the stabbing and burning aches and pain that may last for months or years).
Some of gabapentin indications are also: tremor, multiple sclerosis spasticity, mood disorders, and treatment of disruptive behaviors in dementia.
Gabapentin is available in capsule and tablet dosage forms in the following strengths: 100, 300, 400, 600 and 800 mg and also in the form of solution 250 mg/5mL.
Gabapentin is a very lipophilic drug; it isn't metabolized by the liver, it doesn't bind to proteins, and doesn't have usual drug interactions.
Other common Brand names on the market containing gabapentin as an active ingredient are: Gralise, Horizant, Aclonium, Neurontin and Gabarone.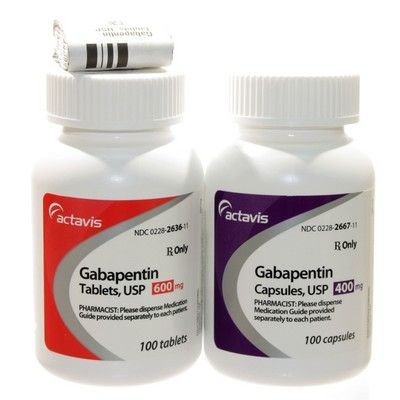 What is Tylenol
Tylenol is a Brand name for a drug that contains acetaminophen (also known as paracetamol) that has antypiretic and analgesic properties.
It is used for reducing pain and fever and also for relieving the symptoms of common cold, cough, headache, toothache, allergies and influenza. Usual per oral doses for Tylenol are 325-650 mg. It is available in tablets, caplets and liquid dosage forms.
Tylenol products on the market are: Tylenol Extra Strength Caplets, Tylenol Regular Strength Tablets, Tylenol 8 HR Extended-Release Caplets, Tylenol 8 HR Arthritis Pain, Tylenol Sinus Congestion & Pain Caplets, Tylenol Cold Multi-Symptom Caplets and Liquid, Tylenol Cold Head Congestion Severe Caplets, Tylenol PM Caplets and Tylenol Cold Sore Throat Liquid.
Tylenol Extra Strength are caplets containing only Acetaminophen 500mg as an active ingredient that is used as a pain reliever/fever reducer.
Tylenol Cold are also caplets containing: Acetaminophen 325mg as a pain reliever/fever reducer, Dextromethorphan 10mg as a cough suppressant and Phenylephrine HCl 5mg as a nasal decongestant.
Tylenol Sinus is another Tylenol product that is used for relieving the symptoms of: sinus headache, sinus pain and pressure, sinus congestion, aches and pain and runny nose and sneezing (in Nighttime only). It is available in tablet form containing: acetaminophen 500 mg as a pain
reliever/fever reducer and phenylephrine hydrochloride, 5 mg as a nasal decongestant, and chlorpheniramine maleate 2mg as an antihistamine.
Tylenol-Codeine is a combination of acetaminophen 500 mg and codeine 8 mg that is used for relieving mild to moderate pain, fever reduce and as a cough suppressant.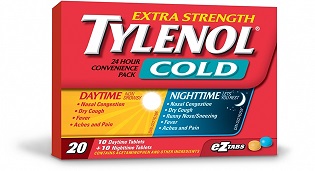 How does Gabapentin and Tylenol work in the body
Gabapentin works by interacting with cortical neurons and subunits of voltage-sensitive calcium channels. Gabapentin increases the synaptic amount of neurotransmitter GABA, improves responses to GABA at non-synaptic sites in neuronal tissues, and reduces the release of mono-amine neurotransmitters in the brain.
One of the mechanisms implicated in this effect of gabapentin is lowering the threshold of the axon excitability in hippocampus by binding to presynaptic NMDA receptors.
Other studies have shown that the antiallodynic and antihyperalgesic that can be used for the treatment of certain types of pain and also other effects of gabapentin are mediated by the descending noradrenergic system, resulting in the activation of spinal α 2-adrenergic receptors.
Gabapentin has also been shown to bind and activate the A1 -adenosine receptor. Other neurophysiological studies have found that gabapentin can also interact with inflammatory cytokines and protein kinase C.
Acetaminophen is highly selective COX-2 inhibitor that inhibits prostaglandin synthesis. It can inhibit COX-2 in CNS. Acetaminophen also acts on the hypothalamic heat regulating centers to produce antipyresis.
Acetaminophen's reactive metabolite N-acetyl-p-benzoquinone imine (NAPQI) can cause a potentially fatal, hepatic necrosis through the process of lipid peroxidation if acetaminophen is overdosed (more than 4g daily).
Dextromethorphan acts on cough center in medulla by decreasing sensitivity of cough receptors and by interrupting impulse transmission.
Phenylephrine is sympathomimetic with direct action on the adrenergic receptor system. The vasoconstriction is produced after α-adrenergic receptors activation.
Chlorpheniramine is antagonist of histamine H1 receptor. It has been also shown that this drug is also a serotonin-norepinephrine reuptake inhibitor.
Codeine is an opioid analgesic which is chemically related to morphine but it has less potent analgesic properties and mild sedative effects. It also acts suppress cough by centrally mechanisms.
Can patients take Gabapentin and Tylenol together
Patients without contraindications may take these drugs together for a short-term in minimum recommended Tylenol dose and only if Tylenol product doesn't contain antihistamines or codeine.
One study showed that combination of Tylenol and Gabapentin helps to decrease postoperative pain scores with less episodes of nausea than Tylenol and gabapentin alone.
However, patients should never mixed Gabapentin with Tylenol products containing combination of acetaminophen with codeine or antihistamines such as phenylephrine, chlorphenyramine or diphenhydramine.
Using codeine or antihistamines together with Gabapentin may increase the risk of side effects such as drowsiness, confusion, dizziness, and difficulties with concentrating.
So, patients on a gabapentin therapy always need to ask their doctor or pharmacist first what Tylenol product can use together with gabapentin.
Studies also showed that Gabapentin can speed up Acetaminophens metabolism. This may cause liver problems by increasing the levels of acetaminophens hepatotoxic metabolites.
The table below shows side effects after Gabapentin and Tylenol administration in recommendable doses. The incidence can be significantly increased if these drugs are overdosed or taken together.
| | |
| --- | --- |
| Very common side effects >10% | Dizziness (16-20%), Somnolence (16-20%), Drowsiness (5-21%), Ataxia (1-13%), Fatigue (11-15%) |
| Common and rare side effects 1-10% | Tremor (6-10%), Diplopia (6-10%), Nystagmus (6-10%), Hostility in children (5-8%), Back pain (1-5%), Depression (1-5%), Amblyopia (1-5%), Constipation (1-5%), Dysarthria (1-5%), Dyspepsia (1-5%), Dry mouth (1-5%), Pruritus (1-5%), Rhinitis (1-5%), Vasodilation (1-5%), Weight gain (1-5%), Hyperkinesia (3-5%), Increased appetite (1-5%), Leukopenia (1-5%), Myalgia (1-5%), Nervousness (1-5%), Peripheral edema (1-5%), Anorexia (>1%), Arthralgia (>1%), Asthenia (>1%), HTN (>1%), Pharyngitis (1-5%), Abnormal vision (>1%), Malaise (>1%), Paresthesia (>1%), Purpura (>1%), Vertigo (>1%) |
| Frequency Not Defined | Disorientation, Angioedema, Gastrointestinal hemorrhage, Laryngeal edema, Pruritic maculopapular rash, Hyperammonemia, Leukopenia, Neutropenia, Pancytopenia, Thrombocytopenia, Agranulocytosis, Stevens-Johnson syndrome, Toxic epidermal necrolysis, Urticaria, , Thrombocytopenic purpura, Hepatotoxicity, Liver failure, Nephrotoxicity, Pneumonitis |
| Postmarketing reports | Fever, Hyponatremia, Angioedema, Breast enlargement, Erythema multiforme, Blood glucose fluctuation, Elevated liver function tests, Jaundice, Stevens-Johnson syndrome, Changes in libido, anorgasmia |
Special precautions and warnings during Gabapentin and Tylenol administration:
Patients should tell their doctor and pharmacist if they are allergic to Gabapentin or Tylenol or any other NSAID or any other medicines, or any of the inactive ingredients in Gabapentin and Tylenol products.
Patients should also tell their doctor and pharmacist what prescription and nonprescription medicines, nutritional supplements, herbal products or vitamins, they are taking or plan to take. Patients using Gabapentin should mention if they are using some of the following drugs: hydrocodone, medicines that can cause dizziness or drowsiness, morphine and naproxen. Patients taking Tylenol should mention if they are taking some of the following drugs: enalapril, fosinopril, lisinopril, benazepril, captopril, moexipril diuretics, lithium and methotrexate. Doctor may need to change the doses of these medications or monitor more carefully for side effects.
Patients who are using Gabapentin and antacids such as Mylanta or Maalox should take antacids at least 2 hours before they take gabapentin.
Patients should tell their doctor if they have or have ever had kidney or liver disease.
Patients should avoid alcohol while using these medications. Drinking alcohol can increase certain side effects of Gabapentin and Tylenol. Alcohol may increase the risk of liver damage while taking Tylenol.
Patients should tell their doctor if they are pregnant or plan to become pregnant, or are breast-feeding. Gabapentin should not be used during pregnancy and breastfeeding.
Gabapentin can make patients drowsy and dizzy, may slow their thinking and cause loss of coordination. They shouldn't drive a car or operate machinery while using this drug.
If Gabapentin is given to a child, child's mental abilities and behavior may change while taking gabapentin. These changes can be sudden changes in mood, hyperactivity, difficulties with concentration and attention, clumsiness and drowsiness.
Patient should know that their mental health can change in unexpected ways and they may become suicidal while they are using gabapentin for the treatment of epilepsy, mental illness or other conditions. So, there is a risk that patients may experience changes in their mental health, but there may also be a risk that they will experience changes in their mental health if their helath condition is not treated. Decision should be made whether the risks of taking an anticonvulsant are greater than the risks of not taking it.
Acetaminophen overdose can lead to acute liver failure. Acetaminophen administration shouldn't exceed the doses of 4g per day.
Patients should tell their doctor if they have ever had a rash while taking acetaminophen.
Patients with phenylketonuria should avoid these medicines.
Patients should also know that combination acetaminophen products for cough and colds containing cough suppressants expectorants, nasal decongestants and antihistamines, should not be used in children younger than 2 years of age. In children 2 through 11 years of age such combinations should be used carefully and only according to the directions on the label.
Tylenol can cause unusual results with certain laboratory tests for glucose in the urine.
Patients should avoid becoming dehydrated or overheated during exercises. Chlorpheniramine can decrease sweating and patients could become more prone to heat stroke
Patients should avoid these medications if they also take caffeine pills, diet pills, or other stimulants. Taking decongestants (pseudoefedrine, phenylephrine) together with stimulants can increase the risk of unpleasant side effects