How Coumadin works in the body
Coumadin is a Brand name for an anticoagulant (or blood thinner) drug that contains warfarin as an active ingredient. Warfarin prevents the formation of blood clots as well as their migration by inhibiting vitamin K-dependent coagulation factors.
Coumadin is indicated for: treatment and prophylaxis of venous thrombosis and pulmonary embolism as its extension, treatment and prophylaxis of thromboembolic complications associated with atrial fibrillation and/or cardiac valve replacement, reduction of recurrent myocardial infarction and thromboembolic events (such as stroke or systemic embolization) after myocardial infarction and therefore the reduction the risk of death.
Coumadin has no effects on an established thrombus, and can't reverse ischemic tissue damage. The main targets of anticoagulant therapy are to prevent further extension of the formed blood clot and to prevent the risk of secondary thromboembolic complications that may result in serious and possibly fatal outcomes.
Despite its effectiveness, warfarin therapy has several issues. Many drugs interact with warfarin, as well as some foods (such as leaf vegetable foods because they typically contain large amounts of vitamin K1) and its activity has to be monitored by blood testing for parameter INR – International Normalized Ratio to be ensured that adequate safe dose is taken.
If INR value is high, patients are predisposed to an increased risk of bleeding, while low INR values indicates that the dose of warfarin is uneffective to protect against thromboembolic events.
Other Brand names for warfarin products on the market are: Jantoven, Marevan, Waran and Warfant.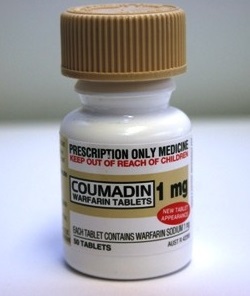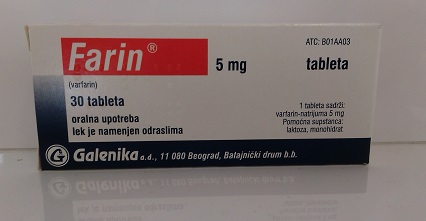 What is the purpose of Tylenol?
Tylenol is a Brand name for a drug that contains acetaminophen (also known as paracetamol) that has antypiretic and analgesic properties.
It is used for reducing pain and fever and also for relieving the symptoms of common cold, cough, headache, toothache, allergies and influenza. Usual per oral doses for Tylenol are 325-650 mg. It is available in tablets, caplets and liquid dosage forms.
Tylenol products on the market are:
Tylenol Extra Strength Caplets,
Tylenol Regular Strength Tablets,
Tylenol 8 HR Extended-Release Caplets,
Tylenol 8 HR Arthritis Pain,
Tylenol Sinus Congestion & Pain Caplets,
Tylenol Cold Multi-Symptom Caplets and Liquid,
Tylenol Cold Head Congestion Severe Caplets,
Tylenol PM Caplets and Tylenol Cold Sore Throat Liquid.
Tylenol Extra Strength are caplets containing only Acetaminophen 500mg as an active ingredient that is used as a pain reliever/fever reducer.
Tylenol Cold are also caplets containing: Acetaminophen 325mg as a pain reliever/fever reducer, Dextromethorphan 10mg as a cough suppressant and Phenylephrine HCl 5mg as a nasal decongestant.
Tylenol Sinus is another Tylenol product that is used for relieving the symptoms of: sinus headache, sinus pain and pressure, sinus congestion, aches and pain and runny nose and sneezing (in Nighttime only). It is available in tablet form containing: acetaminophen 500 mg as a pain reliever/fever reducer and phenylephrine hydrochloride, 5 mg as a nasal decongestant, and chlorpheniramine maleate 2mg as an antihistamine.
Tylenol-Codeine is a combination of acetaminophen 500 mg and codeine 8 mg that is used for relieving mild to moderate pain, fever reduce and as a cough suppressant.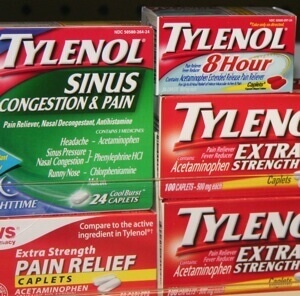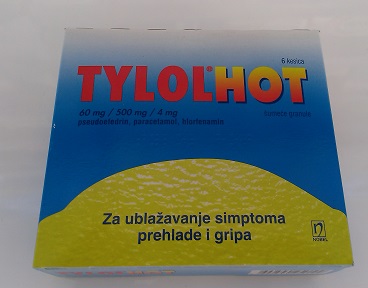 How does Coumadin and Tylenol work in the body?
Warfarin works by inhibiting the enzyme activity of vitamin K reductase, which results in depletion of vitamin KH2 – the reduced form of vitamin K.
Vitamin K is a cofactor for the carboxylation reactions of glutamate residues of vitamin K-dependent proteins, so this inhibition limits the gamma-carboxylation reactions and activation of the vitamin K-dependent coagulant proteins.
Therefore, the synthesis of vitamin K-dependent coagulation factors II, VII, IX, and X and anticoagulant proteins S and C is inhibited.
Decreased levels of 3 of the 4 vitamin K-dependent coagulation factors (II, VII, and X) results in decreased prothrombin levels in blood and a decrease in the amount of thrombin generated and bound to fibrin. This reduces the thrombogenicity of clots.
Acetaminophen is highly selective COX-2 inhibitor that inhibits prostaglandin synthesis. It can inhibit COX-2 in CNS. Acetaminophen also acts on the hypothalamic heat regulating centers to produce antipyresis.
Acetaminophen's reactive metabolite N-acetyl-p-benzoquinone imine (NAPQI) can cause a potentially fatal, hepatic necrosis through the process of lipid peroxidation if acetaminophen is overdosed (more than 4g daily).
Dextromethorphan acts on cough center in medulla by decreasing sensitivity of cough receptors and by interrupting impulse transmission.
Phenylephrine is sympathomimetic with direct action on the adrenergic receptor system. The vasoconstriction is produced after α-adrenergic receptors activation.
Chlorpheniramine is antagonist of histamine H1 receptor. It has been also shown that this drug is also a serotonin-norepinephrine reuptake inhibitor.
Codeine is an opioid analgesic which is chemically related to morphine but it has less potent analgesic properties and mild sedative effects. It also acts suppress cough by centrally mechanisms.
Can patients take Coumadin and Tylenol together?
Patients on a Coumadin anticoagulant therapy should be very careful before taking any drugs for the treatment of aches and pains. Taking NSAID (non-steroidal anti-inflammatory drugs) or aspirin for pain relief together with Coumadin can increase the risk for serious bleeding.
However, pain relievers that contain acetaminophen, such as Tylenol, can be the best choice, and many doctors will recommend Tylenol for a short term treatment.
Prothrombin time or INR should be monitored closely. Patients should be advised to contact their doctor if they develop signs and symptoms of excessive anticoagulation, such as: bruising, vomiting, unusual or prolonged bleeding, headache, dizziness, change in stool or urine color, or weakness.
The table below shows the incidence of side effects after Coumadin and Tylenol administration in recommendable doses. The incidence can be increased if these drugs are taken together or overdosed.
| | |
| --- | --- |
| Frequency not defined | Cholesterol embolus syndrome, Abdominal pain, Intraocular hemorrhage, Alopecia, Rash, Pruritus, Headache, Lethargy, Taste disturbance, Tissue necrosis, Hematuria, Anemia, Hepatitis, Respiratory tract bleeding, Hypersensitivity reaction, Hemorrhage, "Purple toe" syndrome, Increased fracture risk with long-term usage, Dizziness, Blood dyscrasias, Flatulence, Fever, Hyperammonemia, Stevens-Johnson syndrome, Toxic epidermal necrolysis, Urticaria, Hepatotoxicity, Liver failure, Nephrotoxicity, Pneumonitis |
Special precautions and warnings during Coumadin and Tylenol administration:
Patients should tell their doctor and pharmacist if they are allergic to Coumadine or Tylenol, or any other medications, or any of the ingredients in these products.
Patients should tell their doctor and pharmacist what prescription and nonprescription medicines, nutritional supplements, vitamins and herbal preparations they are taking or plan to take. There are many drugs that have interactions with warfarin and those interactions can cause serious side effects.
Patients should tell their doctor and pharmacist if they have or have ever had diseases such as: atherosclerosis, diabetes, some liver or kidney disease, bleeding problems, porphyria, cardiovascular disease such as chest pain (angina), arrhythmias, high blood pressure or heart attack; an underactive adrenal or pituitary gland, or any condition that makes swallow difficult.
Patients using Coumadin should tell thir doctor and pharmacist what herbal or botanical products they are taking, especially if they are using coenzyme Q10 prparation, Echinacea, Ginkgo biloba, garlic, goldenseal, ginseng, and St. John's wort. There are also many other herbal or botanical products which might affect body's response to Coumadin.
Patients should tell their doctor if they have or have ever had diabetes. Also they should tell their doctor if they have an infection, a gastrointestinal illness such as diarrhea, or sprue or an indwelling catheter.
Patients should also tell their doctor if they are pregnant or plan to become pregnant or if they are breast-feeding. If they become pregnant while using these drugs they should call their doctor immediately. Pregnant women should not take warfarin unless they have a mechanical heart valve. Coumadin may harm the fetus.
If patients should have surgery, including dental surgery, they should tell their doctor or dentist that they are using these drugs. Doctor may tell to stop taking warfarin before the surgery or procedure or change your dosage of warfarin before the surgery or procedure.
Cigarette smoking may decrease the effectiveness of Coumadin
Acetaminophen overdose can lead to acute liver failure. Acetaminophen administration shouldn't exceed the doses of 4g per day.
Patients should tell their doctor if they have ever had a rash while taking acetaminophen.
Patients with phenylketonuria should avoid these medicines.
Patients should also know that combination acetaminophen products for cough and colds containing cough suppressants expectorants, nasal decongestants and antihistamines, should not be used in children younger than 2 years of age. In children 2 through 11 years of age such combinations should be used carefully and only according to the directions on the label.
Tylenol can cause unusual results with certain laboratory tests for glucose in the urine.
"Can I take both thyroxine and folic acid table at the same time?"
"Interactions between aspirin oral and high-dose-aspirin-ticagrelor"