What is Duloxetine? What is Duloxetine used for?
Duloxetine is an antidepressant drug which is prescribed to treat the symptoms of depression. It is also used to treat anxiety, bipolar disorder, fibromyalgia, chronic pain etc. It is most commonly known as brand named Cymbalta. It was approved by FDA in the year 2004.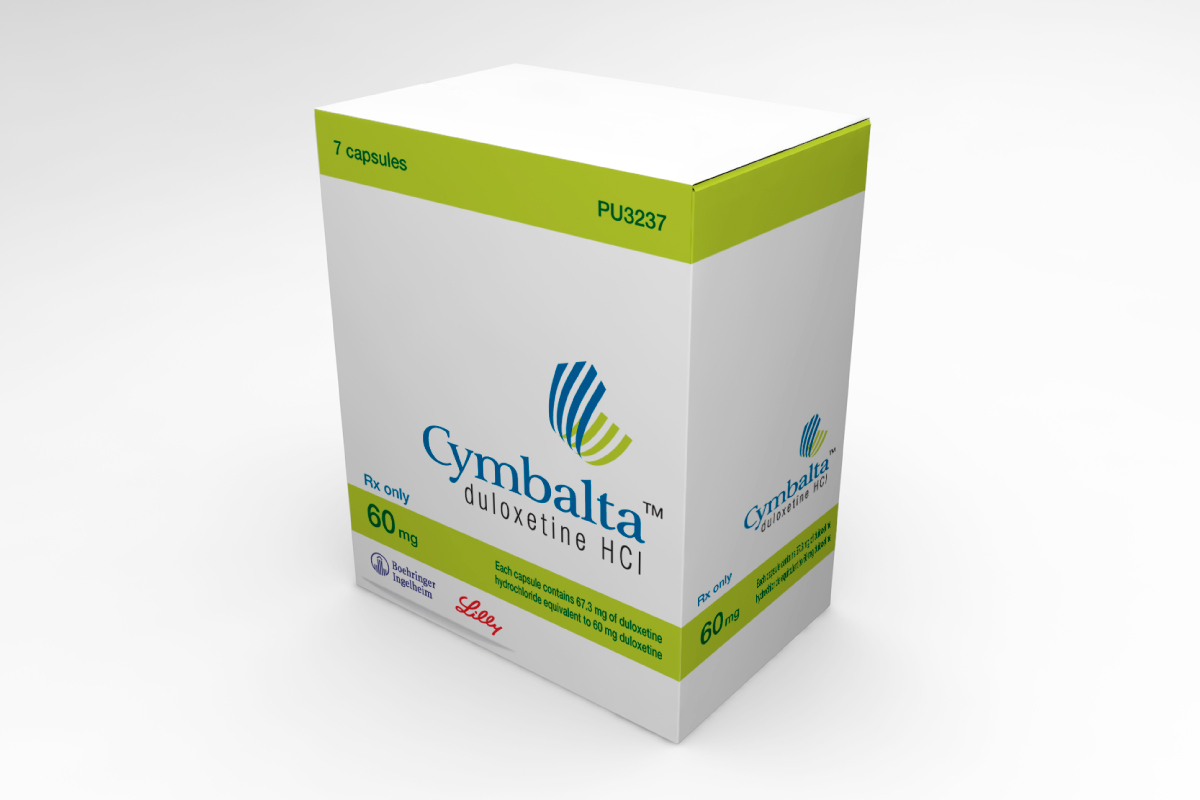 Duloxetine molecular formula and weight
Molecular formula
It is chemically designated as (+)-(S)-N-methyl-γ-(1-naphthyloxy)-2-thiophenepropylamine hydrochloride.
Molecular weight: 297.4146 Da.
Duloxetine drug class
This compound belongs to the class of chemical entities known as naphthalenes. These are compounds containing a naphthalene moiety, which consists of two fused benzene rings.
It belongs to the class of serotonin-norepinephrine reuptake inhibitors (SNRIs). From the name it shows that SNRIs works by blocking the reuptake of the chemicals namely serotonin and norepinephrine in the brain.
This class of medication is highly effective over anxiety, fibromyalgia and depression treatments. SNRI can cause various side effects which include dizziness, insomnia, loss of appetite, difficulty in urination etc. This may rarely cause serotonin syndrome, leading to high levels of serotonin (Neurotransmitter).
How Duloxetine works in the body?
Duloxetine works by increasing or regulating the levels of neurotransmitters namely serotonin and norepinephrine. These neurotransmitters are naturally present chemicals in the brain which acts as mediators (signals) between one neuron and another. By taking Duloxetine it blocks pain signals travelling through the brain and regulates mood.
In 1-2 weeks there will be better improvement in sleep, energy and appetite problems. This shows early stage of medication. Depressed mood and anxiety may need 6-8 week to improve. The medication should not be taken in a larger amount or should not be taken longer than recommended by a doctor. It may lead to severe problems.
Duloxetine brand names
The generic Duloxetine is manufactured by 28 companies. There is 'n'number of brand names of Duloxetine. Some of the brand names are listed below with their manufacturers.
C-Pact –    Cure Quick.
Combac –   Reliance Drugs and surgical.
Delok –    Nicholas Piramal India Ltd.
Deneurone   
Detine –   Unique Chemicals.
Dimorex –   Intra Life
DLX –   Solitair Biotech
Dulane –   Sun
Dulex –  Nitro Organics
Dulife –  FDC Limited
Dulojoy –  Torrent
Dulok –  Konark Life
Dulonix –  Phoenix
Dulot –  Lupin
Duloxee – Talent Healthcare.
What are FDA approved indications for Duloxetine?
FDA approved indications for Duloxetine are following:
Treating chronic musculoskeletal pain in 2010.
Treating Generalized Anxiety Disorder in 2009.
Management of Fibromyalgia in 2008.
Treating Depressive Disorder in 2007.
Treating Neuropathic Pain Associated with Diabetes in 2004.
Is Duloxetine a narcotic?
It is not a narcotic; it is just a class of antidepressant often used to treat chronic pain. Cymbalta does not fall under the category of drugs that run the risk of dependency or abuse; it is not labelled as a scheduled drug under the Controlled Substance Act. It is not a narcotic, opioid or a Controlled Substance though. It helps to regulate substances like serotonin in the brain which, in turn, can help with pain.
Duloxetine Dosage forms and strength
Duloxetine is generally preferred in oral route of administration i.e. Mouth. So it available in capsule or tablet forms for better action.
C-Pact: Capsule (20mg, 40mg)
Combac: Tablet (20mg, 30mg, 40mg, 60mg)
Delok: Capsule (20mg, 30mg)
Deneurone: Capsule (20mg, 30mg, 60mg)
Detine: Capsule (20mg, 30mg)
Dimorex: Tablet (20mg)
DLX: Tablet (20mg, 40mg)
Dulane: Capsule (20mg, 30mg)
Dulex: Capsule (20mg, 30mg)
Dulife: Capsule (20mg, 30mg)
Dulojoy: Tablet (20mg, 30mg)
Dulok: Tablet (20mg, 30mg)
Dulonix: Tablet (20mg, 30mg)
Dulot: Capsule (20mg, 30mg)
Duloxee: Tablet (20mg, 30mg)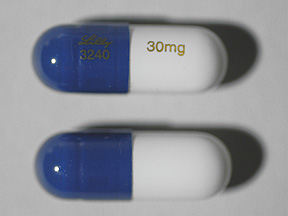 Duloxetine dose for different indications
Only adult dosage limits are mentioned
Major Depressive Disorder: 1st week 40md/day (taken 20mg twice a day) or 60mg/day (taken 30mg twice a day) is advisable for the body to get adapted to new medication. If 60mg is not showing any effect, after doctor's advice 120mg can be taken.
Diabetic Peripheral Neuropathic Pain: initially 60mg/day is taken and it should be maintained as 60mg/day till medication.
Generalized Anxiety Disorder: 60mg/day is taken as base dosage and it should not be exceed to 120mg/day.
Fibromyalgia: For our body to get adjusted, 30mg/day is taken for initial 1 week. Then dosage should not exceed to 60mg/day. Higher doses are associated with higher rates of adverse reactions.
Chronic Musculoskeletal Pain: Initially 30mg/day for 1 week and should not exceed to 60mg/day.
It includes osteoarthritis and chronic lower back pain.
People with liver dysfunction, Diabetes and Renal problem should not use Duloxetine.
Duloxetine Highest Dose
It is based on medical issue you are suffering from. General dosage for all problems is 30mg/day for 1st week. Gradually the dosage needs to be increased up to 60mg/day.
Duloxetine overdose
Duloxetine has adverse and toxic effect on overdose. The symptoms of Duloxetine overdose may include
Sleepiness
Coma
Dizziness
Vomiting
Headache
Fast heart beat
High or low blood pressure.
Overdosing any drug may be fatal.
Duloxetine Side Effects
Medical help will be needed if you have allergic reactions, skin rash, swelling of lips, tongue or throat.
If you have severe heart beat, trouble in sleeping, mood swings, restless, hyperactive or have thoughts about suicide or hurting yourself rush yourself to a doctor.
Call your doctor at once if you have:
Nausea, itching, loss of appetite, dark urine, jaundice, high fever, unusual bleeding
Burning in your eyes, followed by red or purple skin rash causing peeling and blistering.
Memory problems, weakness, trouble concentrating, shallow breathing etc.
Tired feeling, dry mouth and constipation
a light-headed feeling, like you might pass out;
blurred vision, tunnel vision, eye pain or swelling, or seeing halos around lights;
easy bruising, unusual bleeding;
painful or difficult urination;
liver problems– nausea, upper stomach pain, itching, tired feeling, loss of appetite, dark urine, clay – coloured stools, jaundice (yellowing of the skin or eyes);
high levels of serotonin in the body– agitation, hallucinations, fever, fast heart rate, overactive reflexes, nausea, vomiting, diarrhoea, loss of coordination, fainting;
low levels of sodium in the body– headache, confusion, slurred speech, severe weakness, vomiting, loss of coordination, feeling unsteady;
severe nervous system reaction– very stiff (rigid) muscles, high fever, sweating, confusion, fast or uneven heartbeats, tremors; or
severe skin reaction– fever, sore throat, swelling in your face or tongue, burning in your eyes, skin pain, followed by a red or purple skin rash that spreads (especially in the face or upper body) and causes blistering and peeling.
If you have any of these side effects call your doctor for medical advice.
Duloxetine and Hepatotoxicity
An acute, clinically apparent episode of liver injury with rise in liver enzymes is reported in patients on Duloxetine. It is generally rare case. The liver injury starts within 1 to 6 months of medication, but exact relatedness to Duloxetine and Hepatotoxicity is not clear.
Mechanism of duloxetine action
When Duloxetine reaches the liver, it gets metabolized via the cytochrome p450 system. This is exposed to drug-drug interactions with agents that alter activity of microsomal enzymes.
Duloxetine and Serotonin Syndrome
Serotonin is a chemical which is produced naturally and acts as a neurotransmitter. Once if the levels get affected, it leads to serotonin syndrome. It is generally caused by long term medication of antidepressant drugs which will affect the serotonin in brain. It is also caused by taking two or more drugs together that influence serotonin.
The most important class of drugs that influence serotonin syndrome are Celexa, Paxil, Zoloft, and Duloxetine.
Duloxetine Effect on Blood Pressure
Duloxetine generally reduces blood pressure. It is one of the less administered side effects of duloxetine. With proper health care duloxetine can be taken. In case of pregnant women, it is not advisable to take this drug since it leads to risk to the life of the foetus.
How to take Duloxetine
Before you start the medication, try to read the manufacturer's information leaflet from inside the pack. It will give you full information about the effect of the drug.
Take the dosage as prescribed by the doctor. The usual dose may be 30-60 mg/day. Slowly you may increase the dosage as you go on. The capsule or tablet may be taken before or after the meals with a cup of water, which helps you in swallowing.
Take drug at a same time daily so that it will get practiced regularly. If you missed your dose better leave that and go on for next dose. Don't try to put that drug along with next dose. It may cause severe effect.
Duloxetine for Major Depression
Duloxetine is a potential drug for major depression. By increasing the initial dose of 60mg/day to 120mg/day (60mg twice a day) was a great benefit for the patients with major depression. This drug directly acts as effective inhibitor in blocking the reuptake of neurotransmitters. It has higher efficacy compared to other anti depressant drugs and finally it gets approved by FDA.
Duloxetine for anxiety
It is approved by FDA for the treatment of generalized anxiety disorder (GAD). Doses should be generally between 30mg for 1 week then increase up to 120mg.
Though the best proven use of Duloxetine is for the treatment of the major depressive disorder, even generalized anxiety disorder can be effectively treated, using the same. Most of the core as well as peripheral symptoms of generalized anxiety have been shown to be positively affected by the drug, apart from several physical manifestations of the disease.
The operation of Duloxetine is via interference with the metabolism of norepinephrine and serotonin. Not only the psychological symptoms of anxiety are mediated by these two neurotransmitters, they also regulate the chemical reactions responsible for underpinning the perception of pain.
Though how it exactly helps cure anxiety disorder and affects emotional changes is still shady and unclear, it is a common perception that the ability of Duloxetine to trigger enhanced activity of the neurotransmitters is accountable for mood improvement.
Duloxetine for Fibromyalgia
Duloxetine is also an indicated drug for the management of FM – fibromyalgia.
Characterized by pain throughout the body, which usually extends for a long term and tender points in tendons, muscles, joints and other soft tissues, fibromyalgia is a rather common condition.
The condition is often linked to anxiety, depression, numbness in hands and feet, headaches, sleeping problems, morning stiffness and fatigue. The disease may develop on its own or can have other musculoskeletal conditions tagging along with it, like lupus or rheumatoid arthritis, making it a severe problem.
For treatment of fibromyalgia, administration of a dose of 60mg of Duloxetine, once a day is recommended. In the initial phases of the treatment, for one week, the dose must be 30 mg per day. This is so that the patient's body can adjust to the medication before the dose is increased to the recommended 60mg once a day.
Evidences supporting any additional benefits of doses higher than 60mg per day are non – existent, even in cases of patients who have an association with a higher rate of adverse reactions.
Medically, fibromyalgia gains recognition as a chronic condition. Placebo – controlled studies, extending for up to three months have indicated and demonstrated the efficacy of Duloxetine for the management of fibromyalgia. Though the treatment must be based on the individual responses of the patients, efficacy of the drug has hardly been supported in longer studies.
Duloxetine for Diabetic Neuropathic Pain
Duloxetine is also a licensed medication for the treatment of diabetic neuropathic pain. The efficacy of the drug in the treatment of the disease has been shown higher than placebo alone, in clinical trials. Also, it ensures that a significant reduction in pain is experienced by the patients, often as much as thirty percent.
Duloxetine and Suicidality
Duloxetine has a black box warning about suicidal thoughts. It is a strongest FDA warning which manufacturers needs to label this information in the pack.
From the research conclusion there is real connection between Duloxetine uptake and Suicidal thoughts. While comparing 29yr old married female and 47 yr old married female, in both the cases there is an emergence of suicidality in apparently non – suicidal patients after starting or increasing Duloxetine.
This drug may increase suicidal thoughts in children, teenagers and some adult within a few months of a treatment or when increasing the higher dosage. It is all because of mechanisms taking place in brain (Neurotransmitters).
The patients should be taken regular checkups with your health care advisor and dosage should not be increased suddenly or it should not be withdrawal without prior checkups.
Duloxetine and Weight Changes
The Duloxetine is not a weight loss or weight gain tool. Every drug will have side effects after a week or a month. Likewise, in 2006 report researchers analyzed that patients having Duloxetine drug experience sudden weight loss. One of the major side effects of Duloxetine was loss of appetite. It may lead to the weight loss.
Some people tend to gain weight by regular uptake of antidepressant drug. It is all because of Serotonin, a neurotransmitter it will regulate or react immediately. Changes in the level of serotonin may gain or loss your weight.
One of the more common side effects of Duloxetine is weight loss. The reason for this is that it often works as an appetite suppressant, so patients who take this medication may eat less than others do.
Diarrhoea, which is experienced as another side effect of the drug may also lead to weight loss in some severe cases. People who are taking this prescription to help them with depression may be more likely to lose weight than those taking it for pain relief. Even though Duloxetine and weight loss often go together, doctors generally do not prescribe this medication to help their patients become thinner.
Can I get "High" on Duloxetine?
After fine research it makes us "high" only for a week or less. For first week of medication you may feel like heaven!! You may even feel like you are brisk and active. But at the end you may not get out of the bed. It will make you tired like hell. From this it is clear that "Never judge a drug on its first few days of medication".
How long does it take for Duloxetine to work?
Working of medicine depends on the indication and one's individual brain ability to adopt to that specific drug. If you are using anti depressant drug for pain relief, Duloxetine action may be rapid that is within a day's-weeks.
If in case of your mental issues, proper improvement needs minimum 6-8 weeks. Physical signs like sleep, energy and loss of appetite may get improvement in 2 weeks of time. Taking overdose to achieve improvement causes severe side effects. Proper prescribed dose should be taken for better improvement.
Can I abrupt Duloxetine therapy suddenly?
It is not advisable to withdraw any anti depressant therapy abruptly. It needs to be decreased in a moderate manner to experience fewer side effects. It is not assured that even after withdrawing there may not be side effects. In the year of 2012, FDA received numerous cases regarding withdrawing Duloxetine therapy. It even showed worse withdrawing effect such as blackouts, suicidal thought and several cases involved hospitalization.
At the end of clinical studies for depression, they even found 40-50% of the patients' experiences withdrawal symptoms by abruptly discontinuing Duloxetine. Doctors have taken to calling this "discontinuation syndrome".
Duloxetine withdrawal effects
It causes
Dizziness
Insomnia
Irritability
Vomiting
Nightmares
Fatigue
Flu-like symptoms like sweating and muscle pain
Difficulty falling or staying asleep
Anxiety
Duloxetine and Addiction
The big pharmaceutical companies that make Duloxetine and other drugs have mentioned Duloxetine as not addictive in their brochure. We may say any drug which causes withdrawal symptoms is considered to be "addictive".
Let us be clear, Using heroin, alcohol, cocaine and other addictive substances may cause withdrawal symptoms, but withdrawal symptoms caused by Duloxetine is considered to be "discontinuation syndrome". Duloxetine is not linked with addiction.
Precautions and warnings during Duloxetine use
One of the major warnings of Duloxetine is Liver damage, especially if you use it with alcohol or acetaminophen or if you have undiagnosed liver problem
Studies shows that people with coronary heart disease likely to die within three years if they took antidepressant drugs like Duloxetine.
In case of diabetes, Duloxetine may even worse the diabetic conditions.
Precautions:
glaucoma
Liver and kidney diseases
High blood pressure
Bleeding diseases
Alcohol addicts
Low sodium disorders
Delayed stomach emptying
People with these problems should avoid taking anti depressant drugs.
Duloxetine during pregnancy. Is it safe?
US FDA pregnancy category C: Animal reproduction studies have shown an adverse effect on the fetus and there are no adequate and well-controlled studies in humans, but potential benefits may warrant use of the drug in pregnant women despite potential risks.
It is not advisable to take Duloxetine during pregnancy. It will generally affect the fetus, but some anti depressant drug may also affect the mother. From the studies, it is shown that Duloxetine causes orthostatic hypotension. It is a condition where the blood pressure suddenly drops, followed by affecting the walls and valves of veins in human leg function.
Generally during pregnancy blood pressure drops naturally, it may cause sudden blood pressure drops leading risks to both mother and fetus. It even causes fetal death and low birth weights. It causes ductus arteriosus to close. Because of lack of oxygen to fetus it dies.
Duloxetine during breastfeeding
Duloxetine has the ability to pass into breast milk. When Duloxetine is taken with paracetamol which has hepatotoxic properties it cause great damage to child's liver. It also causes less breast milk secretion when Duloxetine is used.
Duloxetine use in Patients with Renal disease
The use of duloxetine should be avoided in patients with severe renal impairment. It may aggravate the disease.
Duloxetine use in Patients with Liver disease
Duloxetine should not be prescribed to patients with chronic liver disease. Drug- induced liver injury (DILI) is a term that describes abnormalities in liver function tests (LTFs) when up taking Duloxetine. It may aggravate the pre-existing liver disease.
How long does Duloxetine work?
Even for a long term treatment, Duloxetine may be used. Till date, we have not come across known problems which can be associated with the use of Duloxetine for a longer time period. It is an effective as well as safe medication, when used as per the prescription of a medical practitioner.
How long does Duloxetine stay in your system urine, blood, saliva?
It has an elimination half life of about 12 hours. It will stay minimum 1month after you withdrawal the drug.
Duloxetine Absorption, Distribution, Metabolism, Elimination
Absorption
Duloxetine is an oral route administered drug and it is available in both tablet and capsule form. First pass effect is a metabolism that takes place for drug molecule, before the drug reaches the General Circulatory System. Its major site of action is Liver. In case of Duloxetine it is well absorbed. Adsorption begins at 2 hour lag from the oral administration of the drug and maximal plasma concentrations occurs 6 hours post dose.
The food intake does not affect the maximal plasma concentration but it extends the time from 6hours to 10 hours. The area covered by the AUC curve, i.e. the area under concentration v/s time curve is decreased by about 10%. A 3 hour delay in absorption is caused by the administration of the Duloxetine dose in the evenings, instead of the mornings.
Duloxetine has a half life of approximately twelve hours (a range of eight to seventeen hours) and undergoes rapid metabolism after the absorption of the drug is complete. The primary metabolising agents are the CYP – cytochrome isoenzymes 1A2 and 2D6. Most of the metabolites of Duloxetine are excreted in the urine (about seventy percent), fecal excretion accounts for about twenty percent of the elimination.
Distribution
Duloxetine is highly bound to plasma proteins like albumin and alpha1- acid glycoprotein. So drug is distributed to various parts normally.
Metabolism
It is a Conversion of drug molecule in its structure to some other structure. Immediately after the drug consumption, metabolism occurs. Duloxetine is studied using radio – labelled Duloxetine. It has 3% of total radio – labelled material in the plasma. Metabolites in plasma include 4-hydroxy Duloxetine glucuronide and 5-hydroxy 6-methoxy Duloxetine sulphate.
Elimination
It is the Removal of drug from the body. 20% drug is excreted in faeces. Remaining 80% appears in the urine as metabolites of Duloxetine.
Drinking alcohol while taking Duloxetine
Taking Duloxetine along with alcohol can cause liver damage, depressive symptoms, Stomach bleeding.
In case, drinking alcohol is a must, you must moderate the intake in terms of quantity and only after it has been a while since you have been taking Duloxetine. If you consume alcohol on a regular basis, make sure you consult your doctor beforehand. As stated above, the combined effect of the two consumed together can lead to liver damage. Also, if you feel under the influence, stay away from driving or operating any machinery.
Duloxetine interactions
 There are certain drugs which should not be mixed with other drugs without prior advice. It may lead to death. It should not be used by patients with
Liver disease
Renal disease
Diabetes
Depression
Glaucoma
Hypertension
Urinary tract Obstruction.
Duloxetine must not be taken with any of the following, due to drug interactions –
Fluvoxamine, which is another medication indicated for depression
Any medicines which can possibly lead to an increased risk of serotonin toxicity, unless careful medical supervision is provided
Illegal drugs
Any MAOI (monoamine oxidase inhibitor). Duloxetine administration must be stopped at least one week prior to the starting of MAOI antidepressant administration
After you stop the administration of moclobemide, wait for at least a time period of two days before administering Duloxetine. Otherwise, you may suffer a serious reaction leading to severely high blood pressure or serotonin toxicity.
Can I take duloxetine and tramadol together?
Tramadol is generally used to treat moderate to severe pains. It may lead to serotonin syndrome, a serious condition, though quite rare. It is generally caused by use of two or more serotonergic medications. Symptoms include hallucinations, extreme changes in blood pressure, blurred vision, diarrhea nausea, stomach cramps, tremor, muscle stiffness or spasm, excessive sweating, seizure, increased heart rate, fever and vomiting.
It even leads to coma and death in some severe cases. Proper health advice should be taken before use of both the drugs. The risk of seizures without any relation to the serotonin syndrome is also increased by the combined administration of these two drugs.
The interaction is more likely to occur in individuals having a condition which affects the CNS (central nervous system) like a head trauma/ brain tumor, having a history of seizures, undergoing withdrawal from drugs or alcohol, or in elderly individuals.
During treatment with these medications, the consumption of alcohol must be limited or completely avoided. Until the effect of medication on the body is known, avoid driving or operating heavy machinery.
Can I take Duloxetine and gabapentin together?
Gabapentin is used to treat epilepsy, neuropathic pain etc. Without proper guidance duloxetine and gabapentin should not be consumed together it may cause dizziness, drowsiness and difficulty concentration.
Can I take Duloxetine and Zoloft together?
Zoloft is available as sertraline; it is an anti depressant drug. It may lead to same serotonin syndrome. It starts with normal symptoms like confusion, irritability and finally it leads to coma. So, it is not advisable to take both anti depressant drug together without health adviser.
Can I take duloxetine and Ibuprofen together?
Ibuprofen is a non – steroidal anti -inflammatory drug. It relieves inflammation and pain in the body by working against the hormones that causing it. Using Duloxetine and ibuprofen leads to increased risk of bleeding. It will be more active if you have kidney or liver disease. So it is not advisable to mix two drugs for medication.
Can I take duloxetine and St. Johns wort together?
St. Johns wort belongs to class of sedatives. It also leads to serotonin syndrome. The syndrome may include symptoms such as confusion, hallucination, seizure, extreme changes in blood pressure, increased heart rate, fever, excessive sweating, shivering or shaking, blurred vision, muscle spasm or stiffness, tremor, stomach cramp, nausea, vomiting, and diarrhea. So better follow a drug prescribed by an adviser.
"Can you take duloxetine and tramadol together?"
"What is famotidine used to treat?"