What is Fondaparinux
Fondaparinux is a drug that prevents blood clots and used as an anticoagulant medication.
What is the generic and brand name of the drug?
The drug is available under generic name Fondaparinux and brand name Arixtra.
The drug is marketed primarily by GlaxoSmithKline, although a generic version of Fondaparinux developed by Alchemia is marketed (within the US) by Reddy's Laboratories.
What is the source of the drug (natural or synthetic)?
Fondaparinux is a synthetic (man-made) pharmaceutical pentasaccharide Factor Xa inhibitor.
Why is this medication prescribed?
Fondaparinux is an anticoagulant (drugs that prevent the blood clotting), which is chemically similar to that of low molecular weight heparine. Enoxaparin.
Fondaparinux is used to reduce the risk of ischemic events (decrease in the blood supply to different body organs) in patients undergoing surgery.
Fondaparinux substantially prevent Deep Vein Thrombosis in patients undergoing hip surgery, abdominal surgery or hip or knee replacement.
DVT or Deep Vein Thrombosis is usually referred to formation of blood clot within the deep vein (usually in leg). It can form the blood clot in lungs and cause Pulmonary Embolism.
Fondaparinux is also used in combination with warfarin (Coumadin) to treat Deep Vein Thrombosis and Pulmonary Embolism.
Fondaparinux use in conjunction with streptokinase has been investigated to treat thrombolytic therapy in acute myocardial infarction.

Post surgery use of Fondaparinux decreases the risk of blood clot formation and maintains the blood flow to the heart in patients suffering from angina or heart attack. In this manner, Fondaparinux significantly improves the long-term mortality and morbidity.
Pharmacophore structure: Information about the chemical structure of the drug.
Fondaparinux chemically belongs to the class of organic compounds known as oligosaccharide/polysaccharide sulfates. Chemically these are carbohydrate molecules, which contain multiple sugar moiety (3-9) and one of them put up with one or more sulfate groups. The detailed chemical classification of Fondaparinux is described below:
| | |
| --- | --- |
| Kingdom | Organic compounds  |
| Super Class | Organooxygen compounds |
| Class | Carbohydrates and carbohydrate conjugates |
| Sub Class | Oligosaccharides |
| Direct Parent | Oligosaccharides sulfates |
Chemical information of the drug.
Fondaparinux is a synthetic pharmaceutical organic compound available as sodium salt and named as methyl O-2-deoxy-6-O-sulfo-2-(sulfoamino)-α-D-glucopyranosyl-(1→4)-O-β-D-glucopyranuronosyl-(1→4)-O-2-deoxy-3,6-di-O-sulfo-2-(sulfoamino)- α -D-glucopyranosyl-(1→4)-O-2-Osulfo- α -L-idopyranuronosyl-(1→4)-2-deoxy-6-O-sulfo-2-(sulfoamino)- α -D-glucopyranoside, decasodium salt.

The compound has molecular formula C31H45N3Na10O49S8 and the molecular weight of 1728.082 Da.
What is the available strength of the drug?
The medication is supplied in form of injectable sterile preservatives free solution for subcutaneous use.

Fondaparinux is usually supplied as single dose in prefilled syringe attached with an automatic needle protection system.

Each prefilled syringe contains 5 ml sodium chloride and water solution which contains Fondaparinux sodium at a concentration of 2.5 mg/0.2 ml.

The pH of solution ranges between 5.0-8.0.

The solution is optically clear and colorless or slightly yellow in color.

No antidote is available for Fondaparinux.
Warning*
Clinical studies suggested that use of low molecular weight heparins (LMWH), heparinoids, or Fondaparinux sodium as anticoagulants or in patients undergoing neuraxial anesthesia or spinal puncture can cause epidural or spinal hematomas. Epidural or spinal hematomas may result in serious long-term or permanent paralysis. Therefore, benefits and risk factors should be considered while prescribing these drugs for neuraxial intervention in patient's anticoagulated or to be anticoagulated for thromboprophylaxis.
How the medicine works (mode of action)?
Fondaparinux is a class of medications known as Factor Xa inhibitors (Factor Xa is a natural human blood anticoagulant that is involved in blood clotting).
The active ingredient of the drug is Fondaparinux sodium that binds specifically to antithrombin III (ATIII).

Binding of Fondaparinux sodium to antithrombin III results in an increased activity (neutralization of Factor Xa)  of antithrombin III.

On selective binding to ATIII, Fondaparinux enhances neutralization of Factor Xa approximately 300 times.

Neutralization of Factor Xa results in reduced conversion of prothrombin to thrombin, and fibrinogen to fibrin in a cascade manner, which ultimately inhibits the blood clot formation.

Fondaparinux has no direct inhibitory effect on thrombin (activated Factor II) and platelets.

Clinical studies have suggested that recommended doses of Fondaparinux do not affect fibrinolytic activity or bleeding time.

What are the recommended doses of Fondaparinux?
The prescribed dose of Fondaparinux varies depending upon the age and diseased state of the patient.
In case of patients undergoing orthopaedic or abdominal surgery.

The prescribed dose of Fondaparinux is 2.5 mg per day to be injected subcutaneously.

The initial dose should be administered only 6-8 hours hours following surgery.

The drug should be administered for a period of 5-9 days.

Treatment of ST segment elevation myocardial infarction (STEMI).

The prescribed Fondaparinux dose of is 2.5 mg per day.

The initial dose of drug should be administered intravenously and subsequent doses by subcutaneous injection.

Treatment should be start at the earliest following diagnosis.

The drug treatment should continue for a period of 8 days or until hospital discharge.

Treatment of superficial-vein thrombosis.

The prescribed dose of Fondaparinux is 2.5 mg per day to be administered by subcutaneous injection.

Treatment should continue for a period ranging from 30 days to .45 days in patients who are more prone to thromboembolic complications.

Treatment of Deep Vein Thrombosis (DVT) and Pulmonary Embolism(PE).

The recommended dose of Fondaparinux to be administered subcutaneously per day depending upon the body weight are as follows:

5 mg for body weight < 50 kg,

5 mg (body weight 50-100 kg) or

10 mg (body weight > 100 kg)

The drug treatment should be continued for at least a period of 5 days.

Treatment of unstable angina/non- ST segment elevation myocardial infarction (UA/NSTEMI).

The prescribed Fondaparinux dose of is 2.5 mg per day to be administered by subcutaneous injection.

Treatment should be started as early as possible following the disease diagnosis.

The drug treatment should continue for a period of 8 days or until hospital discharge.
When should I discontinue, withhold or modify the dose of Fondaparinux?
The dosing of the drug may vary depending upon the diseased state and the body weight of the patient.

No dosage adjustment is necessary in mild to moderate hepatic impairment patients.

The drug is contraindicated in case of pregnancy, breastfeeding or hypersensitive response to any component of the drug.

Fondaparinux is not prescribed in children less than 17 years of age.

The drug should be discontinued in patients who develop severe renal insufficiency after orthopaedic surgery.

The drug should be used with high caution in case of elderly people and people with weight < 50 kg.

Fondaparinux use is contraindicated in patients with

Known hypersensitivity to sodium or any of the other ingredients of the drug

Clinically significant bleeding

Acute bacterial endocarditis (an infection of the heart) or

Severe kidney problems
What are the pharmacokinetic properties of the drug?
Pharmacokinetic studies suggest that after subcutaneous injection, Fondaparinux is rapidly and completely absorbed with a bioavailability of 100%.

The peak plasma levels are obtained after Fondaparinux administration in 3-4 hours. and plasma concentrations range from 0.1 – 0.5 mg/L for adult patients on thromboprophylaxis and from 0.6 to 1.5 mg/L for adults on therapeutic doses.

Following absorption the majority (94%) of the drug is bound to proteins.

The drug is mainly metabolized by the renal system.

The drug is eliminated mainly in urine mainly (64 – 77 % ) as unchanged drug.

The average median half-life of Fondaparinux 17 to 21 hours.

The average steady state volume of distribution of Fondaparinux is approximately 7-11 liters.
Which pregnancy category (A; B; C; D; X) has been assigned to Fondaparinux?
The Fondaparinux is classified by US FDA pregnancy category: B.

Due to lack of adequate and well-controlled studies the use of Fondaparinux in pregnant women is contraindicated.

Laboratory animal studies have shown no adverse effects on the fetus.

No adequate data is available on excretion of Fondaparinux into human breast milk.

Despite these facts caution should be exercised when taking Fondaparinux.
How to use the drug?
Follow the instructions carefully as directed on prescription leaflet and take Fondaparinux exactly as directed.

Fondaparinux is available as injectable solution. Learn proper technique from the doctor how to use it in case you use it at home.

The drug should not be used if it turns cloudy, discolored or contains particle and syringe gets cracked or damaged.

The drug is taken only once per day and should be injected under the skin of the stomach and not into muscle.

The injection should be given at different sites every time to decrease the injury.

Try to take the medicine at the same time every day.

No other medication should be co-administered with the drug in the same injection.

Take the medication regularly, even if you feel well.

Do not change the dose of the drug as prescribed by your doctor. Since, the dosage is based on patient medical condition treatment responses and weight.
How to store the drug?
Fondaparinux is stored at at room temperature 77°F (25°C).

Brief excursion period is permitted at temperature 15–30°C (59–86°F).

The drug should be stored away from excess heat, direct sun light, moisture and reach of children.

Do not freeze or store the medicine at extreme cold too.
How to dispose the medicine?
Discard any unused portion of the drug in the syringe as it is used only once.

Dispose the old medicine after the expiration date.

The drug should neither be flushed down in the toilet nor poured in the drain

Consult your pharmacist or local waste disposal company for proper disposal.
Fondaparinux had received the marketing authorisation (authorisation holder: Glaxo Group Ltd.) from the European Commission which is valid for an indefinite period throughout the European Union on 21 March 2002.

Fondaparinux has received its official approval from US Food and Drug Administration (FDA) in July 2011.

The drug has received official approval from FDA to prevent Venous Thromboembolic Events (VTE) in adults undergoing major orthopaedic or abdominal surgery.

The FDA has also approved Fondaparinux for treatment in adults for

Unstable angina or non-ST segment elevation myocardial infarction (UA/NSTEMI)

ST segment elevation myocardial infarction (STEMI)

Acute symptomatic spontaneous superficial-vein thrombosis of the lower limbs
Other uses of the drug
Fondaparinux can also be used to prevent blood clots in heart attack patients. Although, it should be used under proper medical guidance.

Fondaparinux may also be used for other uses not listed here. It is advisable to ask your doctor or pharmacist for more information.
What special dietary precautions should I follow?
It is generally recommended to continue with the normal diet, unless and until suggested by your doctor.
What special precautions should I follow/ What should I avoid while using Fondaparinux?
Do not use the medicine if you are hypersensitive or allergic to any of the ingredients.

Before taking Fondaparinux, tell your doctor about your medical history preferentially if you have bleeding ulcer, low platelet count, high blood pressure, kidney disease, bleeding problems, diabetic retinopathy, heart infection, seizures, stroke, recent surgery, low body weight (less than 110 pounds/50 kilograms.

Consumption of alcohol should be avoided while taking Fondaparinux as it increases stomach bleeding.

During pregnancy this medication is recommended only when it is essential and under doctor or pharmacist supervision.

Since the information about excretion of drug in milk is not explored consult your doctor before breast feeding to your child.

Consult with your doctor and pharmacist if you are taking any prescription and nonprescription medications, and herbal products.

Do not share this medication with other persons having the similar kind of problems. Consult your doctor for more details.

The drug should be used with high caution in older people.

It is generally recommended to avoid activities that lead to increased risk of bleeding or injury. Extra precaution should be taken to prevent bleeding while brushing or shaving.
What are the possible side effects of this drug?
Fondaparinux may bring forth some side effects in the patients. However, not all the patients show the side effects. The side effects can be common and severe. If the common side effects persist for a longer duration and become troublesome consult your doctor. The common side effects include:
Irritation

Trouble sleeping

Mild bleeding

Rashes

Itching at the injection site
In some cases side effects can be serious and needs immediate medical attention and emergency help. These are as follows:
Yellow eyes or skin

Chest pain

Pale skin

Loss of appetite

Difficulty walking

Fainting

Swelling in hands, feet, or ankles

Bloody, black, tarry stools

Tingling or numbness in the legs and feet

Reddish or pinkish, or dark urine

Persistent or severe headache or dizziness

Severe or persistent weakness, nausea, tiredness, or vomiting

Slurred speech

Fever

Muscle weakness

Severe bruising or bleeding

Confusion

Irregular heart beat

Increased oozing from a wound;

Nosebleed

Weakness on one-side

Vomit that looks like coffee grounds

Severe allergic reactions associated with the drug are as follows: swelling of the mouth, face, lips, or tongue; itching; chest tightness; hives; rashes; and difficulty breathing. Contact your doctor for any query or medical advice regarding the side effects mentioned and also for the other side effects not mentioned in the list.
What should I do in case of overdose?
Try to avoid taking the overdose of the drug. Symptoms include excessive bleeding and bruising.
In case you or some other person has taken overdose of this medication contact your local poison control centre at 1-800-222-1222 or emergency room immediately.

Consult your doctor or pharmacist for symptomatic and supportive measures in any case of overdose.
What should I do in case of missed a dose?
In case of missed dosage, take it as soon as you remember and maintain a regular dosing schedule.

Skip the missed dose if it is almost time for your next scheduled dose. Keep in mind to not use a double dose to make up a missed dose.
Does Fondaparinux have any interaction with other drugs?
Co-administration of Fondaparinux with other medicines can alter the working of either this or the other medicines. Hence, when taken together they can result in harmful side effects. It is always advisable to consult your doctor in case you are taking:
Aspirin and other salicylates such as Tricosal, Kaopectate, Pamprin Cramp Formula, Knee Relief, Nuprin Backache Caplet, Pepto-Bismol, and Trilisate etc.

Medicines that bring about in reduction in the blood clot formation chances such as warfarin (Coumadin), cilostazol (Pletal), dabigatran (Pradaxa), ticagrelor (Brilinta), dipyridamole (Aggrenox, Persantine), rivaroxaban (Xarelto), heparin, abciximab (ReoPro), enoxaparin (Lovenox), apixaban (Eliquis), fondaparinux (Arixtra), clopidogrel (Plavix), prasugrel (Effient), anagrelide (Agrylin), and dalteparin (Fragmin)

Medicines that dissolve blood clots like tenecteplase (TNKase), reteplase (Retavase), and alteplase (Activase)

Pentoxifylline and Deferasirox (Exjade).

Medicines for treatment of cancer such as tositumomab (Bexxar), ibritumomab (Zevalin), and dasatinib (Sprycel)

Nonsteroidal anti-inflammatory medicines (NSAIDs) including ibuprofen (Advil, Motrin, Motrin IB), naproxen (Naprelan, Anaprox, Naprosyn, Aleve), piroxicam (Feldene), oxaprozin (Daypro), celecoxib (Celebrex), indomethacin (Indocin), diclofenac (Cataflam, Voltaren), sulindac (Clinoril), and ketorolac, nabumetone, ketoprofen (Relafen)

Selective Serotinin Reuptake Inhibitors (SSRI) and antidepressants such as fluoxetine (Prozac, Sarafem), sertraline (Zoloft), fluvoxamine (Luvox CR), citalopram (Celexa), paroxetine (Paxil), and escitalopram (Lexapro).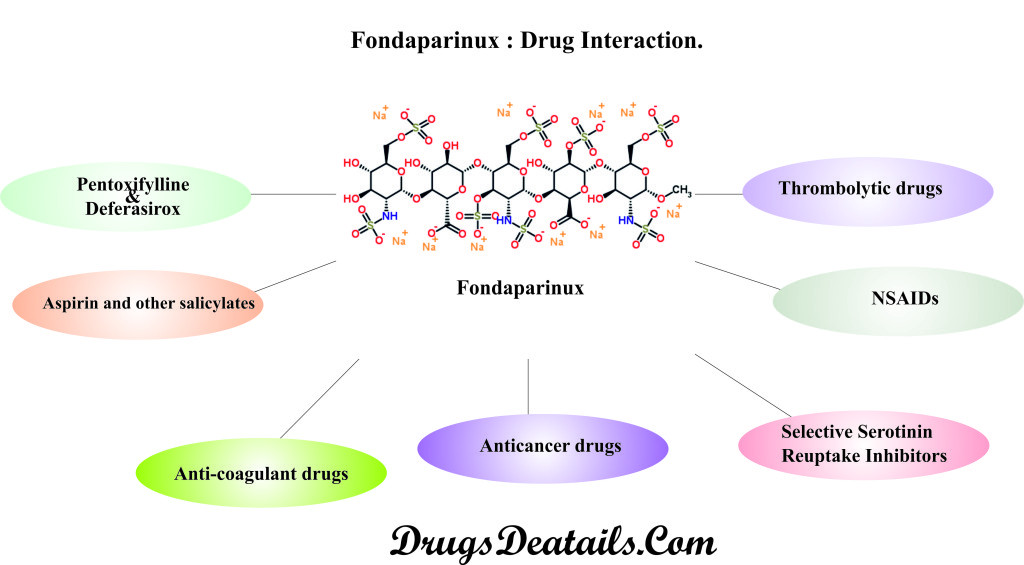 Does Fondaparinux have any interaction with diseases?
It has been suggested that Fondaparinuc is primarily eliminated by urinary excretion and hence, the exposure to Fondaparinuc in patients with renal impairment is significantly higher than the normal individuals.

Patients of severe hepatic impairment show increased risk of bleeding and therefore, Fondaparinux should be used with caution.

Fondaparinux should be used with high caution in patients with increased risk of bleeding such as in case of congenital or acquired bleeding disorders, ulcerative gastrointestinal disease, and intracranial haemorrhage.
Where can I get more information?
Your pharmacist or health care provider can provide more information about Fondaparinux.
Clinical research and current scenario of the drug
Clinical studies indicate the effectiveness of Fondaparinux as per the comparators in the studies regarding the prevention of Venous Thromboembolic Events and treatment of Deep Vein Thrombosis and Pulmonary Embolism. The frequency of thrombotic events decreased significantly in patients undergoing leg surgery and treated with Fondaparinux in comparison to placebo or enoxaparin.

Studies indicate the effectiveness of Fondaparinux in decreasing the overall occurrence of Venous Thromboembolic Events or death in patients with superficial vein thrombosis as compared to placebo. Results indicate only one Venous Thromboembolic Events or death for every 100 patients who took Fondaparinux as against six for every hundred taking placebo.

Fondaparinux was also as effective as enoxaparin in preventing death or an ischaemic event in patients with unstable angina or myocardial infarction without ST segment elevation.

Studies in patients of myocardial infarction with ST segment elevation showed the effectiveness of Fondaparinux in lowering the death risk or heart attack by 14% after 30 days compared to standard care.
References from chemical, biological and toxicological databases.
Read,
"Esomeprazole, drug class, uses, strength, side effects, mechanism of action"
"Insulin Glargine, drug class, uses, strength, side effects, mechanism of action"