What is Iophen NR?
Iophen NR is liquid preparation which contains guaifenesin. Guaifenesin is an expectorant that possesses muscle relaxant properties and uses in cough medications.
It helps in loosen up the congestion that occurs in your chest and throat and make it easily come out.
Chest congestion that may be caused by common cold, infections or allergies, can also be relieved by the guaifenesin. Sometimes it is used for the purpose which may not be indicated in the guidelines.
Iophen NR (guaifenesin) molecular structure, formula, weight, IUPAC name and drug class
The chemical formula of Iophen NR: C10H14O4
The molecular weight of Iophen NR : 198.21 g/mol
IUPAC name of Iophen NR:  3-(2-methoxyphenoxy)propane-1,2-diol
Drug class of Iophen NR: Guifenesin belongs to the class of organic compounds called as anisoles. These organic compounds contain a methoxybenzene or its derivative.
The molecular structure of guaifenesin: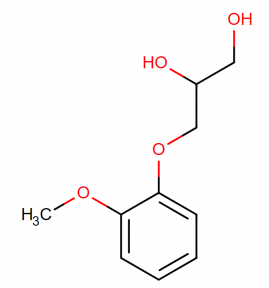 What are the indications of Iophen NR?
Guaifenesin is used for thinning the bronchial secretions and loosening the phlegm (mucus) for clear the bronchial pathways of trouble causing mucus, for draining the bronchial tubes, and making the cough more productive.
It is also indicated in the patients with stable chronic bronchitis in order to loosen the phlegm and thin bronchial secretions.
Mechanism of action of Iophen NR
Guaifenesin can act as an irritant on the gastric vagal receptors and cause glandular exocytosis of a less viscous mucus mixture by recruiting efferent parasympathetic reflexes.
A cough can be triggered by this. Thereby temporarily improves the dyspnea or the work of breathing by flushing the tenacious, congealed mucopurulent material from the blocked and obstructed small airways.
Pharmacokinetics of Iophen NR
Guaifenesin is a medication that rapidly absorbed from the gastrointestinal tract. It is rapidly hydrolyzed i.e. around 60% in seven hours.
It is excreted in urine as its major urinary metabolite, beta-(-2methoxyphenoxy)- lactic acid. It has a short elimination half-life of one hour.
How long does Iophen NR stay in your system?
Guaifenesin has a short elimination half-life of one hour and the elimination of a drug is five times of the half-life of a drug, therefore it will be excreted in 5 to 6 hours from your system completely.
What will be the effects of Iophen NR on the body?
Guaifenesin is an expectorant that reduces the adhesiveness and surface tension of the bronchial secretions and increases the output of the sputum.
It changes a dry, unproductive cough into more productive and less frequent cough by increasing the flow of less viscous secretions that promotes the ciliary action.
From upper and lower airway, it increases the efficacy of the mucociliary mechanism by reducing the viscosity and adhesiveness of secretions which helps in removing the accumulated secretions from that part.
What are the side effects of Iophen NR?
Guaifenesin is generally well tolerated, however, one should consider the side effects that it can cause. If you see any unusual side effect or allergic reaction after taking guaifenesin, you should consult your doctor immediately:
It can cause some gastrointestinal side effects such as stomach upset, vomiting when taken in more than recommended doses. Usually, your doctor recommends you a dosage that won't cause any gastrointestinal discomfort, therefore do not consume this medication more than prescribed.
Nervous side effects include dizziness and headache, which have reported occasionally.
Dermatologic side effects may include skin rashes which have been reported rarely.
A hypersensitivity side effects include anaphylactic reactions.
However, guaifenesin is a medication that rarely causes any side effects, still, if you suffered from any side effects mentioned above, you should seek medical care immediately.
What are the contraindications of Iophen NR?
Iophen NR is contraindicated in the patients who are hypersensitive to guaifenesin or any medication that contain guaifenesin or hypersensitive to any other ingredient present in the formulation.
Iophen NR use during pregnancy and breastfeeding
Adequate, well-controlled human studies are lacking and animal reproduction studies have not been conducted with guaifenesin.
Consequently, it is also not known whether guaifenesin can cause fetal harm when administered to a pregnant woman or can affect reproductive capacity.
Guaifenesin carries an FDA Category C Pregnancy Risk for teratogenic effects, which means risk to the fetus cannot be ruled out.
Guaifenesin should be given to a pregnant woman only if clearly needed. It is also not known whether guaifenesin is excreted in human milk.
There is also no data on the excretion of guaifenesin into human milk during breastfeeding. Although,  manufacturers recommend that because of the potential for serious adverse reactions in nursing infants, a decision should be made to discontinue nursing or discontinue the drug, taking into account the importance of the drug to the mother.
What to do in case of Iophen NR overdose?
The overdosage of the guaifenesin is very less likely to produce serious and harmful toxic effects and the acute toxicity of the guaifenesin is low.
There was no toxicity was reported when it is administered as 5 grams/kg in animals by the means of stomach tubes.
Gastric emptying (syrup of ipecac) and/or lavage is recommended as soon as possible after ingestion to reduce further absorption in cases of overdosage. In exposures where guaifenesin is the sole ingestant, treatment is rarely necessary.
In exposures involving guaifenesin in multisymptom products containing antihistamines, analgesics, decongestants, and/or antitussives, treatment is directed toward the coingestant(s).
Consideration should be given to the alcohol content of liquid preparations of guaifenesin and combination products.
What is the dosage of Iophen NR?
Adults and children: 200 mg to 400 mg (which are 2 to 4 teaspoonfuls) on every 4 hours, not to exceed 2400 mg (or 24 teaspoonfuls) in 24 hours.
Children 6 years to under 12 years of age: 100 mg to 20 mg (which are 1 to 2 teaspoonfuls) on every 4 hours, not to exceed 1200 mg (or 12 teaspoonfuls) in 24 hours.
Children 2 to under 6 years of age: 50 mg to 100 mg (which are 1/2 to 1 teaspoonful) on every 4 hours, not to exceed 600 mg (6 teaspoonfuls) in 24 hours.
Children 6 months to under 2 years of age: A common dosage is 25 mg to 50 mg (which are 1/4 to 1/2 teaspoonful), on every 4 hours, not to exceed 300 mg (3 teaspoonfuls) in 24 hours.
Individualized dosage should be determined by evaluation of the patient.
Can Iophen NR interact with other drugs?
If you take herbal products at the time of other medications, the actual effect if the medication can change. This can also lead to some serious side effects and may make your medication work in any other improper way.
Such interactions are possible when you take more than one medication at one time, however, they do not always occur.
These interactions can be prevented or managed by the proper dose adjust, monitoring or sometime even by reducing the doses of the medication and it can be done by your doctor or pharmacist only.
In such cases, you should always tell your doctor about all other medications that you are taking such as any prescription or nonprescription medication, any herbal products, before starting the treatment with this product.
You should also not stop or change the dose without doctor advise and also avoid starting any other medication while using this medication without doctor's approval.
Iophen NR interaction with lab tests
Guaifenesin is a medication which is available for prescription and nonprescription medication. This may also be present in other cough mediation therefore before taking any medicine, check the label in order to be sure that you are not consuming guaifenesin for more than one product.
The major metabolite of this medication appear in urine and therefore it can alter the results of few lab tests such as urine levels of certain acids.
When undergoing any lab test, make sure that your lab personnel knows that you are already taking this medication.
If you are taking other medications also, make a list of such drugs and present the same to your doctor or pharmacist in order to reduce the risk of serious medical problems.
Who should not use Iophen NR?
Iophen NR should not be used in a child under 2 years of age.
If you are allergic to guaifenesin or any other ingredient of its formulation, you should avoid taking this medicine.
It can cause some allergic reaction and its symptoms include shortness of breath, wheezing, or difficulty in breathing, swelling of lips, face, tongue, or other parts of the body, rashes, hives on the skin or itching.
In case you got an expired medicine, or even if the packaging of the product is torn, or shows tempering signs, go and get the new pack instead of using this. Also, return the previous expired bottle to the pharmacist for proper disposal. As this medicine is also available as a non-prescription product, therefore ask your doctor about this medicine in case you are not sure about its effects.
You should also stop using this medicine if a cough lasts longer than 7 days, and in a case of a cough came back along with severe symptoms such as fever, rash, or a persistent headache. These are the signs that indicate a serious condition.
Keep this medicine away from the children. Seek an emergency medical help, in case of an overdose of Iophen NR, is suspected.
Can Iophen NR cause urolithiasis?
Urolithiasis is a condition when there is the formation of stony concretions in the bladder or urinary tract and guaifenesin which is present in Iophen NR, is an expectorant and are common on OTC cold and allergy products can cause urolithiasis when used in excess.
Guaifenesin is known to be the major component of the ephedrine formulations, and over-consumption of the ephedrine hydrochloride and guaifenesin formulations shows the presence of the metabolite of the guaifenesin in the urine of the abusers.
However, an average patient who uses the consumes the limited quantity of guaifenesin for minor respiratory ailments would most likely not to be at risk of renal calculi formation of this nature.
Is Iophen NR a narcotic?
Iophen NR which contains guaifenesin can be called as narcotic but only if it is used in excess or more than the recommended dose.
Because guaifenesin is a major component of ephedrine-containing over the counter bronchodilators which is also used for the preparation of highly narcotic and abusive substances such as methamphetamine or methcathinone.
Therefore one should not use this medication more than doctor's recommendation.
How to use Iophen NR?
Iophen NR can be taken with or without food, it should be taken by mouth as directed by your doctor. This medicine should be taken every 4 hours. When you buy this product, you will receive a leaflet along with the medicine, you should always follow the instruction given on the leaflet, in case of you are self-treating. You should consult your pharmacist in case you are uncertain about any information about such product.
Iophen NR may have a bitter taste, you should not break the tablet unless your pharmacist asks you to do so, or unless they have a score line. You should swallow the whole tablet. In case of a liquid formulation, use the measuring cup for carefully measure the dose that needs to be given as per doctor's prescription. Avoid using a household spoon as you may get an incorrect dose.
For powder formulations, empty the entire sachet contents directly onto the tongue and swallow with water. Do not chew as it can make the taste more bitter.
Take the medication as per your medical condition and as per doctor's recommendation. In case, your condition is getting worse, do not exceed the dosage more than 6 doses a day, or you should medical care in such conditions.
Along with taking the medicine on time, you should also drink plenty of water. Excessive fluids will help to loosen up the mucus and make it easy for mucus to come out and thereby clear congestion.
Sometimes some symptoms such as fever, severe sore throat, throat pain, rashes, a headache that could be persistent, and cough that worsens with time or returns after few days. In case you see such symptoms you should consult your doctor immediately. These could be a sign of a serious medical problem. Do not delay the diagnosis or treatment if you think it could be a serious medical problem.
How to store Iophen NR?
Iophen NR should be stored at controlled room temperature i.e. 150 to 300 C (590 – 860 F). Keep this product away from light and keep the bottle tightly closed.
Can Iophen NR be given to animals?
Iophen NR is aproduct only for human use.
In veterinary medicine, guaifenesin is given intravenously to induce muscle relaxation when administering anesthesia.
It is able to relax both laryngeal and pharyngeal muscles, therefore allowing easier intubation. Guaifenesin is also used for the treatment of horses with exertional rhabdomyolysis and in dogs with strychnine intoxication.
"How strong is virtussin ac syrup?"