What is Macrobid capsule?
Macrobid capsules contain nitrofurantoin which is an antibacterial drug mainly used for urinary tract infections. It comes as a hard gelatin capsule shell containing 100 mg of nitrofurantoin in the form of 25 mg of nitrofurantoin macrocrystals and 75 mg of nitrofurantoin monohydrate and comes under the brand name of Macrobid.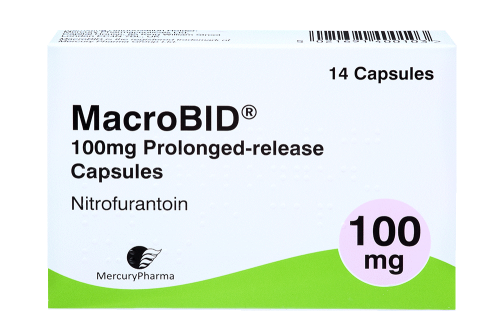 In order to reduce the development of drug-resistant bacteria and maintain the effectiveness of Macrobid and other antibacterial drugs, Macrobid should be used only to treat or prevent infections that are proven or strongly suspected to be caused by bacteria.
Macrobid chemical name, molecular formulas, weight, drug class
Chemical name:
The chemical name of nitrofurantoin macrocrystals is 1-[[[5-nitro-2-furanyl]methylene]amino]-2,4-imidazolidinedione. The molecular structure is the following: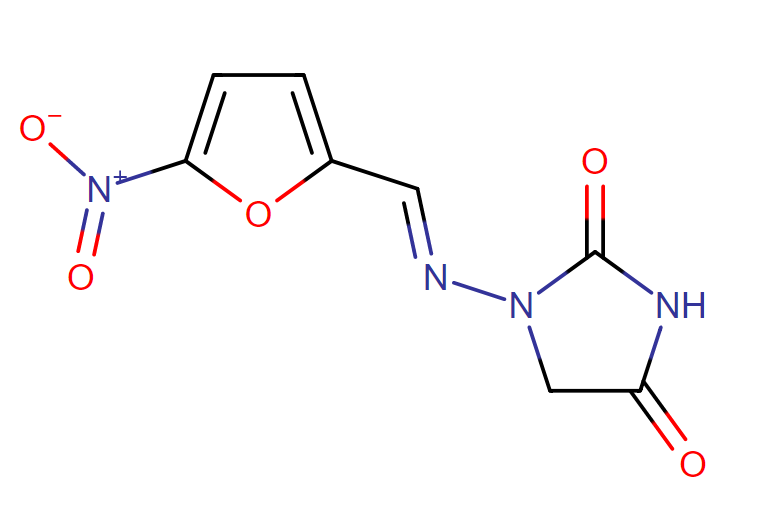 Molecular Weight: 238.16
The chemical name of nitrofurantoin monohydrate is 1-[[[5-nitro-2-furanyl]methylene]amino]-2,4- imidazolidinedione monohydrate. The molecular structure is the following: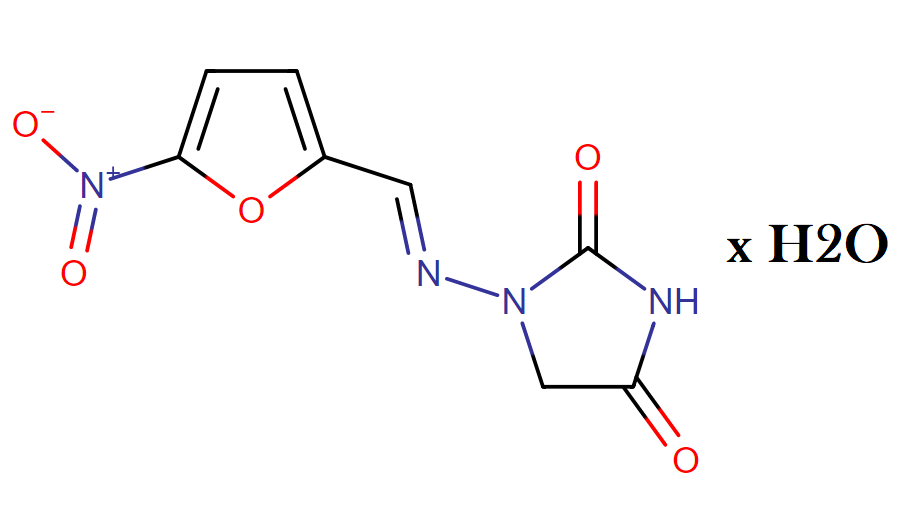 Molecular Weight: 256.17
Macrobid inactive ingredients and drug class
Inactive Ingredients: Each capsule contains carbomer 934P, corn starch, compressible sugar, D&C Yellow No. 10, edible gray ink, FD&C Blue No. 1, FD&C Red No. 40, gelatin, lactose, magnesium stearate, povidone, talc, and titanium dioxide.
Drug Class: Nitrofuran Antibacterials
This compound belongs to the class of organic compounds known as hydantoins. These are heterocyclic compounds containing an imidazolidine substituted by ketone group at positions 2 and 4.
How long Macrobid stays in your system?
Nitrofurantoin, when administered orally, is absorbed in the upper gastrointestinal tract and plasma concentrations of nitrofurantoin are low after a single oral dose of 100 mg Macrobid capsule. Nitrofurantoin is a medication which is highly soluble in urine and due to this reason, it gives brown color to the urine.
When Macrobid is administered with food, the bioavailability of nitrofurantoin is increased by 40% approximately. The elimination half-life of nitrofurantoin is about 30 minutes and therefore it stays for about (30 x 5) 3 hours in your system.
Mechanism of action of Macrobid
The mechanism of the antimicrobial action of nitrofurantoin is unusual among antibacterials. Nitrofurantoin is reduced by bacterial flavoproteins to reactive intermediates which inactivate or alter bacterial ribosomal proteins and other macromolecules.
As a result of such inactivations, the vital biochemical processes of protein synthesis, aerobic energy metabolism, DNA synthesis, RNA synthesis, and cell wall synthesis are inhibited. Nitrofurantoin is bactericidal in urine at therapeutic doses.
The broad-based nature of this mode of action may explain the lack of acquired bacterial resistance to nitrofurantoin, as the necessary multiple and simultaneous mutations of the target macromolecules would likely be lethal to the bacteria.
What is the dosage of Macrobid?
The recommended dose of Macrobid is different depending on whether it is being used to treat a urinary tract infection or prevent one.
In general, here are the ranges of oral doses given:
50 to 100 milligrams (mg) at bedtime for adults and teens to prevent infections.
50 to 100 mg every six hours for adults and teens to treat infections.
Doses are based on body weight for children and infants one month and older.
For the extended-release capsules, 100 mg every 12 hours for 7 days for adults, teens and children ages 12 and older. The dose is individualized for children under age 12.
Indications and usage for Macrobid
Macrobid is indicated for the treatment of urinary tract infections mainly caused by susceptible strains of Escherichia coli or Staphylococcus saprophyticus. This medication is not used for the treatment of pyelonephritis or perinephric abscesses.
Macrobid should be used only to treat or prevent infections that are strongly suspected to be caused by susceptible bacteria. In order to reduce the development of drug-resistant bacteria and maintain the effectiveness of Macrobid and other antibacterial drugs are used.
They should be considered in selecting antibacterial therapy when culture and susceptibility information is available. Local epidemiology and susceptibility patterns may contribute to the empiric selection of therapy, in the absence of such data.
What are the contraindications of the Macrobid?
Macrobid is contraindicated in patients with anuria, oliguria or impaired renal function (creatinine clearance under 60 ml per minute or clinically significant elevated serum creatinine). Because of impaired excretion of the drug, such patients carry an increased risk of toxicity.
The drug is contraindicated in pregnant patients (at 28-42 weeks gestation), due to the possibility of hemolytic anemia that is possibly caused by immature erythrocyte enzyme systems. For the same reason, the drug is contraindicated in neonates under one month of age.
In patients with a previous history of cholestatic jaundice/hepatic dysfunction associated with nitrofurantoin, the Macrobid is contraindicated. Also in patients with known hypersensitivity to nitrofurantoin, Macrobid is contraindicated.
Is Macrobid safe in pregnancy?
Macrobid comes under the pregnancy category B, which stated that there is no harm to the fetus was reported in animal studies even at higher doses. When nitrofurantoin given in mice at 25 times higher doses than human dose, there were no fatal malformations were observed. And when it is given in 68 times more than normal human dose, it caused growth retardation and a low incidence of common malformations.
However, there are no adequate studies were given in pregnant women nonetheless this drug should be used during pregnancy only if clearly needed.
Can Macrobid be taken by the nursing mother?
Macrobid should not be administered by the nursing mothers because it is detected in human breast milk in trace amounts. A decision should be made whether to discontinue nursing or to discontinue the drug because nitrofurantoin has the potential for serious adverse events in nursing infants (below 1 month of age especially). One can also consider discontinuing the nursing for a while, taking into account the necessity of the drug to the mother.
Can Macrobid be used in pediatric patients?
In an infant below the age of one month, the use of nitrofurantoin is contraindicated. In the pediatric patients below the age of twelve years, the safety and efficacy of Macrobid has not been established.
What should I do, in case of Macrobid overdosage?
Acute overdosage of nitrofurantoin can result in vomiting, there have been no other specific symptoms noted with the overdose of this medication. In case of the overdose, induction of emesis should be considered. Higher fluid intake should be maintained in order to excrete the drug through the urine because there is no specific antidote for this drug. Nitrofurantoin is dialyzable.
What are the side effects of Macrobid?
Some common side effects of Macrobid include:
Diarrhea, gas, nausea, and headache are common side effects. These usually do not need medical attention. However, you should check with your doctor, if they are severe.
Severe side effects of Macrobid:
If you have any of these symptoms while taking Macrobid, check with your doctor right away. Some of them could indicate liver problems.
Stomach pain, tenderness
Stools the color of clay or urine that is dark
No appetite or lower appetite
Nausea, vomiting
Yellowing of skin, eyes
Weakness, fatigue
Feet or leg swelling
Other side effects that warrant an immediate call to the doctor include:
Chills, cough, fever
Hives, itching, shortness of breath, skin rash
Pain in joints or muscles
Rare Side Effects of Macrobid:
Some of the rare side effects of Macrobid are:
Confusion
Light-colored stools
Color blindness
Vomiting blood
Scaly skin
Can Macrobid be taken in Glucose-6-phosphate dehydrogenase (G-6-Pd) deficiency?
In patients with glucose-6-phosphate dehydrogenase deficiency (G-6-Pd), the hemolytic anemia has been reported, when treated with nitrofurantoin. Therefore the nitrofurantoin therapy should be used with caution in patients with G-6-Pd deficiency.
Even, it is recommended that nitrofurantoin should be avoided in patients with G-6-Pd dehydrogenase deficiency. Hemolysis can be developed in patients if nitrofurantoin has been administered therefore the nitrofurantoin therapy should be withdrawn in such patients. As soon as the nitrofurantoin is withdrawn, the hemolysis ceases by itself.
Can Macrobid be taken by the patients with hepatotoxicity?
No, the Macrobid/nitrofurantoin should not be given to a patient with a history of cholestatic jaundice, hepatic dysfunction. However, the use of nitrofurantoin is rarely associated with hepatotoxicity, including hepatitis, cholestatic jaundice, chronic active hepatitis, and hepatic necrosis.
Macrobid (nitrofurantoin microcrystals) capsules are contraindicated in patients with a history of cholestatic jaundice and hepatic dysfunction. Fatalities have also been reported; however, most acute reactions are self-limiting and resolve spontaneously.
In patients with liver disease, the nitrofurantoin therapy should be administered with caution. During prolonged therapy, the periodic monitoring of liver function should be done. If conditions like hepatitis or liver damage seem to occur, the nitrofurantoin therapy should be stopped immediately.
If the liver damage seems to occur with use of this medication, it should be withdrawn as soon as possible. A reduced dosage may also be necessary to prevent toxicity because nitrofurantoin is partially metabolized by the liver.
Can Macrobid be taken by patients with renal dysfunction?
No, Macrobid should not be taken by the patients with renal functions; even the use of nitrofurantoin is contraindicated in patients with anuria, oliguria, and in patients with significant renal impairment, in which creatinine clearance is less than 60ml/minute. In such patients, the urinary concentration of nitrofurantoin is not adequate which increase the risk of therapeutic failure.
The risk of toxicity can also be increased due to the reason for the elimination of nitrofurantoin by kidneys; therefore it is recommended that the caution should be practiced if using the nitrofurantoin in patients with renal dysfunction.
Can Macrobid be taken by the patients with colitis?
Most antibacterial agents can cause pseudomembranous colitis. The severity of colitis may range from mild to life-threatening with an onset of up to two months following cessation of the therapy. The toxin of Clostridium difficile is believed to be the primary cause of colitis associated with the use of antibiotics because antibiotics can permit the growth of Clostridium difficile and thereby alters the normal flora of the colon.
Severe diarrhea, persistent diarrhea, and severe abdominal cramps are some symptoms of colitis. Such symptoms are often associated with passage blood and mucus. The most common culprits are clindamycin, lincomycin, the aminopenicillins (amoxicillin, ampicillin), and the cephalosporins. In patients with a history of gastrointestinal diseases, the broad spectrum antibiotic therapy should be used cautiously.
In patients with colitis, the nitrofurantoin in the more severe course can flare up the underlying disease. If significant diarrhea occurs during therapy, the culprit antibiotic should be discontinued. For diagnosis, stool culture for Clostridium difficile and stool assay of C. difficile can be helpful. In cases of severe diarrhea, a large bowel endoscopy should be considered as an established diagnosis.
Can Macrobid be taken by the patients with peripheral neuropathy?
Macrobid in patients with peripheral neuropathy can cause moderate interaction. This medication is usually associated with the development of severe and irreversible peripheral neuropathy. Patients with medical conditions like diabetes, renal impairment, anemia, electrolyte imbalance or any other debilitating diseases are at greater risk.
Precaution is needed to be practiced while using nitrofurantoin therapy in patients with one or more risk factors or preexisting peripheral neuropathy.  Periodic monitoring of renal function is recommended during prolonged therapy.
 Can Macrobid be taken by the patients with respiratory impairment?
In patients who have received continuous treatment for 6 months or longer, chronic pulmonary reactions have been reported with the use of nitrofurantoin. One should practice precaution while using this medication in patients with pulmonary dysfunction.
Macrobid interactions with other Antibiotics
Antagonism has been demonstrated in vitro between nitrofurantoin and quinolone antimicrobials. The clinical significance of this finding is unknown.
Can Macrobid be taken with fluconazole?
The concurrent administration of both can cause moderate interaction. Both together can increase the risk of hepatic and pulmonary toxicity. However, the mechanism of the same is unknown.
In a patient taking nitrofurantoin for 5 years, and when fluconazole was added to his regimen, he developed respiratory symptoms such as fatigue, dyspnea, cough, pleuritic pain, and tracheal pain. Hepatic enzyme elevations have also been reported after 2 months.
Chest x-rays and respiratory tests were performed as a diagnosis of pulmonary fibrosis. The symptoms improved after discontinuation of nitrofurantoin and fluconazole combination. Pulmonary toxicity has also been reported with nitrofurantoin and both drugs individually known to cause hepatic toxicity.
Until more information is available it may be advisable to monitor patients for signs of adverse pulmonary and hepatic effects during concomitant administration. Patients should be advised to notify their physician if they develop a cough, dyspnea, fatigue, or pain.
"What is cefotaxime used to treat?"