What is Moxifloxacin (Avelox)?
Moxifloxacin is a broad spectrum antibacterial drug that is used for the treatment of bacterial infections.
What is the generic and brand name of the drug?
The drug is available under generic name Moxifloxacin and marketed worldwide (as the hydrochloride) under brand names Avelox,Avalox, and Avelon.
Moxifloxacin is also available as ophthalmic solution (eye drop) under Vigamox and Moxeza brand names.

The drug was developed by Bayer AG (initially calledBAY 12-8039).

Bayer HealthCare Pharmaceuticals is responsible for its manufacture and is marketed by Bayer's partner Merck.
What is the source of the drug (natural or synthetic)?
Moxifloxacin is a fourth generation synthetic (man-made) pharmaceutical antibiotic class of drug.
Why is this medication prescribed?
Moxifloxacin is a bactericidal agent that acts by killing the bacteria that cause infections.

Moxifloxacin acts against a wide range of bacteria (Broad range antibacterial spectrum

) such as Haemophilus influenzae, enteric gram negative rods (i.e. Proteus species, Escherichia coli, Klebsiella species), Streptococcus pneumoniae, atypical bacteria (i.e. Chlamydia, Mycoplasma, Legionella), and anaerobic bacteria.

The drug is used to treat bacterial infections in lungs, eye, brain, skin, nose (sinus) and abdomen (stomach area).

Moxifloxacin is used in the treatment of respiratory tract infections (such as pneumonia, bronchitis and secondary infections in chronic bronchitis), sinusitis, skin infections and intra-abdominal infections, cellulitis, conjunctivitis, meningitis and tuberculosis.

However, this drug does not provide any protection against flu, cold and other viral infections.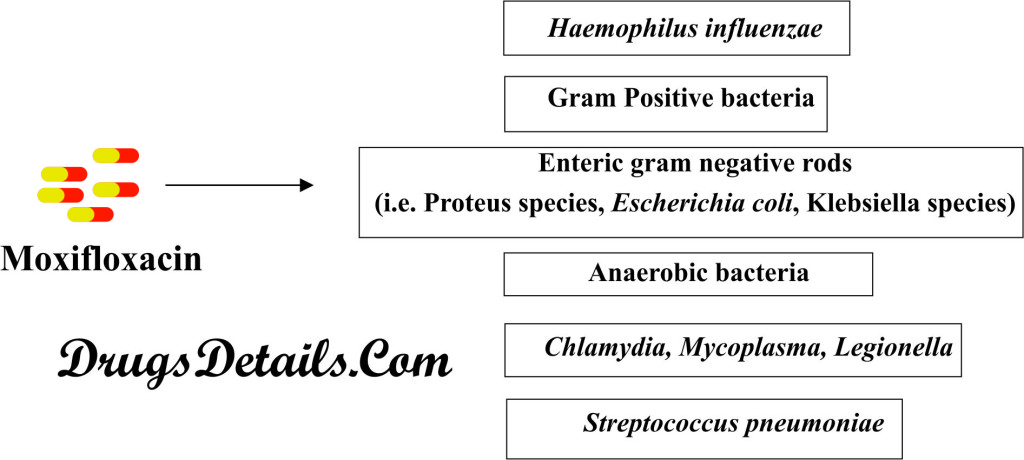 Pharmacophore structure: Information about the chemical structure of the drug
Moxifloxacin chemically belongs to the class of organic compounds which are known as quinoline carboxylic acids, which are characterized by substituted carboxyl group at one or more positions in the quinoline ring system. The detailed chemical classification of Moxifloxacin is described below:
| | |
| --- | --- |
| Kingdom | Organic compounds |
| Super Class | Organoheterocyclic compounds |
| Class | Quinolines and derivatives |
| Sub Class | Quinoline carboxylic acids |
| Direct Parent | Quinoline carboxylic acids |
Chemical information of the drug
The active moiety of Moxifloxacin is fluoroquinolone (characterized by fluoride as a central part of drug).

The drug is available as a monohydrochloride salt.

The drug is a synthetic aromatic quinoline carboxylic acids broad spectrum antimicrobial agent with a molecular formula C21H24FN3O4.

The molecular weight of the drug is 401.431g/mol.

Chemically, Moxifloxacin is known as 7-[(4aS,7aS)-octahydro-1H-pyrrolo[3,4-b]pyridin-6-yl]-1-cyclopropyl-6-fluoro-8-methoxy-4-oxo-1,4-dihydroquinoline-3-carboxylic acid .

Moxifloxacin is slightly yellow to yellow crystalline and has a water solubility of 0.168 mg/mL.

The melting point of Moxifloxacin is 238°C-242 °C.
What is the available strength of the drug?
Moxifloxacin is available in tablet form for oral administration: regular tablets and orally disintegrating tablets.

It is available in parental form for intravenous infusion (I.V.) in most of the countries.

Moxifloxacin is also used in the form of ophthalmic solution (eye drop) for the treatment of conjunctivitis (pink eye).

The tablet is dull red in color, film-coated, oblong and coded with M400 on one side corresponding to the dose of the drug and "BAYER" on other side.

Each tablet contains active Moxifloxacin hydrochloride which is equivalent to the 400 mg of Moxifloxacin.

MoxifloxacinV. (intravenous infusion) contains 400 mg Moxifloxacin in 0.8% saline (aqueous solution of Moxifloxacin hydrochloride in sterile 0.8% sodium chloride).
How the medicine works (mode of action)?
Moxifloxacin binds with bacterial DNA gyrase (topoisomerase II) and topoisomerase IV and therefore inhibits the activity of these enzymes.

DNA gyrase and topoisomerase IV are involves in the bacterial DNA replication, transcription, DNA repair and partitioning of the chromosomal DNA during the division of the bacterial cell..

Moxifloxacin prevents the replication, repair and separation of bacterial DNA, therefore inhibits the replication and causes death of bacterial cell (antibiotic or bactericidal effect).

It is a broad spectrum antibiotic and effective against both gram negative and gram positive bacteria.

Moxifloxacin is quite different from previous fluoroquinolone antibiotics (such as levofloxacin and ciprofloxacin) in its potent activity against gram-(+) bacteria and anaerobes.

Due to higher activity against the common respiratory pathogen Streptococcus pneumoniae, the Moxiflaxacin is also known as "respiratory quinolone".

What are the recommended doses of Moxifloxacin?
The recommended dose of the drug for adults is usually 400 mg once a day.

The drug can be taken orally with water either in presence or absence of food.

Duration of the doses depends upon the type of infection:

Acute bacterial sinusitis: dose of 400 mg every 24 hour orally or I.V. for 10 days.
Acute bacterial exacerbation of chronic bronchitis: dose of 400 mg every 24 hour orally or I.V. for 5 days.
Community acquired pneumonia: dose of 400 mg every 24 hour orally or I.V. for 7-14 days.
Uncomplicated skin and skin structure infections (SSSI): dose of 400 mg every 24 hour orally or I.V. for 7 days.
Complicated (SSSI): dose of 400 mg in every 24 hour orally or I.V. for 7-21 days.
Complicated intra-abdominal infections: dose of 400 mg every 24 hour orally or I.V. for 5-14 days.
When should I discontinue, withhold or modify the dose of Moxifloxacin?
The drug is not recommended in patients who are hypersensitive to the drug or any member of the quinoline class of antimicrobial agents, or any of the components of the formulation.

Moxifloxacin use should be withheld in case of nerve damage; pain and burning in arms and legs; change in ability to sense heat, cold and pain.

Moxifloxacin is generally not recommended for children younger than 18 years old.

It has been observed that prolonged use of Moxifloxacin may cause swelling or tearing of a tendon mostly in geriatric population.

The use of Moxifloxacin is contraindicated if you take steroid medication, or if you have had a heart, kidney, or lung transplant.

It is generally recommended to stop the medication if you feel sudden pain, tenderness, stiffness, or movement problems or swelling, in any of your joints.
What are the pharmacokinetic properties of the drug?
Pharmacokinetic studies suggested that after oral administration, Moxifloxacin is rapidly absorbed from the gastrointestinal tract and has a bio-availability of approximately 90%.

Following absorption, approximately 50% of the drug is bound to plasma proteins.

Approximately 52% of the drug is metabolized via glucuronide conjugates (accounts for 14%) and sulphate conjugation (accounts for 38%).

It has been observed that following a 400 mg dose of the drug maximum (or peak) plasma concentration (approximately 3.56 mg/L) is achieved in 2 hours.

The average median half-life of Moxifloxacin is 11.5-15.6 hours.

P450 system does not play any role in the metabolism of Moxifloxacin.

Approximately 45% of dose of Moxifloxacin is mainly excreted in the feces (~20%) and urine (~25%) in the form of uncharged drug.

The average steady state volume of distribution of the drug is 1.7-2.7 L/kg.
Which pregnancy category (A; B; C; D; X) has been assigned to Moxifloxacin?
The Moxifloxacin is classified by US FDA pregnancy category: C.

Due to lack of adequate and well-controlled studies, the use of Moxifloxacin in pregnant women is contraindicated and recommended only when benefit justifies the risk but studies in animals have shown adverse effect on fetus.

Studies support the excretion of the drug into animal milk. However, no adequate data is available on excretion of Moxifloxacin into human breast milk.
Despite these facts caution should be exercised when taking Moxifloxacin.
How to use the drug?
Moxifloxacin is available in tablet form for oral administration by mouth with or without food.

Moxifloxacin is also available in the parental form for intravenous infusion and in form of ophthalmic solution (eye drop).

The time duration between the drug use should be at least 24 hours.

Moxifloxacin is taken with water (one glass or more) at same time each day.

It is advisable not to take more than one tablet daily.

Follow the instructions carefully as directed on prescription leaflet and take Moxifloxacin exactly as directed.

Do not change the dose of the drug as prescribed by your doctor. Since, the dosage is based on patient medical condition, treatment responses and usage with other drugs.
How to store the drug?
Moxifloxacin is stored at 25°C (77°F) and excursion permitted to 15-30°C (59-86°F).

Moxifloxacin should not be refrigerated (precipitated on refrigeration).

Medicine should not be stored in the bathroom.

The drug should be kept away from excess heat, direct sun light and reach of children.

Do not freeze or store the medicine at extreme cold too.
How to dispose the medicine?
Throw away unused and opened, outdated or no longer used medication.

Also dispose the old medicine after the expiration date.

Parental drug products containing visible particulates should not be used and it is for single-use only, therefore, discard the unused portion.
Moxifloxacin has received its initial official approval from US Food and Drug Administration (FDA) in December 1999 for the treatment of acute exacerbations of chronic bronchitis (AECB), community acquired pneumonia (CAP), and acute bacterial sinusitis (ABS).

In April 2001, Moxifloxacin was approved for treatment of uncomplicated skin and skin structure infections.

Later in year 2004-2005, the drug has also received approval for treatment of community acquired pneumonia caused by multi-drug resistant Streptococcus pneumonia, complicated skin and skin structure infections and complicated intra-abdominal Infections.
Other uses of the drug.
Moxifloxacin is sometimes used for the treatment of tuberculosis, and endocarditis (heart lining and valves infection), when other medication cannot be used.

In certain cases, Moxifloxacin can also be used to treat or prevent the anthrax (a lethal bacterial infection that is caused by the bacterium Bacillus anthracis) in people who have been exposed to bacterial germs causing anthrax, when other drugs are not available or cannot be used for this purpose.

Moxifloxacin may also be used for other uses not listed here. It is advisable to ask your doctor or pharmacist for more information.
What special dietary precautions should I follow?
Drink plenty of water during the course of medication (with and after oral dose of Moxifloxacin).

Also use other fluids like fruit juice during the course of treatment.
What special precautions should I follow/ What should I avoid while using Moxifloxacin?
Do not use the medicine if you are hypersensitive or allergic to Moxifloxacin or other fluoroquinolones such as ciprofloxacin, norfloxacin, lomefloxacin, nalidixic acid gatifloxacin, levofloxacin, gemifloxacin and others.

Before taking Moxifloxacin, tell your doctor about your medical history specially if you have myasthenia gravis (chronic autoimmune neuromuscular disease characterized by varying degrees of weakness of the skeletal muscles of the body).

Do not use Moxifloxacin if you have muscle disorder.

Keep in mind that Moxifloxacin should not be taken at least 4 hours before or at least 8 hours after the use of antacids containing magnesium or aluminium (Maalox, Mylanta, Tums, others), vitamin or mineral supplements containing iron or zinc, didanosine powder or chewable tablets (videx), and sucralfate (carafate).

Inform your health care provider, if you are pregnant or plan to become pregnant or if you are breast-feeding.

During pregnancy, this medication should be used only when clearly needed. Discuss the risks and benefits with your doctor.

Do not share this medication with other persons having the similar kind of problems. Consult your doctor for more details.

Do not use tanning beds, sunlamps and keep away from unnecessary or prolonged exposure of sunlight.

Since use of Moxifloxacin sometime cause dizziness and light headedness, therefore it is usually recommended to avoid driving, use of machinery or any chore requiring alertness or clear vision while taking Moxifloxacin.

Consult with your doctor and pharmacist if you are taking any prescription and non-prescription medications or herbal products.

Consult your doctor in case of any query. Avoid use of other drugs used for the treatment of impotence.
What are the possible side effects of the drug?
In addition to the associated benefits, Moxifloxacin is also accompanied with the side effects. Some of the side effects are more common, others less common whereas some that fade away with time while you take the drug. It is always recommended to consult a doctor if you encounter any of the side effects.
Some of the less commonly occurring side effects but requiring medical attention is outlined as:
Change in ability to taste food

Constipation

Diarrhea

Dry mouth

Headache

Loss of appetite

Nausea

Sores on tongue or in the mouth

Stomach pain

Sweating

Vaginal itching

Vomiting

Weakness

White patches in the mouth
Moxifloxacin can cause some serious side effects. On appearance of these symptoms, do not stop taking the Moxifloxacin and immediately contact to your doctor. These include:
Agitation

Confusion

Depression

Difficulty falling asleep or staying asleep

Dizziness

Hallucinations (seeing things or hearing voices that do not exist)

Nervousness

Nightmares

Not trusting others or feeling that others want to hurt you

Restlessness

Severe diarrhea (watery or bloody stools) that may occur with or without fever and stomach cramps (may occur up to 2 months or more after your treatment)

Thinking about harming or killing yourself

Uncontrollable shaking of a part of the body
Sometime, it may cause severe side effects. On appearance of these symptoms or symptoms related to the rupture of tendons, stop taking the medicine and immediately talk to your doctor:
Dark urine

Decreased urination

Difficulty breathing or swallowing

Fainting

Fast heartbeat

Feeling or blistering of the skin

Fever

Hives

Hoarseness

Itching

Joint or muscle pain

Loss of consciousness

Rash

Seizures

Swelling of the eyes, face, mouth, lips, tongue, throat, hands, feet, ankles or lower legs.

Unusual bruising or bleeding

Yellowing of the skin or eyes.
Besides these, Moxifloxacin also associated with damaging of nerves. It also causes some other side effect like problems with joints, bones and tissue.Some other symptoms of side effect includes pain, burning, numbness in arms or legs, change in the capability to sense pain, cold, heat or light touch. On feeling these symptoms, do not take any more Moxifloxacin and immediately talk to your doctor.
What should I do in case of overdose?
Try to avoid taking the overdose of the drug. If you overdose the drug contact with your doctor or pharmacist for symptomatic and supportive measures.
In case you or some other person has taken overdose of this medication contact your local poison control centre at 1-800-222-1222 or emergency room immediately.
Call local emergency services at 911 in case a patient collapses or faces difficulty in breathing.
What should I do in case of missed a dose?
In case of missed dosage, take it as soon as you remember and maintain a regular dosing schedule.
Skip the missed dose if it is almost time for your next scheduled dose. Keep in mind not to use a double dose to make up the missed dose.
Does Moxifloxacin have any interaction with other drugs?
Moxifloxacin may interact with one of the following drugs. Care should be taken when you are taking these medications together.
Clinical studies have suggested that use of Moxifloxacin in combination with corticosteroids can increased the risk of tendonitis and disability.
Studies with Moxifloxacin have suggested that co-administration of a nonsteroidal anti-inflammatory drug (NSAIDs) with a fluoroquinolone may enhance the risks ofcentral nervous system stimulation and convulsions.
Absorption of Moxifloxacin was reduced when taken concomitantly with Antacids, minerals and vitamins containing multivalent cations (except calcium) form nonabsorbable complexes with Moxifloxacin. Formation of this complex results in inhibition or reduced absorption of Moxifloxacin.
Ulcer medicine such as sucralfate (carafate) and antiretroviral medication such as didanosine (videx) powder or chewable tablets interact with Moxifloxacin and therefore reduce its absorption.
Moxifloxacin has shown a strong potential for a serious drug interaction with NSAIDS.
No significant or clinically relevant interaction was observed between Moxifloxacin and digoxin, probenecid, warfarin, theophylline, glyburide, or any other oral contraceptives.
Does Moxifloxacin have any interaction with diseases?
 Muscular disorder: Clinical studies suggested that Moxifloxacin administration may be associated with muscular disorder and it is recommended not to take Moxifloxacin if you have myasthenia gravis (chronic autoimmune neuromuscular disease caused by varying degrees of weakness of the skeletal muscles of the body).
Tendinitis and tendon rupture: Fluoroquinolones, such as Moxifloxacin consumption is associated with an increased risk of tendinitis and tendon rupture in all ages. However, chance of incidence was higher in geriatric population (older patients usually over 60 years of age); in patients with kidney, heart or lung transplants and in patients taking corticosteroid drugs.
Neurological disorder: Moxifloxacin use is contraindicated in patients with epilepsy or other seizure disorders. Use of Moxifloxacin with other drugs that induce bradycardia (e.g., beta-blockers, amiodarone) should be avoided.
Use of Moxifloxacin is contraindicated in case of heart rhythm disorder , prolonged QT interval (a rare heart associated problem that characterized by irregular heartbeat, fainting, or sudden death), kidney or liver disease, joint problems, cerebral arteriosclerosis (narrowing of blood vessels in or near the brain that can lead to stroke or mini-stroke), low levels of potassium in your blood (hypokalemia), trouble in breathing, and chest pain.
Caution should be taken while administrating Moxifloxacin in patients suffering from diabetes, since Moxifloxacin may alter glucose regulation.
Where can I get more information?
Your pharmacist or health care provider can provide more information about Moxifloxacin.
Clinical research and current scenario of the drug.
Convenient once-daily administration schedule, good tissue penetration, availability in intravenous and oral formulations, good efficacy, well tolerability made Moxifloxacin as an important option in the treatment of bacterial infections.

At present, Moxifloxacin is widely used for treatment of community-acquired pneumonia (CAP), acute exacerbations of chronic bronchitis (AECB), acute bacterial sinusitis and uncomplicated skin and skin structure infections.

Clinical studies suggested that Moxifloxacin acts as a broad-spectrum fluoroquinolone and offers the benefits of excellent activity against penicillin-resistant Pneumococci, with a very low propensity for drug interactions.

The drug has improved coverage against gram-positive cocci and atypical pathogens compared with older fluoroquinolone agents, and retain good activity against gram-negative bacteria. Furthermore, in vitro laboratory studies have suggested that emergence of Moxifloxacin resistance was less common than with some other fluoroquinolone.

The propensity of Moxifloxacin was relatively low (relative to other fluoroquinolones) for causing phototoxic reactions and animal laboratory studies suggest that Moxifloxacine has a low potential for causing excitatory CNS and hepatotoxic effects.
References from chemical, biological and toxicological databases.
read,
"Insulin Glargine, drug class, uses, strength, side effects, mechanism of action"
"Clopidogrel, drug class, uses, strength, side effects, mechanism of action"