What is Pedialyte?
Pedialyte is a medical grade hydration solution formulated with optimal balance of sugar and electrolytes which are needed to help replenish vital fluids, minerals, and nutrients. The loss of such vital electrolytes can be caused by severe diarrhea, vomiting, exercise, travel or heat exertion and can also lead to conditions like dehydration. It can be used for everyday hydration by kids and adults as well.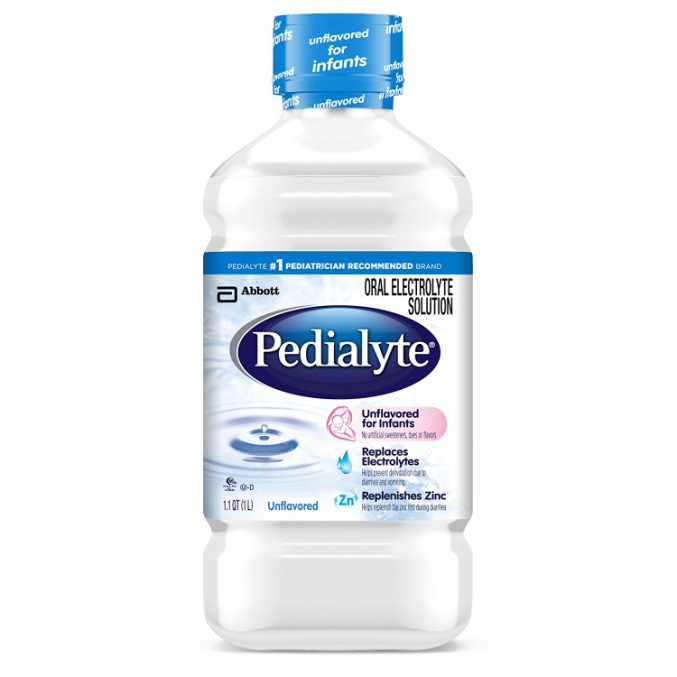 Who can use Pedialyte?
Both kids and adults can use the Pedialyte for treating dehydration or for advanced rehydration. Pedialyte is an over-the-counter product and easily available on local stores.
What are the uses of Pedialyte?
Pedialyte is used to replenish the fluids and minerals loss that occurred in conditions like diarrhea and vomiting. It also helps to prevent dehydration in which there is a loss of too much body water occur. The right amount of fluid and minerals is very important for the proper and normal functioning of your body.

The main uses of Pedialyte are:
Pedialyte is designed to prevent dehydration more effectively than common beverages such as sports drink, soda, 100% apple juice or water.
Pedialyte mainly replaces electrolytes and replenishes zinc.
It covers up the loss of many essential electrolytes from the body that occurred due to severe diarrhea, vomiting, exercise, travel or heat exertion.
Best and most acceptable option for kids.
Available in a variety of flavors including unflavored.
How does Pedialyte work?
Pedialyte is an oral rehydration solution used for the treatment of the fluid loss that occurred due to diarrhea and vomiting. The electrolytes that have been lost from the body are replenished by this solution as it contains sugar, salt, and water. In order to prevent further dehydration, it is also helpful for the intestine to absorb more water.
How to use Pedialyte oral solution?
You can take this product by mouth or as per your doctor's direction. You can also use it by following the directions given on the product package. Consult your doctor if you are uncertain about any information regarding this product. Here are some instructions are given for using Pedialyte:
Stir the contents of the package into the boiled and then cooled water, in case you are using a powdered form of Pedialyte. Dissolve the content completely in water.
Follow the package information and do not heat the solution until it is written as okay to do so.
You should administer a dose based on your medical condition and treatment response.
Do not drink fruit juices or eat foods with added salt while taking this product unless directed by your doctor.
If you got symptoms of stomach/abdominal pain, blood in stool, vomit, fever, or signs like dizziness, reduced urine output, severe thrust or very dry mouth, consult your doctor immediately.
Get medical help right away from you think you may get some other serious medical problem.
Some brands of the liquid form should be mixed before using, while others should not be mixed. Ask your doctor or pharmacist if you have questions about your specific brand. If your liquid form is a suspension, shake the bottle well before each dose.
What are some side effects of Pedialyte?
Almost all drugs cause some side effects. Many people have no side effects or only fewer side effects. You should get medical help right away if any of the following side effects caused by these medications or if any of side effects doesn't go away.  Pedialyte (or electrolyte replacement solutions) may also cause some unwanted effects along with its desired effects. Usually side effects does not occur with this medication and if occur, it may need medical attention.
Check with your doctor as soon as possible if any of the following side effects occur while taking electrolyte replacement solutions:
Symptoms of too much sodium (salt) in the body:
Convulsions (seizures)
dizziness
fast heartbeat
high blood pressure
irritability
muscle twitching
restlessness
swelling of feet or lower legs
weakness
Symptoms of too much fluid in the body:
There are many side effects of electrolyte replacement solution that can occur and do not need medical attention. As your body adjusts to the medication during treatment, the side effects may go away.
Also, your healthcare professional may be able to tell you about ways to prevent or reduce some of these side effects. Check with your health care professional if any of the following side effects continue or are bothersome or if you have any questions about them
More common:
Some side effects of Pedialyte may not be reported. Always consult your doctor or healthcare specialist for medical advice. You may also report side effects to the Food and Drug Administration.
What should I do if I overdose Pedialyte?
You should get medical help immediately if you think you there has been an overdose. Make sure that you describe the right amount, and time of overdose to your healthcare provider.
What are the different forms of Pedialyte?
Pedialyte is an oral rehydration solution which is given in many forms in order to make it more acceptable by kids. People can also try it in different types such as:
Powdered Pedialyte: Mainly Pedialyte comes in powdered form which needs to be mixed in accurate amount of boiled and cooled or distilled water properly. Use this medicine as ordered by your doctor. Read all information on the package.
Freezer pops:
Freezer pops type variant of Pedialyte available in many colors and tastes. Each freezer pop contains water, dextrose, citric acid, sodium chloride, sodium carboxymethylcellulose, potassium citrate, potassium sorbate, sodium benzoate, sucralose, and acesulfame potassium.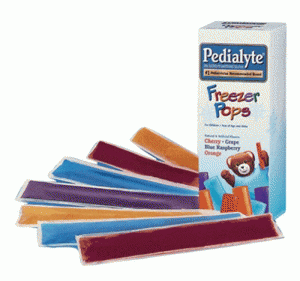 Freezer pops mainly:
It tastes best when frozen; however, it can be eaten without freezing.
There is a plastic sleeve on the top, cut it with clean scissors.
Push up from bottom of sleeves.
Oral solution:
It can be administered after chilling for better taste and easy acceptability of kids.
It is a liquid solution already therefore no needs to add more water.
Jell cups:
Occur in form of Jelly and can be made at home.
Do not add water or other liquid to water down.
What should I do if I miss a dose of Pedialyte?
This medicine is used on an as needed basis. Do not use more often than told by the doctor
What is the recommended dose of Pedialyte?
It depends upon your weight that how much amount of solution of Pedialyte, you should take. Toddlers, children, and adults should generally take 100 ml to 150 ml per kilogram of body weight (45 ml to 70 ml per pound) each day.
You should follow the instructions given on the package of Pedialyte. Sometimes, you may vomit after taking this solution, in such case, administer small amounts of solution and increase the amount of liquid gradually after vomiting subsides.
If you are giving this solution to your infant, you should talk to your doctor first. You can continue the breastfeeding, when your infant is on Pedialyte oral solution. But avoid giving your infant the Pedialyte solution for 24 hours, if the infant is on cow's milk or formula milk.
What are the factors that decide the dose of Pedialyte?
There are many things such as body weight, age and other medical conditions that decide the dose of Pedialyte that a person needs. You should strictly follow the doctor instructions if you taking this medication for any medication under doctor's supervision. Follow the route of administration that has been recommended b your doctor.
How to store Pedialyte?
Store this medication at room temperature. Discard the solution (made from the Pedialyte powder), that is left unused from over an hour. The solution made from powder can be stored in the refrigerator after mixing for up to 24 hours. When products bought in solution form are opened, they can be stored in the refrigerator for up to 48 hours. For freezer pops, discard any unused solution.
How to dispose Pedialyte?
Do not dispose of medications in wastewater (e.g. down the sink or in the toilet) or in household garbage. Ask your pharmacist how to dispose of medications that are no longer needed or have expired. It should be properly discarded if not in use.
Pedialyte or oral rehydration solution is available under various brand names, in several forms. You may not find the specific brand name with some specific formulation. Sometimes many forms of this medication are not available under one brand name. Therefore you should ask for your preferred form of oral rehydration solution.
Who should not take Pedialyte?
Pedialyte should not be taken by anyone who has:
Hypersensitivity or allergies to any of ingredients of the solution
A blockage in the intestine or a hole or perforation in the bowel.
What are the precautions that I should take while using Pedialyte?
You should let your doctor know about any kind of allergies or other medical conditions that you have, before taking this medication. Let your doctor know if you are pregnant or going to be pregnant, or breastfeeding. After knowing your history and medical conditions, your doctor may choose another route of administration of Pedialyte for you.
Some precautions that need to be taken care are:
You should talk to your doctor if you got persistent diarrhea after having this medication and it does not improve even after 24 hours of administration.
If you do not stop vomiting after taking this medication, talk to your doctor right away as it may cause excessive loss of essential electrolyte from your body and may leave you exhausted.
You should add the appropriate amount of water in the powdered Pedialyte in order to ensure the accurate amount of sugar and electrolyte in the solution.
Checks out the color of freezer pops, that may change in color when frozen and may also color the mouth temporarily.
What could other drugs interact with this Pedialyte?
If you are taking over-the-counter (non-prescription), and herbal medications tell your doctor or prescriber about it. Also, tell them about any supplements you take. Effects of many medications can be altered by intake of caffeine, alcohol, the nicotine from cigarettes, or street drugs. You should let your prescriber know if you use them.
Your doctor may want you to stop taking such medications, changes your medications that will depend upon your health conditions, check the interaction between the two medications and changes both the drugs, or he may leave everything as it is, depending upon your circumstances.
An interaction between two medications does not always mean that you must stop taking one of them. A very close monitoring is needed to manage the interactions in many cases. Speak to your doctor about how any drug interactions are being managed or should be managed.
When should I call a doctor?
There are many severe side effects that need immediate attention and need to be seen by the doctor. These side effects may not be life threatening but it can be complicated such as excessive vomiting can empty all the electrolytes from your body; persistent diarrhea can also be a severe side effect.
You should seek medical attention in case you see:
Mood changes, confusion, muscle pain or weakness, an abnormal heartbeat, very bad dizziness or passing out, fast heartbeat, more thirst, seizures, feeling very tired or weak, not hungry, unable to pass urine or change in the amount of urine produced, dry mouth, dry eyes, or very bad upset stomach or throwing up are some signs of fluid and electrolyte problems.
Rashes; hives; itching; red, swollen, blistered, or peeling skin with or without fever; wheezing; tightness in the chest or throat; trouble breathing or talking; unusual hoarseness; or swelling of the mouth, face, lips, tongue, or throat are some signs of an allergic reaction.
These are some severe side effects that should not be ignored and should be treated immediately. Call your doctor right away if you see any of side effects stated above.