What is Polysporin Powder?
Polysporin powder is a first aid antibiotic that is used to prevent infection in minor cuts, scrapes, abrasions and burns.
Polysporin powder contains active ingredients (in each gram) as:
Bacitracin 500 units
Polymyxin B 10,000units
Polysporin powder also used in surgical procedures and skin disorder treatments to decrease the risk of wound infection. It should be applied every 2-4 hours in order keep area infection free.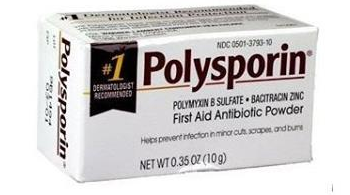 How does Polysporin work?
Polysporin acts on bacteria responsible for infection in open wounds, cuts, and abrasions. Polysporin contains bacitracin and polymyxin B, which act against gram-positive and gram-negative bacteria as well.
Polymyxin B:
It acts as a bactericidal antibiotic that interferes with phospholipids of bacterial cell wall and promotes the leakage of intracellular components that leads to subsequent cell death. It acts against gram-negative organisms mainly that include P. aeruginosa, E.coli, Klebsiella species and Enterobacter.
Bacitracin:
It interferes with the incorporation of amino acid into cell walls that leads to no bacterial cell growth. It mainly acts on gram negative bacteria such as staphylococci, streptococci, anaerobic cocci, corynebacteria, and clostridia.
Polysporin powder has great absorption when applied to cuts and abrasions. However, systematic absorption of polysporin powder is very minimal when applied to denuded or intact skin.
What are some uses of polysporin powder?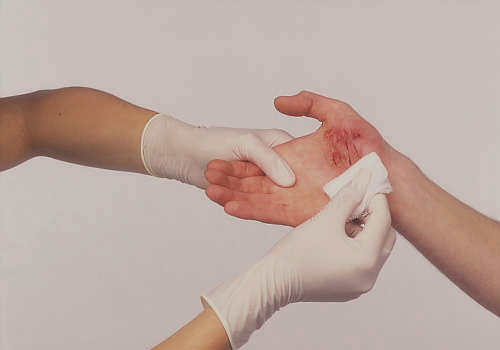 Polysporin powder has a great advantage in dermatology and skin infection disorders.
Polysporin is used in treating pyoderma, impetigo, ecthyma and sycosis and shows great results when applied frequently (when applied hourly).
Results as per finding of a clinical trials are:
Impetigo – Cured in 1 day; healed in 7 days
Ecthyma – Cured in 2 weeks
Pyogenic paronchia – Cured in 2 weeks
Sycosis vulgaris – Healed up to 3 weeks
Polysporin shows marked improvement in superficial wounds when applied thrice daily. As per an Australian study:
It showed 15% reduction in infection rate by microbiologic criteria
It increased the reepithelialization rate of wounds up to 25% and reduced scarring and dyspigmentation as compared to other agents.
Polysporin is superior to other agents such as Neosporin because:
It checks open sores and wounds from getting infected and fastens the process of sore healing.
It can be used by the patients who are sensitive to Neomycin (an ingredient used in Neosporin ointments).
Polysporin is excellent agents that check and stop the growth of bacteria in the wound region.
Polysporin powder is highly beneficial in treating anal fissures, Patient should clean the area before dusting a small amount of polysporin powder.
One should optimally use this medication (especially in the case of anal fissures) because it can lead to burning, irritation or redness.
How can I use polysporin powder
Polysporin is a topical formulation that should be use on the skin only.
Wash your hands before application, avoid getting this medicine in your eyes or mouth. Wipe off and rinse thoroughly immediately, in case it enter inside your mouth or eyes. Avoid using this formulation in the nose, until asked by your doctor.
Clean and dry the wound or affected area. Apply a light dusting of polysporin powder on the area, usually 1 to 3 times daily. Cover with a bandage if allowed. If you are applying a cream based formulation, apply a small amount of medication in a thin layer on affected area.
Use a prescribed amount of medication on skin, more than prescribed amounts or large amounts of polysporin powder should not be used because it may increase the risk of side effects.
You should apply the powder at the same time of the day, this will help in improvement of the wound.
Consult your doctor if you don't see any benefit from this medication.
Does polysporin cause any side effects?
Yes, like all other medicines polysporin powder can also produce side effects. Few side effects are burning, redness, itching or redness of skin. Let your doctor know about your skin conditions if any of these symptoms persists or worsens. Most of people had not shown any kind of side effects while using this medicine.
Your doctor also prescribes you the medication based on its benefits more than its side effects. Some serious side effects are balance problems, hearing problems or folliculitis. Consult your doctor immediately regarding such conditions. Excessive usage or prolonged use of this medication can result into fungal infection such as scaling, swelling or hot skin. Do not ignore any of such symptoms during use of this medication.
Seek medical attention if you see a serious allergic reaction for example rash, itching or swelling of tongue, face or throat, severe dizziness or trouble breathing.
Although very serious or rare side effects have not seen with this medication.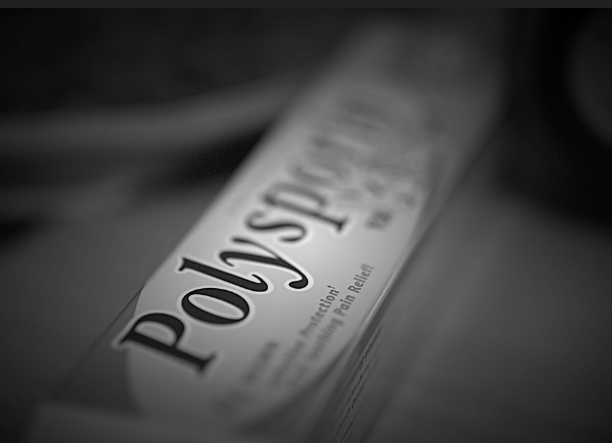 What precautions should I take while using Polysporin powder?
Take special precaution if you are allergic to polysporin, and tell this to your pharmacist or doctor before taking this medication.
Tell your pharmacist regarding your medical history, skin conditions such as eczema, viral skin infections such as shingles, chicken pox or cold sores, so that he or she can change the medicine accordingly.
If you are undergoing any kind of surgery, tell your doctor that you are taking polysporin.
Use this medicine in emergency only if you are pregnant and discuss its risks with your doctor.
Nursing mothers should also talk to their doctors regarding its passage into the milk before they start breast-feeding.
How should I store the Polysporin powder?
You should store polysporin powder at 20' to 25'C (68'F to 77'F)
Polysporin powder should not be refrigerated.
What to do in case of polysporin overdose?
This medicine may prove harmful if swallowed intentionally or accidentally. If you had an overdose of this medicine and feel trouble in breathing, you should call a poison center right away. Do not share this medication with others as it may be prescribed for your current conditions only. Also, you should discard the left medicine after recovery from your skin disease and should not use it again until prescribed by your doctor.
"How does Alka-Seltzer work? Is Alka Seltzer good for a hangover?"