What is quetiapine?
Quetiapine is a potent antipsychotic agent that belongs to dibenzothiazepine derivatives. Quetiapine shows its antipsychotic properties by antagonizing serotonin activity mediated by two serotonin receptors i.e. 5-HT1A and 5-HT2 receptors.
In the mesolimbic and mesocortical areas of the brain quetiapine reversibly bind with dopamine D1 and D2 receptors with low affinity leading to decreased psychotic symptoms, such as hallucinations and delusions.
In addition, quetiapine also has an affinity for adrenergic and histamine receptors and binds to alpha-1, alpha-2 adrenergic and histamine H1 receptors.
Quetiapine IUPAC name, molecular formula, weight and structure
IUPAC name of quetiapine:
2-(2-(4-Dibenzo[b,f][1,4]thiazepine-11-yl-1-piperazinyl)ethoxy)ethanol
Molecular formula: C21H25N3O2S
Molecular weight: 383.5099 g/mol
Chemical structure: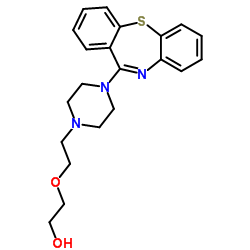 Quetiapine description and synthesis
Quetiapine was developed in 1985 and approved for medical uses in United State in 1997. Patent rights for the product ended in 2012; however, in many regions the long acting version remains under patent until 2017.
Quetiapine is tetracyclic compound and its structure is closely related to clozapine, olanzapine, loxapine, and other tetracyclic antipsychotics.
The synthesis of quetiapine begins with a dibenzothiazepinone. First of all, dibenzothiazepine is formed when lactam ring is treated with phosphoryl chloride.
Side chain on the lactam ring is introduced with the reaction  of nucleophilic substitution
Quetiapine uses and administration
Quetiapine is used for the treatment of schizophrenia, bipolar disorder, and major depressive disorder. Quetiapine may be sometimes prescribed for some other indications as well, like sleep aid due to its sedative effect but this is not as recommended. Seroquel is the best-known brand name for Seroquel.
Quetiapine is available in tablets form as the fumarate salt. Quetiapine fumarate is a white to off-white in colored crystalline powder which is moderately soluble in water.
It is available in oral dosage form in strengths of  25 mg, 50 mg, 100 mg, 200 mg, 300 mg, and 400 mg tablets.
Excipients which are used to form quetiapine tablet are povidone, dibasic dicalcium phosphate dihydrate, microcrystalline cellulose, sodium starch glycolate, lactose monohydrate, magnesium stearate, hypromellose, polyethylene glycol and titanium dioxide.
What is the mechanism of action of quetiapine?
Quetiapine works as an antagonist of various neurotransmitter receptors in the brain such as serotonin 5HT1A and 5HT2, dopamine D1 and D2, histamine H1, and adrenergic α1 and α2 receptors. Quetiapine has no significant affinity at cholinergic muscarinic and benzodiazepine receptors.
However, the antagonistic effect of quetiapine on dopamine type 2 (D2) and serotonin type 2 (5HT2) causes the drug's efficacy for schizophrenia. Treatment for somnolence is explained by quetiapine antagonism effect on histamine H1 receptors.
Quetiapine, at very low doses, this drug acts mainly as a histaminergic receptor blocker (antihistamine) and α1-adrenergic blocker.
As the dose is increased, quetiapine may activate the adrenergic system and has a potent binding capacity to serotonin receptors and autoreceptors.
At high doses, quetiapine starts acting as a strong dopamine receptor blocker. In off-label prescriptions, quetiapine is use for chronic insomnia, low-dose of quetiapine is not recommended due to the harmful side-effects.
What are the indications of quetiapine?
Qutiapine is approved for following indications:
Schizophrenia is one of the most important and primary indications of quetiapine. It efficacy was established in adolescents of 13-17 years of age.
Quetiapine is directed for the acute treatment of manic episodes associated with bipolar I disorder, both as monotherapy and add-on therapy with lithium or divalproic sodium.
Its efficacy was proven in two monotherapy trials in adults, in one 3-week adjunctive trial in adults, and in one 3-week monotherapy trial in pediatric patients (10-17 years)
Quetiapine as monotherapy is indicated for the treatment of acute depressive episodes associated with bipolar disorder. Quetiapine efficacy was proved in studies on adult patients with bipolar I and bipolar II disorder.
Pharmacokinetics of quetiapine
The activity of quetiapine is primarily due to the parent drug. The multiple dose pharmacokinetics of quetiapine is proportional to dose within the proposed clinical dose range, and there is a chance of accumulation of quetiapine upon multiple dosing.
Quetiapine is most commonly eliminated via hepatic metabolism with an elimination half-life of about 6 hours. Steady-state concentration can be achieved within two days of dosing. Quetiapine do not interfere the metabolism of other drugs which are metabolized by cytochrome P450 enzymes.
Quetiapine is readily absorbed after oral administration, peak plasma concentrations reach within 1.5 hours. The bioavailability of tablet formulation is almost 100% relative to solution.
The bioavailability of quetiapine is affected if it is taken with food, with Cmax and AUC values increased by 25% and 15%, respectively.
Quetiapine is distributed widely throughout the body with an apparent volume of distribution of 10.4 L/kg. It has plasma protein binding of 83% at therapeutic concentrations.
In vitro studies showed that quetiapine did not affect the binding of narrow therapeutic index drugs like warfarin or diazepam to human serum albumin. Warfarin and diazepam also do not alter the binding of quetiapine with plasma protein.
Metabolism and elimination:
Out of the single oral dose, only less than 1% is excreted as unchanged drug, this means that quetiapine is highly metabolized. Approximately 73% and 20% of the drug is eliminated through urine and feces, respectively.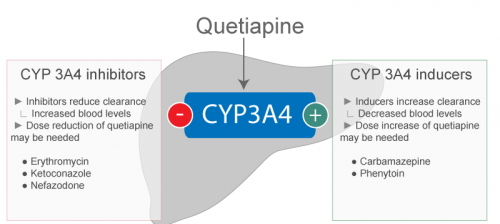 How long quetiapine stays in your body?
The terminal half-life of quetiapine is about 6 hours.
What are the contraindications of quetiapine?
Quetiapine is contraindicated in patients with known hypersensitivity to quetiapine or of any other excipient of the product.
What are the warnings associated with the use of quetiapine?
If the patient is allergic to quetiapine then he/she should avoid quetiapine.
Quetiapine due to its anti-histamine properties causes sedation. Patient having a driving job or those who operate with heavy machinery should use quetiapine with caution.
Patient with heart problems, especially cardiac arrhythmia should use quetiapine with caution because it causes QT prolongation.
Use of quetiapine in pregnancy and lactation
Quetiapine is categorized as a pregnancy category C medicine. There is insufficient evidence to rule out any risk to the fetus but available data suggests it is unlikely to result in any major malformations in the fetus. Quetiapine is secreted in breast milk and hence quetiapine-treated mothers are advised not to breastfeed.
Can quetiapine cause orthostatic hypotension?
At the begining of therapy and dose titration with quetiapine, orthistatic hypotension may occur. Probably it is due to α1-adrenergic antagonist properties of the drug. Syncope was reported in only 1% of the patients treated with quetiapine.
Can quetiapine cause cardiovascular problems?
Many trails and studies showed that there is clear chance that during the treatment of quetiapine cardiac problem can become severe or cardiac problems which are under control can become uncontrolled.
So it is advised that quetiapine should be used with caution in patients with known cardiovascular disease specially with the history of myocardial infarction or ischemic heart disease, heart failure or conduction abnormalities, cerebrovascular disease or conditions which may predispose patients to hypotension (dehydration, hypervolemia and treatment with antihypertensive medications).
If hypotension appears during dose titration, return to the previous dose in the titration schedule is appropriate.
Can quetiapine cause cataract?
In animal experiment level, cataract development was observed during the treatment of quetiapine in dog studies.
Can quetiapine cause seizures?
Clinical trials showed that seizures occurred during quetiapine treatment in 0.6% of patients treated as compared to 0.2% on placebo and 0.7% on active control drugs.
Like any other antipsychotic drug, quetiapine should also be used cautiously in patients with a history of seizures or with conditions that may potentially lower the seizure threshold.
Can quetiapine cause cholesterol and triglyceride elevations?
In schizophrenia treatment trials, quetiapine treated patient shows a higher level of cholesterol and triglycerides of 11% and 17% as compared to the controlled group. These change are of transient phase occurs only for initial few weeks like weight increase.
Can quetiapine cause hyperprolactinemia?
During quetiapine experiments on lab rats, increase in prolactin was observed.
Does qutiapine has a potential for cognitive and motor impairment?
Somnolence is one of the most commonly reported side effects that can occur in patients who are on treatment with quetiapine especially during the 3-5 day period of initial dose titration.
In schizophrenia trials, 18% of patients on quetiapine reported somnolence adverse effect as compared to 11% patients on placebo reported somnolence.
During the trials for effect quetiapine in acute bipolar mania disorder, when quetiapine is taken as monotherapy it caused somnolence in 16% while in placebo group in 4% patient's somnolence occurred.
In acute bipolar mania during quetiapine treatment, occurrence of somnolence was in 34% patients, as compared to placebo group this ratio is 9%.
Can quetiapine cause priapism?
Quetiapine has good affinity to alpha-adrenergic receptors and drug may block these receptors causing the adverse effect of priapism.
Can quetiapine cause dysphagia?
Another adverse effect of antipsychotics including quetiapine is esophageal dysmotility and aspiration.
Can quetiapine cause hypothyroidism?
Quetiapine have effect on thyroxin and thyroid stimulating hormone as clinical trials on quetiapine also determines a dose-related decrease in total and free thyroxin (T4) of approximately 20% at maximum therapeutic dose range of quetiapine and was maximal in the first two to four weeks of treatment and maintained without adaptation or progression during more chronic therapy.
Generally, this change in thyroxin and TSH is reversible may be reversed once the quetiapine treatment is stopped. This reversal process is irrespective of the duration of treatment.
In studies where quetiapine is used as monotherpay there is increase in TSH levels in about 0.4% of quetiapine patients. While few number of the patients with TSH increases needed replacement thyroid treatment.
In the treatment of  mania, where quetiapine was used as add on therapy with lihium or divalproate, 12% of quetiapine treated patients showed elevated levels of TSH as compared to 7% of placebo treated patients.
Of the quetiapine treated patients with elevated TSH levels, had simultaneous low free T4 levels.
Quetiapine and the risk of suicide
The chances of a suicide attempt and suicidal behavior are very common in bipolar disorder and schizophrenia, thus close supervision of high risk patients should accompany drug therapy.
In order to reduce the risk of overdose, quetiapine treatment should be started with the smallest quantity of tablets consistent further dose is titrated to the appropriate dosage along with good patient management.
What if I overdose quetiapine?
Maximum non-fatal dose of quetiapine in human is estimated with in the range of 1200 mg to 9600 mg. In general, reported signs and symptoms for overdosing  includes drowsiness and sedation, tachycardia, hypotension hypokalemia and first degree heart block.
In post-marketing experience, there have been very rare reports of overdose of quetiapine alone resulting in death, coma, or QTC prolongation.
Quetiapine overdosing management
There is no specific antidote for the over dose of quetiapine. So in case of acute over dosage following supportive measurements should be done to avoid sever side effect. First of all establish and maintain an airway and ensure adequate oxygenation and ventilation.
Gastric lavage (after intubation, if patient is unconscious) and administration of activated charcoal together with a laxative should be considered.
If the patient is suffering from hypotension and circulatory collapse then he should be treated with intravenous fluids and/or sympathomimetic agents.
Do not use epinephrine and dopamine, since beta stimulation may worsen hypotension in the setting of quetiapine-induced alpha blockade.
If severe extrapyramidal symptoms are occurring then anticholinergic should be administered. Close medical supervision and monitoring should continue until the patient recovers.
What are precautions needed with quetiapine?
Quetiapine is not recommended for the use in psychotic problem related to dementia. Quetiapine increases the risk of death old age patient associated with dementia related conditions.
To ensure the safety during use of quetiapine treatment, inform your doctor if you have any problem of following
Liver or kidney disease
Heart disease, particularly heart arrhythmia, history of heart attack or stroke
High or low blood pressure
History of low white blood cells
Seizure or epilepsy
A person with family history of diabetes
Taking antipsychotic in the last trimester of pregnancy may cause serious problem to new born. If you become pregnant while taking the quetiapine medication, do not stop taking medication without consulting from your doctor.
Do not give extended release quetiapine to children. It is only adult use.
Can I use quetiapine if it is expired?
Do not use quetiapine after the expiry date mentioned on the pack because it may have no further efficacy or an unexpected or undesired effect if you take expired quetiapine.
How to store the quetiapine?
Store at 25C (771F). Store in a cool and dry place and protect from sunlight.
Keep away from the reach of children.
Quetiapine dosage and administration
Starting Dose: For Bipolar Mania quetiapine is started as follows with bid dosing
Day 1: 100mg/day
Day 2: 200mg/day
Day 3: 300mg/day
Day 4: 400 mg/day
Maintenance dose: Quetiapine should maintained after titration to the maximum dose of 800mg/day in two divided doses
Starting dose: In schizophrenia quetiapine should be started s follows
Day 1: 25mg bid
Day 2 and Day 3: increase up to 25-50mg bid or tid
Day 4: 300-400mg in divided doses
Dose is further adjusted in old age debilitated patients. Dose titration should be done slow and maintained at low dose.
Elderly patients should be started on quetiapine 50 mg/day and the dose can be increased in increments of 50 mg/day depending on the clinical response and tolerability of the individual patient.
Dose modifications in hepatic impaired patients
Reinitiating of treatment in patients previously discontinued:
It is recommended to restart the therapy in the patients who have discontinued the quetiapine treatment for more than 1week. If dose discontinuation is less than one week then gradual increase in dose is not required and maintenance dose may be reinitiated.
Switching from antipsychotics drugs
No specific protocol or procedure has been defined for the switching of patient from any other antipsychotic to quetiapine or the use of quetiapine with other antipsychotic.
In case of Schizophrenia immediate discontinuation of previous antipsychotic is acceptable to replace medication with quetiapine. While in other indication gradual decrease in dose of previous antipsychotic is recommender.
While titrating out previous medication keep in mind that the period of overlapping antipsychotic should be minimized to avoid the side effects.
What are the side effects of quetiapine?
Very common (>10% incidence) adverse effects
Dry mouth
Dizziness
Headache
Somnolence
Common (1–10% incidence) adverse effects
High blood pressure
Orthostatic hypotension
High pulse rate
High blood cholesterol
Elevated serum triglycerides
Abdominal pain
Constipation
Increased appetite
Vomiting
Increased liver enzymes
Backache
Asthenia
Insomnia
Lethargy
Tremor
Agitation
Nasal congestion
Pharyngitis
Fatigue
Pain
Dyspepsia (Indigestion)
Peripheral oedema
Dysphagia
Extrapyramidal symptoms: there is relative less risk of Extrapyramidal side effect from Quetiapine and clozapine.
Weight gain:
Rare (<1% incidence) adverse effects
Prolonged QT interval (had an odds ratio for prolonging the QT interval over placebo of 0.17)
Sudden cardiac death
Syncope
Diabetic ketoacidosis
Restless legs syndrome
Hyponatraemia, low blood sodium.
Jaundice, yellowing of the eyes, skin and mucous membranes due to an impaired ability of the body to clear bilirubin, a byproduct of haem breakdown.
Pancreatitis, pancreas swelling.
Agranulocytosis, drop in white blood cell count. It becomes fatal some time.
Leukopenia, a drop in white blood cell count, severity is less than Agranulocytosis.
Neutropenia, a drop in neutrophils, the cell that provide immunity to the body against bacterial infection.
Eosinophilia
Anaphylaxis, a potentially fatal allergic reaction.
Seizure
Hypothyroidism, underactive thyroid gland.
Myocarditis, swelling of the myocardium.
Cardiomyopathy
Hepatitis, swelling of the liver.
Suicidal ideation
A prolonged and painful erection.
Stevens-Johnson syndrome. A potentially fatal skin reaction.
Neuroleptic malignant syndrome a rare and potentially fatal complication of antipsychotic drug treatment. It is categorized by the following symptoms: tremor, rigidity, hyperthermia, tachycardia, mental status changes (e.g. confusion), etc.
Tardive Dyskinesia. A rare and often irreversible neurological condition causing involuntary movements of the face, tongue, lips and rest of the body. Most commonly it occurs due to prolonged treatment with antipsychotics. Particularly there is less chances of this side effect with atypical antipsychotics, especially quetiapine and clozapine.
Discontinuation and withdrawal during quetiapine use
Abrupt discontinuation of quetiapine may causes withdrawal symptoms so it should be discontinued or titrate out gradually, with careful consideration from the prescribing doctor, to avoid withdrawal symptoms or relapse.
According to the British National Formulary when discontinuation of anti-psychotic treatment is required, gradual decrease in dose is recommended to avoid acute withdrawal syndrome or rapid relapse.
In quetiapine treatment, gradual discontinuation is needed due to compensatory changes at dopamine, serotonin, adrenergic and histamine receptor sites in the central nervous system and withdrawal symptoms can occur during abrupt or over-rapid reduction in dosage.
However, although increasing demand for safe and effective antipsychotic withdrawal protocols or dose-reduction schedules there are no specific guidelines with proven safety and efficacy are currently available.
Withdrawal symptoms that are reported from abrupt discontinuation of antipsychotics include nausea, emesis, lightheadedness, diaphoresis, dyskinesia, orthostatic hypotension, tachycardia, insomnia, nervousness, dizziness, headache, excessive non-stop crying, and anxiety.
Can quetiapine be given to person with renal or liver impairment?
Renal and liver impairment is great concern for prescribing any drug because many drugs are metabolised and eliminated either renal route or liver route or in some cases through both routes.
So if the patient have renal or liver impairment then dose adjustment becomes necessary especially when concern drug is better than the alternate one.
What are some drugs that can interact with quetiapine?
Quetiapine do not effect on metabolism or absorption of many drugs because quetiapine has very low interference with cytochrome P450 enzyme activity.
This is the reason quetiapine have less drug to drug interaction specially with the narrow therapeutic index drugs like warfarin, phenytoin etc. but yet it have little effect of some drugs
Quetiapine should be cautiously co-prescribed with other centrally acting drugs.
Since quetiapine may cause hypotension, it may potentiate the effect of antihypertensive agents.
Quetiapine may antagonize the effect of levodopa and dopamine agonists.
Since co-administration of quetiapine and hepatic enzyme inducers e.g. phenytoin, carbamazepine, barbiturates, rifamine and glucocorticoids, increase the mean oral clearance of quetiapine, higher dose of quetiapine may be required to be given in such patients to ensure optimum efficacy in schizophrenia.
Thioridazine increases the oral clearance of quetiapine.
Though cimetidine causes about 20% decrease in the mean oral clearance of quetiapine, dosage adjustment for quetiapine is not required when it is given with simetidine.
Co-administration of ketoconazole, a potent inhibitor of cytochrome P450-3A, reduces oral clearance of quetiapine up to 84% causing an increase in maximum plasma concentration of quetiapine of about 335%. Hence quetiapine should be cautiously given with ketoconazole and 15 other inhibitors of cytochrome P450-3A e.g. itraconazole, fluconazole, and erythromycine.
Concomitant use of fluoxetine, imipramine, haloperidol, or risperidone with quetiapine did not alter the steady-state pharmacokinetics of quetiapine.
Effect of quetiapine on other drugs
Lorazepam: The administration quetiapine (dose of 250mg tid) with lorazepam (2mg, single dose) causes the reduction of mean learance of lorazepam by 20%.
Divalproic acid: When divalproic acid (500mg bid) is administered with quetiapine the mean maximum concentration and extent of absorption of total and free valproic acid at steady state were decreased by 10 to 12%.
The mean oral clearance of total valproic acid (administered as divalproic 500 mg bid) was increased by 11% when divalproic is administered with quetiapine (150 mg bid).
Lithium: Concomitant use of quetiapine (250 mg tid) with lithium had no effect on any of the steady-state pharmacokinetic parameters of lithium.
Antipyrine: Quetiapine had no clinically relevant effect on the clearance of antipyrine or urinary recovery of antipyrine metabolites even after the multiple doses of quetiapine. This is probably due to least interference of quetiapine with hepatic cytochrome p450 enzyme