Last reviewed by Editorial Team on October 14th, 2018.
What is Percocet?
Percocet is a brand name for an analgesic that contains a combination of acetaminophen and oxycodone. Oxycodone is an opioid (or narcotic) medication used to treat moderate to severe pain. Acetaminophen is a less potent pain reliever that increases the effects of oxycodone.
FDA approved Percocet for the treatment of:
Severe Chronic Pain
Moderate Acute pain
Moderate Chronic pain
Severe Acute pain

Is Percocet the strongest analgesic? What the WHO Pain Ladder tells?
Percocet belongs to the group of strong analgesics but it is not the strongest one. According to the WHO Pain Ladder, a combination of acetaminophen in doses of 325 or 500 mg and oxycodone in the dose of 5 mg is classified as moderate pain analgesic of the Step 3 (there are 4 steps ranks) together with a combination of acetaminophen and codeine, morphine, hydromorphone (Dialudid), fentanyl and methadone.
Percocet is considered stronger than any other non-narcotic analgesic such as NSAIDs (ibuprofen, aspirin, diclofenac, nimesulid, celecoxib, acetaminophen etc) of the Step 1. It is also stronger than tramadol, tapetandol and buprenorphine which are categorized as Step 2 analgesics.
According to the WHO Pain Ladder, analgesic that are stronger than Percocet and categorized as a Step 4 analgesic for severe pain are:
Nerve block
Infiltration (joint, muscular, trigger point)
Epidurals
PCA
Neurolytic block
Radiofrequency/thermolesion
Spinal stimulators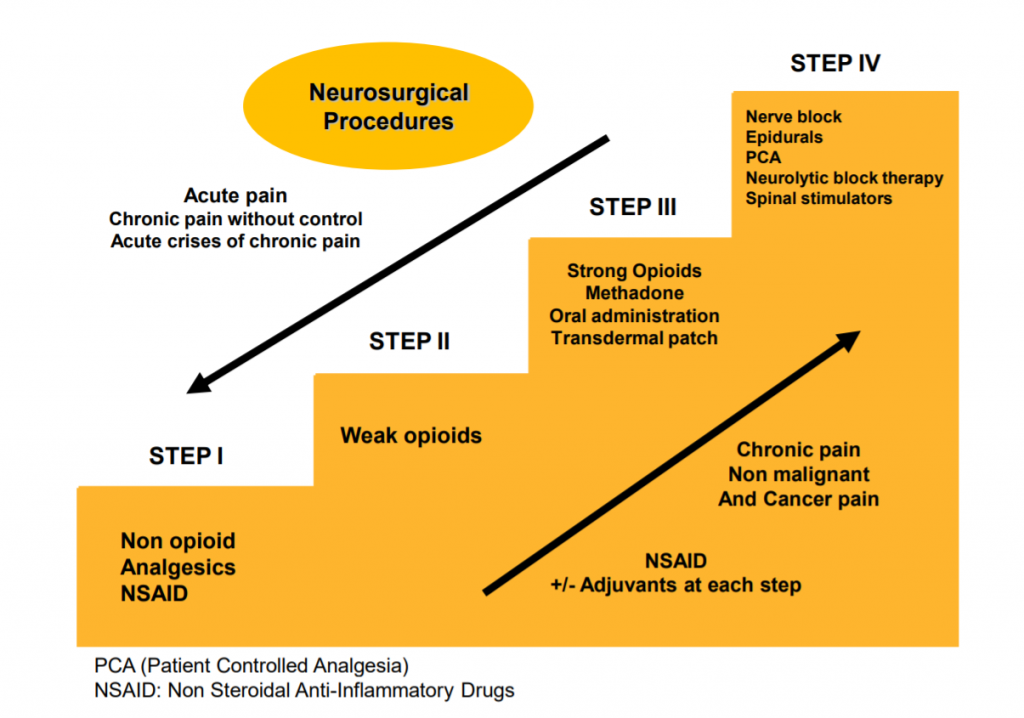 Percocet potency according to the Opioid Equivalency Table (Equianalgesic table)
The opioid equivalency table lists opioid and non-opioid analgesic drugs and their relative potencies using morphine as a standard (its potency is 1). According to this table, Percocet is about:
500x times stronger than acetaminophen alone
500x times stronger than aspirin
300x times stronger than ibuprofen
200x times stronger than difunisal
180x times stronger than naproxen
160x times stronger than piroxicam
80x times stronger than indomethacin
20x times stronger than diclofenac
13x times stronger than codein
13x times stronger than tramadol
13x times stronger than opium
6x times stronger than tilidine
6x times stronger than dihydrocodeine
4x times stronger than tapetandol
4x times stronger than pethidine
5x times stronger than hydrocodone
5x times stronger than pentazocine
5x times stronger than morphine
The same potency as spiradoline
2x times weaker than morphine intravascular
2x times weaker than methadone
3x times weaker than hydromorphone
3x times weaker than decozine
5x times weaker than oxymorphone
5x times weaker than desomorphine
15x times weaker than alfentanyl
17x times weaker than enadoline
30x times weaker than buprenorphine
50x times weaker than acetorphine
75x times weaker than fentanyl
100x times weaker than remifentanyl
500x times weaker than sufentanyl
4 200x times weaker than ohmfentanyl
5 800x times weaker than acetorphine
6 00x times weaker than dihydroetoprhine
50 000x times weaker than carfentanyl
50 000x times weaker than lofentanyl
"Can you use expired asthma inhaler?"
Similar Posts:
Leave a Reply