What is 44-292 pill?
A pill with imprint 44-292 is identified as Ibuprofen 200 mg tablet which is brown in color and is capsule-shaped. The main supplier of this drug is Walgreen Company.
Ibuprofen is mainly indicated for the treatment of back pain, sciatica, toothache, headache, and gout. This drug belongs to the class NSAIDs i.e. Non-steroidal anti-inflammatory agents.
Before 30 weeks of gestation, the risk of Ibuprofen cannot be ruled out in pregnancy. Human fetal risks are also reported during pregnancy while using Ibuprofen. Ibuprofen 200 mg is not a controlled substance under the Controlled Substance Act (CSA).
Imprint: 44-292
Strength: 200 mg
Color: Brown
Size: 13 mm
Shape: Capsule-shaped
Availability: Prescription or OTC (over the counter)
Drug Class: Nonsteroidal anti-inflammatory agents
Pregnancy Category: C- Risk cannot be ruled out prior to 30 weeks gestation, D- Positive evidence of risk starting at 30 weeks gestation
CSA Schedule: Not a controlled drug
Labeler / Supplier: Walgreen Company
Inactive Ingredients: Carnauba wax, Hypermelloses, lactose, Magnesium stearate, Micro crystalline cellulose, Polydextrose, Polyethylene glycol, Sodium starch glycolate type A potato, Stearic acid, and Titanium dioxide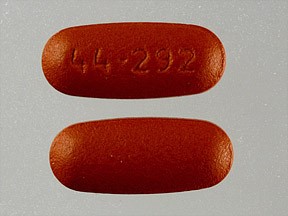 Active ingredients of 44-292 pill and their identification
44-292 tablets contain ibuprofen as an active ingredient which is (±) – 2 – (p – isobutylphenyl) propionic acid. Ibuprofen is a white powder with a melting point of 74-77° C
44-292 pill chemistry
IUPAC Name:  2-[4-(2-methylpropyl) phenyl] propanoic acid
Molecular formula: C13H18O2
Molecular weight: 206.285 g/mol
Molecular structure: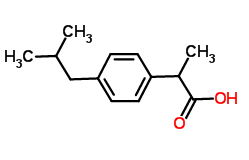 Drug class: This compound belongs to the class of organic compounds known as phenylpropanoic acids. These are compounds with a structure containing a benzene ring conjugated to a propanoic acid.
44-292 pill uses
Ibuprofen is mainly indicated for the treatment of inflammatory diseases, pain, and fever. It is also used for providing relief in mild to moderate pain, primary dysmenorrhoea, and in pain associated with arthritis, and osteoarthritis.
FDA approved indications:
Ankylosing Spondylitis (AS)
Cystic Fibrosis (CF)
Fevers
Gout Acute
Headaches
Juvenile Idiopathic Arthritis (JIA)
Menstrual Cramps
Migraines
Osteoarthritis (OA)
Patent Ductus Arteriosus (PDA)
Pericarditis
Primary Dysmenorrhoea
Rheumatoid Arthritis
Severe Pain
Mild Pain
Mild Pain NOS
Moderate Pain
44-292 pill legal status
Ibuprofen possesses different legal status in different countries.
In Australia: Iburpofen comes under prescription drugs or Schedule 2 drugs, which means it is considered safe in use but counseling is advisable if necessary.
Also it means that this drug can be used for minor ailments (such as: symptoms recognizable by consumers or the symptoms which does not require medical diagnosis).
In Canada: Ibuprofen is legalized as OTC drug (Over the counter drug).
In United Kingdom: It is legal under General Sales List (GSL and OTC), which means it can be sold anywhere such as supermarkets and there is no pharmacy traning is necessary to sell these medications.
Moreover, these medications are considered as safe if taken in proper amount.
In United States: It is legalized as OTC (Over the counter) medication as well as a prescription drug. A prescription drug, in contrast to OTC drug, requires medical prescription to be dispensed.
What are different brand names for 44-292 pill?
44-292 pills contain ibuprofen which comes under various brand names such as Advil. Motrin, Nurofen, Betagesic, Desmenol, Dorovil, Eve, Fenbid etc.
44-292 pill price and prescription
As per its strength, Ibuprofen is available both over the counter medication and by prescription medication as well. Prescription Motrin has the same active ingredient but has been discontinued.
The lowest GoodRx price for the most common version of ibuprofen is around $7.14, 81% off the average retail price of $38.37.
44-292 pill mechanism of action
Ibuprofen inhibits the enzyme cyclooxygenase which is an enzyme involved in prostaglandin synthesis via arachidonic pathway. However, the exact mechanism of Ibuprofen is unknown.
It is known to inhibit the COX enzyme which is involved n the synthesis of prostaglandins responsible for mediating pain, fever, headache and inflammation.
Antipyretic effects may be due to action on the hypothalamus, resulting in an increased peripheral blood flow, vasodilatation, and subsequent heat dissipation. Inhibition of COX-1 is thought to cause some of the side effects of ibuprofen including GI ulceration.
44-292 pill side effects
A 44-292 pill contains Ibuprofen and common side effects of Ibuprofen include:
Stomachache
Heartburn
Dizziness
Rash
Drowsiness
Nausea
Vomiting
Constipation
Ringing in the ears
Serious side effects of Ibuprofen are:
Liver failure or inflammation of the liver
Low platelet count
Blood in the urine
Urinary tract infection
A condition in which the bone marrow is unable to make enough white blood cells, known as agranulocytosis
Low red blood cell count, or anemia
Severe and potentially life-threatening skin reactions such as Stevens-Johnson Syndrome or toxic epidermal necrolysis (TEN)
Stroke
Heart attack
High blood pressure (normally a greater risk with long-term use and while taking certain other medications)
Kidney damage
Can 44-292 pill cause dependence?
Ibuprofen is very less likely to cause dependence. You cannot develop physical dependence on Ibuprofen.
The physical and psychological dependence is caused by the drug of choice of people and people get addicted to such medications. Ibuprofen has neither of these characteristics.
Ibuprofen does not cause any kind of withdrawal symptoms when you stop taking it and also your body does not develop tolerance to Ibuprofen after you stop taking it.
44-292 pill pharmacokinetics
Ibuprofen is well absorbed after oral administration, within 1 to 2 hours of administration; it attains a peak plasma concentration. It starts its action within 1 hour after administration and starts showing pain relief or antipyretic activity.
The peak plasma concentration-time doubles if the Ibuprofen is taken with food because food reduces the peak plasma concentration by 30 to 60 minutes.
Ibuprofen has more than 99% of plasma protein binding. It is extensively metabolized and excreted in urine as metabolites. Ibuprofen has a half-life of 1.8 to 2.4 hours.
How long 44-292 pill stays in the system?
Ibuprofen has a half-life of 1.8 – 2.4 hours and the elimination time of any drug is five times to that of elimination half-life of that drug.
Therefore ibuprofen is completely eliminated from the body in 24 hours after taking the final dose. Peak concentrations of the medication affect the body within 1 to 2 hours, as per National Centre for Biotechnology Information.
"G352 pill : Drug class, ingredients, uses, dosage and side effects"