What is Beconase (Beclomethasone) nasal spray?
Beconase nasal spray is a steroid nasal spray, which is used to treat nasal symptoms (congestion, sneezing, and runny nose) associated with seasonal and perennial allergic rhinitis. Beconase nasal spray is used to prevent the re-occurrence of nasal polyps after nasal surgery.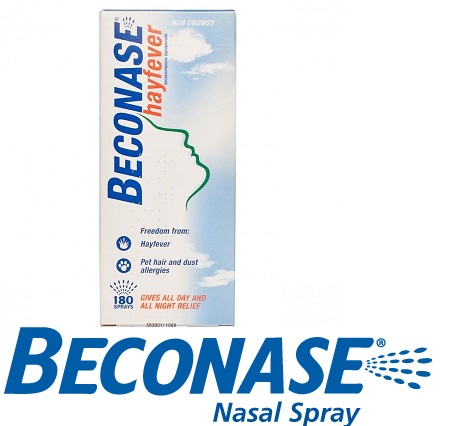 What are the indications of Beconase nasal spray?
Beconase nasal spray is indicated to prevent:
Symptoms of Seasonal allergic rhinitis (stuffy/runny nose, itchy eyes/nose/throat, and sneezing)
Symptoms of perennial allergic rhinitis
Recurrence of nasal polyps after surgery removal
It may also be used for other conditions as determined by your doctor.
How Beconase nasal spray works?
Beconase nasal spray is a corticosteroid and it works by constricting the inflamed nasal tissues and blocks the action of chemicals of the immune system. Beconase nasal spray contains beclomethasone dipropionate, which is a prodrug and is metabolized to its active metabolite beclomethasone – 17 – mono propionate (B-17-MP) with the help of esterase enzymes. The active metabolite of beclomethasone propionate has high topical anti-inflammatory activity.
Beclomethasone propionate is a corticosteroid and its mechanism of action is not known. Corticosteroids show effects on multiple cell types (such as mast cells, eosinophils, neutrophils, macrophages, and lymphocytes) and mediators (such as histamine, eicosanoids, leukotrienes, and cytokines) that cause inflammation. Beclomethasone dipropionate produces anti-inflammatory and
vasoconstrictor effects after topical administration. The anti-inflammatory effects of corticosteroids are initiated by their binding to a glucocorticoid receptor.
At a cellular levels, it shows the reduction in:
Number of antigen presenting cells
Number of activation of T- cells
Number of mast cells
Number and activation of eosinophils
Therefore, the mechanism of action of corticosteroids may be carried out by multifactorial effect on different aspects of inflammatory reaction.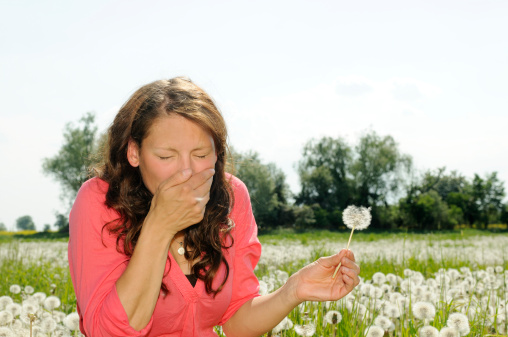 What is the use of Beconase nasal spray in the treatment of nasal polyps?
Beconase nasal spray is beneficial in preventing the recurrence of nasal polyps. It is used to treat nasal polyps when they are of small or medium size (grade 1 and 2) and beneficial in maintaining the therapeutic improvement. The efficacy of Beconase nasal spray in reducing nasal polyp size and rhinitis symptoms has been demonstrated in several randomized, placebo-controlled trials.
Beclomethasone seems to be effective in delaying the recurrence of polyps after surgery whereas Beconase nasal spray (being a topical formulation) is difficult to instill in a very blocked nose and surgery or short term systemic corticosteroids may be required for this purpose.
Can I use Beconase nasal spray for sinusitis?
Beconase nasal spray can easy you a lot with your sinuses issues. Doctors often prescribe Beconase for sinusitis when nothing else can help. It is corticosteroid which can help you get relief. Only one thing is important, do not expect for Beconase to work immediately as decongestants. For Beconase there is a time before the effects occur.
Beconase nasal spray dosage
Adults and children 12 Years of age and older:
1 or 2 spray (42 to 84 mcg) in each nostril twice a day. The total dose should not exceed 168 t0 336 mcg/day.
Children 6 To 12 Years Of Age:
Beconase nasal spray is recommended for children below 6 years. The starting dose of Beconase nasal spray is one spray (84 mcg) in each nostril, twice daily. You can give 2 sprays (336 mcg) in each nostril in the patient with severe symptoms and also to those who are not responding to 168 mcg dose. One can reduce the dose to one spray (84 mcg) per nostril, twice daily, once the symptoms have been controlled.
The maximum total daily dosage should not exceed 2 sprays in each nostril twice daily (336 mcg/day).
What are some points that I need to remember while taking beconase nasal spray
Beconase nasal spray starts showing the signs of improvement in symptoms of allergic rhinitis after initiation of the treatment with Beconase nasal spray. However, it may take up to 2 weeks in providing the proper relief from the symptom of allergic rhinitis.
When a person does not face significant symptoms of allergic rhinitis, he/she should not use Beconase nasal spray for more than 3 weeks.
Unlike decongestants, corticosteroids such as Beconase does not show therapeutic effects immediately. Therefore, make sure to explain the slower and steadier effects of the Beconase spray to the patient in advance to ensure cooperation and continuation of treatment.
If the patient has excessive mucus secretion from nose or oedema of the nasal mucosa, advise them to use a nasal vasoconstrictor during the first 2 to 3 days of treatment along with Beconase nasal spray. It is advised in order to make the medicine (beclomethasone propionate) reach the intended site of action
Beconase nasal spray resorption, distribution, metabolism, elimination
Absorption
After intranasal administration of Beconase nasal spray the systemic absorption was assessed by measuring the blood concentrations of its active metabolite B-17-MP, for which the absolute bioavailability following intranasal administration is 44%.
After intranasal administration, <1% of the dose is absorbed via nasal mucosa. The remainder after being cleared from the nose, either by drainage or mucocilary clearance, is available for absorption from the gastrointestinal tract. Plasma B-17-MP is almost entirely due to conversion of BDP absorbed from the swallowed dose.
Metabolism
Beconase nasal spray active ingredient beclomethasone is metabolized very quickly from the circulation and plasma concentrations are undetectable (< 50pg/ml) following oral or intranasal dosing. There is rapid metabolism of the majority of the swallowed portion of BDP during its first passage through the liver. The main product of metabolism is the active metabolite (B-17-MP). Minor inactive metabolites, beclometasone-21-monopropionate (B-21-MP) and beclometasone (BOH), are also formed but these contribute little to systemic exposure.
Elimination
The elimination of beclomethasone and B-17-MP are characterised by high plasma clearance (150 and 120l/h) with corresponding terminal elimination half-lives of 0.5h and 2.7h. If ingested, approximately 60% of the dose will be excreted in the feces within 96 hours mainly as free and conjugated polar metabolites. Approximately 12% of the dose was excreted as free and conjugated polar metabolites in the urine.
Beconase nasal spray proper use
To use the spray:
If you are a first time user of Beconase nasal spray, prime the spray before use. Press the top of the pump at least 6 times or press it until a fine spray comes out.
If you have not used this spray for more than 3 days, Prime again with two sprays.
Clean your nose before using the spray.
Tilt your head back and insert the tip of the nosepiece of nasal spray into your nostril
Close the other nostril with your finger. Release one spray at one time; breathe in the medicine through the nostril.
Hold on for few seconds and breathe out through your mouth.
Use the same technique while spraying into the other nostril.
Do not blow your nose after administration of the medicine.
Clean the tip of the nosepiece gently with a dry tissue or cloth and close the spray with a cap.
This nasal spray contains 200 sprays; therefore, do not use it after 200 sprays.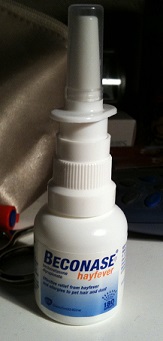 Shoul I have to clean Beconase nasal spray?
Beconase nasal spray should be clean at least once a week, or more often if it gets blocked.
1 Take the dust cap off.
2 Pull upwards on the white collar to remove the nozzle.
3 Soak the nozzle and dust cap in warm water for a few minutes.
4 Then rinse under a running tap.
5 Shake off the excess water and let them dry in a warm place.
6 Put the nozzle back on the spray.
7 'Prime' the bottle
Can beconase nasal spray be used in pregnancy?
USFDA pregnancy category : C
A pregnant women should use Beconase nasal spray, only if the benefit outweighs the risk. Infants of the mothers taking corticosteroids during pregnancy are at serious risk of hypoadrenalism. These infants should be monitored carefully.
Can Beconase nasal spray be used during breastfeeding?
Beconase nasal spray at therapeutic doses shows minimal effects. So, it should be administered if benefits outweigh risks. It is known to excreted in the human milk.
Beconase nasal spray side effects
You should check with your doctor immediately if any of these side effects occur when taking beclomethasone nasal:
Major Side Effects:
Chills
dizziness
fast heartbeat
lightheadedness
rapid, shallow breathing
rash
unusual bleeding or bruising
Less common:
Change in vision
eye pain
headache
nausea or vomiting
tearing
unexplained nosebleeds
Very rare:
Bloody mucus
cough or hoarseness
difficulty with breathing
dizziness
hives or welts, itching
loss of taste and smell
sores inside the nose
Beconase nasal spray allergic reactions
Rare cases of immediate and delayed hypersensitivity reactions, including urticaria, angioedema, rash, and bronchospasm, have been reported following the oral and intranasal inhalation of beclomethasone.
Persons who are on drugs that suppress the immune system are more susceptible to infections than healthy individuals. Chickenpox and measles, for example, can have a more serious or even fatal course in nonimmune children or adults on corticosteroids. In such children or adults who have not had these diseases, particular care should be taken to avoid exposure of these infectious agents.
How the dose, route, and duration of corticosteroid administration affects the risk of developing a disseminated infection is not known. The contribution of the underlying disease and/or prior corticosteroid treatment to the risk of developing a more severe infection is also not known.
If exposed to chickenpox, prophylaxis with varicella zoster immune globulin (VZIG) may be indicated. If exposed to measles, prophylaxis with pooled intramuscualr immunoglobulin (IG), may be indicatedIf chickenpox develops, treatment with antiviral agents may be considered.
Beconase nasal spray overdosage
If Beconase nasal spray is overdosed, systemic corticosteroid side effects such as hypercorticism and adrenal suppression may appear. If such changes occur, Beconase Aq Nasal Spray should be discontinued slowly consistent with accepted procedures for discontinuing oral steroid therapy.
No deaths occurred when beclomethasone dipropionate was given as single oral doses of 3,000 mg/kg to mice (approximately 36,000 times the maximum recommended daily intranasal dose in adults on a mg/m2 basis, or approximately 21,000 times the maximum recommended daily intranasal dose in children on a mg/m2 basis) and 2,000 mg/kg to rats (approximately 48,000 times the maximum recommended daily intranasal dose in adults or approximately 29,000 times the maximum recommended daily intranasal dose in children on a mg/m2 basis).
One bottle of Beconase Aq Nasal Spray contains beclomethasone dipropionate, monohydrate equivalent to 10.5 mg of beclomethasone dipropionate; therefore, acute overdosage is unlikely.
Beconase nasal spray contraindication
Beconase nasal spray is contraindicated in the patients with hypersensitivity to beclomethasone propionate or any of its ingredient.
Is it safe to use beconase long term?
Patients with chronic rhinitis who should use Beconase nasal spray only intermittently and at the lowest dose that controls their symptoms. Sometimes, patients might use it on an as-needed basis to treat symptoms as recomended by the doctor.
Clinical studies using the nasal inhalation aerosol in patients with seasonal or perennial rhinitis have shown that improvement is usually apparent within a few days. However, symptomatic relief may not occur in some patients for as long as 2 weeks.
Although systemic effects are minimal at recommended doses, beclomethasone dipropionate nasal inhaler and nasal spray should not be continued beyond 3 weeks in the absence of significant systematic improvement. Beclomethasone dipropionate nasal inhaler and nasal spray should not be used in the presence of untreated localized infection involving the nasal mucosa.
Long term use of high Beconase doses can lead to symptoms including thinning skin, changes in the shape or location of body fat (especially in your face, neck, back, and waist), easy bruising,  increased acne or facial hair, menstrual problems, impotence, or loss of interest in sex.
Beconase nasal spray interactions
Beconase nasal spray can interact with many chemicals if taken together. Such as:
Ceritinib: if Beconase is administered along with ceritinib, it should be carefully monitored because corticosteroids can cause the enhancement of the hyperglycemic effect of Ceritinib.
Desmopressin: One should not take desmopressin with. Beconase because Corticosteroids (Nasal) may enhance the hyponatremic effect of Desmopressin.
Beconase nasal spray other brand names
Other brand names for beclometasone on the marker are:
Beconase AQ
QNASL
Vancenase
Vancenase AQ
Vancenase AQ Double Strength
Beconase nasal spray price
Beconase Aqueous nasal spray (beclometasone dipropionate) 1 x 22gm spray, 200 doses: £6.40
Beconase Aqueous nasal spray (beclometasone dipropionate) 2 x 22gm spray, each 200 doses: £10.80
Beconase Aqueous nasal spray (beclometasone dipropionate) 3 x 22gm spray, each 200 doses: £13.20
"Furamist nasal spray – Use, Dosages, Side effects during pregnancy"