What is Benzonatate?
Benzonatate is a generic name for a cough suppressant drug, previously termed non – specific antitussive drug, which uses pharmacologic agents that act as inhibitory effects on the cough reflex directly. It is generally called as "short term drug" which reduces the frequency or intensity of a cough only for a short time.
It is used to relieve coughs due to colds or influenza (flu), the common cold. The major symptom of flu is found to be a cough and it can be treated using benzonatate. It is not prescribed for any other chronic cough that occurs with smoking, asthma or when large amount of mucus with the cough.
It is also not suitable for children under 10. It is available in gelatine capsules which look like candy for children. It is related to medicine used as local anaesthetics. It was approved by FDA in the 1958.
A recent issue of FDA warning about benzonatate is "When a cough suppressant is truly necessary, dextromethorphan or even codeine might be a safer choice".

Benzonatate Molecular Formula and Weight
Molecular structure: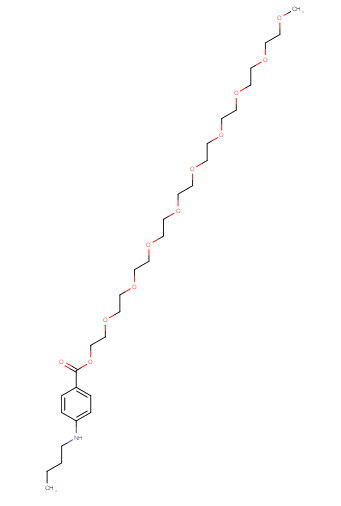 Benzonatate belongs to the class of chemical entities known as benzoic acid esters. These are ester derivatives of benzoic acid.
Molecular formula: C30H53NO11
Molecular Weight: 603.75 g/mol
Benzonatate Drug Class
It belongs to the antitussive drug, related to a cough. These are drugs related to the removal of secretions or extrude foreign cells, debris, dust from the trachea, bronchi, and lungs. The generally acts by liquefying rigid mucus and extrudes it. They reduce a cough itself.
It also belongs to the class of benzoic acid esters, derivatives of benzoic acid.
How does Benzonatate work in the body?
As it is popularly called as "antitussive drug" it works by anesthetizing or numbing the stretch receptors of nerves located in the alveoli of lungs, lower airways and the pleura which are responsible for reducing cough after taking a deep breath. It also works as local anaesthetics like procaine, tetracaine, and lidocaine which numb the skin, muscles or gums.
It also reduces transmission of the cough reflex at the level of medulla where the afferent impulse is transmitted to the motor nerves. It also attaches to the inner wall of the voltage-gated sodium channels for the increase in electrical excitability.
Benzonatate acts peripherally, anesthetizing the stretch receptors of vagal afferent fibers in the alveoli of the lungs, bronchi, and pleura. Since these receptors are responsible for mediating the cough reflex, anesthetizing these receptors result in the inhibiton of cough production.
When applied locally, Benzonatate binds within the intracellular portion of voltage-gated sodium channels, decreasing the rate of membrane depolarization and increasing the threshold for electrical excitability.
Benzonatate brand names
It is available in Tessalon Perles, Zonatuss, Benzonatate and Tessalon. They are also available as a generic drug. By February 2017, one more brand of generics of Benzonatate is listed. It is Benz, produced by Lupin Laboratories Ltd.
What is Benzonatate used for?
Benzonatate is effectively used for cough treatment. It has no other use a pharmaceutical drug. It suppresses cough treatment caused only by colds and flu. It is less effective for cough treatment. Comments were not high that it suppresses a cough effectively. More doses it takes to relieve us from a cough.
There are other effective cough suppressants like promethazine and codeine that works well at night to suppress a cough. From the studies, it is shown that benzonatate along with Mucinex can suppress a cough greater in one alone. Also along with guaifenesin, it works better.
Benzonatate dosage forms
The route of administration for benzonatate is oral and it is available in both capsule and tablet form.
Adults and children over 10years of age:
The usual dose is 100mg capsule three times a day. To increase its action, up to 600mg can be divided into equal parts and taken thrice a day. As it is available more in capsule form, it should be swallowed whole. The capsule should not be broken or take the liquid part open is not advisable.
Benzonatate Drug strength
Capsule –  100mg/ 1 dose
Capsule – 150mg/  1 dose
Capsule – 200mg/  1 dose
Capsule, gelatine coated – 200mg/ 1dose
Capsule , Liquid filled -100mg/ 1 dose
Capsule, Liquid filled – 200mg / 1 dose
Tablet – 100mg/ 1 dose
Benzonatate dosage for different indications
Benzonatate is generally used for cough control. Benzonatate generally comes in 100 milligrams (mg) and 200mg capsules in the market. These doses can be taken three times a day as per prescription. Taking more benzonatate for better results may result in serious issues.
It should always be taken with full glass of water and swallowed immediately. It should not be chewed, suck or break open the capsule.
Children under the age of 10 should not take benzonatate. Even small concentration may lead to severe effect. An overdose of benzonatate may be fatal to a child. If you are allergic to benzonatate or any numbing medicines like tetracaine or procaine avoid taking benzonatate.
Benzonatate Highest dose
In the case of an adult, the dosage quantity prescribed by the doctor was 100mg, 150mg, 200mg. 600mg/day is the maximum dose to be taken for adults (18 years and above)
Child dosage (ages 11-17): 100- 200 mg three times per day as needed to your cough. Maximum 6090 mg/day can be taken
Child dosage (ages 0-10): still research is going on for the child dosage below 10 years. If taken in babies even in small quantity it may be lethal.
Benzonatate side effects
Benzoate side effects may be caused if you are overdosing the drug or it may even be due to your body acceptance for that specific drug. These symptoms appear immediately after 20- 30 minutes of your drug uptake.
The drug expiry date should be periodically checked and the drug should be stored under cool conditions. The symptoms include:
Numbness
Chest pain
A choking feeling
Hallucinations
Confusion
Feeling like you may pass out
Some allergic reactions including swelling of your face, lips, throat or even tongue.
Dizziness
Nausea
Headache
Skin rash and mild itching
These last four symptoms may be normal but one should immediately consult a doctor for precaution.
How to take Benzonatate
It should be taken with a full glass of water. Normally hot water is prescribed to swallow a tablet or capsule. It is mostly available in a gelatine coated form; these drugs are designed based on our body conditions. If they are supplying benzonatate in capsule form the meaning that our body cannot metabolize this kind of drug in a normal powdery form and even based on effectiveness.
How far the drug reaches the general circulatory system and how fast it starts working. So, one should avoid chewing the drug. It will lead to dangerous effect.
The medicine may be administered orally, with or without consumption of food. Usually, there are three doses per day or, as the doctor may suggest.
The medication must be consumed completely, as a whole. Chewing, sucking or dissolving of the drug in the mouth is strictly not recommended. Doing this can lead to a loss of feeling in the throat or the mouth, and may even cause severe allergic reactions or choking.
Until the numbness is completely over, eating and drinking must be avoided. In the case of persisting numbness or a worsening situation, medical help must be obtained immediately.
The dosage is usually decided on the basis of the medical condition as well as the response of the individual, to the therapy. Consumption of more than 200mg in a single dose can be extremely harmful.
Benzonatate must be consumed only as per the advice of the medical practitioner and a higher dose, compared to the prescription can lead to faster treatment of a cough but also results in serious side effects. The doctor must be approached if any symptoms or a cough persist or worsen.
Is benzonatate a narcotic?
Benzonatate is a non-narcotic pharmaceutical cough medicine. It doesn't show any side effects of narcotic analgesics like dizziness, nausea, constipation etc. It doesn't act like reducing pain or may alter mood or behaviour. So, it is 100% sure that benzonatate is non- narcotic drug and easily available in any drug store. It is not accepted without doctor prescription.
Is benzonatate addictive?
Yes, Benzonatate is an addictive drug. Drug addiction has been reported by people who are male with 10-19 age group who taking ambient medication. This ambient drug is a sedative also called a hypnotic. A report submitted by the health association shows at the year 2002, 2003, 2004 and 2005 shows more addiction with people taking benzonatate. It also shows female affected by 38.46% and male by 61.54%.
Age groups addicted:
10-19: 47%
30-39: 24%
40-49: 30%.
Thus it should not be taken further. Proper counselling should be taken for addiction purpose.
Can I abrupt Benzonatate therapy suddenly?
The medication or therapy should be slowed down regularly to avoid harmful side effects or adverse reactions. Likewise, it is a cough suppressant drug and you should consult with your doctor about your health repairmen after taking this drug.
Can benzonatate cause withdrawal effects?
Benzonatate causes withdrawal symptoms among a specific group of people. It generally affects male of 50-59 years old. These people are taking with the drug for less than 1 month along with Ambien medication. FDA reported this as, "benzonatate drug withdrawal syndrome".
Gender classification:
Age classification:
20-29: 7%
30-39: 22%
40-49: 30%
50-59: 35%
60+ : 8%
Patients used co-drugs:
Ambien 45%
Effexor 40%
Alprazolam 40%
Side effects:
Nausea
Suicide idea
Back pain
Depression
Precautions and warnings during benzonatate use
Warnings:
Before taking any drug, you should be ready to face any result from the drug. You should discuss with your doctor about your health issues before taking a dose of benzonatate. You should be alert if you have any problem like:
Tell your doctor about any unusual or allergic reactions you have experienced after taking any drug, food, dyes, preservatives or food.
Precautions:
You should be in contact with your doctor and should be giving responses weekly once about your health conditions Even after taking the drug for more than a week you didn't recover you should discuss with your doctor if you have any further side effects like skin rash, fever. Benzonatate overdose may affect children between the age groups of 15 and 20. They may experience loss of consciousness, restlessness, shaking in legs, hands etc.
How long does benzonatate take to work?
It is a general cough suppressant drug, once after swallowing it starts its action about 15-20 minutes. This time duration is common for all age group. Then this action lasts 3-8 hours. If you feel that even after taking this drug you are still suffering from a cough and cold, consult your doctor regarding your issues and try to take the better drug.
How long does Benzonatate stay in your system, urine, blood and saliva?
Benzonatate has half – life of 3-8 hours. If your dose prescribed by your doctor is over then you can continue with your day-to-day activities. Just be sure you don't find any side effects after taking benzonatate drugs. For every drug Elimination (Excretion) process is very important.
It generally occurs through urine. Other routes are bile, breast milk, sweat, faeces, saliva, tears and exhaled air. Thus benzonatate is not a big drug it gets out of your system as soon as you recover.
Can benzonatate affect drug test?
Generally, it won't result in the false positive test. But sometimes when you are combining two drugs at the same time this problem may occur. This occurs in the case of only one individual from the report of 3500. It is observed in the person taking drugs for cystic fibrosis, like Zithromax, tobi, Mucinex, Bactroban and Humalog.
Don't be afraid of drug test since the results from immunoassay (old method) and Gas chromatography- Mass spectrometry (GC-MS) gold standard method may have some errors. The drug test was done by urine from older days. Nowadays they are testing using saliva, hair etc.
Can Benzonatate make you "high"? Is it abusive substance?
Benzonatate is non- narcotic drug which is not "feel-good" drug to enjoy your life. It is to make your throat feel better. None of the results show that benzonatate is having a heavenly feeling. Only one survey it is stated that taking OTC (Over the Counter) a cough and cold medicine to "get high".
A 2007 report shows that the major growing health problem in the United States was the abuse of pharmaceutical drugs. There is increased the availability of these drugs without a prescription is affecting people normal life.
National survey on drug use in 2006 revealed that around 3.1 million people in the United States aged 12-25 years stated that they had used OTC (Over the Counter) a cough and cold medicine to "get high". The drugs showing numerous reports:
Codeine cough syrup
Dextromethorphan
Codeine promethazine hydrochloride cough syrup (CPHCS).
Benzonatate during pregnancy
Benzonatate is considered as category 'c' pregnancy drug by FDA. Category 'A' denotes that it cause no harm to mother and foetus. Category 'B' shows that there are no adequate studies in humans, but it shows no harm in animals. Category 'C' denotes that research has been done only on animals and that results revealed adverse effect to the foetus when the mother takes the drug.
Proper research has not yet done on humans. So it is better to ask suggestion from the health advisor. It is better to take drugs only during unavoidable situation during pregnancy.
Benzonatate during breastfeeding
There are no enough studies in for determining infant risk when using this medication during breastfeeding. Think of bad effects before taking this cough suppressant drug.
Can geriatric patients use Benzonatate safely?
The action of benzonatate is not properly explained in the case of aged people. There is no adequate research showing benzonatate activity over geriatric patients. They have to consult their family health advisor before taking this drug.
Benzonatate overdosage
Restlessness can be exhibited by individuals experiencing or suffering from Benzonatate overdose, along with other side effects of an overdose like cardiac arrest, tremors, coma, and convulsions.
The signs and symptoms of Benzonatate overdose may show effect rapidly, after the ingestion of the medication, which is within a time span of fifteen to twenty minutes. Within hours of ingesting accidentally, deaths have also been reported in children. Particularly in children, intentional or unintentional overdose can be a leading cause of death.
Chemically, the drug has relation to tetracaine and other topical anaesthetics. It also shares a number of their toxicological and pharmacological aspects. The drugs belonging to this category have a good rate of absorption, post ingestion.
Signs and Symptoms of benzonatate overdose
Overdosage of Benzonatate, as discussed above, shows reported signs and symptoms within fifteen to twenty minutes of administration. If the capsules are dissolved in the mouth or chewed, there are high chances of rapid development of oropharyngeal anaesthesia, which can further cause an airway compromise and choking.
Central nervous system stimulation can cause tremors and restlessness, which can also further proceed to clonic convulsions. This can be followed by profound central nervous system depression. Within one hour of ingestion of an overdose, cardiac arrest, cerebral edema, convulsions, and coma have been reported, which lead to death.
What to do in case of Benzonatate overdose?
Seeking medical attention must be the immediate step in case an overdose is suspected. The gastric contents must be evacuated and a copious amount of slurry of activated charcoal needs to be administered. Even if the patient remains conscious, gag reflexes and cough can become highly depressed, which can necessitate special attention to protect against orally administered materials and aspiration of gastric contents.
Intravenous administration of short – acting barbiturate is necessary for the treatment of convulsions. It must be titrated extremely carefully so as to provide the smallest effective dosage. Intensive support is essential for the cardiovascular – renal function and respiration during the treatment of severe intoxication from Benzonatate overdose. Any stimulants of the central nervous system must not be used.
What to do if I miss a dose?
In case a dose is skipped or missed, the usual dosing schedule must be resumed. It is to be noted that taking a double dose to catch up for the missed dose is unadvisable.
How to store Benzonatate?
Appropriate storage of Benzonatate is at room temperature, away from moisture and light. It must not be stored in the bathroom. Storing Benzonatate in a child – resistant container is highly advised and it should be kept out of reach of children and pets.
Unless instructed, the medication must not be flushed down the toilet or poured into the drain. The medication must be discarded properly when it is not needed any longer or has expired.
Benzonatate absorption, metabolism, and elimination
Benzonatate, like codeine and dextromethorphan, is absorbed from the gastro – intestinal (GI) tract.
Distribution of Benzonatate and dextromethorphan is unknown. Codeine is widely distributed and 7% protein bound. It is also distributed into the central nervous system (CNS). It has a free crossing via placenta and also exhibits distribution into the breast milk.
The metabolism and excretion of Benzonatate are unknown. Dextromethorphan is metabolized by the liver and reports excretion via the urine.
Benzonatate Drug Interactions
The doctors, pharmacists and other healthcare professionals are well aware of any potential drug interactions and monitor the same closely for you. You must not start, change or stop the dosage of any medication before you check with the concerned expert beforehand.
You must inform your doctor about any prescription, herbal or non – prescription medications that you may be consuming.
If you regularly take drugs which are known to cause drowsiness, like certain antihistamines (e.g., diphenhydramine), psychiatric medicines (e.g., risperidone, chlorpromazine, amitriptyline, trazodone), medicine for sleep or anxiety (e.g., diazepam, alprazolam, zolpidem), narcotic pain relievers (e.g., codeine), muscle relaxants, or anti-seizure drugs (e.g., carbamazepine).
You must also check the labels of all medicines that you use, especially in the case of medications for a cough and cold. These generally consist of ingredients that cause drowsiness.
Can I take Benzonatate and Robitussin together?
Robitussin AC belongs to the drug class termed as upper respiratory combinations, while Benzonatate is a member of antitussives. Both of these are used to treat a cough and have no interactions. Hence, combined administration is not harmful, if prescribed by the doctor.
Can I drink alcohol while taking Benzonatate?
Benzonatate can lead to drowsiness and also has an effect on the nervous system. Hence, it is not wise to consume alcohol when you are on a Benzonatate treatment therapy.
Benzonatate and hypersensitivity reactions
There have been reported incidences of severe hypersensitivity reactions (including cardiovascular collapse, laryngospasm, and bronchospasm) which have a possible relation to local anaesthesia which results from chewing or sucking the capsule instead of swallowing it directly with water. Some severe reactions call for intervention with supportive measures and vasopressor agents.
Benzonatate and psychiatric side effects
There have been some reported rare instances of bizarre behaviour, including visual hallucinations and mental confusion, in individuals administered with Benzonatate in combination with other prescription drugs.
What will happen if a child ingests Benzonatate?
Benzonatate must be kept out of reach of children. Accidental ingestion of the drug can result in death and has also been reported in children younger than 10 years of age.
What are Tessalon cough Perles?
Coughs caused by common cold as well as some other breathing problems (like asthma, emphysema, bronchitis, pneumonia) can be treated by Tessalon Perles. Its mechanism of action includes a reduction in the reflex in lungs, which is responsible for the urge to cough. The medication drug is an expectorant.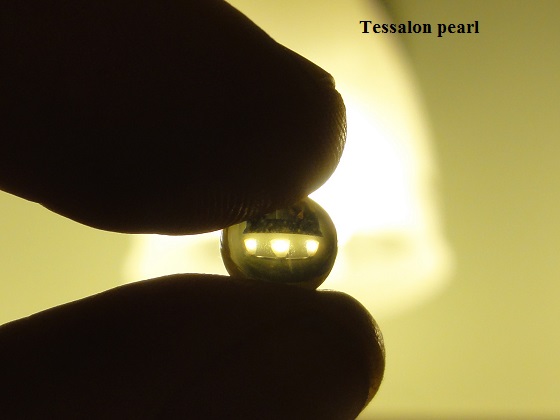 Benzonatate for pneumonia
Benzonatate is an FDA approved indication and can be successfully administered to suppress symptoms and treat pneumonia.
Benzonatate for bronchitis
Administration of 100 mg to 200 mg of Benzonatate, up to three times a day can be used as a treatment therapy for bronchitis.
Benzonatate for influenza
Benzonatate is used for the treatment therapy for relieving cold and cough caused by influenza (flu). It has a direct action on the breathing passage and the lungs and may also act on the brain's cough centre.
Is Benzonatate for snoring?
A noted side effect of Benzonatate, which is rather beneficial, is the quieting or reduction of chronic snoring.
Can Benzonatate be used as a topical anaesthetic?
Small doses of Benzonatate have been successfully used as a topical anaesthetic for pharyngeal pain or the mouth. However, this practice is not recommended at all, as it may lead to pulmonary aspiration, resulting from the oropharyngeal anaesthesia.
Can I take Benzonatate and Tizanidine together?
An increase in the side effects, like difficulty in concentrating, confusion, drowsiness and dizziness may be experienced by combining Benzonatate with tiZANidine. Certain individuals, especially, the elderly, may also suffer impairment in motor coordination, judgment and thinking. Avoiding or limiting the consumption of alcohol during the treatment therapy is highly recommended.
Additionally, other additive effects may also be experienced due to the combined administration of these medications, like lowering of blood pressure. Change in heart or pulse rate, fainting, light – headedness, dizziness, and headaches are common.
The above mentioned side effects are more likely to blossom during the initial phases of the treatment or after a dose is increased and sometimes, in cases, when the treatment in restarted after an interruption. In case these become troublesome or persistent, inform the doctor. Until you become aware of the effect of the medications on your body, avoid operating hazardous machinery and driving.
How often can you take Benzonatate 200 mg?
Benzonatate 200mg dose can be taken up to three times a day to control a cough in adults and children older than ten years of age.
Is Benzonatate a controlled substance?
Benzonatate is a member of the antitussives drug class. As per the CSA (Controlled Substance Act), it is not considered as a controlled substance.
Is Benzonatate an expectorant?
Benzonatate can be classified as a cough medicine, which is non – narcotic. It acts by numbing the nerve stretch receptors which are located in the alveoli of the lungs, the lining of lungs (pleura) and the airways. On the other hand, an expectorant acts by stimulating secretions of the respiratory tracts and irritating the stomach lining (example Mucinex).
Can I take Benzonatate and Mucinex together?
The generic form of Tessalon Perles is Benzonatate, which is an effective treatment for a cough. It works better in combination with guaifenesin. As per shown by a study, prescription of over the counter Mucinex (600mg guaifenesin) in combination with Benzonatate capsule is ever more effective.
Can I take Benzonatate and Nyquil together?
Acetaminophen can be an ingredient in Nyquil preparation. The same is also the active ingredient in Tylenol. In case it is so, you must drop one of these medications. You may take either of these in combination with Benzonatate. You must always exercise caution when dealing with multiple medications.
Can I take antihistamine while on Benzonatate 200mg?
Generally, the two are safe to consume together. However, drowsiness may result from Benzonatate ingestion. Hydroxyzine, chlorpheniramine, doxepin and Benadryl are first – generation antihistamines, which can also be a leading cause of drowsiness in individuals. Hence, the effect may pile up. Therefore, a better decision can be to consider fexofenadine, xyzal, cetirizine, etc. which are second generation antihistamines.
Can I take Benzonatate and Delsym together?
Benzonatate and delsym can be ingested together as their active ingredients are different. Both the medications have FDA approved indications for cough treatment.
Can I take Benzonatate and Cheratussin together?
Cheratussin AC belongs to the drug class termed as upper respiratory combinations, while Benzonatate is a member of antitussives. Both of these are used to treat a cough and have no interactions. Hence, combined administration is not harmful, if prescribed by the doctor.
Can a 13 – year old take 200mg Benzonatate?
A child older than 10 years of age is often prescribed capsules of 100mg or 200mg with a maximum daily dose of 600mg. Yet, it is always safer to confirm the same with the physician and the dose must be administered only as per directed.
"What is the drug duloxetine used for? Duloxetine reviews"