This are saline containing drops which are used to deliver medication to eyes via ocular route to administration. This eye drops are available in single unit dose and multi dose unit systems. Eye drops are 100% sterile and microbes free. This are available as both with preservative and preservative free. Eye drops are available in wide range with respect to condition being treated. According to this eye drops contains number for medicinal categories like:
Steroids
Antihistamines
Sympathomimetics
Beta blocker receptor
Para-sympathomimetics
Prostaglandins
Non steroidal anti inflammatory drugs(NSAIDS)
Antibiotics
Anti fungal,or
Topical anesthetics
Do eye drops have an date of expiration?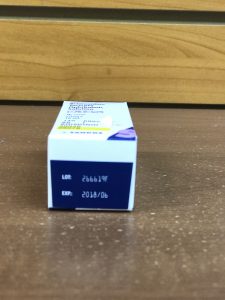 Yes, eye drops do have date of expiration on it. Because of its active ingredient which has its own shelf life which degrades by the time. But the fact with the eye drops is that once it is opened it should be used within a particular time period because once opened rate of degradation of the drug increases.
Some of unit dose eye drops which are preservative free or have preservation should be used all at a time because this are highly sterile and once its opened chances of contamination are at peak.
What is shelf life of eye drops?
Shelf life is the length of time that a commodity may be stored without becoming unfit for use, consumption or sale. Although all eye drops contains preservative to inhibit contamination once opened, this will not prevent contamination indefinitely.But some eye drops contain preservative and are multi dose system.
According to most ophthalmologist they have strong recommendations for disposing of eye drop bottles no longer than three months after opening. Eye drops that contains no preservative are usually packaged in single use tubes. Therefore unit dose has to be used at once and multi dose unit with three months of its opening.
Can I use expired eye drop?
No, in my opinion one shouldn't use eye drops after its expiration date because it not only my opinion but suggested by the regulatory authorities FDA and other agencies. Eyes are the one of the most sensitive part of the body. So, if one use an expired eye drops their may be reported side effects ranging from mild, moderate and major.
Eye drops are the one the most unstable products that has very short shelf life and are quickly regarded. Eye drops are available in  single unit and multi dose unit systems. The multi dose unit systems generally have preservative in them which help eye drops  to maintain their shelf life. But still its recommended to use within 28 days of opening the eye drops because after that time it becomes unfit for use.
What is difference between shelf life and date of expiration of eye drops?
Commonly people get confused between the terms shelf life and date of expiration. Date of expiration means that a manufacturer  guarantees 100% efficiency and safety of the drug and the product. But their are some exception about different dosage forms like eye drops are recommended to be used within 28 days of opening it.
Shelf life is the length of time that a commodity may be stored without becoming unfit for use, consumption or sale. Therefore, eye drops might have long expiration date but once its opened must be used within 28 days or else should be discarded.
Why Eye drops come with message : to be used within 28 days of opening?
Eye drops have preservative in them to ensure the sealed product remains sterile until the expiry date. The reason behind the caution of using within 28 days because of microbial contamination. Ones eyes, skin, and fingers will all be carrying bacteria every time they come in contact with the opening of the eye drop container, potentially getting into the product.
Products like eye drops will have a preservative in it designed to inhibit microbial growth inside the dosage, but the protection only lasts for certain period of designated time. One is a general rule for how long the eye drop inside can stay relatively free of microbes. Once the shelf life gets over the microbes start growing inside, now it increases risk of using this eye drops which potentially provides infection to the eyes.
Side effects of using expired eye drops
Side effects is a broad term that may vary from person to person depending upon various conditions. Side effects may vary from mild, moderate to major effects. The usuall side effects that are reported in by its use are:
stinging/redness in the eye
widened pupils
blurred vision
shakiness
irregular heartbeat
eye pain
itching/swelling around the eyes
other vision problems
What are the general storage conditions for eye drops?
Eye drops should be generally stored in a cool and dry place and for some drugs like Xalatan ( latanoprost ) it should be stored in fridge but it should not be frozen.
Can we use eye drops while pregnant and breastfeeding?
If you are pregnant or breastfeeding you should always check with your doctor or pharmacist before using eye drops. This is because some eye drops can be absorbed into the bloodstream via eye. The drug can be minimized from getting into the bloodstream by pressing the tear duct while putting the eye drops. The tear duct is present at the corner of the eye closest to nose.
Is their any kind of device available to aid eye drop application?
Yes, their are different kind of applicators are available to aid eye drop application easy for some people like old age people and others. Autodrop is one of its kind which helps solve problems encountered by various eyedropper users, who involuntarily blink or who sometimes just miss the eye. The eye drop bottle is fitted or clipped into the autodrop.
The Autodrop will fit right over the eye and a special lip hold the lower lid down to prevent blinking. Unique pinhole directs eyesight upward and away from descending drop. This Autodrop aid is useful for all the most eye drop bottles but some glaucoma eye drop bottles like xalantan are very small they don't fit proper in it.
"
"Is it OK to take expired mucinex dm?"
Is expired hydrogen peroxide still good?"