What is Ezetimibe?
Ezetimibe is a synthetic compound, which helps to reduce blood plasma cholesterol levels.
Ezetimibe brand name
The drug is available under generic name Ezetimibe and Brand name Zetia or Ezetrol
The drug is either used alone (marketed as Zetia or Ezetrol) or in combination with statins (ezetimibe /simvastatin) and marketed as Vytorin and Inegy.

The drug is marketed by Merck & Co.
What is the source of the drug (natural or synthetic)?
Ezetimibe is a synthetic (man-made) pharmaceutical anti-hyperlipidemic medication.
What is ezetimibe used for?
Why is this medication prescribed?
Ezetimibe is an anti-hyperlipidemic or cholesterol lowering medication.

The drug is generally used in combination of certain changes in lifestyle (diet, weight-loss, exercise) to reduce the amount of blood cholesterol (a fat-like substance) levels.

Ezetimibe primarily works by preventing the absorption of cholesterol in the intestine.

Ezetimibe is prescribed as an adjunctive therapy to control the elevated blood cholesterol (total-C, LDL-C, and Apo B) level in primary (heterozygous familial and non-familial) hypercholesterolemia patients.

Ezetimibe is prescribed as a second line therapy for individuals who are unable to respond by statins therapy.
Pharmacophore structure: Information about the chemical structure of the drug
Ezetimibe chemically belongs to the class of organic compounds known as Cholesterol Absorption Inhibitors. The key skeleton is known as monobactams, which principally comprise beta-lactam ring alone or fused to another ring.  The detailed chemical classification of Ezetimibe is as follows.
| | |
| --- | --- |
| Kingdom | Organic compounds |
| Super Class | Organoheterocyclic compounds |
| Class | Lactams |
| Sub Class | Beta-lactams |
| Direct Parent | Monobactams |
Chemical information of the drug
Ezetimibe is a synthetic pharmaceutical organo heterocyclic compound named as (3R,4S)-1-(4-fluorophenyl)-3-[(3S)-3-(4-fluorophenyl)-3-hydroxypropyl]-4-(4-hydroxyphenyl)azetidin-2-one.

The compound has molecular formula C24H21F2NO3 and the molecular weight of 409.42 g/mol.

The melting point of Ezetimibe is 164-166 °C and is stable at ambient temperature.

Ezetimibe is a white crystalline powder and practically insoluble in water.

It is easily soluble in ethanol, methanol, and acetone.

The maximal solubility of Ezetimibe in water is ~ 00846 mg/mL.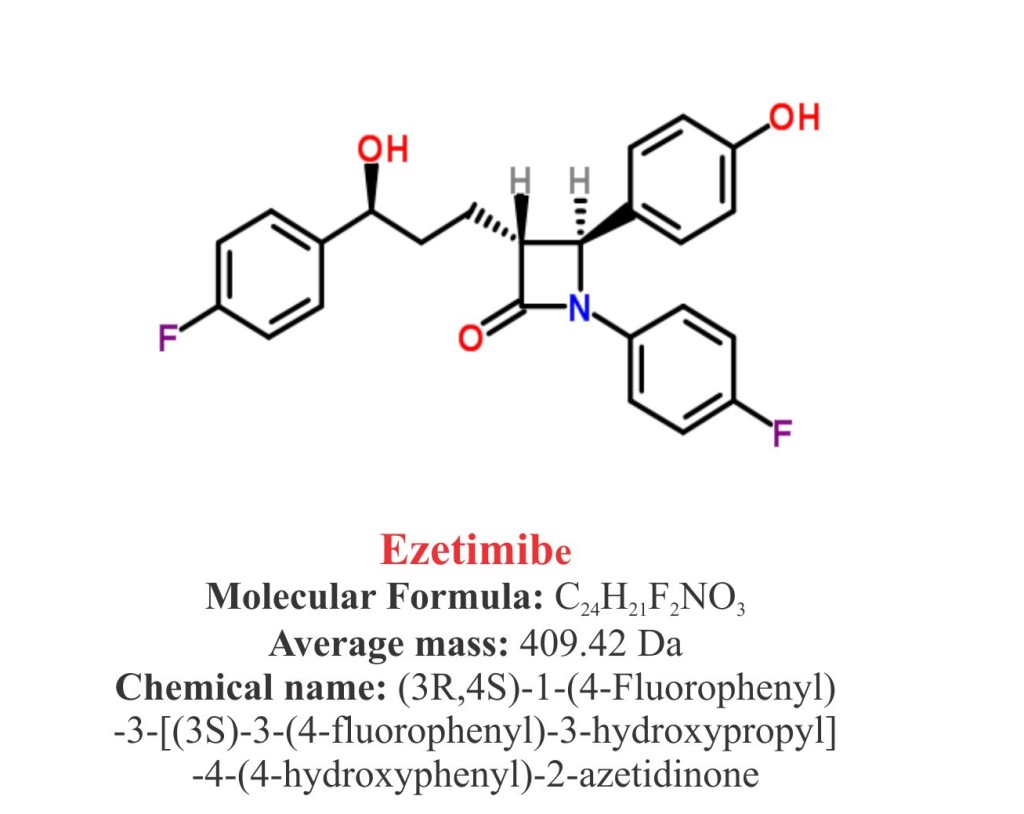 Ezetimibe strengths
Ezetimibe is available in tablet form for oral administration.

It is available in one dosage strength of 10 mg/tablet.

The tablet is white to off-white in colour and imprinted with "414" on one side.

Each tablet contains active Ezetimibe and inactive ingredients such as lactose monohydrate, croscarmellose sodium, magnesium stearate , povidone USP, microcrystalline cellulose and sodium lauryl sulfate .
How does Ezetimibe work
The mode of action of Ezetimibe is completely different from other classes of cholesterol-lowering medications i.e. Bile acid sequestrants, fibric acid derivatives, HMG-CoA reductase inhibitors and plant stanols.

Ezetimibe does not increase the bile acid secretion or does not restrain the liver cholesterol synthesis.

Ezetimibe basically belongs to Cholesterol Absorption Inhibitor class of drugs, which lowers the blood plasma cholesterol level by selectively inhibiting the cholesterol and related phytosterols absorption in the intestine.

The site of action of Ezetimibe is the brush border of small intestine, where it blocks the intestinal cholesterol absorption and therefore decreases the cholesterol delivery to the liver.

Reduction of hepatic cholesterol stores results in an increased absorption and clearance of circulating cholesterol from blood.

Studies have shown that Ezetimibe directly binds with Niemann-Pick C1-Like 1 (NPC1L1) protein (a critical mediator of cholesterol absorption) present on the gastrointestinal tract epithelial cells and hepatocytes.
What are the recommended doses of Ezetimibe?
The safety and efficacy of Ezetimibe has not been established in patients below 10 years of age.

For patients above 10 years, the recommended dose of Ezetimibe is 10 mg once a day and can be taken with or without food.

It is usually recommended that patients should follow a standard cholesterol lowering diet and exercise therapy before Ezetimibe dosing and should be following during Ezetimibe treatment.

Ezetimibe is either used alone (when other medications do not work) or together with statins (HMG-CoA reductase inhibitor, another cholesterol lowering agents), when statins alone cannot work in controlling cholesterol levels.

Ezetimibe may also be administered with fenofibrate (mixed hyperlipidemia) for additive effects.

Treatment should continue until disease progression or unacceptable toxicity occurs.
When should I discontinue, withhold or modify the dose of Ezetimibe?
The long elimination half life (~22-hours) of Ezetimibe allows a noteworthy reduction in blood cholesterol level with less frequent dosing.

Controlled human studies have shown that Ezetimibe is effective in decreasing low-density lipoprotein cholesterol even at a dosing schedule of three times per week. Therefore, treatment and dosing may vary depending on patient's response to drug.

No dosage adjustment is necessary in geriatric, mild hepatic impairment patients and patients with renal impairment.

Co-administration of Ezetimibe with a specific statin or fenofibrate should be in accordance with the product labelling or by consultation with pharmacist or doctor.
What are the pharmacokinetic properties of the drug?
Pharmacokinetic studies suggested that after oral administration, Ezetimibe is rapidly absorbed and conjugated to a pharmacologically active phenolic glucuronide known as Ezetimibe-glucuronide.

It has been observed that following a 10 mg dose of Ezetimibe maximum (or peak) serum concentration of 3.5 – 5.5 ng/mL was achieved in 4-12 hours.

Following absorption the majority (>90%) of the drug is bound to plasma proteins.

Due to solubility issues the absolute bioavailability of Ezetimibe cannot be determined.

The drug is mainly metabolized in the small intestine and liver via extensive conjugation with glucuronide and subsequently clears through biliary and renal excretion.

The average median half-life of Ezetimibe and its glucuronide conjugate is 22 hours.
Which pregnancy category (A; B; C; D; X) has been assigned to Ezetimibe?
The Ezetimibe is classified by US FDA pregnancy category: C
Due to lack of adequate and well-controlled studies the use of Ezetimibe in pregnant women is contraindicated and recommended only when benefit justifies the risk.
Laboratory animal studies have shown adverse effects on the fetus toxicity.
No adequate data is available on excretion of Ezetimibe into human breast milk.
Animal studies have shown exposure of Ezetimibe up to half of that observed in maternal plasma.
Despite these facts caution should be exercised when taking Ezetimibe.
How to prepare the drugs?
Ezetimibe is available in tablet form for oral administration by mouth with or without food.
It is also recommended to take drug at almost the same time every day.
Follow the instructions carefully as directed on prescription leaflet and take Ezetimibe exactly as directed. Take the medication regularly, even if you feel well.
Usually within 2-3 weeks patients get the benefits from the drug.
Do not change the dose of the drug as prescribed by your doctor. Since, the dosage is based on patient medical condition and treatment responses.
How to store the drug?
Ezetimibe is stored at 25°C (77°F) and excursion permitted to 15-30°C (59-86°F).
The container should be tightly closed and away from excess heat, direct sun light and reach of children.
Do not freeze or store the medicine at extreme cold too.
How to dispose the medicine?
Throw away unused and opened, outdated or no longer used container.
Also dispose the old medicine after the expiration date.
Ezetimibe has received its official approval from US Food and Drug Administration (FDA) in October 2002 for use either alone or together with statins in patients with high cholesterol level.
The drug also received official approval from FDA to treat also rare genetic disorders homozygous familial hypercholesterolemia and homozygous sitosterolemia.
It has been recommended that Ezetimibe should be co administrated with Lipitor or Zocor to reduce the elevated total cholesterol and LDL cholesterol in patients suffering from homozygous familial hypercholesterolemia.
In case of sitosterolemia, Ezetimibe is recommended as an adjunctive therapy to control elevated levels of sitosterol and campesterol levels.
Other uses of the drug
Ezetimibe may also be used for other uses not listed here. It is advisable to ask your doctor or pharmacist for more information.
What special dietary precautions should I follow?
It is generally recommended to avoid eating high fat and cholesterol rich diet before or during the course of medication.
Follow a routine protein rich, low-fat, low-cholesterol diet and avoid spicy foods.
Follow a strict exercise and dietary routine as per the recommendations of your health care provider.
Detailed information regarding the diet can be obtained from National Cholesterol Education Program (NCEP) website
What special precautions should I follow/ What should I avoid while using Ezetimibe?
Do not use the medicine if you are hypersensitive or allergic to any of the ingredients.
Before taking Ezetimibe, tell your doctor about your medical history preferentially if you have any kind of Liver disease.
During pregnancy this medication is recommended only when it is essential and under doctor or pharmacist supervision.
Since the information about excretion of drug in milk is not explored consult your doctor before breast feeding to your child.
Due to increased risk of myopathy or rhabdomyolysis by concomitant use of Ezetimibe and any HMG-CoA reductase inhibitor or fibrate, patients are advised to immediately discontinue the drug, if myopathy is diagnosed or suspected.
Consult with your doctor and pharmacist if you are taking any prescription and nonprescription medications such as anticoagulants warfarin (Coumadin); fenofibrate (TriCor); cyclosporine (Neoral, Sandimmune) and gemfibrozil (Lopid).
Do not share this medication with other persons having the similar kind of problems (such as cholesterol levels). Consult your doctor for more details.
Ezetimibe side effects
The common side effects of Ezetimibe are as follows.
Diarrhea
Headache
Dizziness
Sneezing
joint pain
Runny nose
Sore throat
*If symptoms persist and become more severe consult your doctor immediately.
If you experience any of these symptoms, call your health care provider immediately.
The Ezetimibe is usually well tolerated as the dose limit of 10mg/ once a day. However, in some individuals, Ezetimibe may cause the risk of serious side effects. Ezetimibe may cause the risk of severe liver damage when administrated with statins or may cause muscles damage when taken with fibrate or statins. Some of the common signs that need to be addressed immediately to your health care provider comprise:
Muscle pain/weakness/tenderness (particularly in case of unusual tiredness or fever).
Liver problems such as severe abdominal or stomach pain, yellowish eyes/skin, dark urine and persistent nausea/vomiting.
Symptoms of severe allergic reactions i.e. , rashes, severe dizziness, itching/swelling, trouble in breathing etc.
What should I do in case of overdose
Clinical studies with varying doses of Ezetimibe 50 mg/day (for healthy subjects up to 14 days), 40 mg/day (for primary hyperlipidemia patients to up to 56 days) and 40 mg/day (for sitosterolemia patients to 26 weeks) have shown no significant adverse effects.
However, if you overdose the drug contact with your doctor or pharmacist for symptomatic and supportive measures.
What should I do in case of missed a dose?
In case of missed dosage, take it as soon as you remember and maintain a regular dosing schedule.
Skip the missed dose if it is almost time for your next scheduled dose. Keep in mind to not use a double dose to make up a missed dose
Does Ezetimibe have any interaction with other drugs?
The Ezetimibe may interact with one of the following drugs. Care should be taken when you are taking these medications together.
Cholestyramine: A bile acid sequestrant, which binds bile in the gastrointestinal tract to prevent its re-absorption. Concommitant use of cholestyramine may reduce the level of Ezetimibe and therefore the overall efficacy of the drug. It is recommended that Ezetimibe should be administrated 2 or more hours before and 4 hour after taking a bile acid sequestrant.
Cyclosporine: Animmunosuppressant drug widely used in organ transplantation.  It has been observed that cyclosporine has increased the mean AUC and Cmax of Ezetimibe several fold, thus may augment the therapeutic and adverse effects of Ezetimibe.
Warfarin: A coumarin based anticoagulant. Post-marketing reports have suggested that concomitant use of Warfarin with Ezetimibe increased International Normalized Ratio (INR), therefore it is advisable to monitor International Normalized Ratio (INR) during co-administration of Ezetimibe with Warfarin.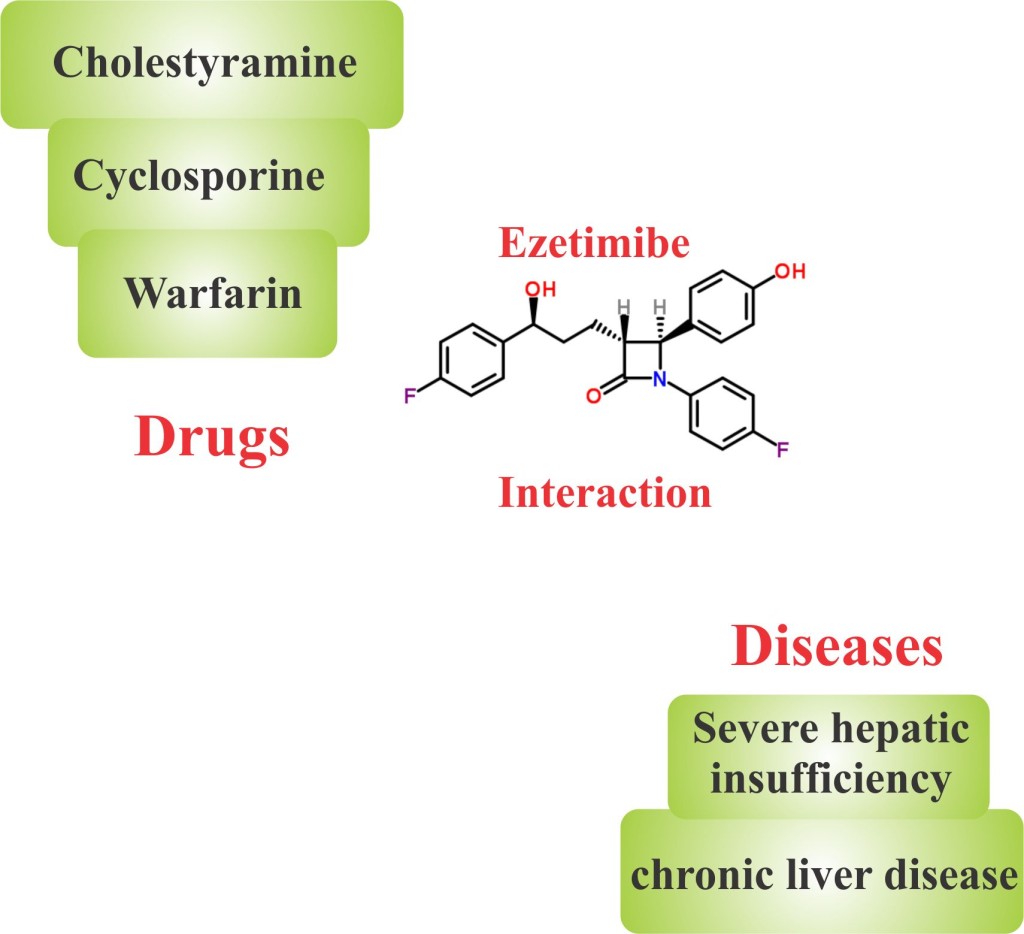 Does Ezetimibe have any interaction with Diseases?
It has been suggested that Ezetimibe is partially metabolized in liver, therefore, the exposure to Ezetimibe in patients with moderate or severe hepatic impairment is significantly higher than the normal individuals.
It has been observed that Ezetimibe plasma concentration was increased approximately 1.7-fold, 3- to 4-fold, and 5- to 6-fold, in patients with mild (Child-Pugh score 5 to 6), moderate (Child-Pugh score 7 to 9), and severe hepatic impairment (Child-Pugh score 10 to 15) in comparison to healthy individuals. Thus, if a patient shows a Child-Pugh score or Child-Turcotte-Pugh score of 7 or greater (score used for diagnosis of chronic liver disease, mainly cirrhosis), the use of drug is not recommended.
The use of Ezetimibe is not recommended in patients with severe/moderate to severe hepatic insufficiency.
Combination therapy of Ezetimibe with statins (HMG-CoA reductase inhibitor) is contraindicated in patients with active liver diseases or elevated serum transaminases level.
Where can I get more information?
Your pharmacist or health care provider can provide more information about Ezetimibe.
Clinical research and current scenario of the drug.
Ezetimibe is represented as a new class of antihyperlipidemic agents that act through inhibition of the cholesterol-absorption.
As a monotherapy, Ezetimibe significantly reduces the levels of cholesterol and other certain bad lipids (total-C, LDL-C, Apo B, non-HDL-C, and TG) in patients  with primary hyperlipidemia (Alone or with statins).
As a monotherapy, Ezetimibe also significantly reduces the levels of cholesterol and other certain bad lipids in people with homozygous sitosterolemia.
As a Combination therapy, Ezetimibe significantly reduces the levels of cholesterol and other certain bad lipids in people with mixed hyperlipidaemia (in combination withfenofibrate).As a Combination therapy, Ezetimibe significantly reduces the levels of cholesterol and other certain bad lipids in people with homozygous familial hypercholesterolemia (in combination with specific statins).
References from chemical, biological and toxicological databases.
Read about,
"Erlotinib, uses, strength, side effects, mechanism of action"