Can you take Flexeril and Tylenol together
What is Flexeril
Flexeril is a Brand name for a medication containing cyclobenzaprine as an active ingredient that is used as a muscle relaxant. It works by blocking nerve impulses responsible for pain sensations that should be sent to the brain.
As a muscle relaxant it is used together with physical therapy and other measures for relaxing muscles and relieving pain and discomfort that can be caused by sprains, strains, and different muscle injuries.
Cyclobenzaprine can relieve local muscle spasm with no interruption of muscle function. Flexeril is available in a form of tablets in dosage strengths of 5 and 10 mg. For most patients, usual and recommended dose of Flexeril is 5 mg three times a day.
The dose may be increased to 10 mg three times a day, depending on individual response. This drug should be used only for short-time period (no more than 2-3 weeks).
Other common products on the market containing cyclobenzaprine are: Amrix, Flexmid, Flexiban, Cyclo/mag and Therabenzaprine.
What is Tylenol
Tylenol is a Brand name for a drug that contains acetaminophen (also known as paracetamol) that has antypiretic and analgesic properties.
It is used for reducing pain and fever and also for relieving the symptoms of common cold, cough, headache, toothache, allergies and influenza. Usual per oral doses for Tylenol are 325-650 mg. It is available in tablets, caplets and liquid dosage forms.
Tylenol products on the market are: Tylenol Extra Strength Caplets, Tylenol Regular Strength Tablets, Tylenol 8 HR Extended-Release Caplets,
Tylenol 8 HR Arthritis Pain, Tylenol Sinus Congestion & Pain Caplets, Tylenol Cold Multi-Symptom Caplets and Liquid, Tylenol Cold Head Congestion Severe Caplets, Tylenol PM Caplets and Tylenol Cold Sore Throat Liquid.
Tylenol Extra Strength are caplets containing only Acetaminophen 500mg as an active ingredient that is used as a pain reliever/fever reducer.
Tylenol Cold are also caplets containing: Acetaminophen 325mg as a pain reliever/fever reducer, Dextromethorphan 10mg as a cough suppressant and Phenylephrine HCl 5mg as a nasal decongestant.
Tylenol Sinus is another Tylenol product that is used for relieving the symptoms of: sinus headache, sinus pain and pressure, sinus congestion, aches and pain and runny nose and sneezing (in Nighttime only).
It is available in tablet form containing: acetaminophen 500 mg as a pain reliever/fever reducer and phenylephrine hydrochloride, 5 mg as a nasal decongestant, and chlorpheniramine maleate 2mg as an antihistamine.
Tylenol-Codeine is a combination of acetaminophen 500 mg and codeine 8 mg that is used for relieving mild to moderate pain, fever reduce and as a cough suppressant.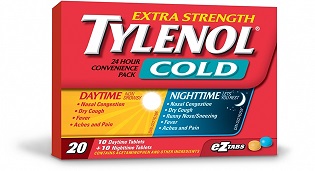 How does Flexeril and Tylenol work in the body
Cyclobenzaprine is a skeletal muscle relaxant and a depressant of the central nervous system. Cyclobenzaprine has effects on the structure in the brain called locus coeruleus, where increases the release of norepinephrine, through the gamma fibers that innervate and inhibit the motor neurons located in the ventral horn the spinal cord.
Cyclobenzaprine can also reduce muscle tone by binding to the 5-HT2 serotonin receptors, antagonizing them and decreasing the activity of descending serotonergic neurons. Cyclobenzaprine exhibits anticholinergic activity and reseprine antagonism. Structurally it is similar to antidepressant Amitriptyline.
Acetaminophen is highly selective COX-2 inhibitor that inhibits prostaglandin synthesis. It can inhibit COX-2 in CNS. Acetaminophen also acts on the hypothalamic heat regulating centers to produce antipyresis.
Acetaminophen's reactive metabolite N-acetyl-p-benzoquinone imine (NAPQI) can cause a potentially fatal, hepatic necrosis through the process of lipid peroxidation if acetaminophen is overdosed (more than 4g daily).
Dextromethorphan acts on cough center in medulla by decreasing sensitivity of cough receptors and by interrupting impulse transmission.
Phenylephrine is sympathomimetic with direct action on the adrenergic receptor system. The vasoconstriction is produced after α-adrenergic receptors activation.
Chlorpheniramine is antagonist of histamine H1 receptor. It has been also shown that this drug is also a serotonin-norepinephrine reuptake inhibitor.
Codeine is an opioid analgesic which is chemically related to morphine but it has less potent analgesic properties and mild sedative effects. It also acts suppress cough by centrally mechanisms.
Can patients take Flexeril and Tylenol together
Since there are no significant interactions between these two drugs, and because they have different mechanisms of action, it is safe to take Flexeril and Tylenol together if doctor prescribed them.
These drugs are often used together as a part of medical therapy for the treatment of acute musculoskeletal conditions which can cause pain and associated muscle spasm, when ibuprofen or other NSAID is contraindicated.
The general recommendation is to take Tylenol product that only contains acetaminophen as an active ingredient in dose of 500mg, three to four times a day.
However, if Flexeril is prescribed, patients should carefully follow instructions written by their doctor, and shouldn't take Tylenol unless their doctor tell them otherwise.
Drowsiness is very common side effect after Flexeril administration and some Tylenol products containing antihistamines such as phenylephrine and chlorpheniramine can potentiate this side effect.
The table below shows side effects after Flexeril and Tylenol administration in recommendable doses. The incidence can be significantly increased if these drugs are overdosed or taken together.
| | |
| --- | --- |
| Very common side effects >10% | Drowsiness (up to 39%), Dry mouth (21-32%), Dizziness (3-11%) |
| Common side effects 1-10% | Fatigue (6%), Palpitations (6%), Indigestion (4%), Bad taste in mouth (1-6%), Headache (1-5%), Blurred vision (3%), Constipation (1-3%), Confusion (1-3%), Asthenia (1-3%), Nausea (1-3%), Nervousness (1-3%), Pharyngitis (1-3%) |
| Rare side effects <1% | Arrhythmias, Palpitation, Tachycardia, Hypotension, Hepatitis, Jaundice, Vasodilation, Syncope, Immune hypersensitivity reaction, Anaphylaxis, Cardiac dysrhythmia,  Cholestasis |
| Frequency Not Defined | Angioedema, Gastrointestinal hemorrhage, Laryngeal edema, Pruritic maculopapular rash, Hyperammonemia, Leukopenia, Neutropenia, Pancytopenia, Thrombocytopenia, Agranulocytosis, Stevens-Johnson syndrome, Toxic epidermal necrolysis, Urticaria, , Thrombocytopenic purpura, Hepatotoxicity, Liver failure, Nephrotoxicity, Pneumonitis |
Special precautions and warnings during Flexeril and Tylenol administration:
Patients should tell their doctor and pharmacist if they are allergic to cyclobenzaprine, acetaminophen, ibuprofen, aspirin or any other NSAIDs such as ketoprofen and naproxen or any other medicines, or any of the inactive ingredients in Tylenol or Flexeril products.
Patients should also tell their doctor and pharmacist what prescription and nonprescription medicines, nutritional supplements, herbal products or vitamins, they are taking or plan to take. Patients should mention to their doctor if they are using following drugs: ACE inhibitors such as: enalapril (Vasotec), fosinopril (Monopril), lisinopril (Prinivil), benazepril (Lotensin), captopril (Capoten), moexipril (Univasc), diuretics lithium (Eskalith, Lithobid) and methotrexate (Rheumatrex). Doctor may need to change the doses of these medications or monitor more carefully for side effects.
Patients should tell their doctor if they have ever had a rash while taking acetaminophen.
Patients with liver disease, kidney disease or phenylketonuria should avoid these medicines.
Patients should avoid alcohol while using these medications. Drinking alcohol can increase certain side effects of these medications. Alcohol may increase the risk of liver damage while taking Tylenol and can add the effect of drowsiness that can be caused by taking Flexeril.
Patients using Flexeril should tell their doctor and pharmacist what nonprescription or prescription drugs they are taking or have taken within the last 2 weeks, especially drugs for seizures, depression, allergies, coughs, or colds, MAO inhibitors (phenelzine, tranylcypromine), sleeping pills, tranquilizers, sedatives and vitamins.
Patients should also tell their doctor if they are using Flexeril and have an overactive thyroid gland, glaucoma, heart disease or difficulties with urinating.
Patients should tell their doctor if they are pregnant or plan to become pregnant, or are breast-feeding. Flexeril should not be used during pregnancy and breastfeeding.
Patients who are 65 years of age or older should talk to their doctor about the risks and benefits of taking Flexeril, because it is not as effective and safe as other medications indicated for the treatment of the same conditions.
Flexeril can make patients drowsy. They shouldnot drive a car or operate machinery until during Flexeril administration.