What is Hydroxyzine? What is hydroxyzine used for?
Hydroxyzine is a generic name for a first-generation sedative antihistamine drug that reduces the level of naturally occurring histamine in the body. Histamine can produce allergy symptoms such as sneezing, runny nose, or hives on the skin. Hydroxyzine can be also used as a sedative to treat anxiety and tension because it works as a reducer of CNS activity. It also works well as a sleep inducer.
This drug can be used together with other medicines given for anesthesia. Hydroxyzine may also be given to treat nausea and vomiting. FDA approved Hydroxyzine in 1968 under the brand name Vistaril, manufactured by Pfizer.
Roerig also manufactured a similar drug named Atarax (hydroxyzine hydrochloride), which was approved by the FDA in 1956 and withdrawn in the United States in 2009. In 2014, the European Medicines Agency (EMA) has been announced that it would start reviewing the risks and benefits of hydroxyzine including Vistaril, due to concerns about potential cardiac negative effects such as arrhythmias.
Hydroxyzine molecular formula, weight and drug class
Chemical name: 1-(p-chlorobenzhydryl) 4-[2-(2-hydroxyethoxy) ethyl] diethylenediamine salt of 1,1'-methylene bis (2hydroxy-3-naphthalene carboxylic acid)
Molecular Formula: C21H27ClN2O2 X C23H16O6
Weight: 763.29 Da
Hydroxyzine belongs to the class of organic compounds called diphenylmethanes. These molecules contain a diphenylmethane moiety made of methane where two hydrogen atoms replaced by two phenyl groups.
What are the ingredients in hydroxyzine?
Hydroxyzine hydrochloride tablets USP, 10 mg, 25 mg and 50 mg are made of the following inactive ingredients: anhydrous lactose, croscarmellose sodium, colloidal silicon dioxide, FD&C Yellow No. 6, hypromellose, magnesium stearate, microcrystalline cellulose, polyethylene glycol, polysorbate 80 and titanium dioxide.
Hydroxyzine available dosage
Hydroxyzine is available in following forms and doses: oral capsules 10, 25 and 50 mg, syrup 2 and 10 mg, intramuscular liquid and solution 50 mg/ml.
What are recommendable doses for Hydroxyzine?
Symptomatic relief of anxiety and tension linked with psychoneurosis and as an adjunct therapy in conditions in which anxiety is manifested:
Adults: 50 mg to 100 mg 4 times a day
Children under 6 years: 50 mg daily in divided doses
Children over 6 years: 50 mg to 100 mg daily in divided doses.
Management of pruritus caused by allergic conditions such as chronic urticaria and atopic and contact dermatoses, and in histamine-mediated pruritus:
Adults: 25 mg twice a day or 4 times a day
Children under 6 years: 50 mg daily in divided doses
Children over 6 years: 50 mg to 100 mg daily in divided doses.
Premedication sedative and general anesthesia: 50 mg to 100 mg in adults, and 0.6 mg/kg in children. When treatment is started with the intramuscular route of administration, subsequent doses may be administered orally.
As with all medications, the dosage should be adjusted according to the patient's response to therapy.
Brand names for hydroxyzine
Hydroxyzine is available on the market in following Brand names: Atarax, Hydroxyzine-10, Hydroxyzine-15, Multipax Cap 10 mg, Multipax Cap 25 mg, Novo-hydroxyzin, PMS Hydroxyzine, Riva-hydroxyzin and Vistaril.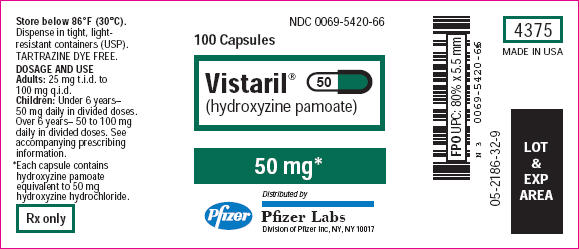 Hydroxyzine pill look like
Hydroxyzine pamoate capsules USP are supplied as follows:
25 mg capsules: Dark green opaque cap/light, green opaque body filled with yellow powder. It is imprinted in black ink WATSON over 800 on the cap and 25 mg on the body, in bottles of 100 (NDC 0115-1670-01) and 500 (NDC 0115-1670-02).
50 mg capsules: Dark green opaque cap/white opaque body filled with yellow powder. It is imprinted in black ink WATSON over 801 on the cap and 50 mg on the body, in bottles of 100 (NDC 0115-1671-01) and 500 (NDC 0115-1671-02).
What are FDA approved indications for Hydroxyzine?
FDA approved indications for hydroxyzine are following:
Alcohol Withdrawal Syndrome(AWS)
Nausea and Vomiting
Pruritus
Psychomotor Agitation
Acute Anxiety
How Hydroxyzine works in the body?
Hydroxyzine works in competition with endogenous histamine for binding at H1-receptor sites on the effector cells, which further results in the inhibition of histaminic caused edema, flare, and pruritus. Sedative properties occur as a result of its action at the subcortical level of the CNS. Due to its central anticholinergic effects, hydroxyzine may be also effective as an antiemetic drug.
Vistaril for anxiety
Vistaril is indicated for symptomatic relief of anxiety and tension linked with psychoneurosis and as an adjunct therapy in diseases in which anxiety is manifested. The Hydroxyzine effectiveness as an antianxiety drug when it is used for a long-term for more than 4 months has not been yet adequately studied. Health care providers should periodically reconsider the usefulness of the drug for each patient.
Vistaril for allergy
It is also useful in the treatment of pruritus caused by allergy such as chronic urticaria and atopic or contact dermatoses, and in a condition called histamine-mediated pruritus.
Hydroxyzine in dentistry
Vistaril use is especially common in dentistry, where it has been preferred in combination therapy with opioids due to its ability to neutralize the side effects of opioid pain medications, such as itchiness and nausea, and because of sedative properties for the pain relieving effects of opioids
Hydroxyzine as premedication for general anesthesia
As a sedative it can be used as premedication and following general anesthesia, as a potentiation to meperidine (Demerol®) and barbiturates, so called adjunctive therapy. Atropine and other belladonna alkaloids are not affected by the drug. Hydroxyzine don't interact with digitalis in any way and it may be used together with this agent.
Hydroxyzine side effects
Hydroxyzine can cause following side effects:
Anticholinergic: Dry mouth
Central nervous system: Drowsiness which is usually temporary and disappears in a few days of continued therapy or after dose reduction, involuntary motor activity such as tremor and convulsions usually with doses which are much higher than recommended
Cardiac System: QT prolongation, Torsade de Pointes.
Clinically important respiratory depression has not been reported when this drug is used in recommended doses
Postmarketing Reports:
Allergic reaction
Headache
Hallucination
Pruritus, rash, urticaria, fixed drug eruptions
Hydroxyzine overdose
When overdosage occurs, the most common side effect of hydroxyzine is hypersedation. Other reported signs and symptoms can be: stupor, convulsions, nausea and vomiting. If vomiting not spontaneously occurred it should be then induced. Instant gastric lavage is also recommended. General supportive care such as monitoring of the vital signs and close observation of the patient, is also needed when overdose is suspected.
If hypotension occurs, though it is rare, it may be controlled with intravenous fluids and vasopressors. Epinephrine as Hydroxyzine counteracts its pressor action. Caffeine and Sodium Benzoate Injection may be used to neutralize central nervous system depressant effects.
Hydroxyzine overdose may also cause life-threating QT prolongation and Torsade de Pointes. Thus, ECG monitoring is also recommended in cases of Hydroxyzine overdose.
There is no specific antidote for hydroxyzine's overdose. It is uncertain that hemodialysis would be efficient in the treatment of Hydroxyzine overdosage. However, if other drugs such as barbiturates have been taken concomitantly, hemo-dialysis may be indicated. It should be known that there is no adequate method to quantitate Hydroxyzine in body fluids or tissue.
Are there some precautions and warnings during Hydroxyzine use?
When Hydroxyzine is used together with other CNS depressants such as narcotics, non-narcotic analgesics and barbiturates the potentiate CNS actions of hydroxyzine must be considered. Thus, when CNS depressants are taken together with Hydroxyzine, their dosage should be reduced. Because drowsiness may occur after use of this drug, patients should be always warned of this possibility and cautioned against driving a car or operating dangerous machinery during Hydroxyzine therapy. Patients should be counseled against the concomitant use with other CNS depressant drugs and cautioned that the effect of alcohol may be increased.
Patients with QT Prolongation and Torsade de Pointes arrhythmias should avoid this drug. Cases of QT prolongation and Torsade de Pointes have been reported during post-marketing use of this medicine. However, the most cases were patients with other risk factors for QT prolongation/ Torsade de Pointes including: electrolyte imbalances, pre-existing heart disease, or concomitant use with drugs that can cause arrhytmias. Thus, Hydroxyzine should be used with caution in patients who have risk factors for QT prolongation, a family history of long QT syndrome, congenital long QT syndrome and other conditions that may predispose to QT prolongation and ventricular arrhythmia, as well as recent uncompensated heart failure, myocardial infarction and bradyarrhythmias.
Caution is also needed if this drug is used together with other drugs that can also prolong the QT interval. These include Class 1A antiarrhythmics such as quinidine, procainamide, or Class III antiarrhythmics such as amiodarone, sotalol, certain antipsychotics drugs such as ziprasidone, clozapine, quetiapine, iloperidone, and chlorpromazine, certain antidepressants such as citalopram and fluoxetine, then antibiotics such as azithromycin, clarithromycin, erythromycin, gatifloxacin, moxifloxacin and other drugs such as methadone, pentamidine, ondansetron, and droperidol.
In some rare cases Hydroxyzine may cause conditions known as: acute generalized exanthematous pustulosis (AGEP). This is a serious and severe skin reaction characterized by fever and various small, non-follicular, superficial, sterile pustules, arising within large areas of edematous erythema. Patients should be informed to monitor the signs of AGEP, and immediately discontinue hydroxyzine at the first manifestation of a skin rash or worsening of already existing skin reactions for which is Hydroxyzine prescribed, or any other sign of hypersensitivity. Also, patients need to avoid antihistamines drugs such as cetirizine or levocetirizine in patients who have experienced AGEP or other hypersensitivity reactions with Hydroxyzine, because of the risk of cross-sensitivity.
Hydroxyzine is contraindicated for use in patients who have shown a previous hypersensitivity to any component of this medication.
Can elderly safely use hydroxyzine?
There are no adequately controlled clinical studies of Hydroxyzine that included sufficient numbers of patients aged 65 and over to describe a difference in effectiveness and safety from younger subjects. In general, selection of dose for an elderly patient should be cautious and considered.
It should be started at the low doses, reflecting the better frequency of decreased renal, hepatic or cardiac function and of concomitant disease or other drug therapy. Also, because elderly patients are more likely to have decreased renal function, lower doses should be always considered. Hydroxyzine may cause confusion and higher level of sedation in the elderly patients and in general it should be started on low doses and monitor closely.
Can I take hydroxyzine while pregnant?
Hydroxyzine is classified in pregnancy category C by the FDA, which means that risk not ruled out as animal reproduction studies have been shown side effects on the fetus and there are no acceptable and well-controlled studies in humans, but potential benefits may warrant use of the drug in pregnant women despite potential risks.
Side effects including: hypotonia, clonic movements, central nervous system depression, movement disorders including extrapyramidal disorders, neonatal hypoxic conditions or urinary retention have been observed immediately or only a few hours after birth of a babies whose mothers received hydroxyyine during late pregnancy or labor: Animal studies have been also showed reproductive toxicity such as fetal malformations and abortions that may occur at doses considerably above recommendations for humans.
Can Hydroxyzine (Vistaril) be used during breastfeeding?
Hydroxyzine (Vistaril) should never be given to nursing mothers. It is excreted into human milk. Although there are no adequate and relevant studies, it is expected that this drug will be excreted into breast milk potentially causing side effects to the nursing infants.
How long does it take for Hydroxyzine (Vistaril) to take effect?
When it is taken orally, hydroxyzine is rapidly absorbed from the gastro-intestinal tract. The effect of hydroxyzine is notable after 30 minutes of administration
How long do the effects of Vistaril last?
The Vistaril effects last for about 4 to 6 hours, and begin within 30 to 60 minutes of taking the dose.
Which one is better for sleep induce, Vistaril or Atarax?
Studies have been showed that pamoate salt of hydroxyzine which can be found in Vistaril is a better sleep inducer than hydrochloride salt of hydroxyzine present in Atarax, since pamoate achieves better concentrations in the brain than hydrochloride.
The 'Hydroxyzine High' and Abuse
When Hydroxyzine (Vistaril) is abused, overdosing can cause hypersedation provoking hallucination effects even under normal doses. Additionally, hydroxyzine can enhance the effects of concomitantly taken opioid drugs, including morphine, heroin and oxycodone.
Is hydroxyzine an addicting drug?
Vistaril is however non-habit forming antihistamine drug, but drug addicts may seek out the drug specifically to abuse it and get a feeling of being "high" even though the drug doesn't induce euphoria effects by itself.
This drug has been used to treat anxiety and alcohol withdrawal symptoms. Vistaril is used in patients for the treatment of marijuana withdrawal, making them to feel calmer and sleep better until symptoms relieve, therefore helping return balance to the brain's neurotransmitters.
Vistaril is also used to ease off cocaine and other stimulants withdrawal symptoms. Vistaril is not considered to be addictive as narcotics are, and is generally safe for use by patients with addiction problem. It is often prescribed in drug and alcohol rehabilitation centers for anxiety and as a sleep aid.
Is hydroxyzine an opioid/narcotic?
No it is not. It is a first-generation antihistamine of the diphenylmethane and piperazine class, chemically and pharmacologically different from opioids.
Is hydroxyzine a controlled substance?
Hydroxyzine is not listed as a controlled substance, but a prescription is required.
Can you take alcohol during hydroxyzine (Vistaril) use?
Drinking while you are on Vistaril therapy is never advisable, as alcohol may enhance the side effects of this medicine. For example, Vistaril has a tendency to cause sleepiness and tiredness which will be far more enhanced when the drug is taken with alcohol. On the other hand, mixing
Hydroxyzine and alcohol can cause side effects to the CNS, such as dizziness, attention loss and even impairment of thinking processes, judgement and motoric abilities. These symptoms are usually temporary and moderate as they would be also caused after normal alcohol consumption. It is never advisable to do any activities which require higher alertness and rapid reflexes or reactions such as driving or operating machineries.
Patients who are taking this drug to treat anxiety or sleep disorders should know that mixing this drug with alcohol may result with sleep disturbances and even have adverse effect on anxiety. Patients will feel they are on edge and disquieted, probably as a result of bad sleep caused by vivid dreaming.
In order to avoid these symptoms and discomforts, patients should avoid alcohol consumption during hydroxyzine therapy, especially right before or right after taking the drug. However, moderate drinking during other times of the day while taking the drug shouldn't cause any concerns.
On the other hand, hydroxyzine can be prescribed to treat agitation caused by alcohol withdrawals in alcohol recovery patients. Because it isn't a narcotic, hydroxyzine does not affect patients with any 'buzz' or sense of being drugged or overly inhibited.
In summary, although adverse effects are mild, doctors strongly recommend not mixing hydroxyzine and alcohol, adding recommendation not driving or doing any activities that require concentration.
Can hydroxyzine be used for dogs and cats?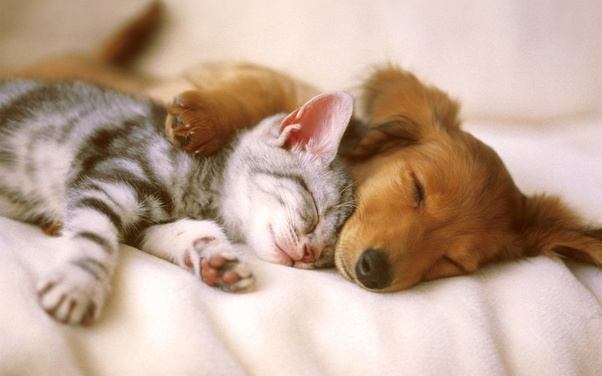 Hydroxyzine can be used as an antihistamine for the treatment of allergies, atopy, itching and dermatitis in cats and dogs. This drug contains antiemetic properties that reduce nausea, while the anxiolytic property treats anxiety.
This drug should not be used should in animals which are hypersensitive to this drug, or have allergies after antihistamine use, or glaucoma, high blood pressure, heart disease, lung disease,  and prostate enlargement. Hydroxyzine is also not recommended for use in pregnant or nursing animals.
As a pet prescription drug it is available in the form of tablets, capsules, and syrup. This drug is also available as injection in concentrations of 25 mg/ml and 50 mg/ml.
The standard dosage for dogs is 1 mg/lbs (2 mg/kg) 2 – 3 three times per day orally. In cats, the dosage is 0.5 – 1 mg/lbs (1 – 2 mg/kg) or 5 – 10 mg/cat every 8 – 12 hours orally. The duration of the hydroxyyine treatment depends on the clinical state of the pet. Veterinarian will recommend continuing the treatment, even if the pet shows signs of recovery.
Your pet might be sedated, has lack of coordination, or vomit, be lethargic, weaken, thirst, with a lack of appetite or has diarrhea during treatment with hydroxyzine. Contact your veterinarian righ away if your pet starts showing or experiencing any signs of allergic reaction such as difficulty with breathing, hives, swelling of the face, lips, tongue while taking Hydroxyzine.
Should patients with asthma take Hydroxyzine?
It has been found that the anticholinergic effect of antihistamines including hydroxyzine may decrease the volume and cause bronchial secretions thickening, resulting in obstruction of respiratory tract. Many clinicians will recommend that therapy with antihistamines should be administered carefully in patients with asthma or chronic obstructive pulmonary disease.
Should patients with renal or liver disease take Hydroxyzine?
There is limited pharmacokinetic information about first-generation antihistamines such as Hydroxyzine. It appears to be primarily metabolized by the liver, and both parent drugs and metabolites are excreted in the urine.
Patients with renal or liver disease may be at greater risk for side effects from Hydroxyzine due to drug and its metabolite accumulation. Therapy with antihistamines should be administered carefully in such patients. Lower initial dosages may be also appropriate.
Should patients with glaucoma take Hydroxyzine?
Hydroxyzine can have an anticholinergic effect and should be used with caution in patients with glaucoma, and trouble urinating due to retention or enlarged prostate.
Should patients with depression take Hydroxyzine?
A variety of abnormal behavior and thinking changes are reported in association with the use of most anxiolytics, sedatives and hypnotics including Hydroxyzine. Changes can include decreased inhibition, agitation, aggressiveness and hallucinations. These drugs can cause or worsen existing mental depression and cause suicidal behavior and ideation.
Therapy with Hydroxyzine should be administered carefully in patients with a history of depression or other psychiatric disorders. Patients should be also monitored for any changes in mood or behavior.
Should patients with cardiovascular diseases take Hydroxyzine?
Antihistamines including Hydroxyzine may in rare cases cause cardiovascular adverse effects because of anticholinergic and local anesthetic effects. Tachycardia, ECG changes, palpitation, arrhythmias, hypotension, and hypertension have been reported after antihistamine use.
Although mentioned side effects are very rare and usually limited to overdosage sitiations, the manufacturers and health professionals recommend that therapy with antihistamines should be administered cautiously in patients with cardiovascular disease, arrhythmias, hypertension, and hyperthyroidism.
Can I take Benadryl after taking Hydroxyzine?
Diphenhydramine which is the active ingredient of Benadryl and hydroxyzine may be taken together, however the patient should be carefully monitored for potential side effects, as there is a moderate drug interaction, and their effects might be additive thus causing drowsiness and sedation.
Can I take Tylenol 3 with Hydroxyzine?
Hydroxyzine and Tyelnol 3 which is the combination of acetaminophen-codeine should not be used together as they both increase the risk of causing sedation and drowsiness.
Can I take Ibuprofen with Hydroxyzine?
Since there are no major interactions between these two drugs, they can be taken together safely.
Can I take anticholinergic drugs with Hydroxyzine?
Drugs with anticholinergic properties such as sedating antihistamines; neuroleptics; antispasmodics; phenothiazines; tricyclic antidepressants; skeletal muscle relaxants; disopyramide may have additive effects when used in combination with hydroxyzine. Excessive parasympatholytic effects may cause serious problems such as: paralytic ileus, heat stroke, hyperthermia and the anticholinergic intoxication syndrome.
Peripheral side effects caused by interaction may commonly include blurred vision, mydriasis, flushed face, dry skin, fever and mucous membranes, urinary retention, tachycardia and constipation. Central symptoms may include disorientation, memory loss, incoherence, psychosis, delirium, hallucinations, hyperactivity, stereotypy, twitching or jerking movements and seizures.
CNS depressant effects may also be additively or synergistically increased when these drugs are combined, especially in elderly or debilitated patients. Use of Hydroxyzine in combination with neuroleptics may increase the risk of tardive dyskinesia.
Patients should be counseled to monitor their healthcare provider promptly if they experience potential symptoms of anticholinergic intoxication such as fever, heat intolerance, abdominal pain, blurred vision, confusion, and/or hallucinations.
Ambulatory patients should be advised to avoid all activities requiring mental alertness until they know how these agents affect them. A dose reduction or discontinuation of anticholinergic drugs may be needed if serious adverse effects develop.
Hydroxyzine vs. Xanax for anxiety treatment
Both drugs are indicated for anxiety treatment. However they are chemically and pharmacologically different. Xanax is contains Alprazolam as an active ingredient which belongs to the Benzodiazepine class of drugs while hydroxyzine belong to the class of drugs known as piperazines. Alprazolam works by binding to specific locations of GABAA receptor resulting in a decrease of function of this receptor.
This cause relieve of anxiety attack which is often triggered by overactivity of the GABA receptors in the brain. On the other hand, Hydroxyzine acts as a H1 receptor inverse agonist and also has antiserotonergic properties resulting in reduced reuptake of serotonin in the brain.
This result in the calming effects experienced when Hydroxyzine is used in the treatment of anxiety disorders. Different from Xanax, Hydroxyzine is also used to treat allergy-like symptoms like dermatitis and chronic urticaria.
Both drugs are available on prescription. Hydroxyzine is usually prescribed for treating generalized anxiety disorders and to treat sleep disorders linked with anxiety. Studies showed that efficacy, tolerance and acceptability hydroxyzine match with anxiolytic agents including Benzodiazepines. Xanax is often prescribed for the treatment of general anxiety disorders and specific disorders like hypersomnia.
Different from Xanax, hydroxyzine is not addictive and can be used for long-term. Long-term use of Xanax however is not recommended. This drug may lead to reversible depression and even become addictive if used for a long time.
Hydroxyzine has a half-life of about 3 hours. On the other hand, the recommended dosage for Xanax should be taken orally every 8 hours. The effects can be felt as soon as 30 minutes after intake with the blood levels peaking at after an hour or two.
Hydroxyzine and Ambien
Central nervous system or respiratory depressant effects may be additively or synergistically increased in patients taking multiple drugs such as hydroxyzine and Ambien. Using hydroxyzine together with Ambien may increase the risk of side effects such as dizziness, confusion, drowsiness and difficulty concentrating.
Some patients, especially the elderly, could also experience impairment in judgment, thinking and motor coordination. You should avoid or limit the use of alcohol while being treated with these medications.
Hydroxyzine and Prozac
Using hydroxyzine in combination with Prozac may increase the risk of side effects such as dizziness, confusion, drowsiness and difficulty concentrating. Some patients, especially the elderly, could also experience impairment in judgment, thinking and motor coordination. You should avoid or limit the use of alcohol while being treated with these medications.
Hydroxyzine and Flexeril
Using hydroxyzine together with Flexeril may increase side effects such as blurred vision, drowsiness, dry mouth, flushing, heat intolerance, decreased sweating, difficulty urinating, constipation, abdominal cramping, irregular heartbeat, confusion, and memory problems. Side effects may are more likely to occur in the elderly or those with a debilitating conditions.
Hydroxyzine and Zoloft
Using hydroxyzine together with Zoloft may increase the risk of side effects such as confusion,  dizziness, drowsiness and difficulty concentrating. Thus, these two medicines should not be taken together. Some patients, especially the elderly, could also experience impairment in judgment, thinking and motor coordination.
What is the price of different Hydroxyzine products?
This hydroxyzine price guide is based on using the Drugs.com discount card which is accepted at most U.S. pharmacies. Prices are for cash paying customers only and are not valid with insurance plans.
The average price of Hydroxyzine 25 mg/ml Intramuscular Solution is $ 105 for 25 ml
The average price of Hydroxyzine 50 mg/ml Intramuscular Solution is $ 158 for 25 ml
The average price of Hydroxyzine 25 mg Oral capsules is $ 7 for 10 capsules
The average price of Hydroxyzine 50 mg Oral capsules is $ 6.93 for 10 capsules
The average price of Hydroxyzine 100 mg Oral capsules is $ 9.53 for 10 capsules
The average price of Hydroxyzine 10mg/ 5ml Syrup is $ 13.91 for 118 ml
The average price of Hydroxyzine 10 mg Oral tablets is $ 6.78 for 10 tablets
The average price of Hydroxyzine 25 mg Oral tablets is $ 8.54 for 6 tablets
Does Hydroxyzine show up on drug tests?
Hydroxyzine is not listed in any of various existing drug test time tables. This is because abuse is simply not expected from this drug or it is unknown. However, it is known that Hydroxyzine can show up in a urine test for up to three days. This drug is likely to show in blood tests for longer than this, probably for at least 10 days. In hair tests, it is likely to be detectable for up to 90 days.