What is 2632 V pill?
2632 V is an imprint on a pill identified as yellow and round-shaped. The pill contains cyclobenzaprine hydrochloride in the dose of 10 mg. Cyclobenzaprine belongs to the drug class named skeletal muscle relaxants. It is prescribed for the treatment of muscle spasm, fibromyalgia, sciatica, chronic myofascial pain, migraine. It is supplied by Qualitest Pharmaceuticals Inc.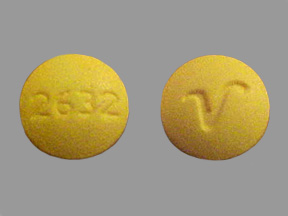 Imprint: 2632 V
Strength: 10 mg
Color: Yellow
Shape: Round-shape
Size: 7 mm
Availability: Prescription only
Drug Class: Skeletal muscle relaxants
Pregnancy Category: B – No proven risk in humans
CSA Schedule: Not a controlled drug
Labeler / Supplier: Qualitest Pharmaceuticals Inc.
National Drug Code (NDC): 00185-0613
Inactive Ingredients: croscarmellose sodium, FD&C Yellow No. 6, hypromelloses, lactose monohydrate, magnesium stearate, microcrystalline cellulose, polyethylene glycol, titanium dioxide, D&C Yellow No. 10 and polysorbate 80
2632 V pill other labelers and repackagers
68084-0397 – Amerisource Health Services
63739-0531 – McKesson Packaging Services
43547-0400 – Solco Healthcare U.S., LLC
54569-3193 – A-S Medication Solutions, LLC 

(repackager)

54569-5184 – A-S Medication Solutions, LLC 

(repackager)

54569-2573 – A-S Medication Solutions, LLC 

(repackager)
Active ingredients of 2632 V pill and identification
The only active ingredient in 2632 V pill is cyclobenzaprine. It is is a muscle relaxant that works by blocking nerve impulses or pain sensations that are sent to the brain.
Cyclobenzaprine hydrochloride appears as a white, crystalline tricyclic amine salt. Its melting point is 217°C and a pKa of 8.47 at 25°C. It is freely soluble in water and alcohol and sparingly soluble in isopropanol, and insoluble in hydrocarbon solvents.
2632 V pill chemistry
Cyclobenzaprine:
IUPAC name: 3-(dibenzo[1,2-a:1′,2′-e][7]annulen-11-ylidene)-N,N-dimethylpropan-1-amine
Molecular formula: C20H21N
Molecular weight: 275.395 g/mol
Molecular structure: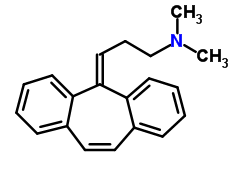 Drug class:  Cyclobenzaprine belongs to the class of organic molecules known as dibenzocycloheptenes which contains a dibenzocycloheptene moiety, that consists of two benzene rings connected by a cycloheptene ring.
2632 V pill uses
These pills are used as an adjunct to rest and physical therapy for relief of muscle spasm associated with acute, painful musculoskeletal conditions.
FDA approved indication

2632 V pill legal status
Cyclobenzaprine is not controlled substance. It is available only with a prescription.
What are different brand names for
Different brand names for cyclobenzaprine are:
Flexeril
Lisseril
Comfort Pac with Cyclobenzaprine
Fexmid
2632 V pill mechanism of action
Similarly to other tricyclic antidepressants, cyclobenzaprine also exhibits anticholinergic activity, norepinephrine potentiation, and antagonism of reserpine. It does not directly act on the neuromuscular junction or the muscle, however it relieves muscle spasms through a central action, likely at the brain stem level. Cyclobenzaprine also binds to the serotonin receptor sites and is considered as a 5-HT2 receptor antagonist that reduces muscle tone by decreasing the activity of descending serotonergic neurons.
2632 V pill pharmacokinetics
Absorption: 2632 V pills bioavailability range from 33% to 55%. Drug exhibits linear pharmacokinetics over the dose range 2.5 mg to 10 mg, and undergoes enterohepatic circulation.
Distribution: Cyclobenzaprine is highly bound to plasma proteins. It accumulates in the body when dosed 3 times a day, and will reach steady- state within 3-4 days.
Elimination: Cyclobenzaprine has an extensive metabolism, and is excreted primarily as glucuronides via the kidney. Cytochromes P-450 3A4, 1A2 enzymes and, to a lesser extent, 2D6, mediate N-demethylation, one of the oxidative pathways for cyclobenzaprine. The drug is eliminated quite slowly, with an effective elimination half-life of 18 hours and plasma clearance is 0.7 L/min.
2632 V pill side effects
Cyclobenzaprine may cause following side effects:
Common side effects:
Drowsiness
Dizziness
Dry mouth
Constipation
Fatigue
Serious side effects:
Fast or irregular heartbeat
Mood or mental changes (like confusion or hallucinations)
Trouble urinating
Chest pain
Fever
Seizures
Combining this drug with other antidepressant medications may lead to serotonin syndrome and can be fatal. Symptoms of serotonin syndrome include:
Confusion
Agitation or restlessness
Dilated pupils
Headache
Changes in blood pressure
Changes in body temperature
Nausea or vomiting
Severe diarrhea
Rapid heart rate
Loss of muscle coordination or twitching
Shivering or goosebumps
Heavy sweating
2632 V pill contraindications
Cyclobenzaprine is contraindicated in following situations:
Hypersensitivity reactions to any ingredient of this product.
Concomitant use of MAO inhibitors drugs or within 14 days after their discontinuation. There are some cases of hyperpyretic crisis seizures, and deaths that have occurred in patients receiving cyclobenzaprine concomitantly with MAO inhibitor drugs.
States after myocardial infarction
Diagnosed arrhythmias, heart block or conduction disturbances, or congestive heart failure.
Hypothyroidism
2632 V pill use during pregnancy
Cyclobenzaprine can be used during pregnancy only if clearly needed. It is scheduled in the US FDA pregnancy category B, which means that animal reproduction studies have failed to demonstrate a risk to the fetus and there are no adequate and well-controlled studies in women.
2632 V pill use during breastfeeding
As cyclobenzaprine is closely related to the tricyclic antidepressants, some of which are known to be excreted in human milk, it should be used with caution especially when other drugs that cause sedation are used simultaneously.
2632 V pill abuse and dependence
Because of cyclobenzaprine pharmacologic similarities with the tricyclic drugs, certain withdrawal symptoms should be considered when cyclobenzaprine is administered, even though they are not reported to occur with this drug. Abrupt cessation of treatment after long-term treatment rarely may produce nausea, headache, and malaise. Addiction as not been reported.
How long 2632 V pill stay in the system?
To determine how long 2632 V stays in the body after complete cessation, it is needed to consider its average elimination half-life time of about 18 hours.  This indicates that most cyclobenzaprine users will clear the drug form the body around 4.13 days after the final dose.
Though, it is always necessary to have in mind the fact that elimination half-life time can range from 8-37 hours, which may indicate that there's significant interindividual variability in regards to excretion.
If patient has the fastest elimination of this drug with the half-life spectrum at 8 hours, it can be expected that the drug will be eliminated from their system in around 1.83 days (less than 48 hours).  Opposite, for patients on the slowest end of its half-life spectrum with 37 hours, it may take 8.48 days to fully eliminate cyclobenzaprine from their system.  The majority of users, elimination will take between 4 and 5 days after discontinuation.
"What are green E613 capsules?"
"Can cyclobenzaprine make you fail a drug test?"