What is D 02 pill?
D 02 is an imprint on a capsule identified as white in a regular capsule shape. The pill contains gabapentin as an active ingredient in the dose of 100 mg. The pill is most commonly used for the treatment of pain, anxiety, postherpetic neuralgia, alcohol withdrawal and bipolar disorder. It is supplied by Aurobindo Pharm.
Imprint: D 02
Strength: 100 mg
Color: White
Shape: Capsule-shape
Availability: Prescription only
Drug Class: Gamma-aminobutyric acid analogs
Pregnancy Category: C – Risk cannot be ruled out
CSA Schedule: Not a controlled drug
Labeler / Supplier: Aurobindo Pharma
Other labelers: NorthStar Rx LLC
Inactive Ingredients: corn starch, magnesium silicate, gelatin, titanium dioxide, sodium lauryl sulfate, ferrosoferric oxide and shellac
Active ingredient of D 02 pill and identification
An active ingredient of D 02 pill is gabapentin. Gabapentin is an analog of gamma-aminobutyric acid. It is an anti-epileptic drug that affects chemicals and nerves in the body that are involved in the cause of epilepsy and some types of pain.
It appears white to off-white of solid crystalline, with a bitter taste, freely soluble in water and in alkaline and acidic solutions.
D 02 pill chemistry
Gabapentin:
IUPAC name: 2-[1-(aminomethyl)cyclohexyl]acetic acid
Molecular formula: C9H17NO2
Molecular weight: 171.24 g/mol
Molecular structure: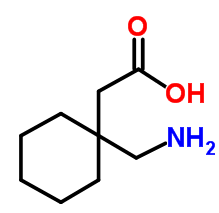 Drug class: Gabapentin belongs to the class of organic molecules known as gamma amino acids and derivatives which are amino acids having a (-NH2) group attached to the gamma carbon atom.
D 02 pill uses
FDA approved indications for D 02 pills are:
Brachioradial pruritus
Diabetic Neuropathies
Fibromyalgia Syndrome
Menopausal Hot Flushes
Post-Herpetic Neuralgia (PHN)
Post-Operative Pain
Refractory Chronic Cough
Restless Legs Syndrome (RLS)
Social Anxiety Disorder (SAD)
Partial onset seizure Epilepsy
D 02 pill legal status
Gabapentin is not a controlled substance. It is available only via prescription.
D 02 pill mechanism of action
Gabapentin works by interacting with cortical neurons on auxillary subunits of voltage-sensitive calcium channels. This drug increases the synaptic concentration of the neurotransmitter GABA, enhances its responses at non-synaptic places in neuronal tissues, and decreseas the release of mono-amine neurotransmitters.
NMDA receptors are also involved. According to some data, gabapentin antihyperalgesic and antiallodynic effects are mediated via the descending noradrenergic system, resulting in the activation of spinal alpha-2-adrenergic receptors. This drug can also bind and activate the adenosine A1 receptor.
D 02 pill side effects
Gabapentin may cause following side effects:
Common side effects:
Sleepiness
Dizziness
Fatigue
Clumsiness while walking
Visual changes, including double vision
Tremor
Runny nose
Weight gain
Indigestion or nausea
Nervousness
Muscle ache
Dry mouth or sore throat
Memory loss
Headache
Unusual thoughts
Diarrhea or constipation
Swelling of hands or feet
Fever
Itchy eyes
Serious side effects:
Thoughts of suicide or harming yourself
Fever or swelling of lymph nodes
Severe rash
Swelling of the face, lips, or tongue
Difficulty breathing or swallowing
Seizure
How long D 02 pill stays in the system?
Gabapentin elimination half-life time is within the range of 5 to 7 hours. Therefore it can be expected that gabapentin will stay in the body for an estimated 1.15 to 1.60 days after final dose.  It can be expected that gabapentin will remain in systemic circulation for no more than 2 days (48 hours) after post-ingestion.
"TEVA 834 pill – Drug class, uses, strength, side effects, overdose, high"