What is Lisinopril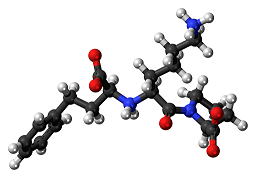 Lisinopril is an ACEI – angiotensin-converting enzyme inhibitor drug, that is used primarily in therapy of high blood pressure, heart failure, and for health conditions after heart attacks. This drug is also used for the prevention of eye and kidney complications in people with diabetes.
What is the generic and brand name of Lisinopril
The drug is available under generic names: Lisinopril and Apo-Lisinopril.
Most common Brand names are: Prinivil, Tensopril, Zestril, Hipril
This drug can be also used in combination with other drugs such as: Lisinopril and Hydrochlorthiazide, Prinzide, Zestoretic (containing Lisonopril and Hydrochlorthiazide) and Lytensopril-90 (containing  L- Arginine and Lisinopril)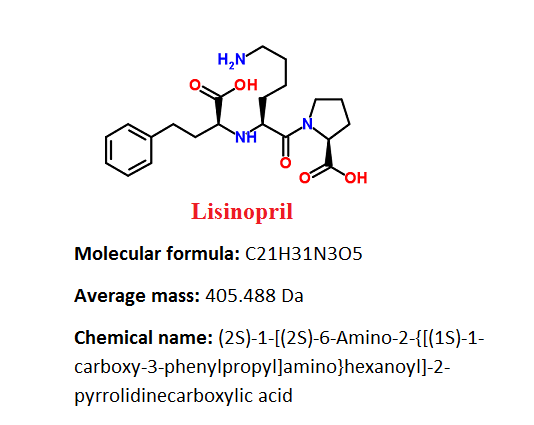 What is the source of the drug (natural or synthetic)?
Lisinopril is synthetic pharmaceutical drug.
Why is Lisinopril prescribed
Treatment of hypertension
Symptomatic treatment of congestive heart failure
Together with thrombolytic drugs, aspirin and with β-blockers to improve survival after myocardial infarction.
Prevention of diabetic nephropathy in hypertensive patients with diabetes mellitus and microalbuminuria.
Pharmacophore structure: Information about the chemical structure of the drug
Lisinopril belongs to the class of organic compounds which are known as peptides. These compounds contain an amide functional group derived from two or more amino carboxylic acid molecules which can be the same or different, by formation of a covalent bond from the carbonyl carbon of one to the nitrogen atom of another.
| | |
| --- | --- |
| Kingdom | Organic compounds |
| Super Class | Organic acids and derivatives |
| Class | Carboxylic acids and derivatives |
| Sub Class | Amino acids, peptides, and analogues |
| Direct Parent | Peptides |
Chemical information of the drug
Lisinopril is white or almost white, crystalline powder. It is soluble in water, sparingly soluble in methanol, and practically insoluble in acetone and in anhydrous ethanol.
Its optical rotation is on − 43 to −47 (anhydrous substance).
Lisinoprils logP value is -1.2.

Different dosage forms and strengths of Lisinopril

Lisinopril is available only in form of tablets and film coated tablets in the following doses: 2.5, 5, 10, 20, 30 and 40 mg.
How the Lisinopril medicine works (mode of action)
Lisinopril is a potent ACE inhibitor drug that antagonizes the effect of the renin–angiotensin–aldosterone system – RAAS, by blocking the actions of angiotensin converting enzyme (ACE) keeping Angiotensin I from being converted to Angiotensin II. The inhibition of RAAS system causes an overall decrease in blood pressure.
The RAAS system is a homeostatic mechanism that regulates the balance of hemodynamics, water and electrolytes. When renal blood pressure or blood flow is reduced or during sympathetic stimulation, granular cells of the juxtaglomerular apparatus in the kidneys release renin.
In the blood, renin converts circulating inactive angiotensinogen to angiotensin I – ATI, which is subsequently degraded to angiotensin II – ATII by angiotensin converting enzyme – ACE. ATII can increase blood pressure using many mechanisms:
First, it can stimulate the aldosterone secretion from the adrenal cortex. In nephrons, aldosterone moves to the distal convoluted tubule and collecting tubule where it increases sodium and water reabsorption by increasing the number of sodium channels and sodium-potassium ATP-ases on cell membranes.
Second, ATII stimulates the secretion of ADH – antidiuretic hormone, also known as vasopressin from the posterior pituitary gland. Vasopressin stimulates further reabsorption of water from the kidneys through the insertion of water channels called aquaporin-2 on the apical side of cells of the distal convoluted tubule and collecting tubules.
Third, ATII increases blood pressure through the vasoconstriction of direct arterial. Stimulation of the Type 1 ATII receptor on vascular smooth muscle cells leads to a cascade of events that result in contraction of myocite and vasoconstriction. In addition, ATII induces the thirst response through the stimulation of hypothalamic neurons. ACE inhibitors inhibit the rapid conversion of ATI to ATII and antagonize RAAS-induced increases in blood pressure.
ACE is also involved in the bradykinin enzymatic deactivation, which is known vasodilator. By inhibiting the deactivation of bradykinin, increased bradykinin levels can sustain further the effects of lisinopril by causing increased vasodilation and decreased blood pressure. Elevated bradykinin level after ACE inhibitor administration can cause: dry cough, and inflammation-related pain, angioedema, rash and hypotension.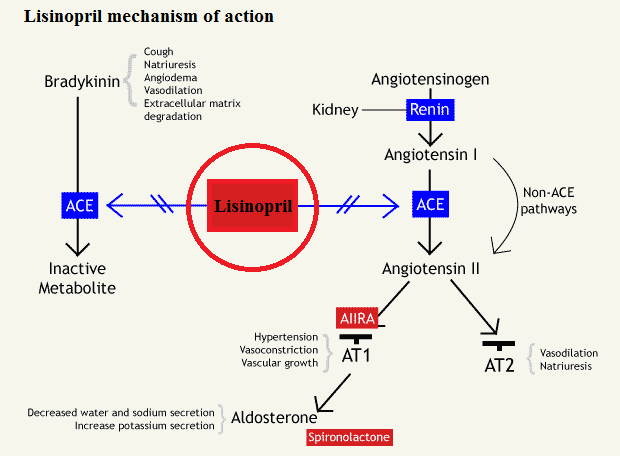 http://www.bpac.org.nz/resources/campaign/ace/ace_poem.asp?page=8
How should Lisinopril be used
Lisinopril comes in a tablet form to be taken by mouth. It is usually taken once per day. Patients should follow the directions on their prescription label carefully, and should always ask thier doctor or pharmacist to explain any part that they do not understand.
Patients should take lisinopril exactly as directed. They should not take it more or less of it or take it more often than prescribed by their doctor.
Doctor will probably start with therapy on a lower dose of lisinopril and gradually increase the dose.
Lisinopril controls high blood pressure and heart failure but does not cure them. Patients should continue taking lisinopril even if they feel well. They should not stop taking lisinopril without talking with their doctor first.
Recommended doses of Lisinopril
Usual Adult Dose for Hypertension:
Initial dose: 5 or 10 mg orally once a day
Maintenance dose: 20 – 40 mg orally once a day
Maximum dose: 80 mg orally once a day
Initial dose of 5 mg once a day is used in patients who are already receiving diuretic. The 80 mg dose is also used but does not appear to give greater effect.
If lisinopril can't control blood pressure alone, a low dose of a diuretic such as hydrochlorothiazide 12.5 mg may be added. After the addition of a diuretic, it may be possible to reduce the dose of lisinopril.
Usual Adult Dose for Congestive Heart Failure:
Initial dose: 2.5 – 5 mg orally once a day
Maintenance dose: Dosage should be increased as tolerated
Maximum dose: 40 mg orally once a day
The dose of diuretic may need adjustment to help minimization of hypovolemia side effect, which may contribute to hypotension.
Usual Adult Dose for Myocardial Infarction:
Initial dose: 5 mg orally within 24 hours of the onset of myocardial infarction
Subsequent doses: 5 mg orally after 24 hours, then 10 mg orally after 48 hours.
Maintenance dose: 10 mg orally once a day. Dosing should be continued for at least 6 weeks.
In patients with a low systolic blood pressure therapy should be initiated with 2.5 mg (during the first 3 days after the myocardial infarction. If prolonged hypotension occurs such as systolic blood pressure less than 90 mmHg for more than 1 hour therapy should be withdrawn.
Usual Adult Dose for Diabetic Nephropathy:
Initial dose: 10 – 20 mg orally once a day
Maintenance dose: 20 – 40 mg orally once a day
Dosage may be titrated upward every 3 days
Usual Geriatric Dose for Hypertension:
Initial dose: 2.5 to 5 mg orally once a day
Maintenance dose: The dose should be increased at 2.5 to 5 mg per day at intervals of 1-2 weks. Maximum dose: 40 mg orally once a day
Usual Pediatric Dose for Hypertension:
For Pediatric patients greater than or equal to 6 years of age:
Initial dose: Maximum initial dose is 5 mg once a day. 0.07 mg/kg orally once a day
Maintenance dose: Dosage adjustment according to blood pressure response at 1 to 2 week intervals.
Maximum dose: There are not relevant studies in pediatrics for doses above 0.61 mg/kg or greater than 40 mg
In pediatric patients who are less than 6 years old or in pediatric patients with glomerular filtration rate less than 30 mL/min this drug is contraindicated.
What are the pharmacokinetic properties of the drug?
Absorption: Lisinopril is absorbed in approximately 25%, however this is widely variable between individuals (from 6 to 60%) in all tested doses (5-80 mg).
Food doesn't have effects on absorption. After oral administration of Prinivil tablets, the maximum plasma concentrations of lisinopril occur after 7 hours.
Distribution: Lisinopril doesn't appear to be bound to plasma proteins other than ACE. Studies showed that the absolute bioavailability after lisinopril administration is reduced to about 16 % in patients with stable congestive heart failure (NYHA Class II-IV ), and the volume of distribution appears to be a little bit smaller compared to normal subjects.
Metabolism: Lisinopril does not go through metabolism reactions and is excreted unchanged entirely in the urine.
Excretion: Effective half-life of accumulation after multiple dosing is 12 hours. Reduced renal function can decrease lisinopril elimination, which is excreted primarily through the kidneys, however this decrease becomes important only when the glomerular filtration rate is below 30 mL/min.
What special precautions should I follow/ What should I avoid while using Lisinopril?
Before taking Lisinopril:
Patients should tell their doctor and pharmacist if they are allergic to lisinopril or any other ACEI drugs such as: captopril (Capoten), fosinopril (Monopril), enalapril (Vasotec, in Vaseretic), perindopril (Aceon), quinapril (Accupril, in Accuretic, in Quinaretic), benazepril (Lotensin, in Lotrel), moexipril (Univasc, in Uniretic), ramipril (Altace), and trandolapril (Mavik, in Tarka) or any other medications or any of ingredients in lisinopril tablets.
Patients should tell their doctor if they have diabetes and if they are taking drug aliskiren (in Amturnide, Tekturna, Tekamlo, Tekturna HCT). Doctor will probably tell not to take lisinopril if patients have diabetes and if they are also taking aliskiren.
Patients should also tell their doctor and pharmacist what prescription and nonprescription medicines, nutritional supplements, vitamins, and herbal products they are taking. They should mention if they are using any of the following drugs: aspirin and indomethacin (Indocin, Tivorbex), diuretics, lithium (Lithobid) and potassium supplements. Doctor may need to change the doses of these medications or monitor carefully for side effects.
Patients should mention their doctor if they have or have ever had some heart or kidney disease, diabetes, lupus or scleroderma.
If patients are having surgery, including dental surgery, they should tell doctor or dentist that they are taking lisinopril.
It is important to know know that diarrhea, vomiting, or any cause of dehydration can cause a drop in blood pressure, causing lightheadedness and fainting.
Which pregnancy category (A; B; C; D; X) has been assigned to Lisinopril?
Lisinopril has been given pregnancy category D by the FDA. This means that this drug has positive evidence of risk – "There is positive evidence of human fetal risk based on adverse reaction data from investigational or marketing experience or studies in humans, but potential benefits may warrant use of the drug in pregnant women despite potential risks."
Studies on lisinopril have revealed evidence of teratogenicity and embryolethality associated with angiotensin converting enzyme inhibitors. When pregnancy is detected, ACE inhibitors should be discontinued as soon as possible. If there are no alternatives, patients should be made aware of the risks for their fetuses and serial ultrasound examinations should be evaluated.
Lisinopril Breastfeeding Warnings
It is unknown if lisinopril is excreted into milk, however there are some findings that suggest that ACE inhibitors have the potential to adversely affect a nursing infant. A decision should be made to discontinue the drug or discontinue nursing, taking into account the importance of the drug to the mother.
What should I know about storage and disposal of this medication?
This medication should be kept in the container it came in, out of reach of children and tightly closed. It should be stored at room temperature and away from extra heat and moisture (not in the bathroom).
Outdated medications should be thrown away any medication. Patients should talk with their pharmacist about the proper disposal of this medication.
What special dietary instructions should I follow?
Patients should talk to their doctor before using salt substitutes that contain potassium. If their doctor prescribes a low-salt or low-sodium diet, patients should follow these directions carefully.
What should I do if I forget a dose?
The missed dose should be taken as soon as patients remember it. However, if it is almost time for the next dose, patients should skip the missed dose and continue the regular dosing schedule. They should never take a double dose to make up for a missed one.
What should I do in case of overdose?
In case of overdose, patients should call their local poison control center at 1-800-222-1222. If the victim has collapsed or is not breathing, call local emergency services at 911.
What are the possible side effects of this drug?
The table below shows the incidence of side effects after lisinopril administration in recommendable doses. The incidence can be increased if this drug is overdosed.
| | |
| --- | --- |
| Very common side effects >10% | Dizziness (5-12%) |
| Common side effects 1-10% | Cough (4-9%), Headache (4-6%), Diarrhea (3-4%), Hyperkalemia (2-5%), Chest pain (3%), Fatigue (3%), Hypotension (1-4%), Nausea/vomiting (2%), Kidney disease in patients with AIM (2%), Rash (1-2%) |
| Rare side effects <1% | Psoriasis, Angioedema, Immune hypersensitivity reaction, Acute renal failure, Atrial fibrillation, Hypersomnia, Bone marrow suppression, Anuria, Arthralgia, Alopecia, Pancreatitis, Cutaneous pseudolymphoma, Atrial tachycardia, Mood changes, Skin infections, Leukopenia |
Some side effects can be serious. If patient experience any of following symptoms: difficulty breathing or swallowing, sore throat, chills, and other signs of infection, fever, swelling of the face, tongue, lips, eyes, hands throat, feet, ankles, lower legs, hoarseness, lightheadedness, fainting or chest pain doctor should be called immediately.
Does Lisinopril have any interaction with other drugs?
Diuretics: Patients on a diuretics treatment, and especially those in whom diuretic therapy was recently initiated, may experience an excessive hypotension after beginning of therapy with lisinopril.
This side effect can be minimized by either discontinuing the diuretic or increasing the salt intake prior to initiation of treatment with lisinopril.
If it is necessary to continue with diuretic treatment, therapy with lisinopril should be started at a lower dose of 5 mg by day, and close medical monitoring after the initial dose should be provided until blood pressure has been stabilized.
Antidiabetics: Epidemiological studies have proposed that concomitant administration of ACE inhibitors and antidiabetics medicines such as insulins and oral hypoglycemic drugs may cause an increased blood-glucose-lowering effect with higher risk of hypoglycemia.
This phenomenon appeared to be more likely to happen during the first weeks of combined treatment and in patients with kidneys impairment.
In diabetic patients treated with insulin or oral antidiabetic drugs, glycemic control need to be closely monitored for hypoglycemia, especially during the first month of treatment with an ACE inhibitor.
Non-steroidal Anti-inflammatory Agents: Studies showed that NSAID's including selective COX-2 inhibitors may reduce the ACE inhibitors antihypertensive effect, including lisinopril. This interaction should be given consideration in patients taking NSAIDs or selective COX-2 inhibitors together with ACE inhibitors.
In some patients with compromised renal function such as elderly patients or patients who are volume-depleted including those on diuretic therapy, who are being treated with NSAID drugs, including selective COX-2 inhibitors, the co-administration with ACE inhibitors may result in a further worsening of renal function, including possible acute renal failure. However, these effects are usually reversible.
Agents Increasing Serum Potassium: Lisinopril can decrease potassium loss caused by thiazide-type diuretics. Use of lisinopril with potassium-sparing diuretics such as spironolactone, triamterene, amiloride or eplerenone, potassium supplements, or potassium-containing salt substitutes may lead to significant increases of potassium levels in blood causing hyperkalemia.
Extreme hyperkalemia can be a serious condition that can cause life-threatening arrhythmias. Thus, if concomitant use of these preparations is indicated because of demonstrated hypokalemia, they should be used with caution and with frequent monitoring of potassium levels in blood.
In patients with heart failure who are receiving lisinopril, potassium-sparing agents should not be used.
Lithium:  In patients receiving lithium therapy together with drugs that can cause elimination of sodium, including ACE inhibitors, Lithium toxicity has been reported.
Lithium toxicity is usually reversible upon discontinuation of lithium and the ACE inhibitor. It is recommended that serum lithium levels be monitored frequently if lisinopril is administered in combination with lithium.
Gold preparations: Nitritoid reactions with symptoms including facial flushing, vomiting nausea and hypotension have been reported in some patients on a therapy with injectable preparation of gold called sodium-aurothiomalate and concomitant ACE inhibitor administration including lisinopril.
Does Lisinopril have any interaction with Diseases?
Angioedema: Angioedema, including laryngeal edema, can occur during ACE inhibitor therapy, including lisinopril. Patients should report immediately any signs or symptoms suggesting angioedema such as: swelling of face, eyes, lips, tongue extremities, difficulty in swallowing or breathing and to discontinue the therapy until they have consulted with the doctor.
Hypotension: Patients should report the symptoms of light-headedness especially during the beginning therapy. If syncope occurs, patient should discontinue the drug.
Excessive perspiration and dehydration may lead to an excessive fall in blood pressure because of reduction in fluid volume. Other causes of volume depletion such as diarrhea or vomiting may also lead to a fall in blood pressure.
Hyperkalemia: Patients should not to use salt substitutes containing potassium without consulting their doctor first.
Hypoglycemia: Diabetic patients treated with insulin or oral antidiabetic agents starting an ACE inhibitor therapy should be monitored for hypoglycemia closely, especially during the first month of concomitant usage.
Leukopenia/Neutropenia: Patients should report promptly any indication of infection such as sore throat, fever during ACEI usage this may be a sign of leukopenia/neutropenia.
Cough, asthma, breathing difficulties: Dry cough may occur at the beginning of therapy with lisinopril. Presumably due to the inhibition of the degradation of bradykinin, persistent nonproductive cough has been reported with all ACE inhibitors, always resolving after discontinuation of therapy. ACE inhibitor-induced cough should be considered in the differential diagnosis of cough.
Aortic Stenosis/Hypertrophic Cardiomyopathy: As with all vasodilators, lisinopril should be given with caution to patients with obstruction in the outflow tract of the left ventricle.
Impaired Renal Function: As a consequence of inhibiting the RAAS, changes in renal function may be anticipated in susceptible individuals. In patients with severe congestive heart failure whose renal function may depend on the activity of the RAAS system, treatment with ACEI, including lisinopril, may be associated with oliguria and/or progressive azotemia and rarely with acute renal failure and/or death.
Hypertensive patients with unilateral or bilateral renal artery stenosis: Increases in blood urea nitrogen and serum creatinine may occur. Experience with another ACEI suggests that these increases are usually reversible upon discontinuation of lisinopril and/or diuretic therapy. In such patients renal function should be monitored during the first few weeks of therapy.
Information retrieved from:
http://www.chemspider.com/Chemical-Structure.4514933.html?rid=5fe45c74-2714-4d9c-968c-aac6d8384595
http://www.drugs.com/lisinopril.html
http://reference.medscape.com/drug/prinivil-zestril-lisinopril-342321#91
https://www.nlm.nih.gov/medlineplus/druginfo/meds/a692051.html#brand-name-1
https://pubchem.ncbi.nlm.nih.gov/compound/5362119#section=FDA-UNII
http://www.drugbank.ca/unearth/q?utf8=%E2%9C%93&query=lisinopril&searcher=drugs&approved=1&vet_approved=1&nutraceutical=1&illicit=1&withdrawn=1&investigational=1&button=
http://www.rxlist.com/prinivil-drug/medication-guide.htm
http://www.pdrhealth.com/drugs/zestril#side-effects
http://www.druglib.com/druginfo/prinivil/interactions_overdosage_contraindications/