What is Simvastatin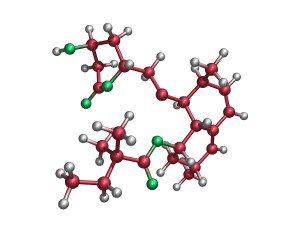 Simvastatin is a lipid-lowering substance which is synthetically derived after fermentation of the fungus specie Aspergillus terreus. It is a potent competitive inhibitor of HMG-CoA reducatase (3-hydroxy-3-methylglutaryl coenzyme A reductase ), the essential enzyme in the biosynthesis of cholesterol.
This drug can also interfere with the production of steroid hormones. Simvastatin increases breakdown of LDL cholesterol due to the induction of hepatic LDL receptors.
Generic and brand name of Simvastatin
The drug is available under generic names: Simvastatin and Apo-Simvastatin.
Most common Brand names are: Zocor, Cholestat, Labistatin, Lodales, Simovil, Sinvacor, Statex, Sivatin
This drug can be also used in combination with other drugs such as: Simcor (containing Simvastatin and Niacin) and Vytorin (containing Simvastatin and Ezetimibe)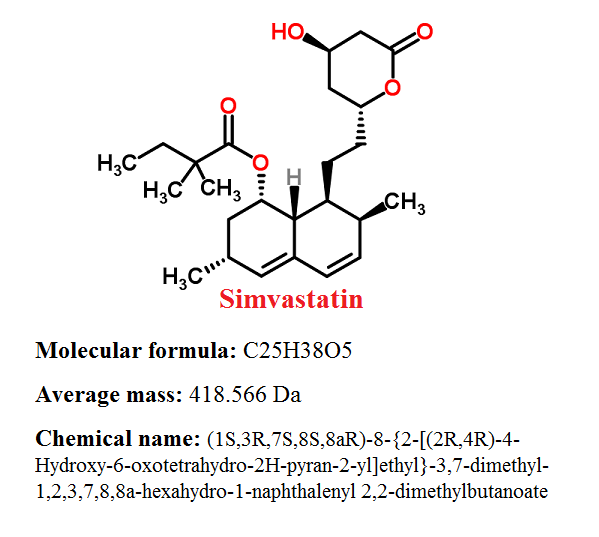 What is the source of the drug (natural or synthetic)
Simvastatin is a semi-synthetic drug made from the fungus Aspergillus terreus.
Why is Simvastatin prescribed
Simvastatin is used for the treatment of hypercholesterolemia to decrease the amount of fatty compounds in the blood such as low-density lipoprotein (LDL) cholesterol also known as 'bad cholesterol' and triglycerides in the blood and to increase the amount of high-density lipoprotein (HDL) cholesterol also known as 'good cholesterol'. It can also be used for the treatment of heterozygous familial hypercholesterolemia in adolescent patients.
Simvastatin is used together with diet, weight-loss, and exercise programs to decrease the risk of heart attack and stroke and to lower the chance of heart surgery that will be needed in patients who have heart disease or who are at high risk of developing heart disease.
Cholesterol and fats accumulation along the walls of arteries (atherosclerosis) reduces blood flow and, therefore, the oxygen supply to heart, brain, and other parts of the body. Simvastatin has been shown to prevent heart disease, angina pain, strokes, and heart attacks by lowering cholesterol and fats values in the blood.
In patients with hypercholesterolemia with or without clinically evident coronary heart disease simvastatin is used to reduce the risk of: myocardial infarction, myocardial revascularization procedures, cardiovascular mortality with no increase in death from non-cardiovascular causes, stroke and transitory ischemic attacks, total mortality by reducing coronary death and lower the progression of coronary atherosclerosis.
In the Scandinavian Simvastatin Survival Study, which was placebo-controlled, randomized clinical trial study that lasted 5 years, simvastatin reduced high LDL cholesterol and overall mortality in people with existing cardiovascular disease and by 30% and reduced cardiovascular mortality by 42%. The risks of: heart attack was reduced by 37%, stroke by 28% and need for a coronary revascularization procedure was reduced by 37% respectively.
In another study, called Heart Protection Study, overall mortality was reduced by 13% while cardiovascular mortality was reduced by 18%. Patients who were receiving simvastatin experienced 38% fewer non-fatal heart attacks and 25% fewer strokes.
Pharmacophore structure: Information about the chemical structure of the drug
Simvastatin belongs to the class of organic compounds known as delta valerolactones. These cyclic organic compounds contain an oxan-2- one structure.
| | |
| --- | --- |
| Kingdom | Organic compounds |
| Super Class | Organoheterocyclic compounds |
| Class | Lactones |
| Sub Class | Delta valerolactones |
| Direct Parent | Delta valerolactones |
Chemical information of Simvastatin

Simvastatin is a white to off-white, crystalline powder that is practically insoluble in water, and freely soluble in methanol, ethanol and chloroform.
It has nonhygroscopic properties.
Tablets with simvastatin usually contain following inactive ingredients: hydroxypropyl cellulose, hypromellose, ascorbic acid, citric acid, magnesium stearate, microcrystalline cellulose, starch, talc, and titanium dioxide, iron oxides, lactose. Butylated hydroxyanisole is usually added as a preservative.
Simvastatins melting point is on 135-138 °C.
Log P values is 4.68.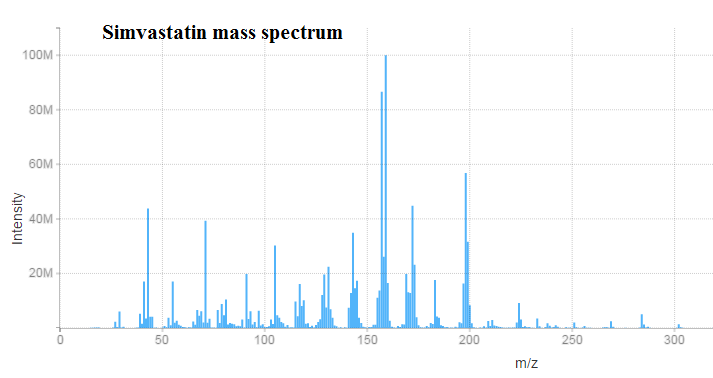 Different dosage forms and strengths of simvastatin

Simvastatin is available only in form of tablets and film coated tablets in the following doses: 5, 10, 20, 40, and 80 mg.
How the Simvastatin medicine works (mode of action)
Simvastatin is structurally similar to the HMG-CoA which is a substituent of the endogenous substrate of enzyme HMG-CoA reductase.
Simvastatin is a prodrug molecule in which the 6-membered lactone ring is hydrolyzed in vivo (in the body) to produce the active metabolite beta,delta-dihydroxy acid, which is structurally similar to HMG-CoA (hydroxymethylglutaryl CoA).
Once hydrolyzed, simvastatin competes with HMG-CoA for hepatic microsomal enzyme HMG-CoA reductase. Interference with this enzyme activity reduces the amount of mevalonic acid, one of the main precursors of cholesterol synthesis.
Lipid-lowering effects of simvastatin are produced in two ways:
First, as a result of its reversible inhibition of enzyme HMG-CoA reductase activity, it effects intracellular reductions of cholesterol pools which results in an increase in the number of LDL-receptors on cell surfaces and higher receptor-mediated catabolism and clearance of circulating LDL.
Second, by inhibiting hepatic synthesis of VLDL, which is the LDL precursor, simvastatin inhibits the production of LDL.
Studies have showed that Simvastatin is a powerful lipid-lowering agent that can decrease the levels of LDL by up to 50%. Simvastatin can also lower the levels of VLDL and triglycerides and elevate the levels of HDL in blood.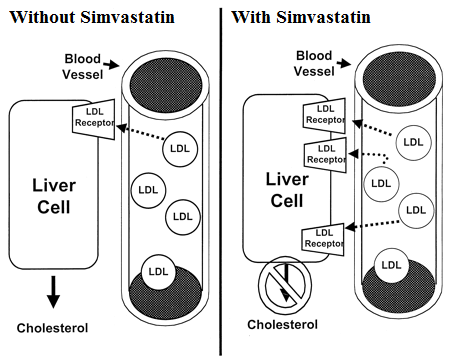 Image retrieved from: http://circ.ahajournals.org/content/105/13/1514/F1.expansion.html
How to use simvastatin
Simvastatin comes in a form of tablet taken by mouth. This medicine is usually taken once a day in the evening. Simvastatin should be taken at around the same time every day and exactly as directed. Do not take more or less of it or take it more often than prescribed by your doctor.
Doctor may start the therapy on a lower dose of simvastatin and gradually increase the dose, not more than once on every 4 weeks.
Patients should continue using simvastatin even if they feel well.
What are the recommended doses of Simvastatin
Usual Adult Dose of Simvastatin for Prevention of Cardiovascular Disease
Usual dosage: 5 to 40 mg orally once a day in the evening
Patients with Cardiovascular Disease or at high risk of Cardiovascular Disease:
Initial dose: 10 to 20 mg orally once a day in the evening started together with diet and exercise
Patients at high risk for a Cardiovascular Disease event due to existing Cardiovascular Disease, peripheral vascular disease, diabetes, history of stroke or other cerebrovascular disease:
Initial dose: 40 mg orally once a day in the evening
Usual Adult Dose for Cardiovascular Risk Reduction
Usual dosage: 5 to 40 mg orally once a day in the evening
Patients with Cardiovascular Disease or at high risk of Cardiovascular Disease:
Initial dose: 10 to 20 mg orally once a day in the evening started simultaneously with diet and exercise
Patients at high risk for a Cardiovascular Disease event due to existing Cardiovascular Disease, diabetes, peripheral vascular disease, history of stroke or other cerebrovascular disease:
Initial dose: 40 mg orally once a day in the evening
Usual Adult Dose for Homozygous Familial Hypercholesterolemia
Recommended dose: 40 mg orally once a day in the evening
Usual Pediatric Dose for Heterozygous Familial Hypercholesterolemia
Less than 10 years: Not recommended
10 years or older:
Initial dose: 10 mg orally once a day in the evening
Maintenance dose: 10 to 40 mg orally once a day in the evening
Maximum dose: 40 mg orally once a day in the evening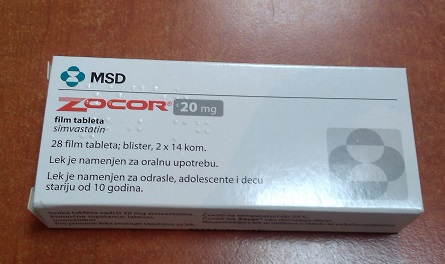 What are the pharmacokinetic properties of the drug?
Absorption: Simvastain is well absorbed after oral administration. It has extensive first pass metabolism in the liver, which is the main target of simvastatin action. Because simvastatin undergoes extensive first-pass metabolism, the availability of the drug in the systemic is low. After oral administration of the drug less than 5% of dose is present in blood as simvastatin hydroxyl acid. Peak plasma concentration occurs 1.3 – 2.4 hours after administration. Food does not have an impact on drug absorption.
Distribution:    Both simvastatin and its β-hydroxyacid metabolite are highly bound for approximately 95% to human plasma proteins. Simvastatin can cross the blood-brain barrier.
Metabolism: Simvastatin is a substrate for enzyme CYP3A4. The major active metabolites of simvastatin are β-hydroxyacid metabolite and its 6′-hydroxymethyl, 6′-hydroxy and 6′-exomethylene derivatives.
Excretion: Following an oral dose of 14C-labeled simvastatin in man, 13% of the dose was excreted in urine and 60% in feces. Half-life of the drug is about 3 hours, respectively.
What special precautions should I follow/ What should I avoid while using Simvastatin?
Before taking Simvastatin:
Patients should tell their doctor or pharmacist if they are allergic to simvastatin, or any other medications, or any other inactive ingredients in simvastatin tablets. Patients should ask doctor or pharmacist for a list of the ingredients.
Patients should tell their doctor or pharmacist if they are taking some of the following drugs: posaconazole (Noxafil), voriconazole (Vfend); itraconazole (Sporanox), ketoconazole (Nizoral), boceprevir (Victrelis); cobicistat-containing medications (Stribild); cyclosporine (Gengraf, Neoral, Sandimmune); fosamprenavir (Lexiva), indinavir (Crixivan), lopinavir (in Kaletra), nelfinavir (Viracept), danazol; erythromycin (E.E.S., E-Mycin, Erythrocin); gemfibrozil (Lopid); HIV protease inhibitors such as atazanavir (Reyataz), darunavir (Prezista), nefazodone; telaprevir (Incivek); telithromycin (Ketek), ritonavir (Norvir, in Kaletra), saquinavir (Invirase), tipranavir (Aptivus). Doctor will probably tell not to take simvastatin if sme of these drugs are taken.
They should also tell their doctor or pharmacist if they are taking any prescription and nonprescription medications, herbal products, vitamins, nutritional supplements, or if they have a plan to take them.  Patients should also mention to their doctor if they are using some of this drugs: amlodipine (Norvasc, in Caduet, in Lotrel); amiodarone (Cordarone, Pacerone); anticoagulants such as warfarin (Coumadin, Jantoven); dronedarone (Multaq); other cholesterol-lowering medications such as fenofibrate (Tricor), lomitapide (Juxtapid), and niacin (nicotinic acid, Niacor, Niaspan); colchicine (Colcrys); digoxin (Digitek, Lanoxicaps, Lanoxin); diltiazem (Cardizem, Dilacor, Tiazac);  ranolazine (Ranexa); and verapamil (Calan, Covera, Isoptin, Verelan). Doctor may need to change the doses of these medications or monitor carefully for side effects.
tell your doctor if you drink more than two alcoholic beverages per day, if you are 65 years of age or older, or if you are Asian, especially if you are Chinese. Also tell your doctor if you have or have ever had an underactive thyroid gland, diabetes, seizures, muscle aches or weakness, low blood pressure, or kidney disease.
Patients should tell their doctor if they have liver disease. Doctor will order laboratory tests to see how well liver works even if patient thinks that do not have liver disease. If liver disease exists doctor will probably tell patient not to take simvastatin
Patients should also tell their doctor if they drink more than two alcoholic beverages daily, because alcohol can increase side effects, if they are 65 years of age or older, if patients is an Asian, especially Chinese, or if they have or have ever had low blood pressure, seizures, or thyroid or kidney disease, muscle aches or weakness.
Women should tell their doctor if they are pregnant or plan to become pregnant. They should not become pregnant while using simvastatin. If they become pregnant while using simvastatin, they should stop taking it and call their doctor immediately for further information because simvastatin may harm the fetus. Breastfeeding is also contraindicated.
If patients will have a surgery, including dental surgery, they should tell the doctor or dentist that they are using simvastatin.
Which pregnancy category (A; B; C; D; X) has been assigned to Simvastatin?
Simvastatin has been given pregnancy category X by the FDA. This means that this drug is contraindicated in pregnancy – "Studies in animals or humans have demonstrated fetal abnormalities and/or there is positive evidence of human fetal risk based on adverse reaction data from investigational or marketing experience, and the risks involved in use of the drug in pregnant women clearly outweigh potential benefits."
Simvastatin is contraindicated in pregnant women and also in woman who may become pregnant. Lipid lowering effects of statin offer no benefit during pregnancy, because cholesterol and its derivatives are very important and needed for normal fetal development.
There are rare reports of congenital anomalies in infants who were exposed to statins in utero. Simvastatin's animal studies in rats and rabbits showed no evidence of teratogenicity.
However, It is known that cholesterol and triglycerides become increases during pregnancy, and cholesterol and its derivatives are very essential for development of fetus.
Because statins can decrease the synthesis of cholesterol and possibly the synthesis of other biologically active substances which are derived from cholesterol, simvastatin may cause fetal harm when administered to a pregnant woman.
If simvastatin is used during pregnancy or if the patient becomes pregnant while taking this drug, the patient should be explained of the potential high risk to the fetus.
If pregnancy occurs, simvastatin should be immediately discontinued.
Simvastatin Breastfeeding Warnings
It is not known whether simvastatin is excreted in human milk. However, it is known that a small amount of other statins is excreted in human milk and because of the potential for serious side effects in nursing infants, women taking simvastatin should not nurse their infants.
What should I know about storage and disposal of this medication?
This medication should be kept in the container it came in, out of reach of children and tightly closed. It should be stored at room temperature and away from extra heat and moisture (not in the bathroom).
Outdated medications should be thrown away any medication. Patients should talk with their pharmacist about the proper disposal of this medication.
What special dietary instructions should I follow?
Diet with low-fat and low-cholesterol is recommended. Patients should follow all exercises and dietary recommendations given by their doctor or dietitian.
Patients can also visit the National Cholesterol Education Program (NCEP) website for additional dietary information at http://www.nhlbi.nih.gov/health/public/heart/chol/chol_tlc.pdf.
What should I do if I forget a dose?
The missed dose should be taken as soon as patients remember it. However, if it is almost time for the next dose, patients should skip the missed dose and continue the regular dosing schedule. They should never take a double dose to make up for a missed one.
What should I do in case of overdose?
In case of overdose, patients should call their local poison control center at 1-800-222-1222. If the victim has collapsed or is not breathing, call local emergency services at 911.
Simvastatin Side effects

The table below shows the incidence of side effects after simvastatin administration in recommendable doses. The incidence can be increased if this drug is overdosed.
Common side effects 1-10%
Upper respiratory infection (9%),

Abdominal pain (7%), CPK elevation (>3x ULN) (5%), Headache (3-7%), Myalgia (5%), Vertigo (5%), Eczema (5%), Constipation (2%), Flatulence (1-2%), Transaminases increased (>3x ULN) (1%)

Rare side effects <1 %
Myopathy, Rhabdomyolysis, Myalgia, Arthralgia, Eosinophilia, Chills, Arthritis, Angioedema, Abdominal pain
Postmarketing reports
Interstitial lung disease, Erectile dysfunction, Rare reports of cognitive impairment such as memory loss, forgetfulness, amnesia, memory impairment, confusion
What is Rhabdomyolysis?
Rhabdomyolysis is a serious condition in which damaged skeletal striated muscle cells breaks down very fast. Breakdown products of damaged muscle cells are released into the bloodstream.
Some of these products, such as the protein myoglobin, can be very harmful to the kidneys and may lead to kidney failure, disseminated intravascular coagulation and death.
How do you know if you have rhabdomyolysis from statin use, and how likely is it?
Although mild muscle pain is a relatively common side effect of statins, some people who take these medications to lower their cholesterol may have severe muscle pain. This intense pain may be a symptom of a serious condition called rhabdomyolysis.
The most usual signs and symptoms of rhabdomyolysis are:
Muscle weakness
Severe muscle aching throughout the entire body
Dark or cola-colored urine
If the dose of statin is higher, the higher is the risk of rhabdomyolysis. The risk increases if certain drugs such as cyclosporine (Sandimmune) and gemfibrozil (Lopid) are taken together with statins.
However, the risk of rhabdomyolysis from statin therapy is very low. Expectance is about 1.5 for each 100,000 people on statins therapy.
This condition and also other muscles inflammation which are caused by statin can be diagnosed with a blood test measuring levels of the enzyme creatinine kinase.
Patients should contact their doctor if they notice moderate or severe muscle pain after starting statins therapy.
If you experience any of these symptoms, call your health care provider immediately.
Some side effects can be serious. The following symptoms are uncommon, but if patients experience any of them, they should doctor immediately:
muscle pain, tenderness, or weakness
fever
nausea
extreme tiredness
yellowing of the skin or eyes
dark colored urine
pain in the upper right part of the stomach
difficulty breathing or swallowing
flu-like symptoms
lack of energy
weakness
unusual bleeding or bruising
loss of appetite
hives
itching
swelling of the face, tongue, lips, eyes, throat, hands, feet, ankles, or lower legs
hoarseness
Does Simvastatin have any interaction with other drugs?
Cyclosporine: The risk of myopathy and rhabdomyolysis is increased if simvastatin is taken together with cyclosporine.
Clarithromycin: The risk of myopathy and rhabdomyolysis is increased if simvastatin is taken together with clarithromycin.
Colchicine: The risk of myopathy and rhabdomyolysis is increased if simvastatin is taken together with colchicine.
Gemfibrozil: Due to an increased risk of myopathy and rhabdomyolysis when inhibitors of HMG-CoA reductase are used together with gemfibrozil, combination of simvastatin and gemfibrozil should be avoided.
Other Fibrates: Due to an increased risk of myopathy and rhabdomyolysis when inhibitors of HMG-CoA reductase are used together with other fibrates, combination of simvastatin and other fibrates should be used with caution.
Niacin: The risk of skeletal muscle side effects may be amplified when simvastatin is used together with niacin. Reduction in simvastatin sodium dosage should be considered in this situation.
TABLE: Drug Interactions Associated with Increased Risk of Myopathy or Rhabdomyolysis after Simvastatin co-administration with other drugs
Interacting Agents
Prescribing Recommendations
Itraconazole

Ketoconazole

Posaconazole

Erythromycin

Clarithromycin

Telithromycin

HIV protease inhibitors

Nefazodone

Gemfibrozil

Cyclosporine

Danazol

Contraindicated with simvastatin
Amiodarone

Verapamil

Diltiazem

Do not exceed 10 mg simvastatin daily
Amlodipine

Ranolazine

Do not exceed 20 mg simvastatin daily
Grapefruit juice
Avoid large quantities of grapefruit juice (>1 quart daily)
Does Simvastatin have any interaction with Diseases?
Liver Disease and Alcoholism: The administration of HMG-CoA reductase inhibitors is contraindicated in patients who have active liver disease or constant elevations of serum transaminases.
Statins have extensively metabolism in the liver. Reduced drug metabolism may lead to statins accumulation and increased risk of toxicity and side effects including abnormalities of the liver function and in some cases serious condition such as: hepatitis, jaundice, cirrhosis, fatty liver, and fulminant hepatic necrosis.
Therapy with statins should be administered cautiously in patients who have a history of liver disease or heavy alcohol use. Lower initial doses may be suitable, and it is recommended clinical monitoring of liver transaminase levels in blood.
If patients develop elevated ALT or AST levels during therapy, they should be monitored until abnormalities resolve. If ALT and/or AST are increased above 3 times than normal, consideration should be given to a dosage reduction or discontinuation of therapy.
Rhabdomyolysis, Myopathy, Myoneural Disorder: Severe myopathy, including rhabdomyolysis combined with acute renal failure secondary to myoglobinuria, can be caused rarely after the administration of statins.
The myopathy is suspected to be dose-related and it is characterized by muscle pain and/or weakness in combination with creatine phosphokinase increased values in blood exceeding the levels of 10 times higher than normal.
Therapy with statins should be used cautiously especially in patients with preexisting myoneural disorder or myopathy, since it may delay the recognition or confound the diagnosis of a drug-induced musculoskeletal effect.
Patients should report immediately any unusual muscle pain, weakness or tenderness, especially if it is accompanied by malaise or fever.
Periodic creatine phosphokinase analysis may be considered in some patients. Statins therapy should be discontinued if elevated creatine phosphokinase levels occur or if drug-related myopathy is diagnosed or suspected.
Renal Dysfunction: Simvastatin is partially eliminated by the kidney. In patients with significant renal impairment drug or metabolite accumulation may occur, which may increase the risk of toxicity, including hepatic and musculoskeletal side effects.
In patients with severely impaired renal function therapy with simvastatin should be administered cautiously. A lower initial dosage may be appropriate, accompanied by clinical monitoring.
Information retrieved from:
http://www.drugs.com/pro/simvastatin.html
http://www.drugbank.ca/drugs/DB00641
http://www.chemspider.com/Chemical-Structure.49179.html?rid=78904d0b-b5ac-472f-8e4c-98b7ebb0eea1
http://www.druglib.com/druginfo/zocor/description_pharmacology/
https://www.nlm.nih.gov/medlineplus/druginfo/meds/a692030.html
http://reference.medscape.com/drug/zocor-simvastatin-342463#4
http://circ.ahajournals.org/content/105/13/1514/F1.expansion.html
http://www.webmd.com/drugs/2/drug-6105/simvastatin-oral/details
http://www.healthline.com/drugs/simvastatin/oral-tablet#SideEffects2