What is Lorcaserin (Belviq)?
Lorcaserin is an anti-obesity agent that is used for the treatment of obesity.

Lorcaserin generic and brand name
The drug is available under generic name Lorcaserin and brand name Belviq.
Lorcaserin is developed by pharmaceutical company Arena Pharmaceuticals.
Lorcaserin is manufactured by Arena Pharmaceuticals and marketed by Eisai Pharmaceuticals.
What is the source of the drug (natural or synthetic)?
Lorcaserin is a synthetic (man-made) serotonin-2C receptor antagonistic pharmaceutical
Why is Lorcaserin prescribed?
Lorcaserin plays a key role in the treatment of obesity and obesity related problems.
Lorcaserin helps to lose weight in obese and over-weighted people.
It also prevents gaining of weight back.
This drug is also recommended for the obese people with other complications such as diabetes type 2, hypertension and dyslipidemia.
However, this drug cannot minimize or alter the possibility of heart attacks or strokes and other heart related complications.
It is advised to use Lorcaserin along with regular physical exercise and low calorie diet.
Pharmacophore structure: Information about the chemical structure of the drug
Lorcaserin chemically belongs to the class of organic compound. The detailed chemical classification of Lorcaserin is described below:
| | |
| --- | --- |
| Kingdom | Not available |
| Super Class | Not available |
| Class | Not available |
| Sub Class | Not available |
| Direct Parent | Not available |
Chemical information of the drug
Lorcaserin is available as monohydrochloride salt which acts as serotonin 2C receptor antagonists.
It is a synthetic pharmaceutical Aromatic heterocyclic compounds with a molecular formula C11H15Cl2N.
The molecular weight of the Lorcaserin is 058 g/mol.
Chemically, Lorcaserin is (R)-8-chloro-1-methyl-2,3,4,5-tetrahydro-1H-3-benzazepine.
Lorcaserin is white to off white, crystalline solid in texture and has a water solubility is more than 400 mg/ml.
Lorcaserin is soluble in chloroform, methanol and ethyl acetate.
The melting point of Lorcaserin is about 212°C.
Lorcaserin available strength
Lorcaserin is available in tablet form for oral administration with or without food.
Lorcaserin tablets are available in strength of 10 mg/tablet.
Tablets are round in shape, biconvex, blue in color, film-coated debossed with "10" on one side and "A" on another side.
Each tablet of Lorcaserin contains Lorcaserin hydrochloride as active constituent and hydroxypropyl cellulose, silicified microcrystalline cellulose, colloidal silicon dioxide, croscarmellose sodium, polyvinyl alcohol, polyethylene glycol, titanium dioxide, talc, magnesium stearate and FD&C Blue 2 Aluminium Lake as inactive components.
How Lorcaserin works?
Lorcaserin mode of action
Lorcaserin is a novel and selective 5-HT2C receptor antagonist.
Hypothalamus is the major hub for regulating the food intake and appetite.
Many monoaminergic neurotransmitters including 5-hydroxytryptamine (5-HT) mediates the signals for the adjustment of food consumption.
5-HT2C receptors are G-protein coupled receptor that are the target site for various anti-obesity drugs.
5-HT2C receptors are exclusively present in anorexigenic pro-opiomelanocortin neurons of central nervous system which mediates the suppression of appetite.
Lorcaserin may engage in the selective activation of 5-HT2C
This activation stimulate the release of α-melanocortin stimulating hormone that act on melanocortin-4 receptors which result in reduction in food intake.
Hence, lorcaserin designated to endorse the weight loss in an overweight inhabitant.
However, Lorcaserin exert negligible activity on 5-HT2A and 5-HT2B receptors which are found in central nervous system and cardiovascular system respectively.
Recommended doses of Lorcaserin
The prescribed dose of Lorcaserin is usually 10 mg twice in a day which may vary depending upon the age and diseased state of the patient.
Paediatric dose:
Lorcaserin is not recommended for paediatric patients.
Adult dose:
Weight loss: 10 mg two times in a day orally.
Geriatric dose:
Weight loss: 10 mg two times in a day orally.
In case of hepatic and renal impairment, the dosing recommendations are as follows:
Dose in hepatic impairment:
Mild to moderate hepatic impairment: no dose adjustment is needed.
Severe hepatic impairment: drug is not recommended.
Dose in renal impairment:
Mild impairment: no dose adjustment is needed.
Moderate impairments: use with caution.
Severe impairment: drug is not recommended.
When should I discontinue, withhold or modify the dose of Lorcaserin?
The usual dosing of the drug may vary depending upon the efficiency and side effects of the drug in a particular individual.
Do not use the medicine if you are hypersensitive or allergic to any of the ingredients of Lorcaserin.
Take recommendation from your pharmacist or doctor if you ever had cavernosal fibrosis, diabetes, leukemia, irregular or slow heartbeat, heart attacks or other heart related problems.
Lorcaserin is withheld in case if patient does not lose an adequate amount of weight in initial 12 weeks.
Lorcaserin is withheld in case if patient already taking the other medications of weight loss.
Use of Lorcaserin simultaneously with that drugs which are the substrate of CYP2D6 should be avoided because Lorcaserin may enhance the exposure of these drugs.
Lorcaserin should be contraindicated with medications of diabetes such as insulin and other medicines of diabetes.
Lorcaserin should be contraindicated or sometime withheld with the medications of erectile dysfunction.
Lorcaserin is also contraindicated with the medication of mental illness and migraine headache.
Lorcaserin is not recommended for patients under 18 year of age.
Lorcaserin pharmacokinetic properties of the drug
Pharmacokinetic studies suggested that after oral administration of Lorcaserin is absorbed in gastrointestinal tract, but bio-availability of the drug is not determined.
However, studies suggest that more than 90% dose was absorbed.
Following absorption the majority (70%) of the drug is bound to plasma proteins.
It has been observed that following a 10 mg dose of maximum (or peak) plasma concentration is achieved in 5 – 2 hours in the fasted state.
The drug is largely metabolized in the liver in form of Lorcaserin Sulfamate which is major circulating metabolite and N-Carbamoyl Glucuronide Lorcaserin which is the major excretory metabolite.
The average median half-life of Lorcaserin is 11
Lorcaserin is mainly excreted in urine (approximately 92.3%) and very little amount in the faeces (2.2%).
The average steady state volume of distribution of the Lorcaserin is approximately 252 L in a5 kg individual.
Which pregnancy category (A; B; C; D; X) has been assigned to Lorcaserin?
The Lorcaserin is classified by US FDA pregnancy category:
Due to lack of adequate and well-controlled studies the use of Lorcaserin in pregnant women is contraindicated and recommended only when benefit justifies the risk.
Laboratory animal studies have shown positive indication of adverse effect on fetus.
No adequate data is available on excretion of Lorcaserin into human breast milk.
Despite these facts caution should be exercised when taking Lorcaserin.
How to take Lorcaserin?
Lorcaserin is available in film coated tablet form for oral administration by mouth with or without food.
Lorcaserin is taken twice daily at same time every day.
It is advisable not to take more than two tablets daily.
Lorcaserin tablets do not chew, split or crush. Whole tablet should be swallowed.
Follow the instructions carefully as directed on prescription leaflet and take Lorcaserin exactly as directed.
Do not change the dose of the drug as prescribed by your doctor. Since, the dosage is based on patient medical condition, treatment responses and usage with other drugs.
How to store the drug?
Lorcaserin is stored at 25°C (77°F) and excursion permitted to 15-30°C (59-86°F).
Store the medicine away from light and moisture.
Medicine should not be stored in the bathroom.
The drug should be kept away from children and pets.
How to dispose expired Lorcaserin ?
Throw away unused and opened, outdated or no longer used container.
Also dispose the old medicine after the expiration date.
Lorcaserin should not be dispose in the household garbage, sink or in wastewater.
Consult your pharmacist or local waste disposal company for proper disposal.
Lorcaserin was approved on June 10, 2012 by U.S. Food and Drug Administration (FDA).
It is approved for the treatment of obesity with conditions such as high cholesterol, type-2 diabetes and high blood pressure.
Other uses of the drug
Lorcaserin may also be used for other uses not listed here. It is advisable to ask your doctor or pharmacist for more information.
What special dietary precautions should I follow?
Take diet as prescribed by your doctor, if not follow usual diet.
It is suggested that Lorcaserin should combined with low calorie diet.
What special precautions should I follow/ What should I avoid while using Lorcaserin?
Before taking Lorcaserin, tell your doctor about your medical history preferentially if you have any kind of liver or kidney disease, leukemia, or blood pressure problems.
Consult with your doctor and pharmacist if you are taking any prescription and non-prescription medications or herbal products.
Regular exercise is recommended for the patients in combination with low calorie diet.
In geriatric population, the use of drug must be made on the basis of renal function.
Avoid using machinery requiring alertness or clear vision as well as car driving because the use of Lorcaserin may make you drowsy.
Keep away from those people who have cold or other infection because Lorcaserin may decrease the immunity.
Avoid sharing the drug with another person particularly from those individuals who has a history of drug addiction.
Medications of cough and allergy should be avoided during the Lorcaserin medication.
Consult your doctor in case of any query.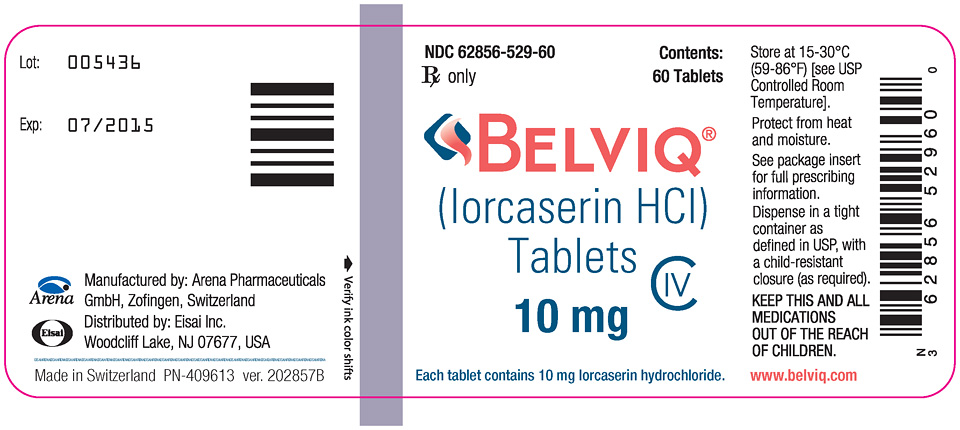 Lorcaserin side effects
In addition to the associated benefits, Lorcaserin also is accompanied with the side effects some of which are more common, others less common whereas some are more serious. It is always recommended to consult a doctor if you encounter any of the side effects.
Most common side effects caused by Lorcaserin are as follows:
Abnormal weakness or tiredness
Anxiety
Bloody urine
Blurred vision
Breast swelling
Burning, difficult, or painful urination
Chills
Cold sweats
Confusion
Cough
Depression
Difficulty with breathing
Dizziness
Ears pounding
Fever
Headache
Increased heartbeat
Increased hunger
Nasal congestion
Nausea
Nightmares
Pain in bladder
Pain in body or aches
Pale and cool skin
Runny nose
Seizures
Sneezing
Sore throat
Some less common side effects of Lorcaserin which require medical attention are as follows:
Dry skin
Failure of consciousness
Increased hunger, thirst and urination
Increased sensitivity to sunlight
Itching, pain, redness, or swelling of the eye or eyelid
Mouth dryness
Pain in joints
Quick weight gain
Reduced ability to exercise
Skin rash or hives
Sweating
Swelling of the face, arms, hands, lower legs, or feet
Swollen glands
Trouble with breathing and sleeping
Watering of the eyes
Lorcaserin may some serious side effects which require immediate medical attention. These are:
Breast enlargement in males
Complicatedness with coordination
Confusion
Depression
Diarrhoea
Difficult breathing
Discharge from the breast
Feeling unusually happy
Irregular heartbeat
Muscle spasms, stiffness, or twitching
Restlessness
Sweating
Thoughts about harming or killing yourself
There are some adverse effects that fade away while consuming the drug with time. These symptoms do not require any medical attention:
Irritation
Muscle aches and spasms
Pain in back
Pain in muscle, joint, or bone
Reduced appetite
Restlessness
Stress
Trouble having a bowel movement (stool)
Besides these, Amlodipine may also be associated with some other side effects. These include:
Cardiovascular effects: bradycardia and hyertension.
Dermatologic effects: hyperhidrosis, increased sweating, rashs, dermatitis, skin decolouration and dryness.
Gastrointestinal effects: nausea, toothache, diarrhoea, mouth dryness, constipation, vomiting and gastroenteritis.
Haematological effects: leukopenia, neutropenia, anemia, lymphocytopenia and reduced red blood cell count.
Musculoskeletal effects: back pain, musculoskeletal pain, weakness, muscle cramps and spasms.
Nervous system effects: headache, dizziness, tremor, confusion, impaired memory and disorientation.
Ocular effects: conjunctivitis, abnormal vision, eye pain, inflamation and ocular sensation.
Psychiatric effects: anxiety, depression, euphoria, hallucination, insomnia and stress.
Respiratory effects: nasopharygitis, sinus blockage, oropharyngeal pain, infection in upper respiratory tract and coughing.
Urinogenital effects: urinary tract infections.
In addition, Lorcaserin may cause:
Serotonin syndrome or neuroleptic malignant syndrome (NMS) like reactions.
Painful and long-lasting erection which if remain untreated can cause permanent sexual problems such as impotency.
Increase in level of certain hormones such as prolactin which may result in enlarged breasts, nipple discharge, decreased sexual activity and missed menstrual periods.
What should I do in case of overdose?
If you overdose the drug contact with your doctor or pharmacist for symptomatic and supportive measures.
Symptoms of over dose may include dizziness, hallucinations, headache, nausea and pain in stomach.
What should I do in case of missed a dose?
Take a missed dose as quickly as possible.
To make up the missed dose, do not take additional medicine.
Avoid taking the missed dose if it is about time for your subsequent dose.
Lorcaserin drug interactions
Does Lorcaserin have any interaction with other drugs?
Lorcaserin may interact with one of the following drugs. Care should be taken when you are taking these medications together.
Antiarrhythmic drugs such as flecainide (Tambocor), mexiletine (Mexitil) and propafenone (Rythmol).
Antibiotics such as linezolid (Zyvox).
Anti-depressant medication such as Bupropion (Zyban, Forfivo, Wellbutrin and Aplenzin) and trazodone (Oleptro and Desyrel) and sertraline (Zoloft).
Antihypertensive drugs such as nefazodone (Nefadar, Serzone and Dutonin) and metoprolol (Toprol).
Antitussive or narcotics agents such as codeine, dextromethorphan (Robitussin and Mucinex).
Dopamine agonists such as cabergoline (Dostinex).
Medication of migraine headache such as naratriptan (Amerge), eletriptan (Relpax), frovatriptan (Frova), zolmitriptan (Zomig), almotriptan (Axert), sumatriptan (Imitrex, Treximet) or rizatriptan (Maxalt) and timolol (Blocadren).
Medications for erectile dysfunctions vardenafil (Levitraa and Staxyn), sildenafil (Viagra), avanafil (Stendra) and tadalafil (Cialis and Adcirca).
Medications for the treatment of diabetes such as alogliptin (Nesina), acetohexamide (Dymelor), chlorpropamide (Diabinese), canagliflozin (Invokana) and bromocriptine (Cycloset).
Monoamine oxidase inhibitors such as isocarboxazid (Marplan, Marplon and Enerzer), phenelzine (Nardil, Nardelzine), selegiline (Anipryl, Eldepryl, Emsam, Zelapar) and tranylcypromine (Parnate).
Other medications of weight loss such as nalterxone (Contrave), phentermine (Suprenz, Obenix, Adipex-P) and saxenda.
Psychiatric or mood-stabilizing drugs such as lithium (Lithobid, Priadel and Quilonum).
Selective estrogen receptor blocker such as tamoxifen (Soltamox).
Selective norepinephrine reuptake inhibitors (SNRIs) such as duloxetine (Cymbalta) and venlafaxine (Effexor).
Selective serotonin reuptake inhibitors (SSRIs) such as paroxetine (Paxil), fluoxetine (Prozac, Sarafem), fluvoxamine (Faverin, Fevarin, Luvox, Floxyfral), escitalopram (Lexapro) and citalopram (Celexa).
Serotonin receptor antagonists such as odansetron (Zofran).
Tricyclic antidepressants (TCAs) such as amitriptyline (Elavil), amoxapine (Asendin, Defanyl, Demolox), clomipramine (Anafranil), desipramine (Norpramin), doxepin (Sinequan), imipramine (Tofranil), nortriptyline (Aventyl, Pamelor), protriptyline (Vivactil), and trimipramine (Surmontil).
This list of drugs interacting with Lorcaserin is not complete and other drugs may also interact with it. Always consult your doctor about the medications you use.
Does Lorcaserin have any interaction with diseases?
It has been observed that following medical conditions (disease) may interact with Lorcaserin:
Hypersensitivity: Lorcaserin is not recommended in case of people who are allergic or hypersensitive to Lorcaserin or any of its ingredients.
Depression (Psychosis): Administration of Lorcaserin (that targets central nervous system) may result in depression and suicidal thoughts. Supratherapeutic dosages (maximum dose in a medical treatment) of Lorcaserin has been associated with some psychiatric events including euphoria (feeling of intense excitement and happiness), hallucination, and dissociation (a mental process leading to lack of connection in a person's thoughts, memory and sense of identity). Lorcaserin therapy should be administered very cautiously in patients with depression and psychiatric illnesses and the dose of the drug should never exceed 10 mg twice a day. A close monitoring of the patients is required for the emergence or exacerbation of depression, suicidal ideation and any changes in mood/behaviour.
Valvulopathy: Lorcaserin therapy may result in the development of regurgitant cardiac valvular disease that primarily affects the mitral and/or aortic valves. Administration of Lorcaserin should be done with caution in patients with congestive heart failure or who have had valvulopathy earlier. Immediate medical treatment is recommended in patients who develop signs and symptoms of valvular heart disease (weakness, dizziness, fatigue, edema, or arrhythmia) during Lorcaserin therapy.
Bradycardia: Administration of Lorcaserin may bring about a decrease in heart rate which is more in case of patients with type 2 diabetes in contrast to patients without diabetes. The drug should be administered with caution in patients with bradycardia or a history of heart block.
Breast Cancer: Use of Lorcaserin has been associated with an elevation in prolactin (hormone) level. In vitro studies have shown the association of prolactin level to breast cancer. Animal studies have indicated the development of mammary tumors in case of chronic administration of other prolactin-stimulating drugs such as neuroleptics, phenothiazines. Therefore, Lorcaserin therapy should be administered cautiously in patients with a previously detected breast cancer.
Liver Disease: The metabolism of Lorcaserin is extensively carried out by liver involving multiple enzymatic pathways. Exposure of the drug and its half-life may get increased in patients with mild and moderate hepatic impairment without much effect. Dosage adjustment is not required in case of patients with mild to moderate hepatic impairment. Lorcaserin therapy should be administered cautiously in patients with severe hepatic impairment due to lack of studies on the pharmacokinetics of the drug during severe hepatic impairment.
Priapism: Administration of Lorcaserin may result in the development of condition known as priapism (owing to its 5-HT2C receptor agonist activity) which is characterized by prolonged and painful erections that can last for more than 4 hours. If the condition is not treated immediately it can lead to irreversible damage to the erectile tissue of the penis. It is therefore recommended to cautiously administer Lorcaserin therapy in patients with a history of priapism, conditions that may predispose them to priapism (such as sickle cell anemia, thalassemia, multiple myeloma, leukemia), or anatomical deformations of the penis (including angulation, cavernosal fibrosis, Peyronie's disease). The drug should be immediately discontinued whenever a patient experiences an erection lasting longer than 4 hours.
Renal Dysfunction: The metabolism of Lorcaserin is brought about in liver by multiple enzymatic pathways, while the metabolites are primarily eliminated via kidney. Although the exposure of the drug does not vary significantly in patients with varying degrees of renal function, but that of its metabolites (sulfamate and N-carbamoyl-glucuronide) differ being several fold higher in case of severe renal impairment. Dosage adjustment is not required in case of patients with mild renal impairment. The drug should be administered with caution in patients with moderate renal impairment and not recommended in case of severe renal impairment or end stage renal disease.

Diabetes: Administration of Lorcaserin for the treatment of obesity or increased weight may cause a reduction in blood sugar i.e., hypoglycemia in patients with type 2 diabetes mellitus who also take medicines for treating type 2 diabetes mellitus. A close monitoring of the patients with type 2 diabetes mellitus is necessary during weight loss therapy for any signs of hypoglycemia (including nervousness, headache, tremor, drowsiness, confusion, dizziness, hunger, weakness, perspiration, and palpitation) and the dosage reduced or adjusted for oral hypoglycemic medication or insulin.
Leukopenia: Use of Lorcaserin may bring about a reduction in the white blood cell count (leukopenia) and other hematological changes. A periodic monitoring of the complete blood cell count is therefore recommended during Lorcaserin therapy.
Where can I get more information?
Your pharmacist or health care provider can provide more information about Lorcaserin.
Clinical research and current scenario of the drug
Clinical studies indicate impairments in attention and memory as the adverse effects in patients treated with Lorcaserin.
Short term studies in patients administered with Lorcaserin therapy (at supratherapeutic doses) indicate the associated psychiatric events of euphoria, hallucination, and dissociation.
Randomized, double-blind, placebo-controlled trials indicate the safety and efficacy of Lorcaserin for chronic weight management in conjunction with reduced caloric intake and increased physical activity.
Animal studies suggest a reduction in body weight in offspring due to maternal exposure to Lorcaserin in late pregnancy that persists till adulthood.
Clinical studies in animals or humans demonstrate evidences of fetal abnormalities or risk outweighing any possible benefit to the patient on Lorcaserin therapy during pregnancy.
Studies do not establish the safety and efficiency of coadministration of Lorcaserin with other products intended for weight loss including prescription drugs (e.g., phentermine), over-the-counter drugs, and herbal preparations.
No studies are available related to the use of Lorcaserin in patients with congestive heart failure or valvular heart disease.
The safety and efficacy of Lorcaserin has not been established in pediatric patients below the age of 18 years and not recommended.
No data exists from animal or human studies to evaluate whether Lorcaserin can induce physical dependence, as evidenced by a withdrawal syndrome.
The BLOOM-DM (Behavioral Modification and Lorcaserin for Obesity and Overweight Management in Diabetes Mellitus) study has established the efficacy and safety of Lorcaserin for weight loss in patients with type 2 diabetes.
References from chemical, biological and toxicological databases
Lorcaserin – Wikipedia, the free encyclopedia. https://en.wikipedia.org/wiki/Lorcaserin
DrugBank: Lorcaserin. http://www.drugbank.ca/drugs/DB04871
Lorcaserin | C11H14ClN | ChemSpider. http://www.chemspider.com/Chemical-Structure.9833595.html
Lorcaserin: MedlinePlus Drug Information. https://www.nlm.nih.gov/medlineplus/druginfo/meds/a613014.html
Lorcaserin | C11H14ClN – PubChem. https://pubchem.ncbi.nlm.nih.gov/compound/Lorcaserin
Lorcaserin, a novel selective human 5-hydroxytryptamine2C agonist: in vitro and in vivo pharmacological characterization. http://www.ncbi.nlm.nih.gov/pubmed/18252809
Efficacy and safety of lorcaserin in obese adults: a meta-analysis of 1-year randomized controlled trials (RCTs) and narrative review on short-term RCTs. http://www.ncbi.nlm.nih.gov/pubmed/23331711
Safety and efficacy of lorcaserin: a combined analysis of the BLOOM and BLOSSOM trials. http://www.ncbi.nlm.nih.gov/pubmed/25414931
The safety and efficacy of lorcaserin in the management of obesity. http://www.ncbi.nlm.nih.gov/pubmed/24200762
 Lorcaserin for weight management. http://www.ncbi.nlm.nih.gov/pubmed/23788837
Lorcaserin: A novel antiobesity drug. http://www.ncbi.nlm.nih.gov/pmc/articles/PMC4008925/
Lorcaserin (Belviq) : A Selective Serotonin 5-HT2C Agonist In the Treatment of Obesity. http://www.ncbi.nlm.nih.gov/pmc/articles/PMC3828930/
Lorcaserin Hcl for the treatment of obesity. http://www.ncbi.nlm.nih.gov/pubmed/26472579
Lorcaserin: A novel antiobesity drug. http://www.ncbi.nlm.nih.gov/pubmed/24799830