What is Hydrocodone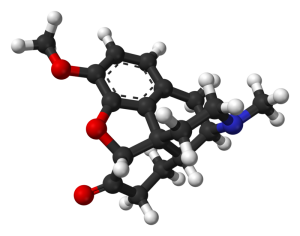 Hydrocodone is an opioid substance which is synthesized from codeine, an opioid alkaloid that can be found in the opium poppy. This drug is narcotic analgesic which is used orally for relieving the moderate to severe pain, but it is also commonly used in liquid form as an antitussive agent.
Hydrocodone is predominantly prescribed in the US. According to the the International Narcotics Control Board, 99% of the worldwide hydrocone supply in 2007 was consumed in the US.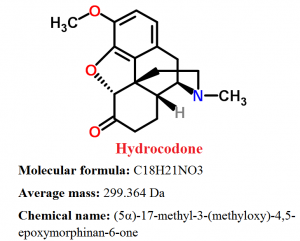 Hydrocodone brand name
The drug is available under generic names: Hydrocodone, Dihydrocodeinone, Idrocodone, Hydrocodone bitartrate and Hydrocodone polistirex.
Most common Brand names are: Hysingla ER, Zohydro ER, Norco, Vicodin and Robidone.
This drug is usually used in combination with other drugs. Most common combinations are: Vicoprofen, Ibudone (containing Hydrocodone and Ibuprofen), Lorcet, Hycet, Vicodin, Zydone (containing Hydrocodone and Acetaminophen), Caldomine (containing Hydrocodone, Mepyramine, Pheniramine and Phenylpropanolamine), and Novahistex (containing Hydrocodone and Phenilephrine).
What is the source of the drug (natural or synthetic)?
Hydrocodone is a semi-synthetic opioid drug that is synthesized from opioid alkaloid codeine.
Why is Hydrocodone prescribed
Hydrocodone is narcotic analgesic. It works by changing the way the brain and nervous system respond to pain.
Hydrocodone is used for relieving the moderate to moderately severe pain.
Hydrocodone is also used for symptomatic relief of nonproductive cough, alone or together with other cough suppressants or expectorants.
As an analgesic, hydrocodone is usually combined with ibuprofen, acetaminophen or aspirin for pain treatment.
As an antitussive agent, hydrocodone is used together with phenylephrine, phenylpropanolamine, pseudoephedrine, pyrilamine, pheniramine, chlorpheniramine or guaifenesin.
The analgesic action of hydrocodone starts in 20–30 minutes and lasts for about 4–8 hours. However, hydrocodone is only used for the treatment of patients who are expected to need painkiller for severe pain around-the-clock for a long time, and who cannot be treated with other medicines or treatments.
Extended-release capsules or extended-release tablets should not be used to manage pain that can be controlled by medicine that is taken as needed.
Pharmacophore structure: Information about the chemical structure of Hydrocodone
Hydrocodone belongs to the class of organic compounds known as morphinans, which are polycyclic molecules with a four-ring skeleton that has 3 condensed six-member rings which are forming a partially hydrogenated phenanthrene structure, one of which is aromatic while the other two others are alicyclic.
| | |
| --- | --- |
| Kingdom | Organic compounds |
| Super Class | Alkaloids and derivatives |
| Class | Morphinans |
| Sub Class | Not available |
| Direct Parent | Morphinans |
Chemical information of the drug
Hydrocodone bitartrate occurs as fine, white crystals or as a crystalline powder.
Hydrocodone is affected by light.
Hydrocodone's melting point is 198 °C
LogP value is 1.2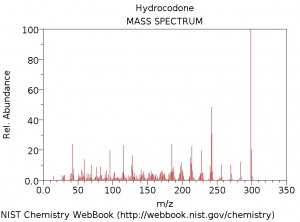 What are the different dosage forms and strengths of hydrocodone?
Hydrocodone is available in form of syrup (1mg), tablets (5mg), extended release tablets (20, 30, 40, 60, 80, 100 and 120 mg), and extended release capsules (10, 15, 30, 40, and 50 mg).
How Hydrocodone works
Hydrocodone is a weak agonist of OP1, OP2, and OP3 opiate receptors in the CNS – central nervous system. Hydrocodone predominantly affects OP3 receptors, which are coupled with G-protein receptors and functioning as modulators, both negative and positive of synaptic transmission through G-proteins which activate effector proteins.
Binding of the opiate stimulates the exchange of GTP with GDP protein on the complex of G-protein. Hydrocodone decreases intracellular levels of cAMP by inhibiting the enzyme called adenylate cyclase.
Successively, the release of nociceptive neurotransmitters such as GABA, substance P, dopamine, acetylcholine, and noradrenaline is inhibited. This drug can also inhibit the release of somatostatin, vasopressin, insulin, and glucagon.
Hydrocodone closes N-type voltage-operated calcium channels, acts as a OP2-receptor agonist and open calcium-dependent inwardly rectifying potassium channels – OP3 and OP1 receptor agonist actions. The results are hyperpolarization and reduced neuronal excitability in the CNS.
Agonist activities at the mu and kappa receptors can cause analgesia, miosis, and decreased body temperature. Agonist activity at the mu receptor can also cause the suppression of opiate withdrawal, while antagonist activity can result in precipitation of withdrawal.
Hydrocodone acts at several locations within the CNS by involving several systems of neurotransmitters to produce analgesia, but the precise mechanism of action has not been fully understood.
Opiate agonists don't change the threshold or responsiveness of afferent nerve endings to noxious stimuli nor the conduction of impulses along peripheral nerves. Instead, they alter the perception of pain at the spinal cord and higher concentrations in the CNS and the person's emotional response to pain.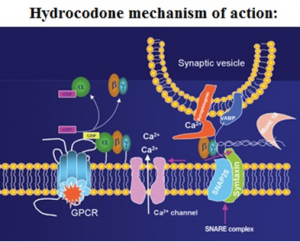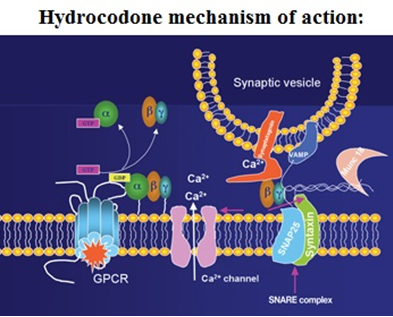 How to take hydrocodone
Hydrocodone is produced as an extended-release capsule and an extended-release tablet. The extended-release capsule should be taken once on every 12 hours. The extended-release tablet is usually taken once per day. Hydrocodone should be taken at around the same time(s) every day.
The extended-release capsules or extended-release tablets should be swallowed one at a time with plenty of water.
Doctor may probably start with therapy on a lower dose of hydrocodone and may gradually increase the dose, not more than once on every 3 to 7 days if it is needed for pain control. After hydrocodone is used for a period of time, body may become used to the medication and patients may develop tolerance. If this happens, doctor may increase the dose of hydrocodone or he can also prescribe a different drug to help control the pain.
Patients should not stop taking hydrocodone without talking with their doctor first. If they suddenly stop taking hydrocodone, they may experience the symptoms of withdrawal such as: teary eyes, restlessness, runny nose, sweating, appetite, vomiting, diarrhea, fast breathing, or fast heartbeat, chills, yawning, ack or joint pain, weakness, stomach cramps, muscle pain, widened pupils – black circles in the middle of the eyes, irritability, anxiety, difficulty falling asleep or staying asleep, nausea, loss of appetite. Doctor will probably decrease the dose gradually.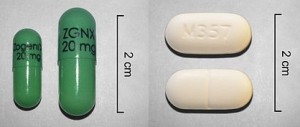 Recommended doses of Hydrocodone
This drug should be prescribed only by healthcare professionals who are experts in the use of potent opioids for the management of chronic pain.
Initial dose of hydrocodone should be given to each patient individually, taking into account the patient's risk factors for addiction, abuse, and misuse and prior experience of analgesic treatment.
Patients should be monitor closely for serious side effects such as respiratory depression, especially within the first 24-72 hours from the beginning of therapy.
Initial doses for patients who are not opioid tolerant:
Hydrocodone Extended-Release Capsules – Initial dose: 10 mg orally every 12 hours
Hydrocodone Extended-Release Tablets – Initial dose: 20 mg orally every 24 hours
Use of higher initial doses in patients who are not opioid tolerant may cause fatal respiratory depression; patients should be closely monitor for respiratory depression, especially during the first 24 to 72 hours.
Titration and maintance:
Individually titration to a dose that provides adequate painkilling effects and minimizes adverse effects should be made for each patient.
Dose adjustments for hydrocodone extended-release capsules should be made in 10 mg increments every 12 hours, every 3 to 7 days.
Dose adjustments for hydrocodone extended-release tablets should be made in 10 to 20 mg increments every 24 hours, every 3 to 5 days.
If unacceptable side effects occur, the dose may be reduced.
Hydrocodone Pharmacokinetics
Absorption: Hydrocodone is well absorbed from the gastrointestinal tract. Hydrocodone show peak plasma concentrations approximately 5 hours after dose administration.
Food has no significant effect on the level of absorption of hydrocodone. Studies showed that peak plasma concentration of hydrocodone was increased by 27% when a Zohydro 20mg capsules was administered with a high-fat meal.
Distribution: Although the degree of hydrocodone protein binding in plasma has not been definitively determined, in theory, structural similarities to related opioid analgesics containing morphinan group suggest that hydrocodone is not extensively protein bounding drug. The range of protein binding for hydrocodone is proposed to be from 19 to 45%.
Metabolism: Hydrocodone is metabolized in liver and intestinal mucosa. It is a substrate for Cytochrome P450 2D6 that gives hydromorphone as a product and Cytochrome P450 3A4 that gives norhydrocodone as a product.
Metabolic reactions are: N-demethylation, O-demethylation, and 6-keto reduction. Hydromorphone is formed from in the reaction of hydrocodone O-demethylation of and may contribute to the total analgesic effect of hydrocodone.
Excretion: Hydrocodone and its metabolites are eliminated predominantly in the kidneys. Hydrocodone half-life is around 1.25 to 3 hours.
Special Populations
Elderly (≥ 65 years): No significant pharmacokinetic changes by age were observed based on population pharmacokinetic analysis.
Gender: No significant pharmacokinetic changes by gender were observed based on population pharmacokinetic analysis.
Precautions when taking hydrocodone
What special precautions should I follow or What should I avoid while using Hydrocodone?
Before taking Hydrocodone:
Patients should tell their doctor and pharmacist if they are allergic to hydrocodone, or any other medicines, or any of the ingredients that are used in the production of hydrocodone extended-release capsules or extended-release tablets.

Patients should tell their doctors or pharmacists what prescription and nonprescription medicines, vitamins or nutritional supplements they are taking or plan to take.

Patients should also tell their doctors if they are using any of the following medications: antihistamines; dronedarone (Multaq); medications for irritable bowel disease, Parkinson's disease, ulcers, haloperidol (Haldol); azithromycin (Zithromax, Zmax); amiodarone (Cordarone, Pacerone, Nexterone); butorphanol;chlorpromazine; citalopram (Celexa); laxatives such as lactulose (Cholac, Constulose, Enulose, others); nalbuphine; or pentazocine (Talwin), levofloxacin (Levaquin).
They should also tell their doctors if they are taking the following medications or have stopped taking them within the past two weeks: isocarboxazid (Marplan), selegiline (Eldepryl, Emsam, Zelapar), phenelzine (Nardil), rasagiline (Azilect), or tranylcypromine (Parnate). Doctor may need to change the doses of medicines or monitor carefully for side effects.
This drug shouldn't be used if patient has blockage of stomach or intestines, or paralytic ileus.
Patients should tell their doctor if they have or have ever had hypotension, difficulties with urinating, seizure attacks, or any of the thyroid, liver, kidney, gall bladder or pancreas disease.
If patients are taking the extended-release tablets, they should tell their doctor if they have or have ever had difficulties with swallowing, colon cancer, esophageal cancer, heart failure or heart rhythm problems such long QT syndrome.
Patients should tell their doctor if they are breastfeeding.
If patients are having surgery, including dental surgery, they should tell their doctor or dentist that they are taking hydrocodone.
Hydrocodone may make patients drowsy. Patients taking hydrocodone should not drive a car or operate machinery.
Hydrocodone may cause dizziness, fainting and lightheadedness, if patient get up too quickly from a lying position. This is more common when initial dose of hydrocodone is taken. To avoid this problem, patients should slowly get out of bed, resting their feet on the floor for a few minutes before standing up.
Hydrocodone can cause constipation. Patients should talk with their doctor about changing diet and using other medications to treat or prevent constipation.
Which pregnancy category (A; B; C; D; X) has been assigned to Hydrocodone?
Hydrocodone has been given pregnancy category C by the FDA. This means that risk is not ruled out – "Animal reproduction studies have shown an adverse effect on the fetus and there are no adequate and well-controlled studies in humans, but potential benefits may warrant use of the drug in pregnant women despite potential risks."
If patients are taking hydrocodone frequently during pregnancy, their baby may experience life-threatening withdrawal symptoms after birth.
Mother who used hydrocodone during pregnancy should call their doctors if their baby experiences any of these symptoms: abnormal sleep, uncontrollable shaking of a part of the body irritability, hyperactivity, high-pitched cry, diarrhea vomiting, or loss of apetite.
Hydrocodone Breastfeeding Warnings
Hydrocodone is present in human milk. Studies showed variable concentrations of hydrocodone and its metabolite hydromorphone in breast milk of nursing mothers in the early post-partum period.
Because of the potential for causing serious side effects, including sedation and respiratory depression in a breastfed infant, breastfeeding women should be advised that hydrocodone usage is not recommended during breastfeeding.
How to dispose of hydrocodone
What should I know about storage and disposal of this medication?
This medication should be kept in the container it came in, out of reach of children and tightly closed. It should be stored at room temperature and away from extra heat and moisture (not in the bathroom). Outdated medications should be thrown away. Patients should talk with their pharmacist about the proper disposal of this medication.
What special dietary instructions should I follow?
Unless doctor tells otherwise, patients should continue their normal diet.
What should I do if I forget a dose?
The missed dose should be taken as soon as patients remember it. However, if it is almost time for the next dose, patients should skip the missed dose and continue the regular dosing schedule.
They should never take a double dose to make up for a missed one. Patients should not take more than one dose of hydrocodone extended-release capsules in 12 hours or extended-release tablets in 24 hours.
Hydrocodone side effects
The table below shows the incidence of side effects after hydrocodone administration in recommendable doses. The incidence can be increased if this drug is overdosed.
| | |
| --- | --- |
| Very Common >10% | Constipation (8-11%) |
| Common 1-10% | Nausea (7-10%), Headache (4%), Vomiting (3-5%), Somnolence (1-5%), UTI (1-5%), Dry mouth (3%), Pruritus (3%), Tremor (3%), Fatigue (1-4%), Back pain (1-4%), Dizziness (2-3%), Peripheral edema (1-3%), URI infection (1-3%) and Muscle spasms (1-3%), Decreased appetite (2%), Tinnitus (2%), Insomnia (3%), Influenza (3%) |
Hydrocodone's Addiction, Abuse, and Misuse
As an opioid, hydrocodone exposes patients to the risks of addiction, abuse, and misuse. Modified-release products such as ZOHYDRO ER can deliver hydrocodone over an prolonged period of time, so there is a greater risk for overdose and death due to present of the larger amount of hydrocodone.
Although the risk of addiction is unknown, it can occur in patients appropriately prescribed hydrocodone and in those who obtain this narcotic drug illegally. Addiction can occur at recommended doses and if the drug is misused or abused.
Risks are always increased in patients with a personal or family history of substance abuse such as drug or alcohol addiction or abuse or mental illness for example major depression. However, the potential of these risks should not prevent the prescribing of ZOHYDRO ER and similar opioids with hydrocodone for the proper management of pain. Patients at increased risk may be prescribed modified-release opioid formulations, but use in such patients needs intensive counseling about the risks and proper use of such product.
Abuse or misuse of hydrocodone by chewing, crushing, snorting, or injecting the dissolved product will result in the uncontrolled delivery of the hydrocodone and can result in overdose and deathif this drug is overdosed.
Narcotic opioid agonists such as hydrocodone are wanted by drug abusers and people with addiction disorders are subject to criminal diversion. These risks should be always considered when prescribing or dispensing hydrocodone.
Life-Threatening Respiratory Depression after Hydrocodone usage
Life-threatening, very serious or fatal respiratory depression can be caused after hydrocodone administration even in recommendable doses. Respiratory depression from opioid use, if it is not immediately recognized and managed may lead to respiratory arrest and death.
Depending on the patient's clinical status, therapy of respiratory depression includes close observation, supportive measures, and the use of opioid antagonists.
Carbon dioxide retention from opioid-induced respiratory depression can exacerbate the sedating effects of opioids. The risk is greatest during the beginning of therapy or when dose is increased.
There are also cases when accidental ingestion of even one dose of hydrocodone, especially in children, can result in respiratory depression and death due to an overdose of hydrocodone.
Hydrocodone drug interactions
Inhibitors of CYP3A4 and 2D6: Because the isoenzyme CYP3A4 plays a main role in the hydrocodone metabolism, drugs that inhibit activity of CYP3A4 may cause decreased hydrocodone clearance which could lead to increase in hydrocodone plasma concentrations and result in prolonged and increased opioid effects.
These effects could be more pronounced with concomitant use of CYP2D6 and 3A4 inhibitors. If co-administration with hydrocodone is necessary, patients should be monitor for respiratory depression and sedation at frequent intervals and consider dose adjustments until stable drug effects are achieved.
Inducers of CYP3A4: Cytochrome P450 3A4 inducers may induce hydrocodone metabolism and, thus, may cause increased clearance which could lead to a decrease in plasma concentrations of hydrocodone, lack of efficacy or development of a withdrawal syndrome in a patient who had developed physical dependence to hydrocodone.
After stopping the treatment of a CYP3A4 inducer, as the effects of the inducer decline, the hydrocodone plasma concentration may increase which could increase or prolong both the therapeutic and adverse effects, and may cause serious respiratory depression.
Mixed Agonist/Antagonist Opioid Analgesics: If mixed agonist/antagonist such as pentazocine, nalbuphine or butorphanol and partial agonist such as buprenorphine are used together with hydrocodone, they may reduce the analgesic effect of hydrocodone or precipitate withdrawal symptoms.
Monoamine Oxidase Inhibitors – MAO inhibitors: The effects of opioid analgesics may be potentiated by MAO – monoamine oxidase inhibitors.
Hydrocodone is not recommended for administration in patients who have used MAO inhibitors within last 14 days as severe and unpredictable potentiation by MAOI has been reported in combination with opioid analgesics.
However, no specific interaction between hydrocodone and MAO inhibitors has been observed, but caution is needed.
Anticholinergics: Anticholinergics or other drugs with anticholinergic activity when used together with opioid analgesics may increase the risk of severe constipation or urinary retention, which may lead to paralytic ileus.
Patients should be monitored for signs of urinary retention and constipation in addition to respiratory and CNS depression when hydrocodone is used together with anticholinergic drugs.
Does Hydrocodone have any interaction with Diseases
Elderly, Cachectic, and Debilitated Patients: Respiratory depression is more likely to occur in elderly, cachectic, or debilitated patients as they may have altered pharmacokinetics or altered clearance compared to younger, healthier patients.
Such patients have to be monitored closely, particularly when initiating and titrating the dose of hydrocodone, and also when hydrocodone is given together with other drugs that depress respiration.
Chronic Pulmonary Disease: Patients with significant chronic obstructive pulmonary disease or cor pulmonale, and patients having a substantially decreased respiratory reserve, hypoxia, hypercapnia, or preexisting respiratory depression should be monitored for respiratory depression in particularly when initiating therapy and titrating the hydrocodone dose.
Hypotension: Hydrocodone may cause severe hypotension including orthostatic hypotension and syncope in ambulatory patients. There is an added risk to individuals whose ability to maintain blood pressure has been compromised by a depleted blood volume, or after concurrent administration with drugs such as phenothiazines or other agents which compromise vasomotor tone.
Head Injury and Increased Intracranial Pressure: Patients taking hydrocodone, who may be susceptible to the intracranial effects of CO2 retention such as those with evidence of increased intracranial pressure or brain tumors, should be monitored for signs of sedation and respiratory depression. Opioids may also obscure the clinical course in a patient with a head injury.
Hydrocodone should be avoided in patients with impaired consciousness or coma.
Gastrointestinal Conditions: Hydrocodone is contraindicated in patients with known or suspected paralytic ileus. Opioids diminish propulsive peristaltic waves in the gastrointestinal tract and decrease bowel motility.
Decreased bowel motility in post-operative patients receiving opioids should be monitored. The administration of hydrocodone may obscure the diagnosis or clinical course in patients with acute abdominal conditions. Hydrocodone may cause spasm of the sphincter of Oddi. Patients with biliary tract disease, including acute pancreatitis should be also monitored.
Convulsions or Seizure Disorders: The hydrocodone may exacerbate convulsions in patients with convulsive disorders, and may induce or exacerbate seizures in some clinical settings.
Information retrieved from:
http://www.chemspider.com/Chemical-Structure.4447623.html?rid=ee32005c-19f5-4679-b758-90ee4a024360
http://www.drugs.com/pro/zohydro-er-capsules.htmlv
http://reference.medscape.com/drug/zohydro-er-hysingla-er-hydrocodone-343312#4
https://www.nlm.nih.gov/medlineplus/druginfo/meds/a614045.html#why
https://pubchem.ncbi.nlm.nih.gov/compound/hydrocodone#section=Use-and-Manufacturing
http://www.drugbank.ca/drugs/DB00956
http://www.webmd.com/drugs/2/drug-251/hydrocodone-acetaminophen-oral/details
"Is tramadol stronger than hydrocodone?"
"Metformin Drug Class, Uses, Dosage, Side Effects"