What is Soframycin?
Soframycin is a brand name for a medicine that contains framycetin sulfate as an active ingredient. It is used for the treatment of bacterial infection of the skin lesions, infections after injury, and bacterial infections of burns, otitis externa (caused by susceptible bacteria), sinus infection and other conditions.
What are the uses of Soframycin cream?
Soframycin cream (Framycetin Sulphate) is a topical treatment for ulcers, skin graft sites, burns, wounds or otherwise damaged skin that has become infected or may potentially be infected. It works by preventing bacteria from reproducing and killing the bacteria that are causing an infection. It can also be used to treat secondary infections such as lice and scabies.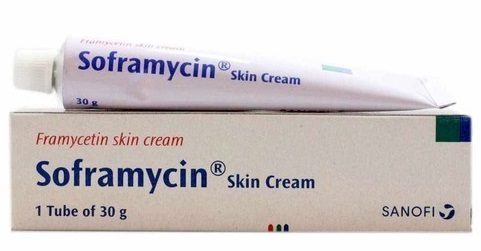 Soframycin cream is used for the treatment, control, prevention, & improvement of the following diseases, conditions and symptoms:
Bacterial infection of the skin lesions
Infections after injury
Burns
Otitis externa caused by susceptible bacteria
Sinus infection
Superficial eye infection caused by susceptible infections
What is the mechanism of action of the Soframycin?
Soframycin contains framycetin which is an aminoglycoside antibiotic that contains neomycin B with broad spectrum antibacterial activity. It inhibits the translation during protein synthesis of bacteria. It is mainly used in topical preparation and is poorly absorbed.
What are the side effects of Soframycin cream?
The most commonly reported side-effects of Soframycin cream are skin rashes, and skin rash or allergy due to contact with the ointment. The side effects of Soframycin cream are not always occurring and some of the side effects may occur but the chances of side effects are there.
The following is a list of possible side effects that may occur from the use of Soframycin Cream. This is not a comprehensive list. If your side effects does not go away, consult your doctor right away.
Skin Rashes
Allergy due to contact with the ointment
Stinging, burning or itching at application site
Skin irritation
Inflammation
Dry skin
Sensitive skin
Other common side effects are ototoxicity, burning sensation, tingling sensation, hearing loss, irritation, rash, and itching. You should tell your doctor about any reactions or side effects of the skin that may occur. Seek medical attention immediately if any side effect is severe or serious.
Dosage and Administration of Soframycin cream
Soframycin cream should be administered as prescribed by your doctor. For the correct dosage and length of treatment, you should consult a doctor.
You doctor will advise you to apply the cream directly on the affected area or the area that requires treatment. You should follow all the instructions and should never apply excess amount or more than prescribed amount of the cream. Wash your hands thoroughly and dry them completely before applying the cream. Apply a very thin layer of the cream on the skin. You should not cover or wrap the area with dressing or right clothing.
What are the precautions required for Soframycin cream?
Soframycin is a topical preparation and should be applied on the skin. It should never be ingested. Medical attention is required immediately if it ingested accidently. If you suffer from an allergic reaction, seek immediate emergency medical attention.
Soframycin Cream (Framycetin Sulphate) should never be ingested. If accidental ingestion occurs, medical attention will be required immediately. In case of allergy that occur after applying soframycin, they should be considered immediately. Such symptoms of allergies are skin rashes, hives, and swelling of the face or limbs.
You should never self-medicate or change the dosage of this medication without first consulting your doctor. The correct dosage can vary depending on your health, medical history, and the severity of the condition being treated.
Soframycin Cream (Framycetin Sulphate) may not be safe for all patients. Before you begin using it always disclose the following to your doctor:
If you are pregnant or breastfeeding.
If you suffer from any allergies.
If you suffer from any other health conditions or illnesses.
If you are using any other medicine (including all non-prescription).
If you are using any supplements, vitamins, or herbal products of any kind.
How to use Soframycin cream?
This medication is for external safety. You should use it in the dose given by the doctor and also time period for how long this medication to be applied should be followed. Clean and dry the affected area and apply the cream. Wash your hands after applying, unless hands are the affected area.
Soframycin drops
Soframycin ear/eye drops are a sterile colorless solution in an amber colored glass dropper. Each bottle of 8ml of solution
Ingredients: Soframycin does not contain lactose, sucrose, gluten, tartrazine or any other azo dyes. It contains:
Active ingredients: Framycetin sulfate 5mg/ml
Inactive ingredients: citric acid anhydrous, sodium citrate, sodium chloride, benzalkonium chloride (as preservative), distilled water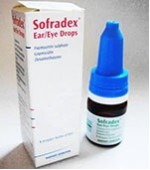 What are the indications of Soframycin drops?
Soframycin cream and Soframycin drops both acts as an antibiotic and is beneficial in killing the bacteria. Soframycin drops indicated in:
Conjuctivitis
Blephritis
Styes (Infection of sebaceous glands which are present at the base of eyelashes)
Corneal abrasions and burns
Prophylactically following removal of foreign bodies
It is also indicated for corneal ulcers (alone or as a complement to the use of Soframycin by subconjunctival injection).
What are the contraindications of Soframycin drops?
It is contraindicated in the patients hypersensitive to framycetin or any other ingredient of this preparation.
What is the dosage and directions for use of Soframycin drops?
Soframycin drops should be used for the daytime preferably. It should be used as:
1 to 2 drops in every one or two hours in acute conditions for two to three days
You should not use this drug more than 30 days after the opening of the container.
Soframycin Eye Ointment: It should be used as two or three applications of the ointment in the eye daily, or at bedtime if eye drops have been used during the day.
What are the side effects of Soframycin drops?
One can develop sensitizations reactions after using this medication; however chances are very rare for such conditions. As soon as you are not feeling well after using this medication, let your doctor know about your condition.
Soframycin drops rarely cause allergic reactions therefore few people may report any kind of side effect of this medication. If you notice persistent itching or redness in your eyes or itching in your ears, let your doctor know in order to avoid any mishappening.
Who should not use Soframycin drops?
Any person, who has sensitivity to Soframycin or any of its ingredients, should not use this medication. A person having a hole in his/her eardrum should not use Soframycin drops. Do not use this medication if you are pregnant or going to be pregnant. It is not considered as safe for use in pregnancy.
Soframycin drops may not work so effectively after passing its expiry date therefore you should not use an expired Soframycin drops. In case of expiry date is not printed on the carton of the Soframycin, you should not use that product also. If the packaging and carton of Soframycin are torn or shows the signs of tempering, you should not use or buy that product also. Ask your pharmacist or doctor if you are not sure about using this product.
How to use Soframycin drops?
Soframycin drops can be used by following the steps given below:
Keep the bottle under hygienic conditions and maintain the hygienicity by remove the cap from the bottle only before using and put it back on the bottle immediately after use. Avoid any touch on the tip of the opened bottle in order to avoid any contamination. Tilt your head to use the drops so that the affected ear is exposed to the medication to the maximum.
Drops 2 to 3 drops right into your affected ear. Try not to move your head for few minutes after dropping the medication in your ear so that medication stays at the affected area for some time and also it will make the drop to penetrate deeper into the ear.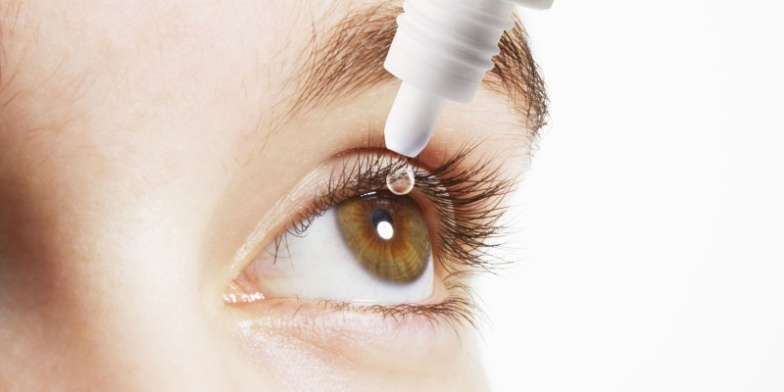 How long should I use Soframycin drops?
You should take this medication as told by your doctor or pharmacist. Do not stop this medication until you are advised to stop it. Continue using this medication ever after your conditions gets better, until your doctor told you to stop it.
How to store Soframycin drops?
Keep this medication in a cool, dry place, where the temperature is high! Do not refrigerate (below 250) this medication.  Keep this medication away from the reach of the children. A locked cupboard at least one-and-a half meters above the ground is a good place to store medicines.
How to dispose Soframycin drops?
Dispose this medication if your doctor asked you to stop this medication. If this medication crosses the expiry date, dispose this medication. You should ask your nearby pharmacist or by your doctor about the proper disposal of this medication. You can also return this left over mediation to the pharmacist by asking what to do with left over medicine.