What is Meclizine?
Meclizine is the generic name for antihistamine drug that works by reducing the effects of natural histamine in the body. It is used due to its antiemetic properties for the treatment of dizziness, nausea and vomiting caused by motion sickness. It is also used for relieving symptoms of vertigo caused by inner ear vestibular disease.
It can be also used for the treatment of sickness caused by radiation treatment. Although it belongs to the class of H1-antihistamines it is considered as ineffective for allergy symptoms. It is available in tablet form in doses of 12.5 mg, 25 mg, 50 mg and 100 mg.
It was officially approved by FDA in 1975, and manufactured by Citron pharmaceutical under the name of Antivert. As a prescription medicine it is most commonly available on the market under the brand name Antivert, and as an OTC medicine under Dramamine, Postafen, Sea Legs, Dramamine II  and Bonine brand names.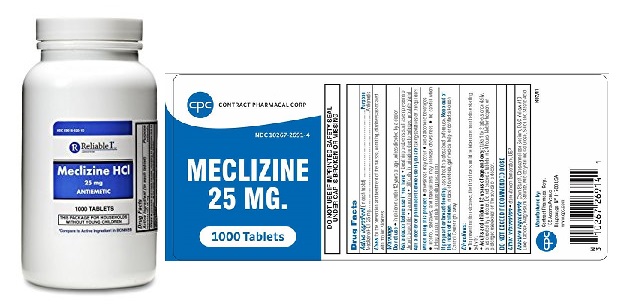 What are Meclizine's chemical class, formula and weight?
Meclizine is a piperazine derivative chemically similar to buclizine, cyclizine, and hydroxyzine. It belongs to the class of organic compounds that are known as diphenylmethanes. These are compounds containing a diphenylmethane moiety, which contains methane wherein two hydrogen – H atoms are replaced by two phenyl groups.
Meclizine molecular formula is C25H31Cl3N2O
Molecular weight for Meclizine is 481.885g/mol
Meclizine molecular formula: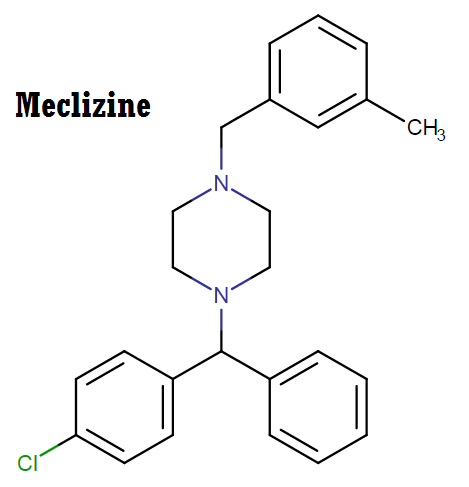 How does Meclizine work in our body?
Despite its H1-receptors antagonist actions, meclizine also possesses anticholinergic, CNS depressant, and local anesthetic activity. Meclizine is able to pass into CNS and depress the excitability of labyrinth and vestibular stimulation and may affect the medullary chemoreceptor trigger zone.
Mecilizine's antiemetic and antivertigo activities are not fully yet understood, but it has been proposed that anticholinergic activity might have important part. Animal models showed that Meclizine may also act as a dopamine antagonist at D1 and D2 receptors but it does not cause catalepsy in mice, possibly because of its anticholinergic activity.
What is Meclizine used for?
FDA approved meclizine use for following indications:
Motion sickness – for relieving symptoms of nausea, vomiting and dizziness. It is used in doses of 25-50 mg
Vertigo – as a result of inner ear infection
Meclizine's safety and efficacy for use in children younger than 12 years old has not been established, thus use in this population is not recommended. Also, meclizine should be used with caution in the elderly (older than 65 years) because of increased risk of confusion and amnesia.
Meclizine dosage
The amount of medicine taken into consideration for treatment purpose depends on the strength of the medicine and the length of time between each dosage per day. Meclizine is usually taken in oral form (tablets and chewable tablets).
To prevent and treat motion sickness:
For children under 12 years of age, doctor's consultation is recommended.
For adults above or of 12 years of age, the dosage is 25 to 50 mg an hour before traveling. It can repeat every twenty-four as per the need.
To prevent and treat vertigo (dizziness):
For children under 12 years of age, doctor's consultation is recommended.
For adults above or of 12 years of age, the dosage is 25 to 100 mg a day, taken in smaller dosages at regular intervals, as per the need.
Meclizine side effects
Meclizine can cause some side effects in the body, even if taken in recommendable doses. Some of them may include:
Cough
difficulty swallowing
dizziness
drowsiness
fast heartbeat
hives
itching
puffiness or swelling of the eyelids or around the eyes, face, lips, or tongue
shortness of breath
skin rash
tightness in the chest
unusual tiredness or weakness
Apart from these major side-effects, there are few others that occur in rare cases where an immediate visit to a doctor is recommended.
Blurred vision
Dry mouth
Headache
Precautions and warnings for using Meclizine
Meclizine is usually used for short-term medication. However, it is always recommended to consult a doctor before its use as it can create or even worsen problems in people. Before taking Meclizine, talk to a doctor if:
you are allergic to Meclizine or any of its ingredients.
you are using some medication that dull nervous system.
you are a person of old age.
you live in hot weather conditions
you intend to give a meclizine to a child younger than 12 years of age
Patients should be warned for:
Since drowsiness may occur, patients should be warned against driving a car or operating dangerous machinery.
Patients should avoid alcoholic while taking this drug
Due to its potential anticholinergic action, meclizine should be used with caution in patients with asthma, glaucoma, or enlargement of the prostate gland.
Meclizine should be administered with caution in patients with renal impairment
Meclizine should be administered with caution in patients with hepatic impairment
Meclizine can be used during pregnancy for nausea relief only if benefits outweigh the risks, and only if doctor recommends it.
It is not known if meclizine passes into milk, thus it should not be used during pregnancy.
You should not take Meclizine if you are administering any of the following:
Pottasium drugs, including potassium phosphate (K-Phos), chloride (Cl) or citrate (Urocit-K)
Sodium oxybate Xyrem (used to treat narcolepsy or some kinds of muscle problems)
How long does Meclizine take to work?
Meclizine takes almost 45 minutes to dissolve in the body sand start showing its effects. Therefore, it is always recommended to take Meclizine an hour before traveling.
How long does Meclizine stay in your system – blood, saliva, urine?
Meclizine stays for about 30 hours in your system. During this period, it is active in the body. After around 26 hours, the medicine starts flushing out of the body through urine. It has a shorter elimination half-life of 6 hours compared to cyclizine and hydroxyzine with about 20 hours
Meclizine during pregnancy
Meclizine is classified in the FDA pregnancy list of drugs class B which means that Animal reproduction studies have failed to demonstrate a risk to the fetus and there are no adequate and well-controlled studies in pregnant women thus it should be used only if clearly needed.
Studies have shown cleft palates are 25 to 50 times the human dose in animals. However during epidemiological studies, when this medicine was administered in pregnant women showed no significant signs of harm that can cause abnormalities in the fetus.
Meclizine during breastfeeding
It is not known whether meclizine pass into breast milk. Thus it should be avoided during breastfeeding. Theoretically, prolonged use of the medicine may hamper with the production of milk in the mother, particularly when combined with pseudoephedrine.
Antihistamines are known that in relatively high doses given by injection can decrease basal serum prolactin in nonlactating women and in early postpartum women. However, suckling-induced prolactin secretion is not affected by antihistamine pre-treatment in postpartum mothers.
Meclizine anticholinergic effects
Patients who have pre-existing conditions like gastrointestinal obstructive disorders; uncontrolled primary open-angle glaucoma, untreated intraocular hypertension or angle-closure glaucoma; and urinary retention or obstruction are likely to observe exacerbation of the same due to meclizines anticholinergic activity.
Can I take Meclizine as a sleep aid?
Meclizine is an antihistamine, used for curing drowsiness, nausea, vertigo, vomiting, motion sickness. Meclizine often causes sleepiness especially when administrated in high doses. However, high doses may lead to the other unwanted side effects, thus meclizine should not be used as a sleep aid.
Meclizine absorption, metabolism and elimination
Meclizine is well absorbed after oral administration with maximum plasma concentrations after 3 hours of post-dose (range: 1.5 to 6 hours) for the tablet dosage form.
In vitro study using human hepatic microsome and recombinant CYP enzyme have been found that CYP2D6 was found is a dominant enzyme for metabolism of meclizine.
Meclizine has a plasma elimination half-life of about 5 to 6 hours in humans.
Can children use meclizine safely?
Since there are no adequate studies in children younger than 12 years of age, meclizine should not be given to them.
Is Meclizine a prescription or OTC drug?
Meclizine is available both, as prescription and as OTC medicine. As a prescription drug it is available under the brand name Antivert.
What is the difference between prescription and OTC meclizine?
Meclizine is avaialble in prescription form under the brand name Antivert. Both form, OTC and prescription form can be used for the treatmant of motion sickness in doses of 25 and 50 mg  one hour before activities that may cause them.
The dose may be repeated once every 24 hours for as long as the activity lasts. The only difference between OTC and prescription form is that, OTC form can't be used for the treatment of vertigo. Despite OTC form of meclizine, Antivert can be presctibed in doses of 25 mg-100 mg divided in two or three doses per day.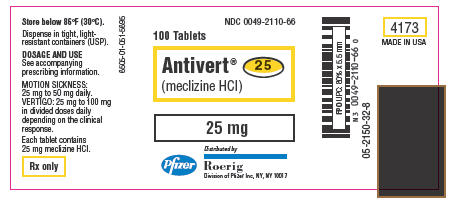 Is Meclizine a blood thinner?
Meclizine is not a blood thinner. However, its side effects may include blood thinner.
Can meclizine cause severe drowsiness?
Yes, drowsiness is common side effect of meclizine. Severe drowsiness can be experience if the drug is used in high doses or when it is taken together with alcohol and other depressants.
Does Meclizine cause blurred vision?
There are a few people who reported blurry vision who take Meclizine. This review analyzes which people have Blurred vision with Meclizine. Consumption of meclizine does have blurred vision as one of its side-effects.
If you are having blurred vision during the medication of Meclizine, it is most likely to continue as long as your medication is continued. Usually, it is prescribed for short term use so you must ask your doctor when to stop.
Meclizine acts as an antihistamine and has side effects like flushing of the skin, dry mouth, difficulty urinating, and blurred vision. Although visual changes are no common with Meclizine but you must consult your doctor when noticed any difference in vision.
Meclizine drug interactions
Common medications that interact with meclizine are:
Advair Diskus (fluticasone/salmeterol)
Aspirin Low Strength (aspirin)
Cymbalta (duloxetine)
Fish Oil (omega-3 polyunsaturated fatty acids)
Nexium (esomeprazole)
Norco (acetaminophen / hydrocodone)
Plavix (clopidogrel)
ProAir HFA (albuterol)
Singulair (montelukast)
Synthroid (levothyroxine)
Tylenol (acetaminophen)
Vitamin C (ascorbic acid)
Xanax (alprazolam)
Zofran (ondansetron)
Zyrtec (cetirizine)
Can I take Meclizine with Cymbalta?
Combining Cymbalta and Meclizine can display moderate drug interaction. Usage and administration of these two drugs simultaneously can heighten the side effects including difficulty concentrating, confusion, drowsiness and dizziness.
A number of people (especially elderly) might experience impairment in motor coordination, judgment and thinking if these two drugs are taken together. Hence any activities that may call for alertness need to be avoided, including operation of hazardous machinery and driving, unless you're aware of the effect of the drug in your body.
Can I take meclizine and alcohol together?
Meclizine is able to pass into CNS and cause sedation. If they are taken together, effects will be additive and it may increase the risk of causing side effects. Drowsiness, sedation, memory loss, impairment in judgment and thinking have been described after their concomitant use.
Can I take Meclizine with Lyricia?
The drug combination needs to be monitored carefully and must be avoided as far as possible. Side effects including difficulty concentrating, confusion, drowsiness and dizziness may be exhibited
Can I take Meclizine with Norco?
During the administrtaion of this particular combination, any effects of depression of the respiratory or the central nervous system can be synergistically increased, especially in the debilitated and elderly patient. If taken together, prolonged depression of the CNS and respiratory system needs to be monitored. Ambulatory patients require to be counseled properly regarding the harms and avoiding any activities that may call for alertness should be recommended.
Can I take Meclizine with Benadryl?
Using Benadryl with Meclizine has chances of side effects such as drowsiness, dry mouth, blurred vision, heat intolerance, flushing, difficulty urinating, decreased sweating, abdominal cramping, constipation, irregular heartbeats, memory problems, and confusion. The occurrence of side effects is mostly seen in elderly or those with debilitating conditions.
Strict prevention of alcohol and activities that require mental alertness such as driving or operating hazardous machinery, is advised with this medication. Consult your doctor in case of any confusion or concerns. Also, it is important to share your diet schedule or extra supplements such as vitamins or herbs with your doctor.
Can I take Meclizine with Loperamide?
Concomitant use of loperamide and meclzine that have anticholinergic activity may potentiate the antimotility effect of loperamide. Anticholinergics used together with loperamide may lead to serious side effects such as toxic megacolone.
Can I take meclizine and nitroglycerin together?
Theoretically, anticholinergic agents such as meclizine and other agents with significant anticholinergic activity may decrease the dissolution of sublingual nitroglycerin by provoking dry mouth and decreased salivation. The potential clinical significance is unknown. If an interaction is suspected, artificial saliva or chewing gum may be helpful.
Meclizine and cannabis interaction
Using meclizine together with cannabis may increase the risk of side effects such as dizziness, confusion, drowsiness and difficulty concentrating. Some people, especially the elderly, may also experience impairment in thinking, judgment, and motor coordination.
Can I take Meclizine and valerian supplements together?
Valerian is known due to its sedative and CNS depressive effects. Using meclizine together with valerian supplements may enhance side effects such as dizziness, confusion, drowsiness and difficulty concentrating.
Can I take potassium supplements with meclizine together?
The use of these two medicines is contraindicated. Concomitant use of medicines with anticholinergic properties such as meclizine may increase the risk of upper gastrointestinal injury linked with oral solid formulations of potassium citrate. The proposed mechanism is increased time of GIT transit to stomach and intestinal motility reduction by anticholinergic agents.
Such event may create high localized concentration of potassium ions in the place of a dissolving tablet and will increase the contact time with GI mucosa. Solid formulations of potassium chloride have been related with upper GI bleeding and bowel ulceration, perforation, stenosis and obstruction.
Can I take Meclizine if I have Asthma?
The administration of Meclizine in patients suffering from Asthma or cold poses moderate plausibility and potential hazard to the individuals. Antihistamines such as meclizine may have certain anti-cholinergic effects which can lead to thickening of bronchial secretion along with reduction in the volume, causing respiratory tract obstruction.
Can I take Meclizine if I have some cardiovascular disease?
Antihistamines have a potential to infrequently lead to cardiovascular adverse effects. These might be because of the quinidine-like local anesthetic and the anticholinergic activities. There have been reports indicating instances of hypertension, hypotension, arrhythmias, ECG changes, palpitation and tachycardia.
Though, mentioned effects are generally limited to situations of overdosage and are highly uncommon, patients suffering from hyperthyroidism, hypertension and/ or cardiovascular disease must observe cautious administration of Meclizine and may take help of recommended therapies to avoid adverse effects of the drug.
Can I take Meclizine if I have renal or liver disease?
There are limited pharmacokinetic data from the available studies for the older, first-generation antihistamines. Many of them appear to be predominantly metabolized by the liver, and both parent drugs are excreted in the urine after the metabolism.
Patients with renal and/or liver disease may be at higher risk for side effects from antihistamines such as meclizine due to drug and metabolite accumulation. Therapy with antihistamines should be administered carefully in these patients. Dose adjustments with lower initial dosages may be appropriate.
Can patients with glaucoma use meclizine safely?
Meclizine may make glaucoma symptoms worse due to its anticholinergic effects. Speak with your doctor if you have glaucoma before starting this drug. Doctor may prescribe other drug for your vertigo or motion sickness or adjust the dose of meclizine if you have glaucoma.
Can patients with enlarge prostate use meclizine safely?
Meclizine can make it more difficult for you to urinate due to its anticholinergic effects. If you have trouble urinating due to an enlarged prostate, ask your doctor about whether this drug is safe for you. Doctor may prescribe other drug for your vertigo or motion sickness or adjust the dose of meclizine if you have enlarged prostate gland.
Can meclizine cause allergy?
Meclizine can cause severe allergic reactions. Symptoms may include:
trouble breathing
swelling of your throat or tongue
rash
hives
If you have an allergic reaction, call your doctor or local poison control center right away. If your symptoms are severe, call 9-1-1 or go to the nearest emergency room.
Don't take this drug again if you've ever had an allergic reaction to it. Taking it again could be fatal.
Can patients with epilepsy take Topiramate together with Meclizine?
Topiramate is a antiepileptic drug that may increase body temperature and decrease sweating, and these effects may be worsened if they are taken together with meclizine. Heat stroke and hospitalization may occur in some individuals, especially during warm weather and during dynamic exercise.
Can I take diazepam and meclizine together?
Using diazepam together with meclizine may increase the chance of causing side effects such as dizziness, confusion, drowsiness and difficulty concentrating. Some patients, especially the elderly, may also experience impairment in thinking, judgment, and motor coordination. You should avoid or limit the use of alcohol while being treated with these medications.
Meclizine and travel
When traveling with your medication:
Always carry your medication with you have problems with motion sickness. When flying, never put it into a checked bag. Keep it in your carry-on bag.
Don't worry about airport x-ray machines. They can't hurt your medication.
You may need to show airport staff the pharmacy label for your medication. Always carry the original prescription-labeled box with you.
Don't put this medication in your car's glove compartment or leave it in the car. Be sure to avoid doing this when the weather is very hot or very cold.
How to store meclizine properly?
Store meclizine at room temperature. Keep it between 68°F and 77°F (20°C and 25°C).
Keep it away from light.
Don't store this medication in moist or damp areas, such as bathrooms.
"Sucralfate – Uses, Dosage, Mechanism of Action, Side Effects, Interactions and Reviews"